LCCs help drive Mexican international passenger growth of 42% in 1Q2012
Analysis
Rapid growth among Mexico's three low-cost carriers – Interjet, VivaAerobus and Volaris – helped drive international passengers transported by Mexican carriers up 42% year-over-year during 1Q2012 as those airlines further expanded into US transborder markets and introduced new flights from Mexico to Central America and the Caribbean.
Mexico's airlines transported 1.3 million international passengers during the first three months of this year compared with 924,916 during the prior year period, according to data from Mexico's DGAC. Interjet had the most dramatic growth, increasing its share of Mexico's international market (among Mexican carriers) from zero to 5.8% year-over-year. Interjet launched its first international flights last year and now operates from Mexico City to Guatemala, Havana, Miami and San Antonio and from Toluca to San Antonio.
Interjet currently operates 12 weekly roundtrip flights with Airbus A320s from its main base at Mexico City to San Antonio and three weekly flights from Toluca, where the carrier has its headquarters, maintenance facility and a smaller base.
Interjet now accounts for roughly 56% of the seat share between San Antonio and Mexico City while Aeromexico accounts for the remaining 44%.
A third competitor is entering the San Antonio-Mexico City market later this month when Southwest Airlines subsidiary AirTran introduces flights on the pairing. Once that happens Interjet's seat share will drop to roughly 45%.
San Antonio International Airport to Mexico City capacity by carrier (seats per week, one way): 19-Sep-11 to 21-Oct-12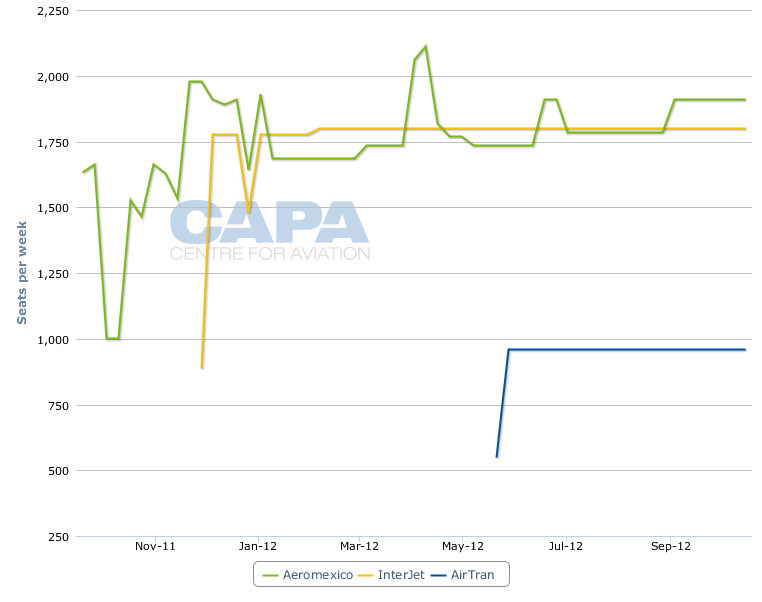 Interjet's schedule from Miami to Mexico City includes 12 weekly flights, and the carrier now accounts for roughly 18.5% of the weekly seats in the market, according to data from Innovata. American is the dominant carrier with a 46.8% share of capacity in the Miami-Mexico City market while Aeromexico currently accounts for 34.3% of the seats.
Interjet has a roughly 31% seat share in the Mexico City-Guatemala city market, while Aeromexico holds a 51% share. Avianca-TACA subsidiary Lasca accounts for 18% of the seats on the pairing. The reverse is occurring in the Mexico City-Havana market, with Interjet holding a 51.4% seat share compared with 27.5% for Aeromexico. Cubana de Aviacion has the remaining 21% share.
Interjet carried 76,906 international passengers during 1Q2011: 23,227 in January, 20,471 in February and 33,208 in March. The carrier inaugurated its first international route, Guatemala City, in Jul-2011 and transported 74,576 international passengers in 2011.
International passenger share for Mexico's carriers (% of passengers): 1Q2012 vs 1Q2011
Volaris grows international share by 3.7 percentage points
Interjet's push into US transborder markets was in part to keep up with rival Volaris, which has expanded rapidly into the US since Mexicana's demise in Aug-2010. Volaris carried 306,866 international passengers in 1Q2012, which represented a 23.2% share, up from 19.5% during the prior year when the airline carried 180,281 international passengers.
New transborder routes introduced by the carrier last year include Guadalajara to Fresno and San Diego; Mexico City to Oakland, San Diego and Las Vegas; Monterrey to Los Angeles; and to Chicago Midway from Guadalajara, Mexico City, Morelia and Zacatecas. Volaris currently serves seven US destinations on more than 15 route pairings.
VivaAerobus, which grew its international passenger share from 1.2% to 2.3% year-over-year in 1Q2012 to 29,994 passengers, introduced flights from Monterrey to Chicago, Orlando, Miami and San Antonio in 2011.
Aeromexico's international market share decreases during 1Q2012
Mexico's flag carrier Aeromexico saw its mainline international passenger traffic grow by 17% in 1Q2012 to 767,687 passengers, according to Mexican DGAC data. But its share of international passengers transported by Mexican carriers decreased from 71.2% to 58.2% year-over-year as Interjet and Volaris expanded more rapidly from smaller bases.
Aeromexico's regional subsidiary Aeromexico Connect also was able to increase its share of international passengers transported year-over-year from 8.1% to 10.3%. Aeromexico Connect transported 136,261 international passengers in 1Q2012 compared to 74,908 passengers in 1Q2011.
Aeromexico Group launched three new US destinations in 2011: Brownsville in Texas and Sacramento and Fresno in California. It also joined Interjet in serving Guatemala City and Havana. The carrier also inaugurated flights from Mexico City to Caracas in Venezuela.
Aeromexico is continuing to expand its transborder operation in 2012, launching flights in late May-2012 from Mexico City to Washington Dulles followed by a Mexico City-Atlanta service in Jul-2012. The resumption of the Mexico City-Atlanta route complements the service of Aeromexico's SkyTeam partner Delta from its Atlanta hub to Mexico City.
Despite the two new US routes being introduced this year, Aeromexico management recently said the carrier was placing more of an emphasis on domestic growth in 2012. While the group plans to grow capacity by between 9% and 10% overall, capacity on long-haul routes is being cut. Aeromexico is returning two Boeing 767s to lessors this year, which will result in the cancellation of the loss-making Mexico City-Barcelona route and frequency adjustments on some routes to lower South America.
Aeromexico this year is also taking delivery of five Embraer 170s that are being used primarily to replace Aeromexico Connect's ERJ-145s. The carrier's management concludes the higher capacity aircraft will help it combat passenger spill on many short-haul routes currently operated by the 50-seat jets. Republic Airways Holdings recently disclosed it was leasing three Embraer 170s to Aeromexico.
The carrier has decided it will wait until it receives its first Boeing 787 next year before deciding to open new long-haul destinations. Three of the widebodies are scheduled for delivery in 2013 followed by two in 2014. Aeromexico's management says it will consider additional cities in Europe and South America, and also notes the aircraft will allow it to serve Mexico City to Japan non-stop rather than making a stop through Tijuana.
Foreign carriers still dominate Mexico's international traffic
International airlines remain dominant in the Mexican market in terms of international traffic levels. Foreign carriers transported 6.1 million international passengers to and from Mexico during 1Q2011, up from 5.8 million passengers in the year prior. US carriers remain dominant, transporting 4.1 million passengers in Mexican markets during the first quarter, representing 67% of the total customers transported by foreign carriers. Canadian carriers transported roughly one million passengers to and from Mexico during the first quarter, which represented 16.5% of the total.
Passenger totals on international carriers to and from Mexico in Central and Latin America grew 31% year-over-year during 1Q2011 to 514,402. Customers in those markets represented 8.5% of the total, surpassing Europe's 7.3% share.
During 2011 Brazil's TAM introduced daily flights from Sao Paulo to Mexico City and Lasca bolstered its frequencies from Guatemala City to Mexico City. Panama's Copa also increased the number of passengers carried on its flights from Panama City to Mexico City, Guadalajara and Monterrey by 44.5% year-over-year during the month of February. Aerolineas Argentinas also introduced new flights from Buenos Aires to Mexico City in 2011, but the carrier is reportedly now planning to drop the route.
Passenger share transported by foreign carriers to and from Mexico (% of passengers): 1Q2012
Mexico.png" alt="" width="496" height="299" />
American Airlines remains the dominant carrier in the largest international market between Mexico and the US, holding a 16% share for Feb-2012, excluding passengers carried by its regional subsidiary American Eagle.
Breakdown of passenger traffic from Mexico to the US by carrier: Feb-2012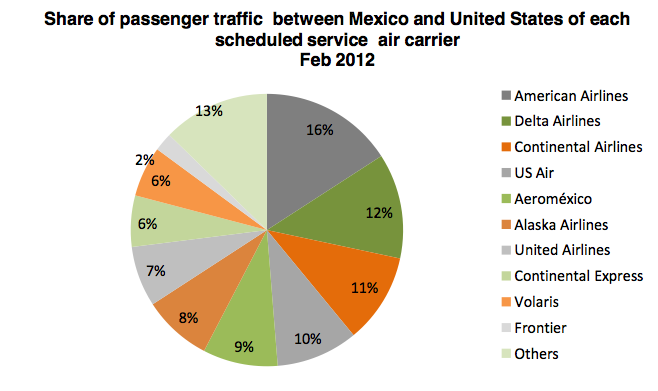 Mexican domestic passengers increase 12% during Q12012
The number of passengers transported in the Mexican domestic market grew 12% year-over-year from 1Q2011 to 1Q2012 after falling roughly 1.8% from 1Q2010 to 1Q2011, which reflected Mexicana's exit from the market in late 2010. Mexico's airlines transported a total of 6.3 million domestic passengers during 1Q2012.
Aeromexico and Aeromexico Connect combined accounted for roughly 42% of the domestic passenger market in 1Q2012, compared with a 46% share the year prior. Interjet's share grew from 24.2% to nearly 26% year-over-year while Volaris saw its share remain steady at approximately 19%. VivaAerobus also kept its share steady at approximately 10%. Leisure carrier Magnicharters and regional carrier Aeromar accounted for the remaining 4.3% of domestic passengers carried during 1Q2012.
Passenger share by carrier in Mexico's domestic market (% of passengers): 1Q2012 vs 1Q2011
The continued growth by Mexican carriers in the domestic market place has put some pressure on pricing as Aeromexico's management recently stated that domestic yields in 1Q2012 were softer than the prior year. Aeromexico executives, in discussing the carrier's 1Q2012 results with analysts, pointed out the Easter holiday was stronger this year than in 2011, which provides an encouraging sign for 2Q2012.
It looks as if the domestic market will continue to grow as Mexico's carriers are steadily introducing new routes this year. Interjet is adding six aircraft during the back half of the year: four Airbus A320s and two of the 15 Sukhoi Superjet 100s it has on order. Volaris is taking delivery of six A320s while VivaAerobus is adding four Boeing 737-300s.
See related article: Mexican LCCs Interjet, Volaris and VivaAerobus plan more rapid growth for 2012
Volaris in March launched new flights from Guadalajara to Chihuahua, Puebla, Los Mochis and Monterrey. The carrier has also debuted flights from Cancun to Leon and Aguascalientes, and Mexico City to Puerto Vallarta. This month Volaris is beginning service from Tijuana to Colima.
Interjet so far in 2012 has introduced flights from Mexico City to Leon and Oaxaca, both of which are served by Aeromexico. The carrier now has 26 domestic destinations and four international destinations.
VivaAerobus also has joined Volaris and Interjet on the Guadalajara-Cancun market, and has launched Cancun-Villahermosa flights.
Aeromexico's domestic growth is largely being fueled by the introduction of five Embraer 170s and eight 190s at Aeromexico Connect that are being used to replace small-gauge ERJ-145s.
Mexico's airlines are confident that demand is robust enough to handle the capacity increases. GDP growth in Mexico this year is forecasted at 3.5%, up from previous estimated growth of 3.2%.
The domestic market continues to grow at a fast clip, with passenger numbers during 1Q2012 increasing 10.5% compared with the first three months of 2010, when Mexicana was still operating its full schedule. The country's carriers need to ensure their rapid expansion is accompanied by sustained profitability.