Continued erosion in Brazil's domestic demand triggers stringent capacity discipline for Gol and TAM
Analysis
Brazil's two largest carriers Gol and TAM have further refined their already-reduced capacity guidance for 2012 as traffic growth in the country's domestic sector continues at a much slower pace than during the last couple of years. The continued discipline is part of a broader effort that began in mid-2011 by the carriers to improve their yield performance. But the rebuilding process is progressing more slowly than each carrier would have liked as TAM has concluded customers in the Brazilian domestic market place are becoming more price adverse as the country's economy is slowing from historically high growth levels during the last several years. Brazilian carriers are also facing added pressure from government-imposed increases in navigation and landing fees.
During 1Q2012 demand (RPKs) in the Brazilian domestic market grew just 7.3% on capacity growth of 11.3%. The growth in 1Q2012 is much slower than the 15.3% growth recorded year-over-year in 1Q2011 and the 33% growth during 1Q2010.
While TAM concludes the 7.2% traffic growth in 1Q2011 was in line with its expectations, the company stated it has observed an "elasticity of demand in relation to ticket prices," and has opted to adjust its domestic supply guidance for 2012 between zero growth and a 2% decrease compared with its previous estimates of a domestic supply expansion of up to 2%.
Pricing resistance in the domestic marketplace weakened TAM's domestic yields in 1Q2012 by 0.8%. The company's break-even load factor estimates were also pressured, growing 2.8 ppt year-over-year in 1Q2012 to 74%. TAM's systemwide 1Q2012 load factor of 73.5% was just below its estimated break-even point.
TAM revised domestic capacity plan: 2012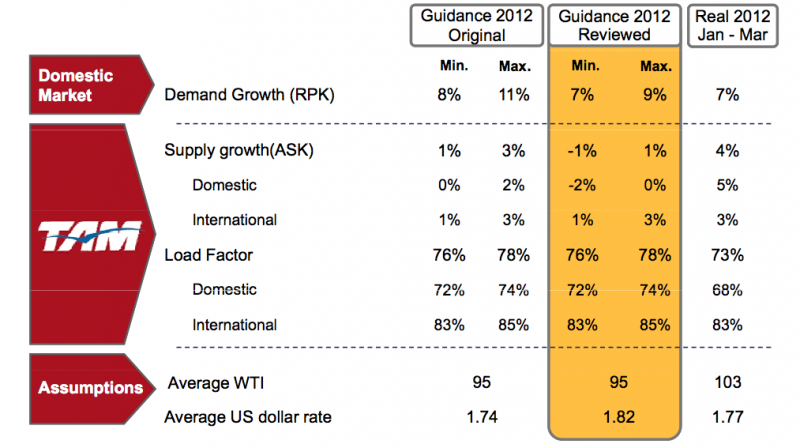 TAM's main domestic rival Gol has also opted to stress its intent to shrink capacity in 2012 close to a 2% decrease compared with previous revised guidance of flat growth to a 2% cut. Gol in Mar-2012 reduced for the second time its capacity projections for 2012 and revealed plans for the reduction of 80-100 daily flights in the combined Gol-Webjet network.
Gol acquired Webjet last year, and as it waits final regulatory approval for the merger, the carriers have received permission to start integrating their respective networks and fleet coordination. Gol management recently explained to analysts the flight reductions are now nearing the 100 per day range.
See article: Brazil's Gol and TAM continue domestic capacity restraint in attempt to improve yields
In 1Q2012, Gol's domestic 11.1% supply growth (includes 25% growth at Webjet but only 4% growth in the main Gol-branded operation outpaced the 7.4% growth in the group's traffic, driving domestic load factors down 5.8 ppt to 66.5%. Gol opted to trade in loads for yields which improved 2.5% as unit revenues fell nearly 2% as system load factor decreased 4.4 ppt to 67%.
Mounting losses put Gol on the defensive
While both Gol and TAM face increasing pressure to reverse their fortunes in the domestic market place, Gol faces stronger headwinds due to its primary focus on domestic Brazilian flights. Gol in 1Q2012 on a consolidated basis recorded a BRL41.4 million (USD20.7 million) loss compared with a profit of BRL69.4 million (USD34.7 million) the year prior.
The loss is particularly tough for Gol as the first quarter is the high season in Brazil, and marks the third quarterly loss the carrier has posted since 2Q2011. Gol also incurred a loss of BRL710 million (USD354.7 million) for the full-pear 2011. TAM recorded a net loss of BRL335 million (USD167.4 million) in 2011, but managed to post a 1Q2012 profit of BRL 100.9 million (USD50.4 million) profit, which was a 22% drop from the year prior.
Gol executives during a recent analysts discussion touted their cost reduction scheme and attempts to rationalise the market place as investors questioned when the turnaround in yields would be sustained. CFO Leonardo Pereira highlighted the carrier's ex-fuel unit costs of BRL8.6 (USD4.3) was below the BRL9.0 (USD4.5) target Gol set for itself in 2011. "Not everyone said we would do it," declared Mr Pereira.
Gol CEO Constantino de Oliveira Júnior cautioned that the carrier in 2Q2012 has taken significant steps to rationalise the network and rightsize the company. He believes positive results from those efforts will start to emerge during 3Q2012, with the capacity reductions leading to improved load factor and revenue. In 3Q2011 Gol incurred a loss of BRL517 million (USD259 million).
One-fourth of Webjet synergies realised in 1Q2012
Gol is beginning to see positive benefits from its acquisition of smaller domestic carrier Webjet last year. The carriers achieved BRL24 million (USD12 million) in synergies from network coordination and cost optimisation in 1Q2012, which is almost 25% of the BRL100 million (USD50 million) in annual synergies Gol expects to achieve by year-end.
Mr Pereira stated Gol expects no surprises in gaining final approval for the merger sometime in 2Q2012 or 3Q2012, and the Brazilian government has been supportive of the coordination between Gol and Webjet prior to closing the deal. He did not address a question of whether the government may require airport slot divestitures as part of the final approval process. Instead, he offered the following assessment: "I know how skeptical you people may eventually be about the issue about the slots. I want to emphasise that this process is not something isolated, that there is just the end moment a few months from now."
See related article: Webjet acquisition improves Gol's position in world's fourth largest domestic market
Updated fleet guidance at Gol shows net reduction of 12 aircraft this year
During the last couple of quarters Gol has refrained from offering fleet guidance as it worked to conclude agreements on early lease returns for Webjet's Boeing 737-300 Classic aircraft. At the time Gol declared its intent to purchase Webjet, the smaller carrier leased 18 of its 24 737-300s.
The combined Gol-Webjet fleet at the end of 2011 stood at 150 aircraft, which will drop to 138 by the end of this year - including 137 737s and one inactive 767. The 737-700 fleet will shrink by four aircraft while 15 of Webjet's 737-300s will exit during 2012. At the same time Gol is taking delivery of nine higher-capacity 737-800s.
Mr Pereira explained the guidance for 138 aircraft by year-end is based on an assumption that Webjet will meet a target of returning more aircraft to lessors this year. "I am sure they will be right on track," he stated. "That also applies to the planes they own."
Gol's fleet is now slated to drop further by a net of two aircraft in 2013 for a year-end total of 136 aircraft as Webjet's remaining 737-300s exit the fleet. Gol is slated to take delivery of 14 737-800s next year while seven 737-700s are returned to lessors. Over the last several years Gol has been returning its 737-700s while taking larger 737-800s.
Gol is planning to resume growing its fleet in 2014, when it expects to end the year with 140 aircraft. But that is still a decrease of 10 aircraft from its year-end 2011 totals.
Gol's fleet plan: 2011-2014

Mr Pereira took great effort to stress Gol has no ambition of having a larger fleet, noting the "long-term winners" are those carriers that "have the courage of not saying that they are buying a lot of planes in the short run", but are working to slide deliveries and stretch out their purchase orders. This could indicate that Gol may attempt to work with Boeing to alter the delivery schedule of the 90 firm aircraft it has on order with the airframer.
New government fees add to cost pressures
Both Gol and TAM experienced some cost pressure from the Brazilian government's decision in 2011 to raise landing and navigation fees and increase charges on connecting passengers. Gol's landing fees per available seat kilometre jumped 45% year-over-year during 1Q2012. Mr de Oliveira Júnior assured that no further landing fee increases are planned for this year, but there is a possibility of an increase at the beginning of 2013.
TAM recorded a 21% increase in system landing and navigation fees during 1Q2012. The carrier's executives recently warned that holding its schedule constant, the fee increases could raise its costs by BRL200 million (USD100 million) in 2012.
Smaller Brazilian carriers still expanding domestic supply
Capacity discipline practiced by Gol and TAM is somewhat tempered by Brazil's smaller carriers continuing to expand their domestic supply. During 1Q2012 ANAC data show Avianca Brazil, Azul, Trip and Webjet all increased their capacity, with Avianca Brazil posting ASK growth of 108% as it added Airbus A318s and A320s. The carrier's market share grew from 2.5% in 1Q2012 to 5% in 1Q2012.
See related article: Avianca Brazil accelerates expansion as ex-LAN A318s and new A320s are added to fleet
Fast-growing Azul continued its capacity expansion with ASK growth of roughly 38% during 1Q2012, which helped drive its market share from 7.8% to 10% year-over-year. Regional carrier and TAM partner TRIP recorded a 62% rise in capacity as it added ATR 72-600 turboprops to its fleet and expands the number of Embraer E-190s in operation. TRIP's market share jumped from 2.6% to 4%.
Gol's new subsidiary Webjet also expanded supply by 25%. Gol's supply grew roughly 4% in 1Q2012 while TAM increased its ASKs nearly 5% year-over-year. But the carriers ceded market share to the smaller carriers as TAM's portion of domestic traffic fell from 42% to 39% and Gol saw a reduction from 39% to 34%.
Brazil domestic market share by carrier (based on % of RPKs): 1Q2012 vs 1Q2011
1Q2012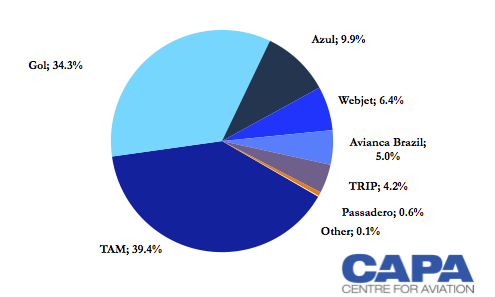 1Q2011
Brazil.png" alt="" width="404" height="243" />
Pressure is likely to continue in the domestic market place as Avianca Brazil, Azul and TRIP continue to take delivery of aircraft at a rapid pace. But Azul and TRIP are mainly focused at adding capacity on the smaller and undeveloped routes in the country. These carriers are generally confident there is still room for more rapid growth in secondary markets while trunk routes are challenging due to more intense competition and in some cases over-capacity.
Gol and TAM will continue to face headwinds in achieving sustained yield growth as ratings agency Moody's recently warned in a credit downgrade of Gol that further depreciation of the Brazilian real could continue as the Brazilian government attempts to strengthen its global position through currency regulation. Moody's anticipates a continued difficult operating environment in Brazil during 2012, which will continue to create challenges for Gol as it works to continue its cost rationalising to match its capacity decreases. TAM's larger exposure to the international market gives it some hedge in navigating through the weaker domestic environment, and its merger with LAN gives it a scale unrivaled by any other Latin carrier.
But Mr de Oliveira Júnior is maintaining a positive outlook, noting Gol's capacity reduction along with industry adoption of a more conservative approach to increase supply "are indicative of a market governed by rationality in order to resume profitability".
Background information
Gol financial results: 1Q2012 vs 1Q2011 and 4Q2011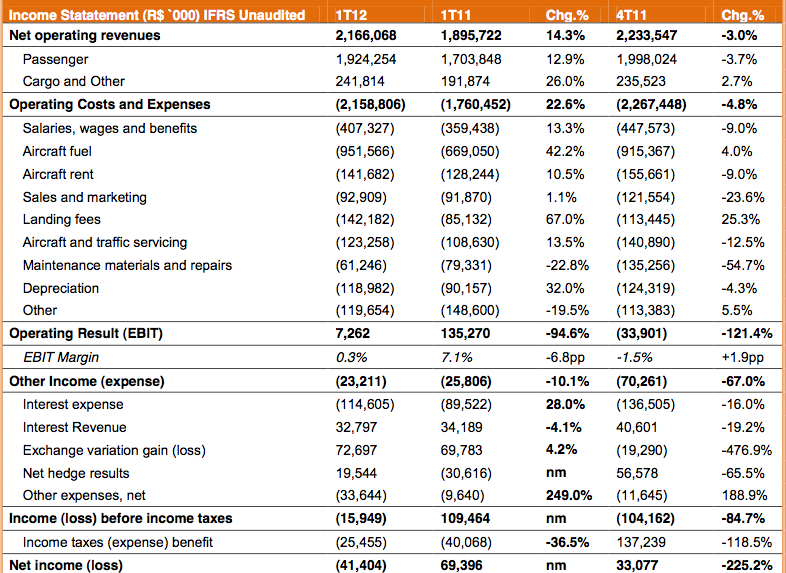 TAM financial highlights: 1Q2012 vs 1Q2011 and 4Q2011