London City Airport – for sale, but caught up in a political game
Analysis
After years of speculation it seems as if Global Infrastructure Partners (GIP) is set finally to dispose of London City Airport (LCY, to give it its IATA code), one of the world's few facilities that caters in the main to business travellers, and where it is a 75% shareholder.
The airport's ownership has changed twice already, during a period when it progressed from being something of a gamble to a successful money earner to a pawn in a political game. But the reasons for the disposal are not yet readily identifiable and can only be surmised.
LCY, which was originally going to be called London Churchill Airport after the wartime leader, serves the London financial district and is a major business aviation facility as well as supporting commercial scheduled flights. The airport is located on a former Docklands site three miles from Canary Wharf and six miles from the central business district, the City of London, which is in the east of the wider downtown area, accessible by the London Underground in 22-25 minutes.
The only airport actually wholly within London, London City is the fifth-largest airport serving the city by passenger numbers even though its operations are restricted to STOL (Short Take Off and Landing) aircraft. The management claims its clients can check-in in under five minutes on average, and that LCY is the most punctual airport in London in 2015.
The statistics surrounding LCY make for fascinating reading to any student of the air transport business. It is a short haul airport, limited by its extended but still short runway, but there is one carrier (British Airways) operating a very niche operation with A318 aircraft in an all-executive configuration across the Atlantic Ocean to New York and other such routes have been posited both by BA and by other carriers.
Business city destinations dominate the timetable
There are 10 airlines, flying to 44 non-stop destinations; five domestic, 38 European and the single transatlantic route. Almost all of the international capacity (98.5%) is to and from Western Europe, and the majority of it at one time connected the original City of London and the 'new City' (Canary Wharf and its environs) to major financial centres such as Frankfurt, Paris, Geneva, Luxembourg, Zurich, Jersey and the Isle of Man.
While those routes still exist they have been supplemented by new ones broadly across two categories:
(a) more general commercial ones such as Amsterdam, Antwerp, Dublin, Dusseldorf, Hamburg, Madrid, Milan, Rome, Rotterdam etc); and
(b) those that might attract a leisure travel marker as well, to popular vacation cities such as Venice and Granada, and to cities where well-heeled City workers might have second homes, such as Quimper, Angers, Brive-Dordogne, Florence, Menorca, Mykonos and Santorini.
Attempts were made a decade or so ago to put into place a ski programme to satisfy the leisure demands of City workers. It never quite came off but there are still several airports served, such as Avignon, Euroairport Basle, Geneva and Zurich that can satisfy what demand there is now for these pursuits.
London City Airport international capacity, seats by region, 24 to 30-Aug-2015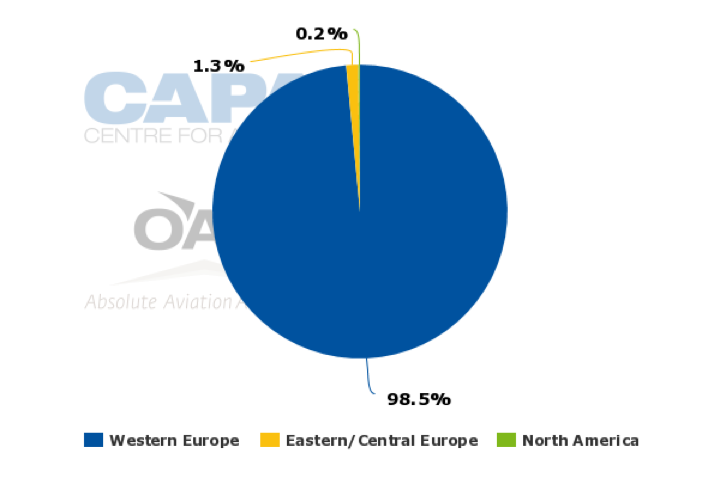 While it is a highly specialised business airport there has been an increase in LCC penetration.
As of Aug-2015, 62.7% of seat capacity is accounted for by full service carriers, 25.5% by regional/commuter airlines, and 11.8% by LCCs.
London City Airport capacity share by carrier type (seats), 24 to 30-Aug-2015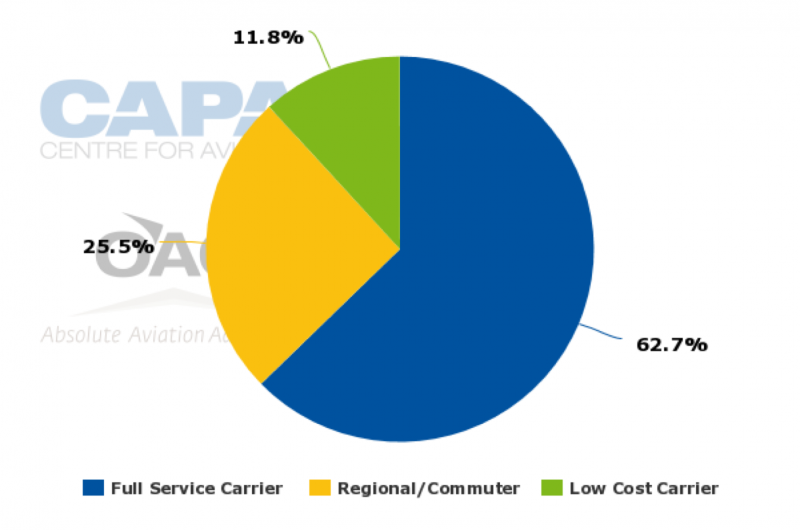 Alliance penetration really only comes from oneworld, through British Airways City Flyer (46%, the same as the BA share). Apart from this, Star Alliance and SkyTeam are not well represented and 37.8% of capacity is on unaligned carriers.
London City Airport capacity share by alliance (seats), 24 to 30-Aug-2015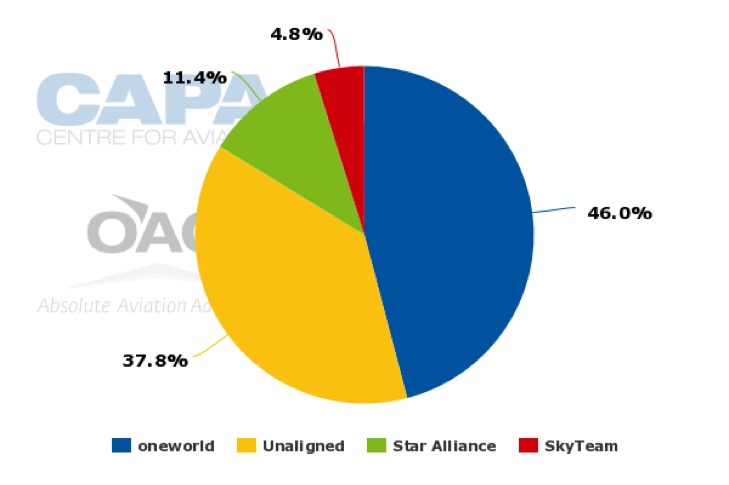 LCY is a classic O&D airport
LCY operates ostensibly as a point-to-point, origin & destination (O&D) style airport. There is little hubbing activity other than that which takes place randomly (including the so-called 'self-connection, 'see the report https://centreforaviation.com/analysis/reports/redefining-airport-hubs-self-connectivity-the-next-vital-piece-in-the-industrys-advancement-225855) and LCY makes no attempt to promote the concept. There is no official transfer facility and international connecting passengers must go through Customs and Security before returning to the departure lounge.
The airport was almost completely overlooked by the Airports Commission investigation into UK airport connectivity that resulted in a recommendation to expand London Heathrow airport by one runway, on 01-Jul-2015. That despite the fact that its CEO pointed out that as Heathrow Airport's passenger throughput is around 70% O&D with much of to and from the southeast of England, and LCY has spare capacity geared precisely to such traffic genres, it is well-placed to assist with the capacity dilemma in southeast England in the short term and possibly the long term as well.
So LCY could be said to have found itself in a position where it serves a useful purpose, but only within a niche context, and within many walks of life – especially politics - niches are not popular.
.... and growing faster than any other UK airport
There is certainly no problem with traffic growth. During the last three years passenger numbers have risen from three million to 3.7 million. The growth rate was 9.2% in 2014 putting it in the top half dozen airports in the country, and in the first seven months of 2015 (Jan to Jul) the average growth rate has been a scintillating 23.4%, the best result of any UK airport by some margin (six percentage points). 406,968 passengers used LCY in Jul-2015, marking the busiest ever month in its near 28 year history.
This at a time when passenger traffic is in decline at the competing Southend Airport, and stabilising at London Stansted following a period of rapid expansion there. What's more the airport has the capability to more than double in size to in excess of eight million ppa and 120,000 movements, considerably more than the 70,000 or so now (i.e. it is operating at under capacity while the debate continues to rage over another runway somewhere else in the Southeast of England.
See related report: London City Airport: the changing competitive landscape at the UK capital's most expensive airport
Locator map for commercial/scheduled London airports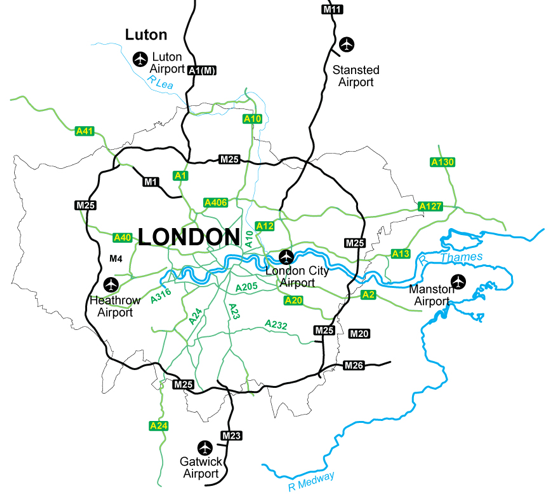 London City Airport annual passenger numbers 2011 - 2014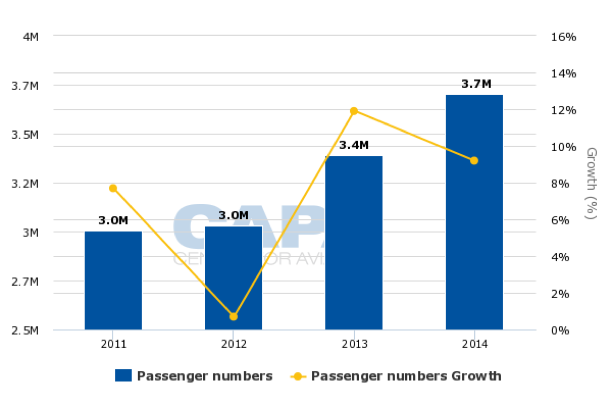 From Dash-7 to A318 to CSeries
LCY was financed by private capital and has always been in the private sector. It owes its existence to the decline of London's docklands, which left large areas of derelict land available for development, and the continuing rise in importance of the City of London as a centre of international finance following Stock Exchange deregulation (the 'Big Bang') in 1986. Developers began to run out of space in the 'old' City and looked five miles to the east for the new one, which is now known widely as Canary Wharf, located very close to LCY.
Another factor was the emergence of more regional air route operators in the UK at the time, using smaller jet and turbo-prop aircraft that often found themselves working at a disadvantage, even assuming they could get into Heathrow at all. With a niche business clientele these small aircraft, the only ones that could get into LCY, were tailor made for that airport, being able to locate their travellers within the new or old City much quicker than was possible from other London airports.
The firm that saw the opportunity was the constructor Mowlem (subsequently acquired by Carillion in 2006), back in 1981 when just about every UK airport was public-sector owned and operated, so it was a venture into unknown territory.
The derelict King George VI dock was converted into LCY and opened in Nov-1987. Initially the largest aircraft that could operate was the Bombardier Dash-7 turboprop but with a runway extension since (to 1500m), there are now several jet aircraft able to use it. One that might be able to, once it is certified is the Bombardier CSeries aircraft, which will come into service in 2016, and which is appropriate to LCY operations with the possibility of opening up additional non-stop destinations in North America, the Russian Federation and the Gulf States.
To this day there is an aeronautical constraint in that there is a steep 5.5 degree landing approach, somewhat more than the typical 3 degrees, which mean aircraft must descend 550ft every minute. (Heathrow Airport is currently trialling a steeper approach to aid noise reduction measures but only to a maximum of 3.3 degrees).
Surface transport problems have been overcome
The airport was not successful initially. There were numerous surface access/egress issues such as congested roads and the location of the nearest rail station, Silvertown, being some distance from the terminal. A popular means of access in the early days was a river boat along the River Thames. But as time has gone on access has become easier, to the extent that the airport has been described by one business magazine as having the best public transport links in the world.
In 2005 the Docklands Light Railway (DLR), which operates from the (old) City was extended to the airport, thus offering direct rail access for the first time together with connections to the new City. Later (2011), a connection was added to Stratford International Station which is on the High-Speed 1 rail line to mainland Europe and is connected to the London Underground (Jubilee Line). Around 50% of LCY's passengers now use the DLR.
The nearby Stratford station will form part of the east-west Crossrail service through central London when it opens in 2018. Crossrail will have the effect of connecting Heathrow and London City airports almost door-to-door over a distance of some 25 miles but just how that will affect relations between the two is yet to become clear. British Airways must be interested. Its main base is at Heathrow but if no third runway is built there (which is still possible and its CEO certainly publicly states that to be his opinion) then it could look to increase further the short haul operations of its CityFlyer unit, which is firmly established at LCY with 44% of seat capacity there right now. Could short haul at LCY feed long haul at Heathrow? Stranger things happen at sea.
Irish entrepreneur spots the potential
During this period of slow but sustained growth during which it reached 500,000 passengers per annum for the first time, the airport was acquired (1995) by an individual, another person with an eye for the main chance, the Irish entrepreneur Dermot Desmond, through a holding company, Airport Management and Investment group.
He did this even though it had racked up GBP30 million in debts by then. Mowlem, a builder rather than an operator, felt it had taken the airport as far as it could but a subsequent marketing push, allied to the improving surface access, the granting of permission for more aircraft movements, and the runway extension propelled it further. In fact traffic grew by 31% in the first year of the new ownership, the (mainly) British business travellers attracted by the very short check-in times (10 minutes) and direct access to key business markets.
Business jet facilities were improved, a small conference centre was added, and as further infrastructure enhancements followed LCY became one of the first airports outside of the US to issue bonds to finance them.
During this period however, environmental issues, relating to noise rather than emissions, began to surface, and they have cast a shadow over the further development of the airport ever since. Two of the poorest London boroughs, Newham and Tower Hamlets, are directly affected by activities at the airport while their ratepayers were the least likely to benefit from it. So the respective councils' attitude towards LCY has not always been positive though it has mellowed recently.
2006 – GIP and AIG take over the airport, then AIG collapses
Despite the financial crisis from 2008 onwards traffic remained resilient at LCY. Before then, the next change of ownership had come in Oct-2006 when the airport was acquired by a consortium comprising of AIG Financial Products (AIGFP) and Global Infrastructure Partners (GIP). AIGFP most certainly was affected by the global financial crisis; indeed its collapse in 2008, brought about by huge losses from credit default swops, is thought by some to have played a large part in it.
As a consequence AIGFP exited, GIP increased its stake, to 75% and was joined by a new investor, Highstar Capital (25%). LCY was and remained Highstar's only airport investment until Feb-2013 when, as part of the Aerostar consortium with Mexico's ASUR it was granted the concession on the San Juan Luiz Muńoz Marín International Airport in Puerto Rico. Since then its management team has been acquired by the Los Angeles-based Oaktree Capital Management, which has agreed to the disposal of its equity share in LCY.
Dermot Desmond did quite nicely out of the deal as the global finance industry was about to collapse around him. Mr Desmond bought the airport for GBP23.5 million it was sold to the AIG/GIP consortium for GBP750 million.
The main mover and shaker in the consortium is GIP though it should be noted that even while it noticeably sniffed around the airports business before and after the LCY deal, that was its first in this business. GIP is a New York and London based collection of infrastructure funds that invest worldwide in infrastructure assets and businesses in both OECD and select emerging market countries.
GIP was founded in 2006, the year of the LCY deal, by former senior executives from Credit Suisse and the General Electric Company; all six founding partners were from those two companies. It was set up to target investments in the energy, transportation and water / waste industries.
It more or less drifted into airport operation, although the fact that it went on to acquire London Gatwick (currently 41.95% in another consortium) and Edinburgh (100%) airports as well as bidding on other airports worldwide suggests it has drifted so far it would need a lifeboat to get back. But it was not set up specifically to acquire and manage airports and there is the suspicion that it might have been another example of seeing the main chance that drew GIP to LCY in the first place.
After all, Credit Suisse's offices were (and still are) at Cabot Square, Canary Wharf, and those executives must have been regular users of the airport. (There remains a strong connection between GIP and Credit Suisse, the latter having been appointed by LCY to advise it on the potential sale).
The position regarding the airport's future as this sale activity becomes clearer is as follows.
Traffic-wise, as reported earlier, it is the fastest growing airport in London and the entire country as the UK's economy improves and investors continue to flock to London. Six million ppa by 2023 is a possibility, the vast majority of them business travellers.
Mid-term construction progresses but politics gets in the way of the long-term plan
Construction activities include a reconfiguration of the Western Pier in a GBP16 million (USD25 million) development programme to transform the Departures area. The Western Pier houses 70% of the airport's departures gates. The area will increase in size by around 84% (approximately 1780sqm), with space for new retail and food and beverage outlets, and accommodate 600 additional seats. Work is expected to be completed by summer 2016. (Source: CAPA Airport Construction Database).
But it is in the arena of construction that the single biggest issue facing LCY now lies. The airport also has produced a master plan (the City Airport Development Programme, or CADP) outlining its vision for growth up to 2030. The plan shows an expansion of the airport to a maximum capacity of eight million passengers per annum, without the addition of a second runway, or significant expansion of the airport boundaries. The proposal was first submitted to Newham Council in Sep-2013.
The reticence of the Newham Council to approve expansion is perhaps why it took until Feb-2015 to approve the plan, but approve it it did, clearing the way for a GBP200 million, 10-year investment that will enable the airport to operate up to a permitted 111,000 annual services, from the 70,000 at present.
This new capacity will help ease the pressure on existing airport infrastructure in London and the UK while a formal government decision is made on where new runway capacity will be delivered, and in the period before it becomes operational in the late 2020s. The plans include developing existing infrastructure to increase runway capacity, to allow more take-offs and landings at peak times and accommodate aircraft with longer-range, to open up new markets not currently served from LCY. The infrastructure is to include:
A parallel taxi-lane to enable aircraft to get on and off the runway quicker, freeing it up to accommodate more take-offs and landings per hour. This will provide more capacity at peak times;
Seven new aircraft parking stands;
A new eastern passenger pier and separate arrivals terminal.
But no sooner was the champagne consumed than Newham Council's approval was over-ridden by the Mayor of London, Boris Johnson, who directed the council to refuse planning permission.
This despite the fact that (it is claimed) the CADP has the ability to deliver an additional GBP750 million per annum to the UK economy and 2000 new jobs in Newham and the east of London (500 of these during construction) as well as vital additional air connectivity for the capital. London City Airport considered the substance of the Mayor's decision to refuse the scheme and decided to appeal against it.
On the face of it this is a strange decision for the London Mayor to take, and not only because it would bring jobs to London's poorest boroughs; he has stated the need for air routes into London from the British regions, which would be appropriate to LCY, and he had previously supported LCY-related deals, for example a GBP1 billion Chinese-funded 35-acre business park next door to LCY, intended to become 'London's third business district.' There is also the Mayor's personal standing to take into account. Only recently he claimed he intended to change his ways after many members of his party (the Conservatives) claimed he wasn't serious enough to lead the party following his re-election as an MP in May-2015. There is no evidence of that in his decision on LCY's master plan.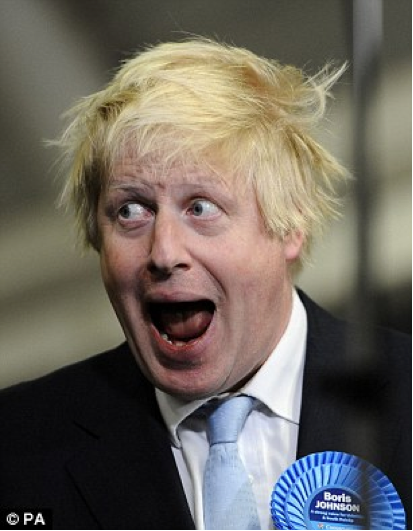 A more-serious Boris Johnson may be needed
On the other hand London Mayors in general seem to have an issue with LCY. Johnson has had runs-in with before over its expansion plans and the noise issues and it was no favourite with his predecessor, the Labour Party's Ken Livingstone.
This particular decision though has raised the question, "is the Mayor out of control?" It seems that over GBP500,000 has been allocated already to fight LCY's appeal against his decision to refuse a democratically agreed expansion, a Public Enquiry having dealt with all local concerns and even City Hall recommending it. The Conservative Association in East London has written to the Secretary of State for Transport asking him to over-ride Mr Johnson's decree.
Local residents favour expansion
That Association argues that 70% of residents of the only polling district directly under the flight path when planes are flying low for take-off or landing, support expansion of London City Airport to levels far and above anything actually proposed by the airport.
A key to this is the 24 hour weekend shutdown of the airport which means residents are barely aware of the airport being there for the bulk of the weekend. So long as this quiet period is maintained, support for the airport's expansion is indisputable;
It goes on to say, "The only explanation we can offer is familiar to all in the aviation sector – the historically poor reputation of the sector's public affairs strategy, where, far too often, the sector acts defensively and fights itself rather than making the positive case for aviation as a whole. All have agreed that the long-term public affairs strategy of LCY has been woeful at best and they are in many ways their own worst enemy."

It concludes, "We firmly support the Mayor's policies but we feel he is seriously out of kilter with party and public opinion on London City Airport. It is a great shame that a Mayor who has been so successful in keeping council tax down, promoting London as a place to do business and, through his ill-fated Boris Island policy, has cemented the need for extra hub capacity in London, is picking a fight with a hugely popular and successful airport in his last year in office".
Boris Island was sunk by the Airports Commission, but it is not a lost cause to Boris
Boris Johnson championed the proposal for a new airport for London in the River Thames estuary (known as 'Boris Island') early in the deliberations of the Airports Commission on UK air connectivity but that proposal was dismissed at the Interim Report stage. (It was given a second chance subsequently but didn't last long).
It could well be that Mr Johnson still harbours ambitions in that department. Peculiarly he chose the Uxbridge and South Ruislip constituency for his return to Parliament (he could have gone for other safe seats), one that is right next door to Heathrow, from where he continues to campaign against a third runway there despite the fact that most of the voters and businesses in the constituency want another runway (for the jobs, if nothing else). There surely must be some method in his madness but it isn't easy to spot.
Except that there is a growing feeling that the addition of an extra runway at Heathrow (or Gatwick or Stansted for that matter) would be so politically contentious that it would never happen. In that case the Thames estuary airport proposal could easily come back into the frame and airports such as Southend, Manston (which has already gone) and London City stand in the way of that enterprise. In that case Mr Johnson would certainly not wish to see any further infrastructure enhancement at LCY.
A further clue to this is his appointment of the person who was his 'Aviation Adviser' Daniel Moylan, to the Board of Transport for London, where he sits opposite others including Keith Williams, the Chief Executive of British Airways. Mr Moylan is now also on the Board of Crossrail (see above) and is opposed to the introduction of a station on the site of the old Silvertown halt (also see above) of the North London Line just 150 metres from the airport terminal. Mr Moylan has never given an explanation for this opposition.
Another factor in all this is Boris Johnson's position in the national government Cabinet, where he has been invited to partake in the 'political Cabinet' (which does not appear to have a definition) but not the full one. Neither is he in charge of any department. Worse still, he was barred from the special 'Economic Affairs (Airports) sub-Committee' set up by Prime Minister Cameron to consider the Airports Commission's recommendations, along with other 'non-believers' such as Foreign Secretary Phillip Hammond, Home Secretary Teresa May, International Development Secretary (and previous Transport Secretary) Justine Greening, Chief Secretary to the Treasury Greg Hands, and Northern Ireland Secretary Theresa Villiers.
It seems as if the entire anti-Heathrow contingent has been sidelined, though none has lost his or her job. Most of these Ministers represent constituencies that are on the Heathrow flight paths, including Mr Johnson, who has probably more than most.

So that is the convoluted political position as the LCY sale process commences.
Under GIP/Highstar ownership LCY's profitability has increased considerably but as early as 2010 rumours grew that it might be sold off to help finance the major investment (GBP1 billion) that was about to take place at London Gatwick Airport, which GIP acquired in Oct-2009 for GBP1.5 billion (GBP500 million less than LCY is now said to be worth!) Gatwick needed that level of investment to prepare it for scrutiny by the Airports Commission for recommendation for a second runway.
But as time progresses there was no indication that would actually happen. Meanwhile GIP began to reduce its holding in the company that operates Gatwick to 42% in favour of four additional international investment sources (pension funds and sovereign wealth funds) that were attracted to it.
GIP – "demand for 'quality airports' is high" – but so is the anticipated asking price
Then suddenly, at the beginning of Aug-2015 GIP appointed advisers to sell the airport, in 2015. It was suggested the sale could raise up to GBP2 billion as market demand for what GIP referred to as "quality airports" (sic) is "very high". At the same time GIP stated it did not intend to sell its stakes in Gatwick or Edinburgh airports. In the case of Gatwick that was in spite of the Airport Commission coming down in favour of a Heathrow runway solution.
Indeed GIP had gone so far as to state that it would be prepared to provide a legally binding promise that it would not sell out of Gatwick in the short-term if the UK Government approved expansion at the airport. It added that it was happy to talk to the government about safeguards, "whether in relation to the management of the airport or shareholder continuity or the commitment to equity funds" and that there was "no basis for the contention that we just want planning permission and then off we go to the hills".
It definitely didn't get even the opening of a door to runway planning permission (although it has not given up the fight, either) but with nothing now to plan for investment-wise at Gatwick other than what is under construction or previously announced, it is heading off into the hills as far as London City is concerned, the UK's fastest growing airport that is replete with high-spending business suits and the airlines that carry them. Again there is a non sequitur.
There is a clue in a further statement, this time from LCY itself, in which it said "It is the right time to sell for the investors." Well it is assuredly so that investment prospects in infrastructure projects have improved dramatically in recent months. And such assets have always attracted high valuations owing to stable returns and long-term growth prospects. But future prospects would surely be better still if the airport could be developed further.
However, as things stand it can't and there is a further clue in another statement from LCY, "It is business as usual at the airport – the sale process will have no impact on its operation, on its plans for growth or on the appeal it has mounted against the refusal of planning permission for the City Airport Development Programme (CADP)."
It appears that Mayor Johnson's obstinacy is weighing heavily in GIP's calculations. And it seems also to have been a rushed decision, made on the day of an Underground (metro) strike that paralysed London, with Declan Collier, the Chief Executive of LCY, reportedly brought back from vacation for a night and Michael McGhee, GIP's Director for Transport also reportedly about to start his own vacation. But could GIP not have waited until the matter is resolved? Possibly not. The final decision on the expansion plan will probably not be made until probably after a new London Mayor has been elected.
That election will take place in May-2016 and while the candidates have not been announced officially, the nominees include those that might be expected to be benign about airport expansion, several with 'local connections' to the area such as Diane Abbott, the Labour MP for Hackney North & Stoke Newington but also those outrightly opposed to any sort of airport expansion, such as anti-Heathrow lobbyist Zac Goldsmith, who is an early 'favourite' at the bookmakers. It won't be Johnson though, he has announced his decision to stand down since his General Election victory.
But does GIP additionally see Johnson becoming Prime Minister and thwarting it at every turn? Theoretically that couldn't be for another five years unless something disastrous happens to the government and it loses a vote of confidence, or it all gets too much for Cameron, who has already said he will stand down before the next scheduled election in 2020. As the saying goes though, a week is a long time in politics as the refugee crisis in Europe has proved this week. And we haven't even got into the EU referendum campaign – out of which Britain could leave – yet. That campaign could lead to many as yet unenvisaged scenarios.
A week can even be a long time in airport investment as well, and taking into account all the factors mentioned above, plus the exogenous ones (the global 'shocks') that no-one who isn't related to Nostradamus can foresee, GIP cannot be blamed for seeking to move on and capitalise out of its capital asset and striking while the iron is hot.
But can any small airport hosting around four million ppa and little freight really be worth GBP2 billion, the figure that is being touted (but not by GIP)? Earnings multiples for airports have definitely been creeping back up during the last two years as demonstrated in the table below, though they come nowhere near the giddy height reached in 2006/7 when, for example, the UK's Leeds-Bradford airport exchanged hands from public to private sector on an earnings multiple of 30 times.
Table of recent European airport deals – transaction values and earnings multiples
Airport (group)/purchaser

Earnings multiple EV/EBITDA

Transaction value EUR million

Stake %

Year

Pax million p/a

Recent transactions

London Gatwick/GIP

12

1840

100

2009

34

Edinburgh/GIP

16.7

1067

100

2012

9.3

ANA Portugal

15

3080

95

2012

30

15.6

1800

100

2013

18

London Luton/AENA Int-Ardian (lease transfer)

13

502

n/a

2013

9

AENA Aeropuertos SA/Ferrovial-Alba-TCI-float *

11.75

8700

49

2015

200

15

1317

100

2014

12.5

Average earnings multiple recent

14.15
But GBP2 billion is much higher than the price paid for either Gatwick Airport (38 million passengers in 2014) or Stansted Airport (20 million passengers in 2014). And it is more than 2.5 times what was paid for LCY in 2006. (In comparison, house prices in England and Wales are approximately the same right now as they were in Oct-2005).
Moreover, GBP2 billion would represent a multiple of in excess of 40 times LCY's EBITDA of GBP45.8 million (+9.3%) in 2014. That is almost three times the going rate in recent years though it should be noted that LCY's adjusted earnings are actually thought to be higher still.
There is only one (failed) transaction known of in the airport sector that was in the same league. That was in 2007 when Auckland Airport was the subject of a failed takeover bid by Dubai Aerospace Enterprise and, separately, Canadian Pension Plan, which valued 40% of its stock at what was probably the highest earnings multiple then recorded in the industry; up to 40 times. This caused the New Zealand government to review and change its Overseas Investment Act.
Funds are more likely to be attracted than operators
It is widely anticipated that interest – at least - would arise out of similar investment funds, perhaps some of the pension and sovereign wealth funds that have a share in Heathrow and Gatwick airports, even if some of the latter genre typically look for bigger fish to fry. On the other hand London is considered the place to invest in by these organisations. Airport operators as such are considered less likely partly because of the anticipated price tag.
Those that have declared their hand or have been implicated so far are:
But the question remains: who is going to pay that sort of money with this planning impasse hanging over LCY? Buying a property - industrial, commercial or residential - that is priced to include planning permission for an essential extension that has not been granted is a tall ask? Particularly when an essential rail station has been denied by the same authority?
As for GIP, GBP2 billion would be a nice sum. But have the managers of its funds lost faith in the airports business?