Latin American aviation: elections create clouds of uncertainty
Analysis
During the past couple of years some of Latin America's largest airlines have garnered investments, largely from US carriers, as the region's potential for traffic stimulation remains too good to pass up.

There are presidential elections occurring in each of Latin America's largest aviation markets in 2018 – Brazil, Mexico and Colombia. Now that elections are complete in Mexico and Colombia, it is time to determine whether a change of government in each country will result in more or less liberalisation of the aviation industry.

At this point the outcome of Brazil's election is anyone's guess, but it is notable that the country has one of the most restrictive levels of airline foreign ownership among Latin America's largest aviation markets.
CAPA - Centre for Aviation will hold a panel discussion on Latin American investment and other pertinent topics at its upcoming Latin America Aviation and LCC Summit 2018 11-12 Sep in Cartagena, Colombia.
Summary
Investments in Latin American airlines during the past couple of years have largely been from US airlines.
Presidential elections in Colombia, Brazil and Mexico in 2018 could change how aviation is viewed through the lenses of taxation and liberalisation.
The outcome of Brazil's election and the future direction of the country's aviation industry are both tough to predict.
United, Delta and Qatar have been some of the most active investors in the region

Earlier in 2018, United upped its 3.7% stake in Brazil's third largest airline Azul to 8% following an initial investment of USD100 million in 2015. Delta is a perennial investor in Latin American airlines, holding a 9% stake in Brazil's largest domestic airline GOL and a 49% in Grupo Aeromexico.

In 2016 Qatar Airways purchased a 10% stake in LATAM Airlines Group for approximately USD613 million. For the most part, non-US airlines have not aggressively pursued investments in Latin Airlines. United's upped stake in Azul was a result of HNA offloading a fifth of its preferred shares in the Brazilian airline. HNA paid USD450 million in 2016 for a nearly 24% stake in Azul.

It remains to be seen whether there are other investment opportunities for other airlines in Latin America. Both the Viva Group and Mexico's Interjet have been toying with IPOs, and at one point it appeared that United might be interested in obtaining a stake in its fellow Star Alliance partner Avianca Holdings.
The two companies have been in talks for more than year to establish a joint venture as a response to proposed JVs between LATAM and its oneworld partners American and British Airways. The LATAM proposed JV would cover flights from Europe to South America, and North America to South America. Azul has also stated its intent to pursue a joint venture with United.
Uncertainty is growing for Mexican and Brazilian aviation after 2018 elections
At one point, the formalising of an open skies agreement between the US and Brazil spurred some speculation that the ratification of the deal could create an opportunity to examine Brazil's laws on foreign ownership of the country's airlines.

During the past couple of years there has been discussion about expanding the foreign ownership cap, which currently stands at 20%. It is one of the more restrictive limits and lower than the US cap of 25%, which dates back to the 1920s.
Other markets in Latin America have higher foreign ownership thresholds. Chile allows 100% foreign ownership, which paved the way for the US-based ULCC specialist Indigo Partners to establish JetSMART in Chile during 2017.
Foreign ownership caps for airlines of selected countries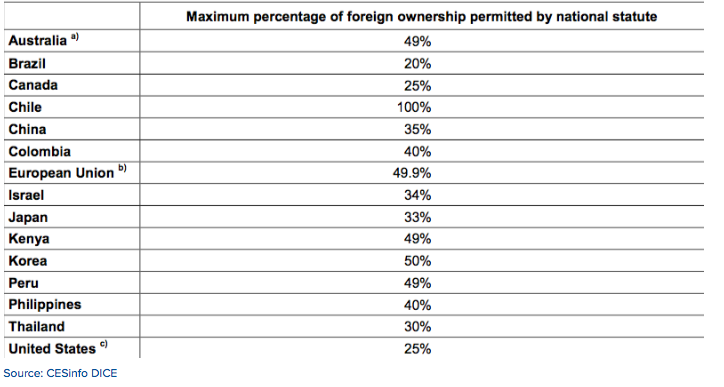 See related report: Brazil-US aviation: open skies as foreign ownership laws relax

But with upcoming presidential elections scheduled for Brazil in Oct-2018, it is anyone's guess how a new government will view the aviation industry. There is a risk that recent legislation that allows the country's airlines to charge for checked bags could be rescinded, and foreign ownership caps could remain status quo.

Andrés Manuel López Obrador (AMLO) was elected as Mexico's next president earlier in 2018 on a leftist populist platform. One of his campaign pledges was to scrap the construction of Mexico City's new airport scheduled to open in 2020. Bloomberg has recently reported that bonds sold to finance the airport project have fallen 6.9% in 2018. The report also quoted aides to AMLO stating that construction of the airport would continue as alternatives were being reviewed by the president elect's team.

See related report: Mexico election: doubt now about MEX airport and airline regulation
Colombia's new president takes the helm as Bogotá's mayor eyes tax increase
Colombia's president elect, Ivan Duque, is a centrist, and his most pressing priority is reworking the peace agreement brokered with the FARC rebels with the aim of (according to Time) pleasing everyone – the Colombian people, the signatories and the global community.

Colombia had the highest trips per capita among Latin America's largest aviation markets in 2017 at 0.8, which was still far below more developed markets.
2017 trips per capita for selected countries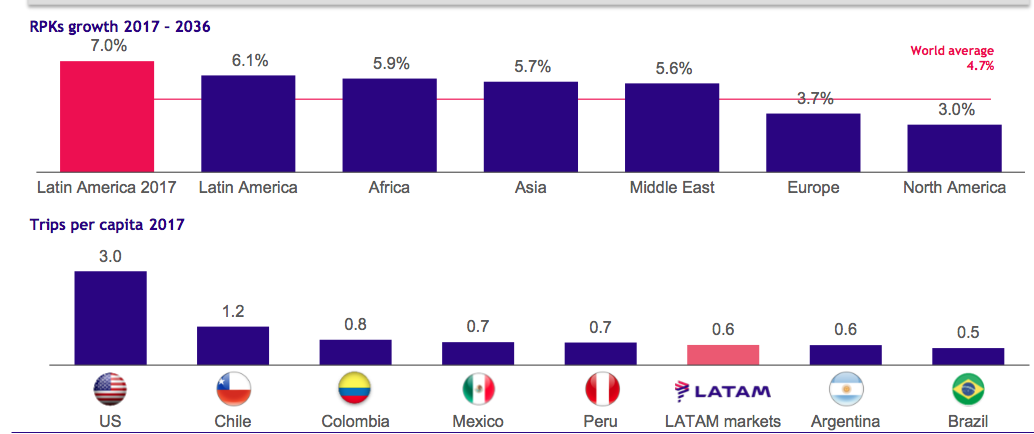 With the country having a population nearing 49 million, and 26 million passengers travelling on domestic flights in 2017, there is a lot of upside for growth in Colombia's aviation market.

But even though Colombia's ownership levels are more liberalised than the US and Brazil, some branches of the country's government are proposing levying taxes that could hurt the country's aviation industry.
Bogotá's mayor has stated a preference for levying a USD2.88 tax on domestic passengers travelling through El Dorado International airport, as well as a USD5.00 fee for international passengers, to fund road infrastructure.

Industry stakeholders, including Latin American airline association ALTA, have warned that the move could jeopardise the competitiveness of Colombia in Latin America. The association has said that El Dorado is the third largest airport in the region, handling more than 30 million passengers per year. "Increasing the airport's taxes would negatively affect competition and the potential [of El Dorado] to become a regional hub compared to airports in nearby countries such as Panama", the association has stated.

See related report: Colombia aviation: taxation to hurt national competitive stature
Elections create uncertainty about aviation's future direction in Latin America
Latin America remains one of the most promising and intriguing global aviation markets. But elections during 2018 in some of the country's most important aviation markets are creating a cloud of uncertainty about whether the region will move in the direction of a more liberalised attitude toward the aviation industry or regress backwards.
For now, the industry may need to adopt a wait and see attitude until the country's governments crystallise their feelings about the industry's future.
CAPA - Centre for Aviation will hold a panel discussion on Latin American investment and other pertinent topics at its upcoming Latin America Aviation and LCC Summit 2018 11-12 Sep in Cartagena, Colombia
AGENDA ITEM: Airline investment and foreign ownership in Latin America
Latin American flag carriers have often suffered from the dominance of foreign airlines in key markets. US airlines, notably, have secured significant equity holdings and partnerships, in attempting to subdue some of the more difficult elements of competition.
This has been possible as several key Latin American countries, such as Mexico, Brazil, Chile and now Argentina have adopted relatively liberal aviation policies. Ownership and control and foreign equity ownership have been significantly relaxed in several cases. Only a small number of states, including those of Central America, have resisted this trend.
As the main Latin economies emerge from the difficult times they have experienced in this decade, there is the potential for foreign airlines to establish even stronger ties.


How do limits on open skies and infrastructure constraints inhibit growth?
Are Latin American governments likely to pursue liberal market regimes, including market access and foreign ownership?
What is the appetite for foreign investment in Latin American airlines, and what is the reality that some of the more restrictive foreign ownership laws could change?
Are more cross-border equity investments likely as partnerships evolve?
Are there opportunities for multilateral liberalisation that would benefit foreign airlines?
Which markets are underserved and have the most potential?
How can the region's airlines compete better and capture their fair share of Latin America's growing air routes?
Will Latin American airlines grow their capacity share on intercontinental routes or will foreign airlines continue to dominate?
Moderator: Deutsche Bank, MD & Senior Research Analyst, Michael Linenberg
Panel Members: