Brazil-US aviation: open skies as foreign ownership laws relax
Analysis
The recent ratification of an open skies agreement by Brazil's Senate results in the US airlines arguably gaining unfettered route access to Latin America's largest markets – Brazil, Mexico and Colombia.

Now that the agreement is nearing formal ratification, LATAM Airlines Group and American Airlines can move forward in establishing their immunised joint venture, which in many ways represents a virtual merger. Rivals of those oneworld partners have had ample time to craft a response to the proposed JV, but the ratification of open skies creates a certain level of pressure for LATAM's and American's rivals to ensure they'll have the necessary tools to compete effectively against an entity that could control approximately 54% of the seats between the two countries.

The establishment of open skies with the US could reignite discussion in Brazil about changing foreign ownership laws covering the country's airlines, but 100% full foreign ownership is unlikely to materialise.
Still, a more liberalised perspective in Latin America's largest air travel market could spread to some of the region's more protectionist countries. Chile, which allows 100% foreign ownership of airlines, is not experiencing any detrimental effects from the debut of the ULCC JetSMART in its domestic market during mid-2017.
Summary
Brazil's airlines expand to the US – even before approval of an open skies pact
In early Mar-2018 Brazil's Senate approved an open skies agreement with the US that dates back to 2010. Over the years there has been pushback by some Brazilian legislators, who have argued that Brazilian airlines would face challenges in competing with US operators.

Despite that concern, Brazil's airlines have been expanding to the US. During 2017 the country's fourth largest airline Avianca Brazil introduced flights from São Paulo Guarulhos to Miami and New York JFK, also Azul launched service from Belém to Fort Lauderdale and resumed flights from Belo Horizonte to Orlando International. Those flights joined Azul's service from Campinas to Orlando and Fort Lauderdale, and from Recife to Orlando.

As it waits for final ratification of open skies and the requisite regulatory approval of its JV with American in the US, in 2018 LATAM Airlines Brazil is adding seasonal flights from São Paulo to Las Vegas, and new service to Boston.

In early 2016 LATAM tabled plans to establish joint ventures with its oneworld partners IAG and American. The proposed pact with American covered six countries – Brazil, Colombia, Chile, Paraguay, Uruguay and Peru.

Brazil has given a nod to the tie-up, which can only be executed once open skies is ratified with the US. Colombia has also approved the JV, but Chile has previously expressed some competition concerns. However, LATAM executives recently stated that the company was expecting Chilean authorities to approve the joint ventures with IAG and American in 2018.
LATAM-American JV will (no doubt) spur competitive responses from rivals
If the LATAM-American joint venture clears regulatory hurdles, it will be the first immunised partnership between a US airline and a South American operator. SkyTeam partners Aeromexico and Delta launched their transborder JV in 2017 after a new bilateral between the US and Mexico essentially created an open skies environment between the two countries.

LATAM and American already have considerable heft in the US-Brazil market, representing a combined 53.7% seat share for the week of 12-Mar-2018.
US-Brazil weekly one-way seats from 2012 to mid Aug-2018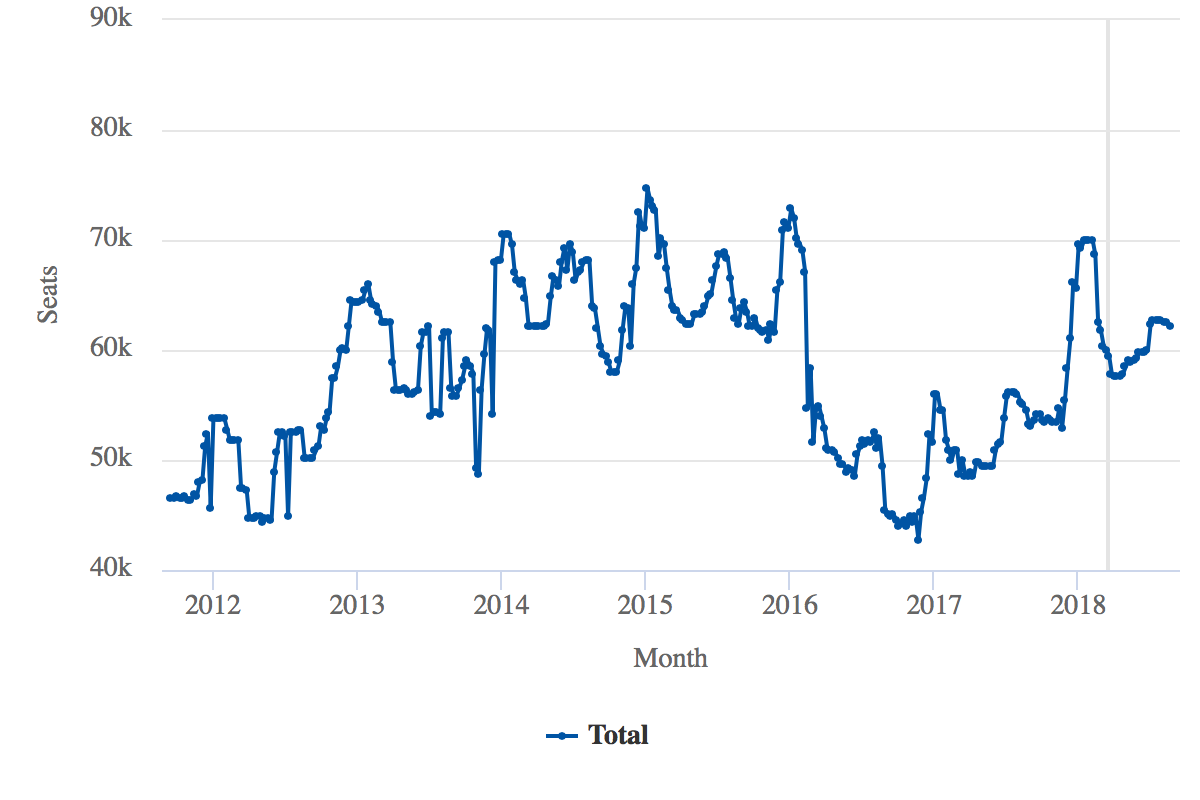 In some ways, it seems illogical that open skies would open the door for the two most powerful airlines in the market to consolidate their power, but in theory, other airlines now have the opportunity to pursue joint ventures to compete more effectively with LATAM and American.

Azul has stated its desire to create a joint venture with United, which holds a 5% stake in Brazil's third largest airline. United, in turn, is working on establishing a joint venture with its Star partner Avianca. Avianca Brazil is a separate entity from Avianca, but there have been discussions about a merger between the two companies.

Delta Air Lines has a 9% stake in Brazil's second largest airline GOL, but the two airlines have not outlined any plans to establish a joint venture.
However, Delta may act more aggressively to push for a JV with GOL now that Brazil's larger airlines are attempting to forge those pacts with Delta's US rivals. The prospective JV between Azul and United and a possible similar tie-up between Delta and GOL would likely gain swift approval by Brazilian authorities as somewhat of a counter to the heft of LATAM and American.
Brazil could lead South America in an evolution of thought for foreign ownership
There's some speculation that the ratification of an open skies agreement between the US and Brazil could create an opportunity to examine Brazil's laws on foreign ownership of the country's airlines. The news outlet Reuters recently quoted Brazil's Minister of Tourism Marx Beltrão indicating that he expects legislators to endorse a plan to enlarge the stake that foreign entities can hold in the country's airlines.

During the past couple of years there has been discussion about expanding the foreign ownership cap, which currently stands at 20%. It is one of the more restrictive limits, lower than the US cap of 25%, which dates back to the 1920s. Other markets in Latin America have higher foreign ownership thresholds. Chile allows 100% foreign ownership, which paved the way for the US-based ULCC specialist to establish JetSMART in Chile during 2017.
Foreign ownership caps of selected Latin American countries
JetSMART's debut could arguably be a case study in alleviating any fears of 100% foreign ownership of airlines causing harm. LATAM, which is Chile's largest operator, recently acknowledged that while capacity has increased in Chile's domestic market, it "feels comfortable today in the current market situation in domestic Chile".

If Brazil could enlarge its foreign ownership cap to 49%, it would put the country on par with most of the developed world, and send a message that a more liberalised mindset is spreading across Latin America.

On a more practical level, broadening the capital base for Brazil's airlines could prove beneficial, just as it would for US airlines. Both the US and Brazil should undertake a meaningful review of their foreign ownership rules in the light of the continued globalisation of the airline business.

See related report: US foreign ownership; time for a rethink

Delta took advantage of Mexico raising its limits to 49%, and it now owns a 49% stake in Aeromexico. Delta's view is that it can help Aeromexico improve its business model, and that logic could be applied elsewhere around the world, as well as to US airlines.
Open skies should naturally facilitate discussions about foreign ownership
The ratification of an open skies agreement between Brazil and the US will no doubt change the competitive landscape, since LATAM and American can now pursue their joint venture in full force.

Open skies should also ignite discussion about an evolution in thinking on foreign ownership restrictions in Latin America, in order to embrace the inevitable globalisation that is occurring in the airline industry.
To hear more on the state of the US aviation market, join us in Denver (18-19 March), at the 2019 Americas Aviation Summit. Click here for details.