Icelandair: a successful niche strategy provides profits and growth
Analysis
Icelandair recently announced planned capacity increases for 2014, with two new routes to North America and one new route to Europe and additional frequencies on two North American and eight European routes. This will grow its international flight schedule by 18%, on top of 16% planned growth in 2013, and take Icelandair's international passenger number's to 2.6 million in 2014. Looking further out, it has ordered 16 Boeing 737 MAX aircraft to add to its fleet from 2018 to 2021.
Part of one of Europe's more profitable airline groups, Icelandair's success in recent years owes much to its use of its Reykjavik hub to capture passenger flows between North Europe and North America. However, the global financial crisis and the heavy losses of 2008 and 2009 remain fresh in the memory. Moreover, although its markets are relatively less penetrated by LCCs, the environment is likely to become increasingly competitive. In terms of unit costs, Icelandair is efficient, but not low-cost. It cannot afford to stand still in this respect.
Icelandair planned new routes: 2014
| | | |
| --- | --- | --- |
| Route | Frequency | Date |
| | Four times weekly | 26-Mar-2014 to Jan-2015 |
| | Twice weekly | 13-May-2014 to 12-Oct-2014 |
| | Twice weekly | 24-May-2014 to 23-Sep-2014 |
Icelandair planned frequency increases: 2014
| | | |
| --- | --- | --- |
| Route | Frequency increase | Date |
| | Five to six times weekly | 08-Feb-2014 to 28-Feb-2014 |
| | three to four times weekly | 30-May-2014 |
| | six times weekly to daily | 04-Jun-2014 |
| | four to five times weekly | 14-Apr-2014 |
| | three to four times weekly | 05-Jul-2014 |
| | daily to nine times weekly | 06-Jun-2014 to 31-Aug-2014 |
| | five to six times weekly | 28-May-2014 to 08-Sep-2014 |
| | 11 to 13 times weekly | 06-Jun-2014 to 04-Sep-2014 |
| | 16 to 18 times weekly | 01-Jul-2014 to 27-Aug-2014 |
| | four to five times weekly | 03-Apr-2014 |
| | to daily | 24-May-2014 to 07-Sep-2014 |
| | twice to three times weekly | 31-May-2014 to 27-Sep-2014. |
Iceland has a high penetration of air travel
For a country of around 320,000 people, Iceland's passenger airlines carry a surprising larger number of passengers. Although it suffered heavily in the global financial crisis, it has one of the highest levels of GDP per capita of any nation in the world and this has helped it to a high penetration of air travel.
However, the high rate of airline seats per head in Iceland cannot only be explained by economic wealth. Like other fairly small countries that have developed aviation hubs to capture intercontinental traffic flows, Iceland's high rate of air travel is also due to the transfer traffic strategy of its leading airline.
Scheduled airline seats per capita versus GDP per capita
Icelandair is comfortably the biggest carrier in Iceland, with a share of 70% of scheduled seats, rising to 79% for the Icelandair Group including domestic/Greenland subsidiary Air Iceland (week of 9-Sep-2013, source: Innovata). In second position is WOW Air, an Icelandic low-cost carrier, which commenced operations only in Jun-2012 and already has a share of 12%. The leading foreign carrier is easyJet, with 3%, and all LCCs have a combined share of 17%.
Top Airlines in Iceland ranked by seats: 9-Sep-2013 to 15-Sep-2013
| | | |
| --- | --- | --- |
| Rank | Airline | Share of seats |
| 1 | | 70% |
| 2 | | 12% |
| 3 | | 9% |
| 4 | | 3% |
| 5 | | 2% |
| 6 | | 1% |
| 7 | | 1% |
| 8 | | 1% |
| 9 | | <1% |
| 10 | Transavia.com France* | <1% |
| 11 | | <1% |
| 12 | | <1% |
| 13 | | <1% |
From its base at Reykjavik Keflavik Airport, Icelandair currently operates to 19 destinations in Europe and ten in North America. Planned additions for 2014 mean it will have added 15 routes in five years.
Icelandair route map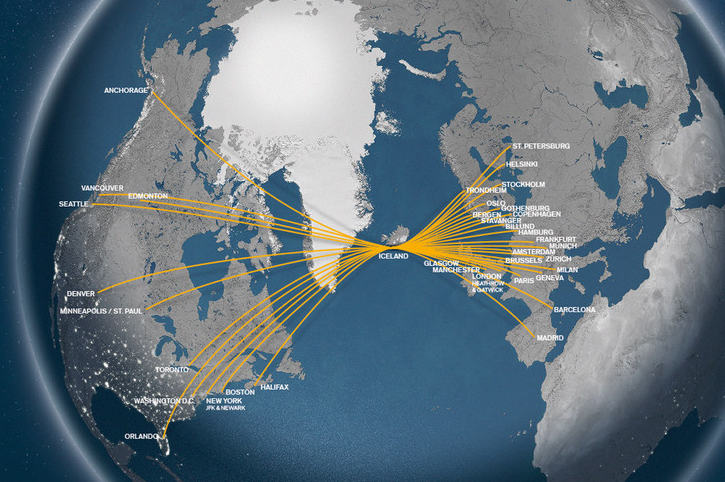 Icelandair Network Summary (at 15-Sep-2013)
| | |
| --- | --- |
| Total non-stop passenger destinations | 30 |
| Domestic | 1 |
| | 19 |
| | 10 |
| Total non-stop freight destinations | 4 |
Icelandair top 10 bases by seats: 9-Sep-2013 to 15-Sep-2013
Almost two thirds of Icelandair's seat capacity operates to Europe, with the remaining capacity deployed on North American routes. The United States is its biggest single country, while its European network focuses mainly on Scandinavia and Northern Europe, with the United Kingdom its number two country. Icelandair does not serve any destinations in Asia, although its codeshare with Finnair to Helsinki may facilitate connections into Finnair's Asian network.
Icelandair international seat capacity by region: 9-Sep-2013 to 15-Sep-2013
Icelandair international seat capacity by country: 9-Sep-2013 to 15-Sep-2013
Icelandair's top 10 routes by seats highlight the importance of the US, Scandinavia and Europe's major air hubs to its network. In particular, the importance of Reykjavik to Copenhagen reflects historic links with Denmark and Icelandair's codeshares with SAS.
Icelandair top 10 international routes by seats: 9-Sep-2013 to 15-Sep-2013
Premium economy accounts for a very high proportion of seats
According to data from Innovata, Icelandair has a much lower percentage of seats in regular economy class (67%) than the world average (93%) and a relatively high proportion in premium economy (21% versus world average 1%) and business class (12% versus 4%). Its economy cabin offers 32 inches of seat pitch and the fare includes a 23 kg checked bag (two bags on North American routes), soft drinks and in-flight entertainment.
The premium economy cabin offers 33 inch pitch and the fare also includes full catering, two checked bags on all flights, two carry-on bags, priority check-in and lounge access. Icelandair aims to offer "quality at an affordable price", a strategy that helps to position it in the trans-Atlantic market using its Reykjavik hub to connect passengers between Europe and North America. It can offer a long-haul route with two medium-haul flights.
Icelandair schedule by class of seat: 9-Sep-2013 to 15-Sep-2013
Low frequencies characterise most routes
Icelandair's network has fairly low frequencies on many of its routes. Analysis of its schedule reveals that it offers less than a daily frequency on 25 out of 35 routes. It only has five routes with a frequency of double daily or more: Copenhagen (the only three-times-daily route), New York, London Heathrow, Paris CDG and Boston. There are also five routes with one or more, but less than two, flights per day: Frankfurt, Seattle, Oslo, Amsterdam and Stockholm.
Icelandair destinations served by frequency/week: 9-Sep-2013 to 15-Sep-2013
Passenger growth is driven by connecting passengers
This combination of a stopover in Reykjavik and low frequencies are of limited appeal to business passengers and require keen pricing to attract passengers. It would seem that Icelandair has been doing something right in this respect, since its international passenger numbers grew by 16% in 2012 to reach 2.0 million, 50% higher than in 2009, and load factor was 80.6% (1.4 ppts higher than 2011).
Moreover, connecting passenger numbers were up by 25% in 2012 and were well over double their 2009 level. The service does have the advantage of a small (2.4 million passengers in 2012) and very user-friendly transfer airport, making connections more straightforward than in larger airports.
By contrast, the number of passengers originating from Iceland fell by 3% in 2012 and was only 25% higher than in 2009, and passenger numbers travelling to Iceland were only 19% higher in 2012 than in 2009. Total international passenger numbers grew by a further 14% in 1H2013, although passenger load factor dropped 2.1 ppts to 77.5%.
The group's passenger numbers on regional and Greenland routes fell by 1% in 2012 and by 10% in 1H2013.
Icelandair international passenger numbers ('000): 2009 to 2013
Icelandair international flight passenger traffic
| | | | | | | |
| --- | --- | --- | --- | --- | --- | --- |
| International flights | 2011 | 2012 | Change | 1H2012 | 1H2013 | Change |
| Pax '000 | 1,744 | 2,020 | 16% | 852 | 967 | 14% |
| Load factor % | 79.2 | 80.6 | 1.4ppts | 79.6 | 77.5 | -2.1 |
| ASK m | 6,173 | 7,176 | 16% | 3,011 | 3,614 | 20% |
Icelandair regional and Greenland flight passenger traffic
| | | | | | | |
| --- | --- | --- | --- | --- | --- | --- |
| Regional & Greenland | 2011 | 2012 | Change | 1H2012 | 1H2013 | Change |
| Pax '000 | 347 | 343 | -1% | 167 | 150 | -10% |
| Load factor % | 68.5 | 69.2 | 0.7ppts | 68.3 | 70.6 | 2.3 |
| ASK m | 180 | 178 | -1% | 82 | 70 | -14% |
Aircraft additions - a uniquely all-757 fleet for longhaul
The Icelandair Group fleet consisted of 39 aircraft at the end of Jun-2013, the same number as at the end of 2012 and four more than at the end of 2011. The Group's international network operates an all-Boeing 757 fleet, the majority with 183 seats, while the regional subsidiary Air Iceland operates Dash 8-200 and Fokker F-50 aircraft. The Group will add three 757s to the fleet in 2014.
In Feb-2013, Icelandair announced an order for 16 Boeing 737 MAX (nine MAX-8 with 153 seats and seven MAX-9 with 172 passengers) aircraft on order, for delivery from 2018 to 2021, and options on a further eight aircraft. Icelandair expects a 20% per seat reduction in fuel consumption relative to its 757-200 aircraft, although it currently plans to continue with the latter fleet alongside the new 737 MAX fleet. The new aircraft will allow Icelandair to add frequencies and new destinations, in particular in the winter. A key strategic goal is to reduce seasonal variations in its operations.
Icelandair Group fleet at 30-Jun-2013
Icelandair: development of Boeing 757 fleet: 2008 to 2014
Strong revenue growth and solid profits, but with strong seasonality
Icelandair Group's revenues grew by 14% in 2012 to reach USD899 million, its fourth year of growth in the region of 10% or more. Its net profit grew by 22% to USD44 million and its operating profit was up 31%. The increase in the net result in 2012 followed two years of fairly stable results and two years of losses before that. The group's 2012 EBIT margin of 5.7% puts it among the top five most profitable European airline groups.
The first half of 2013 saw a further double digit increase in revenues, although net profit remained around the breakeven mark. The second half is the most important period for the Group's earnings, accounting for 76% of EBITDA and virtually all the net profit in 2012.
A comparison of Icelandair's seat capacity in the four week period from 12-Aug-2013 with that planned in the four week period from 6-Jan-2014 shows that it has only 52% of the numbers in the winter period as the summer period, compared with an average in Europe of 80%. The Group is attempting to reduce seasonal variations by actively expanding the shoulder season into both spring and autumn and focusing on winter tourism.
Icelandair's balance sheet has also strengthened in recent years. At the end of 2012, the group's net debt was USD18 million, down from USD336 million at the end of 2009. Over the same period, equity increased from USD119 million to USD296 million.
Icelandair Group financial results (USD million): 2012
Icelandair Group EBITDA and net profit (USD million): 2008 to 2012*
Icelandair Group financial results (USD million): 1H2013
Icelandair Group EBITDA and net profit (USD million): 1H2009 to 1H2013*
Further growth is expected in 2013 and 2014
In a bullish 1H2013 results announcement at the end of Jul-2013, Icelandair projected that passenger numbers on international flights would increase by 15% for the full year to reach 2.3 million passengers, with the flight schedule 16% larger than last year. It said that bookings were in line with the increase in capacity. By contrast, regional operations will see a 4% cut in the flight schedule, partly as a result of "large increases in public levies in Iceland". Icelandair forecasts that EBITDA will increase to USD140-145 million in 2013, compared with USD110 million in 2012.
Icelandair's plans for 2014 see ASK growth of almost 18%, of which 4% will come from new destinations, 7% from increased capacity to Europe and 6% from increased capacity to North America. More than 80% of the passengers on the two new North American routes and more than 35% of the Geneva passengers are expected to be transfer passengers. Icelandair expects to add 350,000 passengers in 2014.
Unusually among European airlines currently, Icelandair was positive about its cargo business, saying that the "outlook …is favourable, particularly as regards exports from Iceland". It operates two freighters on the Atlantic, in addition to passenger aircraft belly capacity, and two further aircraft in charter operations for TNT.
Strong competitive position
Much of Icelandair's recent growth has stemmed from its transfer traffic strategy, the success of which is illustrated by the increase from 28% in 2009 to 42% in 2012 in the proportion of its passengers using its Reykjavik hub as a stopover. In this respect, its principal competitors are the major trans-Atlantic carriers, in particular those operating from Northern Europe to Canada and the more northerly parts of the US.
Icelandair has a near-monopoly on routes between Iceland and North America, according to data from Innovata (Delta operates Reykjavik to New York JFK in the peak summer months only, with 40% of Icelendair's capacity on the route, but there are no other competitors on any other route), and it is by some distance the leading operator between Iceland and Europe. Its competitors on the latter routes are all in the point-to-point market and, although WOW Air has built up a material share in little more than a year of operations, the major European LCCs do not yet have a significant presence in the Iceland market.
Icelandair is efficient, but does not have a low-cost CASK structure
Icelandair's cost structure gives a competitive level of CASK compared to most of the European legacy flag carrier groups. However, the gap is not enormous and the further success of its transfer strategy, which typically attracts more price sensitive passengers, will likely require reductions in unit costs. In addition, it may be vulnerable to increased competition from LCCs given its CASK disadvantage to them.
Unit costs (cost per available seat kilometre, US cent) and average sector length for selected European legacy and low-cost carriers 2012*
A successful niche secures its role
The 848,000 passengers that travelled via Icelandair's hub in 2012 represented 2.7% of the passenger numbers carried across the North Atlantic by members of the Association of European Airlines, a figure that grew from 1.4% in 2009. Icelandair has increased its US to Europe ASKs at rates between approximately 15% and 30% each year since 2010, compared with market growth in the low single digits.
Passengers that do not originate or end their journey in Iceland have no reason to make a stopover in Reykjavik other than the price offered compared with direct flights on other carriers, supported by Icelandair's product quality. This seems a classic example of using geographic positioning, backed by price and product, to carve out a successful niche. It must work hard to hang on to this.
Icelandair's transfer passengers as a percentage of AEA North Atlantic passengers