British Airways considers secondary Chinese cities, possible codeshare with China Southern
Analysis
British Airways (BA) looks increasingly likely finally to enter secondary Chinese cities, becoming the last major European carrier venturing beyond the main gateways to lesser known destinations – but with populations greatly exceeding those of European counterparts. London Heathrow slots gained from the acquisition of bmi and the introduction of additional long-haul aircraft, including the Boeing 787, are bringing cities – as flagged by BA – such as Chengdu, Chongqing, Guangzhou and X'ian into focus as candidates.
BA has also struggled with finding a mainland partner carrier, but now looks likely to find a solution with a codeshare with SkyTeam's China Southern.
The potential partnership adds to the alliance rethink that BA, and parent company IAG, are going through as they seek to adjust to a new world order. Qatar Airways, at the welcoming of IAG's Willie Walsh, is expected to join the oneworld alliance, with an announcement possibly merely weeks away.
Meanwhile BA's old friend and partner Qantas may be pursuing its own path with Emirates, which could rattle the long-standing joint-services agreement on Australia-UK routes that BA finds of diminishing value now that intermediate airlines deliver increasingly more competitive offerings. BA partnering China Southern would not necessarily end the Qantas relationship, but would certainly widen the already apparent cracks. Partnering with China Southern on its expanding Australian network would further BA's agenda of acting sensibly amid new competition – along with rocking SkyTeam's boat.
British Airways last of Europe's main airline groups to serve Chinese point other than Beijing or Shanghai
Categorising primary and secondary airports in mainland China is open to interpretation and subject to perspective. There were nearly 20 mainland airports in 2011 with annual passenger figures of 20 million of more, but from an international – and long-haul in particular – focus, Beijing Capital and Shanghai Pudong are the primary airports. Supplementing the two in a regional perspective are Guangzhou and Shanghai Hongqiao, which are also considered "national hubs".
Top 20 mainland airports ranked on passengers: 2010 to 2011
| Rank | Airport | 2011 | 2010 | Y-o-Y change |
| --- | --- | --- | --- | --- |
| 1 | Beijing Capital | 78,674,513 | 73,948,114 | 6.4% |
| 2 | Guangzhou Baiyun | 45,040,340 | 40,975,673 | 9.9% |
| 3 | Shanghai Pudong | 41,447,730 | 40,578,621 | 2.1% |
| 4 | Shanghai Hongqiao | 33,112,442 | 31,298,812 | 5.8% |
| 5 | Chengdu | 29,073,719 | 25,805,815 | 12.7% |
| 6 | Shenzhen | 28,245,738 | 26,713,610 | 5.7% |
| 7 | Kunming | 22,270,130 | 20,192,243 | 10.3% |
| 8 | Xian | 21,163,130 | 18,010,405 | 17.5% |
| 9 | Chongqing | 19,052,706 | 15,802,334 | 20.6% |
| 10 | Hangzhou | 17,512,224 | 17,068,585 | 2.6% |
| 11 | Xiamen | 15,757,049 | 13,206,217 | 19.3% |
| 12 | Changsha | 13,684,731 | 12,621,333 | 8.4% |
| 13 | Nanjing | 13,074,097 | 12,530,515 | 4.3% |
| 14 | Wuhan | 12,462,016 | 11,646,789 | 7.0% |
| 15 | Dalian | 12,012,094 | 10,703,640 | 12.2% |
| 16 | Qingdao | 11,716,361 | 11,101,176 | 5.5% |
| 17 | Urumqi | 11,078,597 | 9,148,329 | 21.1% |
| 18 | Sanya | 10,361,821 | 9,293,959 | 11.5% |
| 19 | Shenyang | 10,231,185 | 8,619,897 | 18.7% |
| 20 | Haikou | 10,167,818 | 8,773,771 | 15.9% |
British Airways has yet to serve mainland cities beyond the two primary airports, whereas its competitors have more extensive networks, some developed years ago - although most secondary city growth has been in 2011 and 2012. Overlap on Chinese cities (other than Beijing or Shanghai) is non-existent, except for Guangzhou, which has perhaps been under-served as somewhat nearby Hong Kong has been the port in the Pearl River Delta most favoured by European carriers.
Except for China Southern's Guangzhou routes, all secondary services are less than daily on medium-capacity aircraft, whereas Beijing and Shanghai attract daily services at a minimum from European carriers and often on the largest aircraft in fleets.
Western European passenger routes to China, excluding Beijing and Shanghai: 20-Aug-2012 to 26-Aug-2012
British Airways first to increase capacity on Beijing and Shanghai and then look at new routes
British Airways intends to raise northern winter capacity on its Beijing and Shanghai routes, which in Beijing drops from daily over northern summer to six-weekly, while Shanghai holds at six-weekly, Innovata schedules show. BA is considering – with no final decision made – deploying its forthcoming A380s to Beijing, as well as Hong Kong, Johannesburg and Los Angeles, according to a Chinese interview with BA East Asia regional general manager Kevin McQuillan (since moved to London headquarters).
Beijing and Shanghai are now largely closed to foreign carriers except for those willing to accept midnight hour slots, which are typically passed over by long-haul carriers as the timings limit connections and convenience. Up-gauging of aircraft becomes the primary growth mechanism and BA has already moved its Beijing service from a 777-200 to 747-400 and Shanghai from 777-200 to 777-300ER. The A380 is BA's last up-gauge option.
BA's Mr McQuillan cited Chengdu, Chongqing, Guangzhou and X'ian as cities BA would consider adding service to, possibly with the 787. Chengdu, Chongqing and Guangzhou already have links to Europe (and Air China in Aug-2012 raised the possibility of serving Frankfurt from Chengdu sometime in 2013), increasing competition for critical connecting traffic, but X'ian does not. Services to Chengdu and Chongqing are limited. Given Guangzhou's large size it could support a BA service, especially if BA were able to tap into feed from the airport's dominant carrier, China Southern.
Guangzhou Baiyun Airport capacity by carrier (% of seats): 20-Aug-2012 to 26-Aug-2012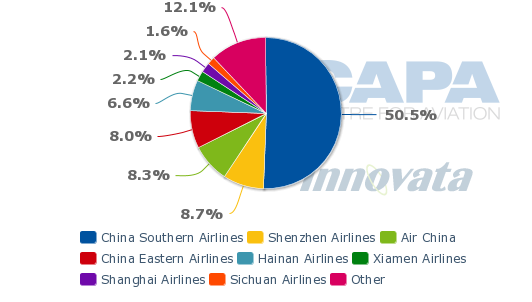 Mr McQuillan in Jun-2012 expressed interest in BA cooperating with China Eastern or China Southern. The objective is to win greater feed from the mainland, which BA and its oneworld alliance lack due to the absence of a mainland partner. Star Alliance has Air China (and soon Shenzhen Airlines) while SkyTeam has the country's other two big carriers, China Eastern and China Southern, as well as Xiamen Airlines. The holdup in oneworld for a mainland partner originates with Hong Kong-based Cathay Pacific seeing itself as a suitable carrier for the mainland, even though it lacks domestic traffic rights. oneworld will eventually have to accept a mainland carrier – Hainan is likely – but BA no doubt wants to pursue what is strongest for its business now, although alliance membership rules could mean Cathay would have to approve any BA deal with China Eastern or China Southern.
China Eastern's interest, however, is understood to have been faint due to limited reciprocity benefits. China Eastern would be interested in potentially securing more London Heathrow slots, but that is outside of BA's jurisdiction (unless BA, in an unlikely move, swapped slots). SkyTeam, which China Eastern is a member of, has no hub at Heathrow but connections to Europe via Heathrow are seen as too circuitous. China Eastern also serves Frankfurt, Hamburg, Moscow, Paris CDG and Rome, and has a continental European codeshare deal with Air France from Paris CDG.
Local traffic to London is not highly regarded by China Eastern. The carrier is building up premium demand but for now its staple is leisure passengers, and particularly the outbound market from China. Chinese nationals, however, are required to apply in advance for a visa to most European states. While UK visa processing is improving, a UK visa only permits entry to the UK whereas a Schengen visa provides entry to the Schengen area, far wider and containing most of the sights Chinese like to see on a Continental tour.
Top 10 largest carriers between Western Europe and China ranked on seats: 20-Aug-2012 to 26-Aug-2012
These structural matters are no different at China Southern, but what would make China Southern more likely than China Eastern to make a deal with BA is China Southern's aggressive push into international long-haul markets, and building up sixth freedom networks. China Eastern is far more conservative with long-haul flights, partially owing to a small long-haul fleet, but it does not hold strong long-term profitable growth prospects for Europe, unlike North America. China Southern is taking the approach of building a long-haul network now and then focusing on profitability. Bullish long-term visions are increasingly rare at airlines as they seek to appease short-term-minded investors, but China Southern has no guarantee its bet will pay off; sixth freedom networks between Europe and the east are showing steady yield declines. China Southern's Guangzhou base has far less O&D potential than China Eastern in Shanghai or Air China in Beijing.
China Southern's sixth freedom push includes its Jun-2012 commencement of London Heathrow services in part to enter Australia-London traffic, even branding an itinerary through Guangzhou as the "Canton Route", a moniker that is finding traction in local markets, Australia especially. The thrice-weekly A330-200 Heathrow service will be increased to daily in Oct-2012.
China Southern is considering deploying its A380 to London, but this is less about market potential than it is an option of last resort: China Southern is understood to have been interested in using its A380s on more profitable routes, including from Air China's Beijing hub, but Air China rebuffed China Southern's application, limiting potential A380 routes. A service to London, or Sydney (which the carrier has also spoken about) would be expected to be loss-making, but an improvement over the significant losses encountered by the A380 fleet currently having minimal flying.
With a forthcoming frequency increase, and possibly up-gauging as well, China Southern needs a partner as it does not benefit at London as it does at Amsterdam or Paris with partners Air France and KLM.
China Southern indicates British Airways agree to codeshare, but scale unknown and subject to change as global alliances tangle
Local reports indicates China Southern has reached a codeshare agrement with British Airways, but the extent is unknown. Any reach agreed today could be significantly expanded in coming months as the oneworld alliance prepares for its biggest shakeup yet: signs increasingly point to oneworld accepting as a member a Middle East carrier, with Qatar Airways most likely due to the courting of CEO Akbar Al Baker from friend and IAG CEO Willie Walsh. But that is not the only change. oneworld's Qantas is evaluating a codeshare with Emirates in order to improve its loss-making long-haul network and extend it via a virtual operation.
See related article: oneworld's BA and Qantas may shake up global alliances irreversibly as Emirates and Qatar enter
IAG's interest in Qatar is due to global factors and opportunities whereas Qantas' interest in Emirates is confined to a more efficient European network (with some smaller gains, like Middle East access). Qantas currently serves Europe via a joint-services agreement with BA, but that is more of the past than it is the future, with BA seeing no long-term potential in Australia.
See related article: Europe-Australia market changed forever as sixth freedom carriers gain scale and drop prices
BA and Qantas are ready for an overdue divorce as soon as they find suitable alternatives. Qantas is considering Emirates and while BA and oneworld at large are likely considering Qatar, Qatar's network to Australia is thin, reaching only Melbourne and Perth. BA's solution to the weaker Australian market could be intertwined with its hunt for a stronger position in China. BA has flagged potential, according to UK reports, that it could work with China Southern to Australia if the BA-Qantas deal ends as part of Qantas working with Emirates. The JSA is not necessarily exclusive of any parallel deals, but to have a four-way relationship with two Gulf carriers as well as BA and Qantas would be uncomfortable at best.
The 20 largest carriers serving Australia ranked on international seats (all markets): 20-Aug-2012 to 26-Aug-2012
Rank
Airline
Total seats
1
QF
Qantas Airways
135,356
2
EK
Emirates*
75,124
3
SQ
Singapore Airlines*
66,744
4
JQ
Jetstar Airways
62,042
5
NZ
Air New Zealand*
60,476
6
DJ
Virgin Australia
55,136
7
CX
Cathay Pacific*
39,848
8
MH
Malaysia Airlines*
28,910
9
TG
Thai Airways*
25,282
10
D7
AirAsia X*
21,112
11
GA
Garuda Indonesia*
17,082
12
CZ
China Southern Airlines*
17,012
13
VA
V Australia
12,342
14
EY
Etihad Airways*
11,512
15
UA
United Airlines*
10,968
16
FJ
Air Pacific*
10,428
17
TZ
Scoot*
9648
18
MU
China Eastern Airlines*
7868
19
QZ
Indonesia AirAsia*
7560
20
KE
Korean Air*
7110
The upside of a BA-China Southern deal is extraordinary: China Southern's Australia/New Zealand network consists of Auckland, Brisbane, Melbourne, Perth and Sydney, with Cairns to be introduced in late 2012. The Chinese carrier is looking to grow its Australia/New Zealand network to 55 return services a week, potentially greater access between Australia and Asia than BA could hope to achieve with Qantas. China Southern by its own admission needs to improve its international service, but a greater drawback could be (other) partner acceptance.
China Southern's arrangement with AF-KLM sees the European carriers codeshare on China Southern's Australian services, and the leading SkyTeam members may be less than impressed to have China Southern start funnelling passengers from Guangzhou to Europe on BA instead of Air France. But Air France has perhaps set a standard of fluid partnerships: between Europe and Australia one of its strongest relationships is with Qantas and it works not only with China Southern but also Star's Thai Airways. Japan Airlines also has a very close and longstanding relationship with Air France. A broader BA-China Southern network could also attract Cathay Pacific's displeasure, with its own extensive Australian network.
Airlines tango and oneworld becomes less cohesive, but Willie Walsh and IAG to benefit
oneworld has never been a strict coterie like Star but instead a loose set of largely bilateral affiliations between carriers. Yet with Qantas considering Emirates (in contention with prospective member Qatar Airways), BA considering China Southern (in contention with Cathay) and airberlin already working with Etihad, the oneworld alliance is becoming even less coherent.
That may not be a concern to the one party that will benefit the most from the eventual outcome from this alliance tango: Willie Walsh's IAG. Buoyed by a sharp increase in Heathrow slots due to its acquisition of bmi, IAG is out to make up for lost time creating dominance wherever it can.
See related article: British Airways/IAG with bmi looks to re-establish world leadership – and long term survival
Qantas is reporting this week and there are expectations of bigger than normal announcements – partly to offset smaller than usual profits – so some light may well be shed on this intriguing tangle of relationships. There is however probably more time needed to sort out the three-dimensional complexities.
In a potential partnership with China Southern, IAG will find a more viable way to serve once-stable Australia and greater access to domestic feed in the growing domestic Chinese market. This is, symbolically and actually, where the past and the future intersect.