Athens Airport: strong growth helped by pricing strategy shows benefit of European deregulation
Featured Analysis
As the largest city in Greece and also its commercial centre, Athens' air traffic was badly affected by the global financial crisis. Athens International Airport is now growing rapidly once more, with 2015 looking set to match 2014's passenger growth rate in excess of 20%. In 2014, it was the second fastest growing primary airport in Europe (after Istanbul Ataturk). Overall traffic is still down from pre-GFC levels but catching up.
Athens' recovery has been staged in spite of ongoing political and economic uncertainty. Indeed, in recent years, Greek air traffic and GDP growth have de-coupled in an unprecedented manner. The European regulatory environment, or, more particularly, European deregulation created the opportunity for Athens to achieve this. Without liberalisation Ryanair's entry and rapid growth and Aegean's consolidation of Greece's airline sector would not have happened. The airport's innovative pricing structure has also played a part.
Passenger growth of 21% in 2014 after a long recession
Passenger traffic at Athens took a long time to start its recovery from the global financial crisis, which hit Greece harder than most. Between 2007 and 2013, passenger numbers fell by 24%, almost a quarter, from 16.5 million to 12.5 million. Domestic traffic fared particularly badly, dropping by 28% over this period, as the domestic economy collapsed. International traffic benefited, at least compared with the domestic market, from inbound leisure demand.
In 2014, the airport enjoyed a strong return to growth, with an increase in passenger numbers of 21%, driven by both domestic and international markets. The catalysts for this fight back were Ryanair's entry into Athens and a strong resumption of growth by Aegean Airlines following its acquisition of the then struggling Olympic Air.
See related report: Ryanair's growth in Greece threatens Aegean's turnaround only months after Olympic acquisition
The airport also helped to stimulate demand through pricing initiatives regarding airport charges. A previous CAPA analysis described the economic backdrop in Greece and the airport's discounting strategy to stimulate growth.
See related report: Greece aviation and tourism - Part 1: potentially major forces in supporting economic re-development
Nevertheless, the 2014 total of 15.2 million passengers was still below the airport's 2010 level (although international numbers were back to their 2010 figure). International markets accounted for 65% of the total in 2014.
Athens International Airport annual passenger numbers 2008 to 2014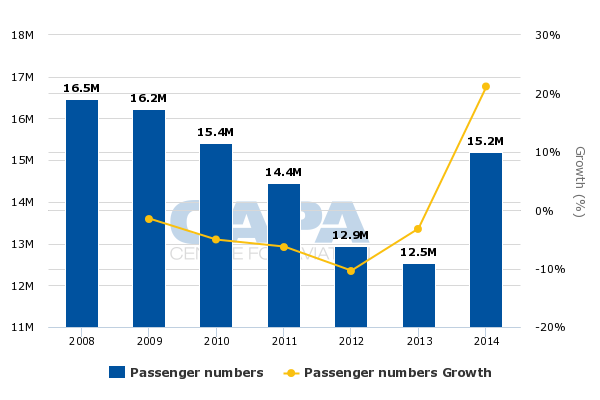 Athens International Airport domestic and international passenger numbers 2007 to 2014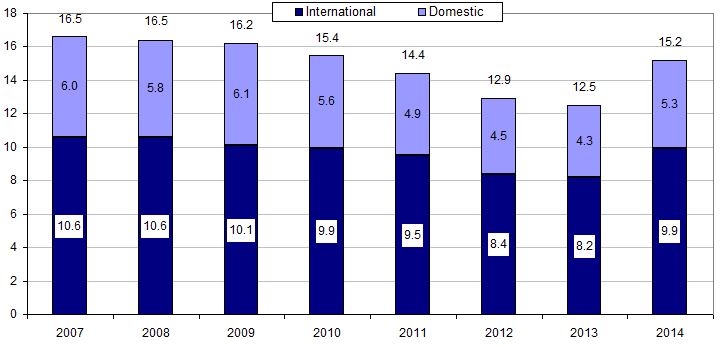 Growth of 21% again in 2015 YTD
Growth has continued strongly in 2015, when the first nine months saw passenger numbers at Athens increase by 21%, according to the airport's traffic statistics. Although domestic growth, up 25%, outpaced international growth of 19% in 9M2015, Athens' international traffic growth compares very favourably with low single digit international growth in the rest of Greece.
The superior growth in Athens international traffic currently partly reflects its weaker performance in the downturn, the result of less robust leisure demand than enjoyed by the Greek islands. Aegean Airlines expects Athens international passenger numbers in 2015 to be some one million ahead of their 2007 number, signalling a complete recovery from the financial crisis.
Athens is Greece's biggest airport, but share of passengers fell during the crisis
Athens is the largest airport in Greece, ahead of Heraklion in Crete and Thessaloniki, but was hit harder by the recession than were airports in the rest of the country. Athens handled 49% of passengers in Greece in 2009, but this share fell to 37% in 2013. Its strong growth of 2014 allowed it to recover some of its market share, but only to 39%.
In the domestic market, Athens has a higher share, with 43% of domestic passengers in Greece 2014 (stable versus 2013, but less than its 45% share in 2009). The airport handled 30% of international passengers in 2014, up from 29% in 2013, but still below the 39% share that it enjoyed in 2009.
(Note: these market share figures are CAPA calculations derived from data from Athens International Airport and the Hellenic Civil Aviation Authority.)
Athens International Airport share of Greece passenger numbers: total, domestic and international 2007 to 2014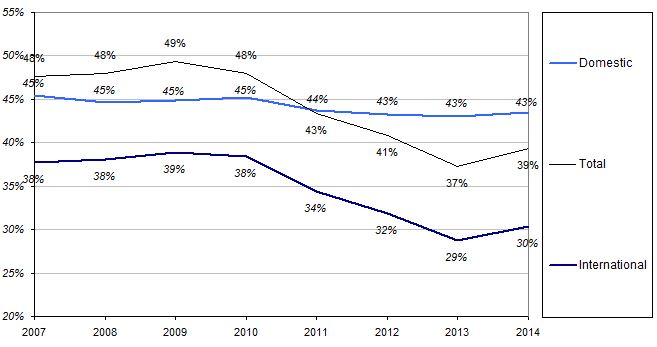 Aegean is Athens' leading airline, but Ryanair has double digit share of seats
Aegean Airlines, Greece's largest operator, is the leading airline at Athens with 46% of seats (week of 19-Oct-2015, source: OAG). Ryanair is ranked number two and has 13% of seats. Aegean subsidiary Olympic Air, which operates only on domestic routes, has a 5% share. Lufthansa, the leading non-Greek full service airline, has around 4% and easyJet has 3%. Low cost airlines control almost 21% of seats at the airport.
Athens International Airport: share of seats by airline 19-Oct-2015 to 25-Oct-2015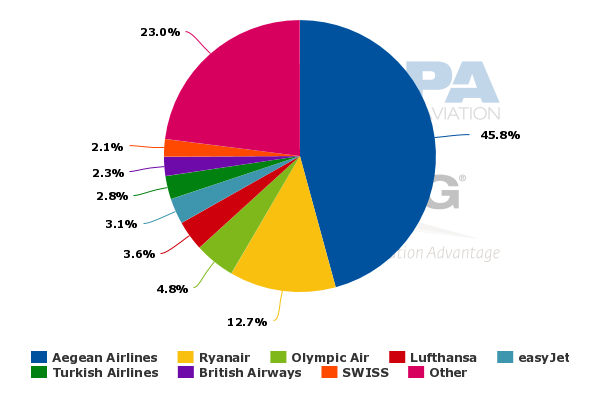 Athens International Airport: low cost airlines ranked by Seats 19-Oct-2015 to 25-Oct-2015
| Rank | Airline | Total Seats |
| --- | --- | --- |
| 1 | | 55,944 |
| 2 | | 13,488 |
| 3 | | 4,114 |
| 4 | | 3,738 |
| 5 | | 3,710 |
| 6 | | 3,600 |
| 7 | | 3,180 |
| 8 | | 1,272 |
| 9 | | 1,116 |
| 10 | | 576 |
| 11 | | 492 |
| 12 | | 224 |
The evolution of airline share at Athens has been marked by two significant developments over the past two years. First, the rapid contraction of Olympic Air prior to, and after, its acquisition by Aegean in late 2013 and, second, the entry of Ryanair at the start of the summer 2014 schedule.
Olympic's decline led to a dramatic loss of market share by Greece's former national airline. Its share of seats between Athens and all of Europe (which dominates the airport's schedule, including domestic Greece) fell from around 26% in summer 2012 to 20% in summer 2013 and then to 5% in summer 2014. This share was broadly maintained in summer 2015 (data source: OAG).
Ryanair moved into Athens in Apr-2014 and claimed a seat share of around 7% on routes to/from Europe in its first summer. This grew to 12% in summer 2015 and will expand to 20% in the coming winter (compared with 14% last winter), according to OAG schedule data.
Aegean's own expansion and its acquisition of Olympic allowed it to increase and then maintain the Aegean Airlines Group's share of seats at Athens from around 40% in summer 2013 to around 55% in summer 2014 and summer 2015. Although it maintains the two separate brands, the Aegean Group's operations are well integrated and managed broadly as a single entity.
In winter 2015/2016, a number of domestic routes previously operated under Aegean's A3 code will be operated by Olympic's OA code with an A3 codeshare. The Group's domestic capacity will remain more or less flat and the Group's overall share of Athens-Europe will be only slightly eroded this winter.
Athens International Airport to Europe: share of seats by airline 19-Sep-2011 to 3-Apr-2016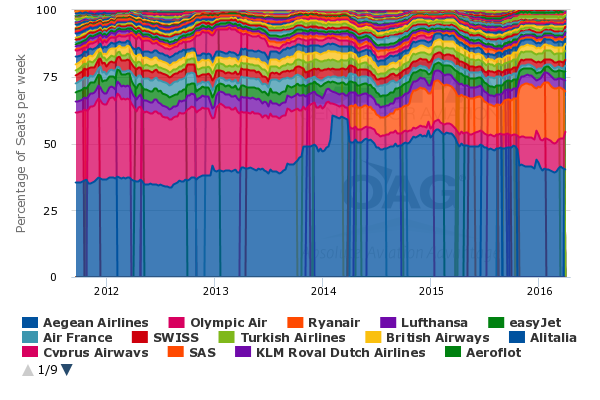 Short/medium haul dominates Athens
Capacity at Athens is dominated by short/medium haul seats, with 95% of seats deployed on flights of less than four hours (57% less than two hours). European routes account for 91% of total seats, including the domestic market, which accounts for 36% of seats (week of 19-Oct-2015, source: OAG). The Middle East takes less than 7% of total seats and North Africa less than 1%.
The only long haul routes from Athens are to North America and account for a little more than 1% of the airport's seat capacity. These are to New York (operated by Delta in the summer only), Toronto and Montreal (both Canadian routes operated by Air Canada, Air Transat and SkyGreece Airlines as summer only routes). As of the week of 19-Oct-2015, there are no routes to Asia Pacific or Latin America, although Singapore Airlines has operated a seasonal Singapore service (June to mid October) in three of the past four summers (missing out 2013) and Korean Airlines operated a Seoul service in July and August 2015.
The biggest country markets to/from Athens are the major Western European nations Italy, UK, Germany and France (but not Spain), in addition to Turkey and Cyprus. These all have significant origin and destination traffic, in most cases reflecting their large populations on a European scale. In the case of Cyprus, there are strong ethnic ties with Greece, generating a large VFR market.
In addition, Athens Airport's paucity of long haul routes means that the large hubs of Western Europe and Turkey carry much of Greece's intercontinental traffic to/from their final destinations.
Athens International Airport international seat capacity by country 19-Oct-2015 to 25-Oct-2015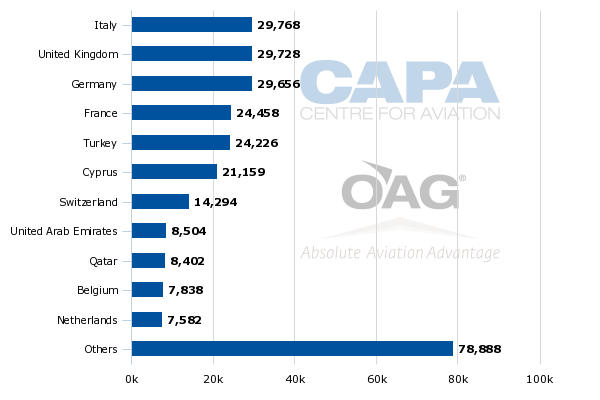 Although international routes have a larger overall share of Athens' seat capacity than that of domestic routes, the airport's biggest route by seat numbers is in the domestic market. Athens to Thessaloniki is more than four times the size of the next biggest route, according to OAG data for the week of 19-Oct-2015.
Thessaloniki, Greece's second largest city and a major industrial centre, is on the mainland, but the rest of Athens' list of top ten domestic destinations is dominated by cities in the Greek islands. Aelaxandroupolis, in north eastern Greece, is the only other top ten domestic destination from Athens that is not on an island.
Athens International Airport top ten domestic routes by number of seats 19-Oct-2015 to 25-Oct-2015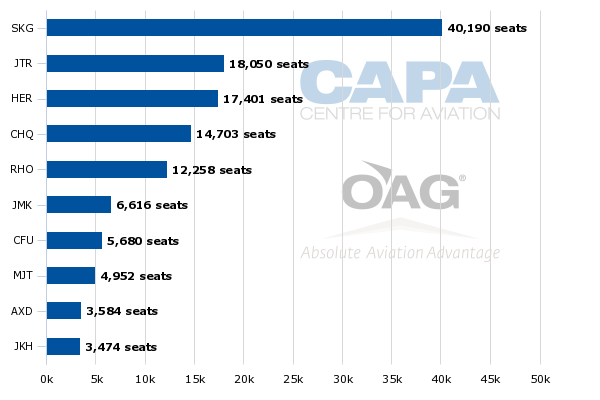 Istanbul is biggest international route
The largest international route from Athens is to/from Istanbul Ataturk, the main hub of Aegean's fellow Star Alliance member and codeshare partner Turkish Airlines. Turkish operates to more international destinations than any other airline and offers extensive connections to Asia and Africa.
Greek passengers must rely on Western European hubs for long haul connections to the Americas. London Heathrow, Paris CDG, Frankfurt, Munich and Amsterdam all feature in the top ten international routes from Athens. Long haul connections to the Americas and Africa are also facilitated by codeshare agreements between Aegean Airlines and its Star Alliance partners Lufthansa, Brussels Airlines, TAP Portugal, SAS and Ethiopian Airlines.
Beyond the Star Alliance, the three Gulf-based super-connectors Qatar Airways, Emirates and Etihad all serve Athens from their own hubs in the Middle East, with Doha making Athens' international top ten. Aegean also has a codeshare agreement with Etihad, covering domestic destinations served by Aegean from Athens (in addition to Athens-Bucharest) and Etihad's Athens-Abu Dhabi service.
Athens International Airport top ten international routes by number of seats 19-Oct-2015 to 25-Oct-2015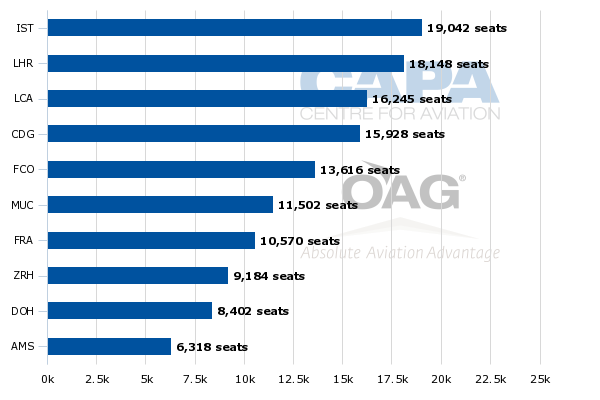 Athens is underserved with international destinations
In a recent company presentation, Aegean Airlines identified a significant opportunity at Athens, which is underserved with international connections (in particular long haul) by comparison with selected other European airports. Moreover, compared with many of these other airports, Athens did not see a significant change in the number of international destinations from 2005 to 2014, with the number increasing from 79 to 89 (see chart below).
International destinations from selected European airports 2005 and 2014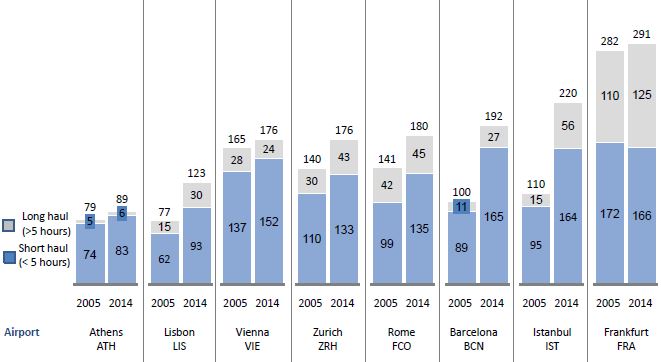 The airport that enjoyed the greatest increase in international destinations over this period was also the airport at the other end of Athens' biggest international route, Istanbul Ataturk, where the number doubled from 110 to 220. This was also the fastest growing European primary airport in 2014, with passenger growth of 26%, ahead of second fastest Athens' 21% growth. However, Istanbul Ataturk saw its growth slow down to 9% in the first eight months of 2015, while Athens has continued to grow at a rate in excess of 20%.
Athens' above average growth looks set to continue.