American Airlines looks to new Asian and German connections through new international markets
Analysis
American Airlines is largely targeting growth markets through new international routes it plans to introduce in 2013, bolstering its already robust ties to Latin America through new flights to Lima where oneworld partner LAN is increasing service to capitalise on increasing demand between North and Latin America. Attempting to build on a recently strong performance in the Pacific, American is also introducing its first direct service from the US to Seoul in South Korea, a market dominated by SkyTeam carrier Korean Air and Star member Asiana.
New service planned by American from its Chicago hub to Dusseldorf in Germany is a direct result of airberlin's ascension earlier this year into oneworld, allowing American to seize on airberlin's stature as Germany's second largest carrier and fill a hole in both its own and oneworld's larger European network. The carrier is also entering a well-served market with a new service from JFK to Dublin, but American appears to be timing the launch of service to coincide with "The Gathering", an Irish-government sponsored initiative aimed at encouraging individuals of Irish descent to return to the country to boost tourism and strengthen the economy.
American is still firming up its capacity guidance for 2013, but early in 2012 outlined plans to bolster capacity by 20% during the next five years from its "cornerstone" hubs – Chicago, Dallas, New York, Miami and Los Angeles – with a particular focus on international expansion. The carrier is also adding significant widebody capacity in 4Q2012 and 2013 with the introduction of 10 Boeing 777-300ERs, which results in some existing long-haul aircraft being redeployed into new markets.
Leveraging Lima for Asian connections
American's relaunch of service from Dallas to Lima in Peru with Boeing 757-200 aircraft beginning Apr-2013 follows declarations by its oneworld parter LAN that it would focus a large portion of its capacity growth in 2013 on north-south traffic flows to seize on still-healthy demand between North America and Latin America. Lan Peru has already unveiled plans to increase flights between New York and Lima in Nov-2012, and has bolstered the number of flights from Lima to Los Angeles and San Francisco.
See related article: LAN-TAM parent LATAM's first combined financials offer a mixed bag behind consolidated net profit
American already serves Lima from its Miami hub, and with its new direct service from Dallas/Forth Worth will capitalise on an ability to connect passengers from its largest hub to LAN Peru's network throughout Latin America. Current schedules in Innovata (29-Oct-2012 to 04-Nov-2012) show that Lan Peru is the dominant carrier in terms of seat capacity and ASKs at Lima, accounting for 46% of the international seats on offer and 42% of the ASKs deployed to and from the airport.
Lima international capacity share (% of seats) by carrier: 29-Oct-2012 to 04-Nov-2012
Lima is LATAM's largest intra-Latin America hub, which will provide amble connections for American's Dallas-originating passengers to destinations throughout South America. Lan Peru is also the largest carrier in the Peruvian domestic market, providing connections throughout Peru to LAN and its oneworld partners.
American ended service from Dallas to Lima in the middle of the last decade, but with the latest round of new flights the airline appears to be attempting to capitalise on the growing traffic between Asia and Latin America. The carrier told The Dallas Morning News that service to Lima provides an opportunity to capture passengers in the Asia-Peru market, particularly customers travelling between Japan and Peru, connecting passengers to Peru from its service between Dallas and Tokyo Narita, which is a hub for its joint venture partner and oneworld carrier Japan Airlines.
A free trade agreement between Japan and Peru took effect in Mar-2012, and an article in the Journal of Commerce noted that Japan exported USD1.4 billion worth of exports to Peru in 2010, and imports into Japan from Peru during that year totalled nearly USD1.8 billion.
Economic ties between the still growing markets of Asia and Latin America are strengthening rapidly as the Asian Development Bank recently declared that Asia is now Latin America's second largest trading partner. The bank estimated trade between the two regions has grown at an average annual rate of 20% since 2000, and reached roughly USD442 billion during 2011.
But direct air service from Asia to Latin America does not reflect the growing economic ties between the two areas. Korean Air offers service to Sao Paulo via Los Angeles and has expressed interest in Lima. But with SkyTeam's limited presence in Peru, Korean would not have access to the connectivity enjoyed by oneworld carriers at Lima.
After Avianca-TACA and Copa Airlines joined Star earlier this year, Star now enjoys a 31% capacity share in Latin America/Caribbean, followed by oneworld at 14% and SkyTeam with a 10% share. But the dynamics will change once LATAM decides on an alliance strategy. As part of gaining approval for their landmark merger, LAN and TAM agreed that LATAM would not participate in the same alliance as Avianca-TACA. LAN is a long-standing member of oneworld while TAM joined Star in May-2010.
See related article: Avianca-TACA and Copa put Star on top in Latin America but the victory will be short-lived
American obviously has access to Lan Peru's network from Lima throughout Latin America which includes destinations in the region's major economies – Brazil, Argentina and Chile. The lack of onward connectivity is a disadvantage to Korean or any other Asian carrier not affiliated with Star or oneworld.
If connections from Asia are the driving force behind American's new flights from Dallas to Lima, positioning the service to Lima from Dallas is logical since American has no flights to Asia from its Miami hub.
Tapping business passengers with new service to Seoul
American seems to have concluded there is enough origin and destination demand between Dallas and Seoul to make the route viable without onward connectivity in Seoul, where SkyTeam member Korean holds a 37% share of seats in the market.
Korean Air began serving Dallas/Fort Worth from Seoul in 2009 and presently offers about 1,300 seats in the market with Boeing 777-200s. American is the dominant carrier at Dallas/Fort Worth, leaving Korean with few connectivity options on alliance partners on its service from Seoul.
Dallas/Fort Worth to Seoul Incheon capacity by carrier (seats per week, one way): 19-Sep-2011 to 21-Apr-2013
American concludes that Seoul is one of the top 10 global premium passenger markets, and data shows that business demand is fairly robust between the US and South Korea, which is the 15th largest economy worldwide. Data from the US government show that in 2011 South Korea was the seventh largest trading partner of the US, and imports from South Korea totalled more than USD14 billion during 1Q2012. A free trade agreement between the US and South Korea also took effect in Mar-2012, which should help ease a trade deficit and increase the number of US exports to South Korea.
US trade figures with South Korea: 1Q2000 to 1Q2012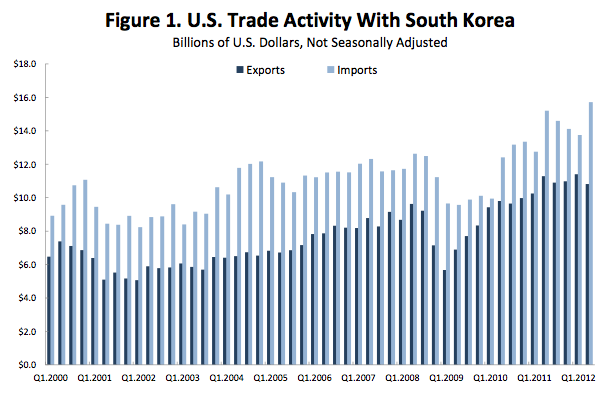 Between 2004 and 2011 visitor arrivals from Korea to the US grew 83%, which was largely driven from expansion by Korean and Asiana. Both carriers offer service to Chicago, Los Angeles, New York JFK and Seattle. Korean also operates to the Atlanta and Detroit hubs of SkyTeam partner Delta.
Visitor arrivals to the US from South Korea: 2004-2011

American's seven weekly flights operated with Boeing 777-200s will add about 1,700 one-way seats into the Dallas-Seoul market, which will give the carrier a lead in the market in terms of seat share at 57% of the nearly 3,000 combined seats on offer from American and Korean. Now with American able to leverage its largest hub in Dallas, Korean's service will be somewhat pressured by American's heft in Dallas and its aggressive pursuit of business travellers to make its new service to Seoul viable.
American will also have the advantage of offering its new Korea passengers connections to Latin America. Korea-Latin America is a large and growing market. American will be able to offer connections to several destinations in Latin America including Lima and Sao Paolo, which will compete against Korean's Seoul-Los Angeles-Sao Paulo service.
American is coming off a strong performance in its Pacific markets during 3Q2012, as yields grew 10% and unit revenues in the entity grew nearly 16%.
See related article: American Airlines' reorganisation drives 3Q2012 loss but revenue momentum increases
Leveraging a new alliance with airberlin
Among American's other new international offerings scheduled for 2013 is new service from Chicago O'Hare to Dusseldorf in Germany starting in Apr-2013. The carrier is taking advantage of the competitive position of new oneworld parter airberlin, which is the second largest carrier serving the airport in terms of seating capacity and the largest airline serving the airport with respect to ASKs.
Dusseldorf International systemwide capacity share (% of seats) by carrier: 29-Oct-2012 to 04-Nov-2012
Dusseldorf International systemwide capacity share (% of ASKs) by carrier: 29-Oct-2012 to 04-Nov-2012
airberlin's Mar-2012 entry into the oneworld alliance resulted in the group's partner carriers gaining a base in continental Europe, but oneworld's carriers have been slow to embrace airberlin's leading position at Dusseldorf.
See related article: airberlin joins oneworld alliance, but its full potential will not be immediately realised
American is now taking advantage of the connectivity airberlin offers at Dusseldorf, which includes long-haul service to the Middle East through direct flights to Abu Dhabi and Tel Aviv and short-haul flights within Germany to Berlin, Dresden, Hamburg, Munich and Stuttgart. airberlin also serves other major European cities from Dusseldorf including Vienna, Zurich, Rome, Nice and Moscow and its base in the strong leisure market of Palma de Mallorca. airberlin is also expected to increase its capacity in Eastern Europe, which could also increase opportunities for oneworld carriers connecting through Dusseldorf.
American faces direct competition from Lufthansa on its new direct flights from its Chicago hub to Dusseldorf. According to schedules in Innovata, Lufthansa offers just under 1,000 weekly seats from O'Hare to Dusseldorf. The two carriers should be able to co-exist on the pairing as Lufthansa is already tapping into Star partner United's strong hub at Chicago O'Hare. Based on current Innovata schedules American is the second largest carrier operating from O'Hare in terms of seats and ASKs on offer, giving American its own significant passenger base to tap into for its new flights to Dusseldorf.
The new Chicago-Dusseldorf service will also benefit airberlin, allowing the carrier to further execute on its strategy of building Dusseldorf into a hub to support long-haul flights to North America. Through the new codeshare, airberlin now can market Chicago flights to its customer base in Germany, increasing pressure on archrival Lufthansa.
See related article: airberlin is focussing on positioning Dusseldorf as its hub for North America
Rounding out American's latest international expansion is new service from JFK to Dublin beginning in Jun-2013. The carrier will operate seven weekly flights on the pairing with lower-gauge 757-200s. The international configuration for these aircraft at American is a 182 or 190-seat configuration. The new flights join American's existing service to Dublin from its Chicago hub, which the carrier has operated since 2005.
JFK-Dublin is amply served by Aer Lingus and Delta Air Lines, which combined offer almost 5,500 weekly seats. Aer Lingus holds a 77% share of the seats while Delta accounts for the remaining 23%.
New York John F Kennedy to Dublin capacity by carrier (seats per week, one way): 19-Sep-2011 to 21-Apr-2013
Unlike the new service to Dusseldorf, American does not have a strong partner in Dublin, which is dominated by Aer Lingus and Ryanair. oneworld partners British Airways and Iberia offer service to their London Heathrow and Madrid hubs from Dublin, but American offers its own direct flights to those markets from New York, so it receives no benefit from connections in Ireland's capital.
American could capture some customers in Ireland to connect to its US domestic and Latin American network through New York, but it will take effort to compete effectively with Aer Lingus and Delta. Dublin's Airport Authority touted American's launch of new service to Dublin also coincides with "The Gathering 2013", an initiative promoted by the Irish government to increase the country's tourism industry to shore-up the economy. Irish government officials have stated the initiative's goal is to increase the number of tourists visiting Ireland by 325,000 in 2013.
Data from the US Department of Commerce show that Irish visitors to the US actually declined by 4% year-over-year in 2011 to 346,789, so American could face a challenge in shoring up point-of-sale customers in Ireland. And as Delta works to become the dominant carrier in New York, competition for US origin passengers will be intense as American becomes the third competitor in the New York-Dublin market.
American's new international services to Seoul and Dublin reflect some of the changing dynamics of the large global alliances as all global airlines place top priority on building out their own networks in an attempt to maximise profitability. But the tie-up with airberlin in Dusseldorf also shows that for the moment alliances still play an important role for the carriers participating in those groupings. As alliance members continue to evolve their networks, more hybrid strategies will develop in order for all global carriers to create highly competitive networks.