Airbus A340-500/600 fleet profile: Lufthansa, Iberia retain large fleets, Asian airlines retire them
Analysis
In 2015 Thai Airways and China Eastern retired their A340-600 fleets. of the 132 A340-500/600s produced, 89 were recently in active service. Lufthansa and Iberia account for 46% of the in-service fleet. Together with three more airlines – Etihad, Virgin Atlantic and South African Airways – they account for 81% of the in-service fleet.
Lufthansa's A340-600 fleet will be phased out as they age, with the airline's 2025 fleet to comprise the A380, 747-8i, 777X, A350 and A330. Iberia is retaining its A340-600s to serve the hot and high destinations of Mexico City, San Jose, Bogota and Quito. Iberia's Madrid-Mexico City service is the largest A340-500/600 route based on ASKs. South African Airways' Johannesburg-New York JFK flight is the longest by distance, and SAA is hoping for a replacement aircraft for the fuel-thirsty flight.
The A340-500/600 is fading from the Gulf as Emirates retires its fleet, while Etihad and Qatar use their types on fewer long haul services.
Lufthansa and Iberia are the largest A340-500/600 operators, followed by Etihad and Virgin
CAPA's fleet database tracks the 132 A340-500 and -600s produced. Of these, 89 are in active service: five are with governments, one with a charter operator (Hi Fly) and the balance with scheduled airlines.
Two airlines (Lufthansa and Iberia) account for 46% of the in-service fleet while five airlines (also including Etihad, Virgin Atlantic and South African Airways) account for 81% of the in-service fleet.
In-service A340-500s and -600s by operator: 17-Jul-2015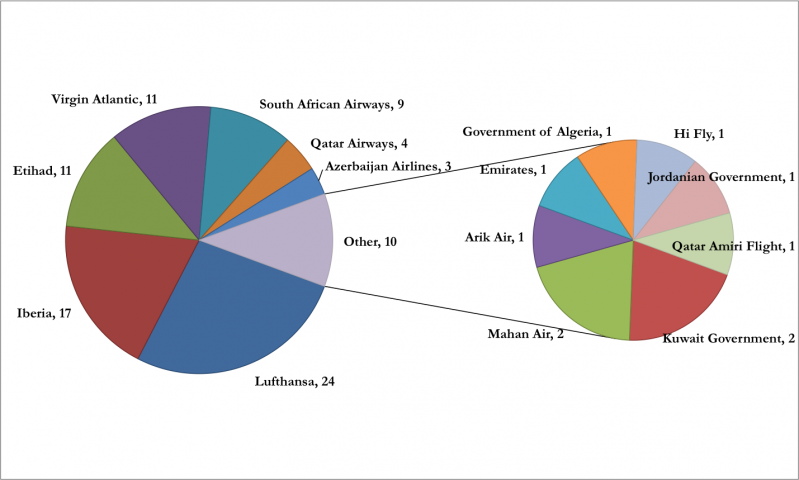 Johannesburg-New York JFK longest A340-600 route, Madrid-Mexico City largest route
The two main A340-600 operators, Lufthansa and Iberia, dominate the list of the 10 largest routes for the A340-500/600. The exception is the largest route, Johannesburg-New York JFK, operated by South African Airways. SAA became the operator of the longest A340-500/600 route after Singapore Airlines ended Singapore-Los Angeles/Newark services.
Notably, all of the 10 longest routes are flown by the A340-600, consistent with airlines no longer favouring the A340-500 as an ultra-long-haul aircraft, as it was originally meant to be. The A340-500 was used by Emirates for Dubai-New York JFK service and Etihad for Abu Dhabi-Melbourne service but these have since transitioned to 777 or A380s.
Etihad also used the A340-600 for Abu Dhabi-Sydney (now 777 and A380). All three of these routes are longer than Iberia's Madrid-Santiago service, meaning they would have been the longest A340-500/600 routes after SAA's Johannesburg-New York JFK service.
10 longest A340-500/600 routes ranked on distance: 20-Jul-2015 to 26-Jul-2015
Map of 10 longest A340-500/600 routes: 20-Jul-2015 to 26-Jul-2015

The list of the largest A340-500/600 routes based on ASKs is titled towards Iberia, which operates more than daily service on many of its A340-600 routes, whereas SAA and Lufthansa fly each of their longest A340-600 routes once a day.
Virgin Atlantic, with two daily A340-600 London Heathrow-New York JFK flights, has the eighth largest A340-500/600 route based on ASKs.
10 largest A340-500/600 routes ranked on ASKs: 20-Jul-2015 to 26-Jul-2015
| | | | |
| --- | --- | --- | --- |
| Rank | Airline | Route | ASKs |
| 1 | Iberia | Madrid-Mexico City | 45,540,584 |
| 2 | Iberia | Madrid-Buenos Aires | 39,630,628 |
| 3 | Iberia | Madrid-New York JFK | 28,934,682 |
| 4 | South African Airways | Johannesburg-New York JFK | 28,093,002 |
| 5 | Iberia | Madrid-Lima | 27,014,922 |
| 6 | Iberia | Madrid-Santiago | 26,919,256 |
| 7 | Iberia | Madrid-Sao Paulo | 24,044,384 |
| 8 | Virgin Atlantic | London Heathrow-New York JFK | 23,871,232 |
| 9 | Iberia | Madrid-San Jose Costa Rica | 21,201,024 |
| 10 | Lufthansa | Munich-Sao Paulo | 20,318,488 |
Map of 10 largest A340-500/600 routes based on ASKs: 20-Jul-2015 to 26-Jul-2015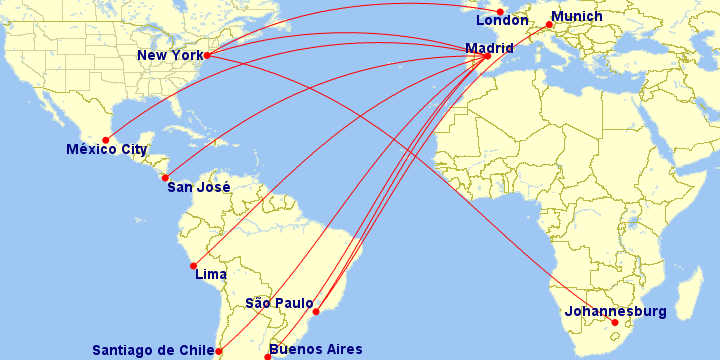 2015 has brought the exit of Asian operators of the A340-500/600. Thai Airways retired its A340-600s, having previously retired A340-500s, while China Eastern has retired its A340-600s.
As CAPA previously wrote of Thai Airways' fleet changes:
the phase out of the A340-600 fleet has been accelerated significantly as the previous version of Thai's fleet plan did not envision phasing out the type until next decade. While Thai phased out its fleet of A340-500s, which had been used for non-stop services to the US, in 2011 it was initially intending to retain its A340-600s for several years as the aircraft are still relatively young.

Thai's A340-600 fleet is only nine years old on average with some aircraft being only six years old, according to the CAPA Fleet Database. But the four-engine aircraft, which Thai configures with only 266 seats, is highly inefficient even with the reduction in fuel prices. With the A340-500s already phased out at a relatively young age it makes sense for Thai to entirely remove the A340 family.

Thai uses its A340-600s and 747-400s on long-haul services to Europe as well as some regional flights within Asia-Pacific including Australia. Thai will need to cut capacity to Europe as it removes from service six A340-600 and eight 747-400 passenger aircraft. But such cuts are feasible as Thai has a pressing need to adjust its European operation in response to current market conditions.
See related report: Thai Airways embarks on major network and fleet restructuring but long-term challenges remain
China Eastern had a smaller fleet comprising five A340-600s that the carrier used for services to Los Angeles, New York JFK and Paris CDG. The aircraft were withdrawn as it started receiving aircraft from its order for 20 777-300ERs. China Eastern saw the lack of an economical widebody holding back its long-haul network from capacity growth and attaining profits. China Eastern did not think it had a chance at long-haul profitability so long as it had the A340-600.
China Eastern said in a statement the aircraft had "high operation costs and have relatively weak route competitiveness". China Eastern sold the aircraft to Boeing as part of the 777 order. China Eastern said the aircraft had an unaudited book value of CNY4.47 billion (USD708 million), a figure that was surely revised downwards significantly.
See related report: China Eastern Airlines seeks to revitalise its position with 777 long-haul growth and new brand
Singapore Airlines in Oct-2013 withdrew its A340-500s used on Singapore-Los Angeles/Newark non-stops, the world's two longest flights at the time. Singapore Airlines is now looking to acquire new ultra-long-haul aircraft to resume non-stop service to the US (existing services transit via Asia or Europe), but this would mostly be for network benefits with likely marginal profitability. Since SIA announced it would end non-stop services, a number of foreign carriers have targeted the Singapore market.
Cathay Pacific operated three A340-600s for non-stop Hong Kong-New York JFK service as an interim measure until 777-300ERs were available. The longer distance from Singapore to the US limited aircraft options.
See related report: Singapore Airlines upcoming termination of non-stops to US spells end to ultra long-range travel
Iberia requires A340-600s for hot and high destinations. Lufthansa also holding on to A340-600s
Iberia is the second largest operator of the A340-600, with 17 (12 base -600s and 5 -HGWs). Enrique Dupuy, CFO of Iberia parent company IAG, remarked in Feb-2015 of the A340-600 in the context of potentially moderating capital expenditure: "That's an aircraft that one year ago at USD120 per barrel was a nightmare. Today at USD60 per barrel and...because we are protected through asset value guarantees to sell and re-lease back at very efficient new ownership costs, it makes a lot of sense."
Iberia has not determined an exit date for its A340-600s, but for operational reasons will need to keep some as it needs the aircraft to serve four hot and high destinations in the Americas: Mexico City, San Jose, Bogota and Quito.
Iberia does not consider its other long-haul aircraft in service and on order – A340-300, A330-200/300, A350-900 – as capable of serving those hot and high destinations.
Iberia Americas route map: Nov-2014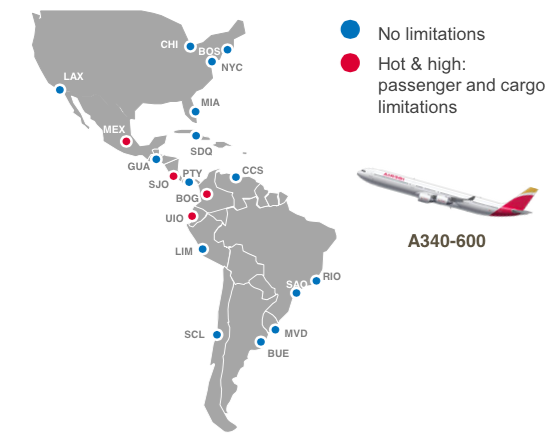 The A340-300 and -600 comprise 77% of Iberia's long-haul capacity in 2014, but Iberia expects to reduce this to 38% in 2020 (by which time its remaining seven A340-300s will be retired).
Iberia expects a 10% gain in fuel savings between 2014 and 2020 by shifting to newer and more economical aircraft, with a benefit in excess of EUR100 million.
Iberia long-haul seat capacity share by aircraft type (red: new generation, gray: old generation): 2014-2020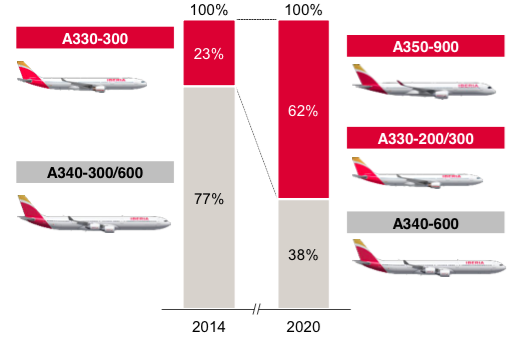 Lufthansa is the largest operator of the A340-600 with 24 (12 base -600s and 12 -HGWs). It plans to gradually phase these out by age. Lufthansa's A340-600s vary in age between 6.5 and 12 years. They have an average age of 9.3 years compared to 12 for Lufthansa's entire A340 family (including -300s).
Lufthansa average fleet age: as of Jul-2015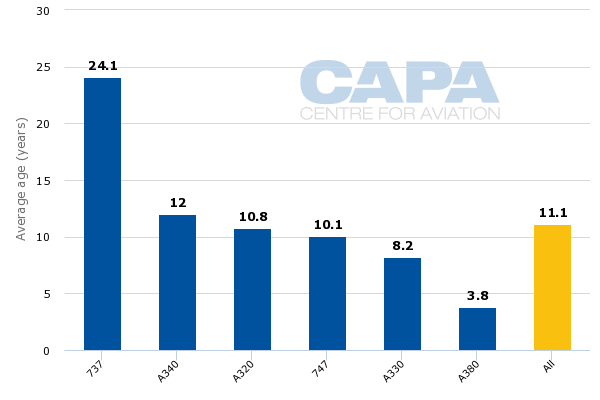 No final exit date has been set, but by 2025 Lufthansa plans to have a long-haul fleet of A380, 747-8i, 777-9X, A350-900 and A330-300. Lufthansa expects a 20% CASK reduction as 777-9X and A350-900s replace older aircraft, including A340-600s.
The four-engined aircraft may have at least a temporary reprieve at Lufthansa. Given the Group's indifferent financial status, CEO Carsten Spohr stated in Mar-2015 that low oil prices were influencing fleet strategy by making older aircraft more attractive, according to Reuters: "The fuel going down allows us to extend old aircraft without having similar disadvantages as in the past, at the same time as reducing investment numbers."
Lufthansa fleet development: as of Jan-2015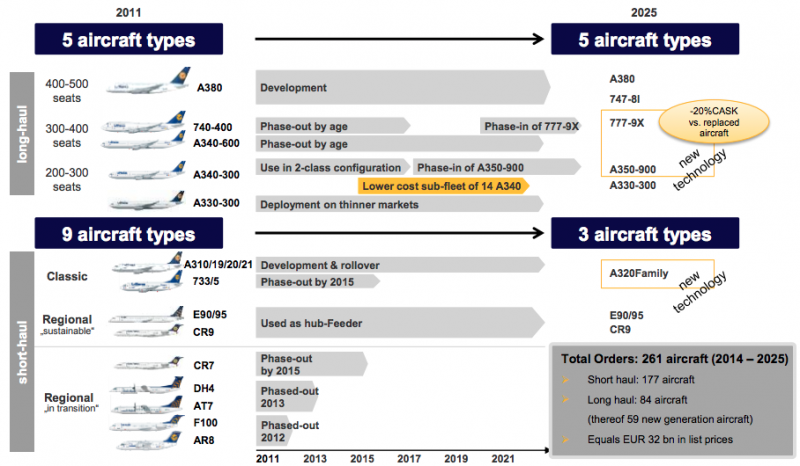 Virgin Atlantic was the launch customer for the A340-600 and even borrowed Airbus' "4 engines 4 long-haul" slogan, which it quietly dropped as there was no financial return in that statement, and Virgin now operates twin-engined A330s and 787-9s. 41% of Virgin's long-haul fleet is now comprised of twin-engined aircraft, up from zero a few years ago. Virgin has 11 A340-600s, down from a peak of 19.
At least one needy airline has been a beneficiary of the moves to reduce A340-600 numbers. Two of Virgin's A340-600s have found their way to Iran's Mahan Air via a number of third parties and are in service. In total Mahan Air expects to operate seven A340-600s.
Virgin Atlantic share of in-service aircraft by type: Jul-2015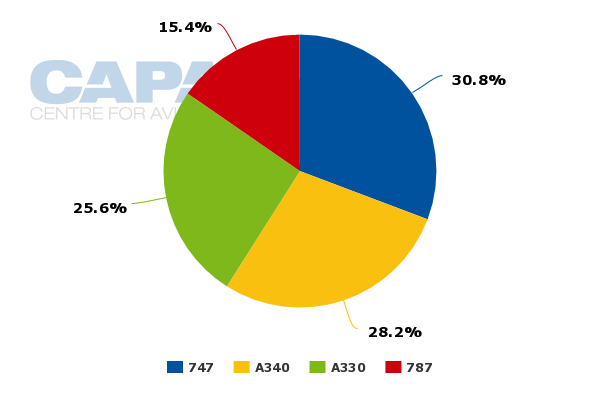 Like Iberia, SAA says it is seeing reprieve at its A340-600 fleet due to lower fuel prices. SAA has been restructuring its long-haul network by cutting routes and forming partnerships. A planned premium economy cabin should also help. Now the largest obstacle is its long-haul fleet. SAA operates 23 widebody aircraft, including eight A340-300s and nine A340-600s.
South African Airways Fleet Summary: as at 19-Jul-2015
SAA for some years has tried to re-fleet but has encountered obstacles, mostly from the South African government that has unhelpfully interfered in the flag carrier's decision making. SAA is once again looking at re-fleeting, hoping it will be allowed to proceed with an agreement perhaps in 2016. As CAPA previously wrote:
SAA expects it now may not phase out its A340s until 2020 or 2021, which gives it the opportunity to consider the 777X and A350-1000. Earlier evaluations focused on the 787 and smaller version of the A350, including a 2012 evaluation which resulted in the recommendation to purchase about 30 A350s. (The SAA board never approved or endorsed this recommendation).

SAA is still looking at potentially acquiring 10 787s, A350-900s or current variants of the 777 with a potential selection in 2016 and deliveries well before 2020. But this acquisition would meet only part of its widebody fleet requirement and would not enable it to phase out its entire A340 fleet.

SAA's widebody fleet currently consists of six A330-200s, eight A340-300s and nine A340-600s. The A340 fleet is on average 12 years old while the A330s are only four years old, according to the CAPA Fleet Database. But the A330s were initially acquired as interim aircraft and were therefore leased rather than purchased, giving SAA the flexibility to replace both its A330s and A340s with new generation aircraft.
See related report: South African Airways long-haul turnaround continues with Accra-Washington launch & A340 extensions
Etihad has A340-500s and -600s while Emirates is retiring its -500s
Of the A340-500/600 family, the A340-500 generated lower demand, with only 34 built. Etihad and Azerbaijan Airlines are the only scheduled airline operators of the A340-500, and Etihad is the only operator of both the A340-500 and -600.
Etihad has four A340-500s and seven A340-600s for a total of 11. It has not stated retirement plans for the aircraft, although they are being removed from long haul routes, such as Abu Dhabi-Melbourne/Sydney.
Etihad is generally in need of long haul aircraft, hence acquiring 777s from Air India and Jet Airways. Etihad's A340 fleet (which comprises only -500s and -600s and no earlier models) accounts for approximately 9% of global seat and ASK capacity.
Etihad system seat capacity by aircraft type: 20-Jul-2015 to 26-Jul-2015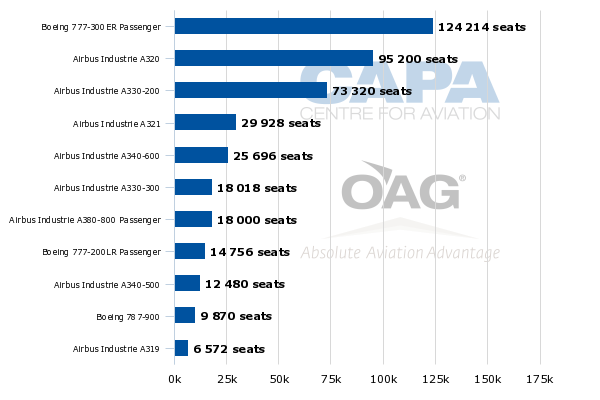 The A340-500 was for a while something of a flagship aircraft for Emirates, being used to open non-stop Dubai-New York JFK service.
But now Emirates has only one A340-500 left in service, and schedules from OAG show it operating just one daily flight from Dubai to Kabul. Elsewhere in the Gulf, Qatar Airways has four A340-600s used on medium/long-haul routes to Kuala Lumpur, London Heathrow and Paris CDG as well as to Dubai.
A340-500/600s look to future years: retrofits, secondary market starts
Many airlines with A340-500/600s find themselves asking what to do with their fleets. The recent large dip in fuel prices is providing respite from operating inefficiencies, and it appears low fuel prices may persist into the short-term. But few airlines expect this to last, and so continue to asses options. Qatar Airways has introduced a retrofitted A340-600 version that sees the elimination of first class, a reduced business cabin and a larger economy cabin.
Meanwhile the second-hand market is growing. Boeing is re-marketing China Eastern's A340-600s (which the airframer took as part of a deal to sell 777s to China Eastern) while Iran's Mahan Air has acquired ex-Virgin Atlantic A340-600s through back channels. Although these aircraft may not bring efficiency, they are often young widebodies. But with the only major second-hand operator being an airline – Mahan Air – that is under international sanctions, the second-hand market is not bright.
Airbus introduced a high-density plan for the aircraft, but the retrofit expense and continued high unit operating costs have not yet convinced the industry. 777-200ERs are increasingly on the market, and there is an expectation -300ERs will start to enter the market as well, further challenging opportunities for the A340-500/600.