Air connectivity key to unlock India's inbound tourism potential
Analysis
India received an estimated 16.3 million visitor arrivals in 2017, however CAPA estimates that only just over 2.5 million of them were holidaymakers.
This is significantly less than in many competing destinations in the region. The island of Bali, for example, receives twice as many foreign tourists as the whole of India. For a country the size of India, with the wealth of attractions and experiences that it offers, this underperformance represents significant foregone economic value. But it also highlights the massive potential that exists.
This is an extract from the CAPA India Inbound Tourism Report, published this week, which focuses on the leisure travel segment and the steps to unlocking its growth.
Please request a complimentary copy of the CAPA India Inbound Tourism Report, Executive Summary, here.
Only 15% of international arrivals to India are holidaymakers
There were an estimated 16.3 million international arrivals into India in 2017, of which approximately 6 million were Indian nationals residing overseas, returning home for a temporary visit.
More than a further 2 million were Bangladeshi nationals, the vast majority of whom crossed at the land border between the countries, primarily for the purposes of VFR, trade or business. Of the remaining 8 million foreign nationals, our research indicates that approximately 30-35% were holidaymakers, or just over 2.5 million tourists. In comparison, VFR accounts for more than 8 million arrivals, over 50% of the total international arrivals.
Estimated leisure tourist arrivals (millions) in selected Asian destinations 2016/2017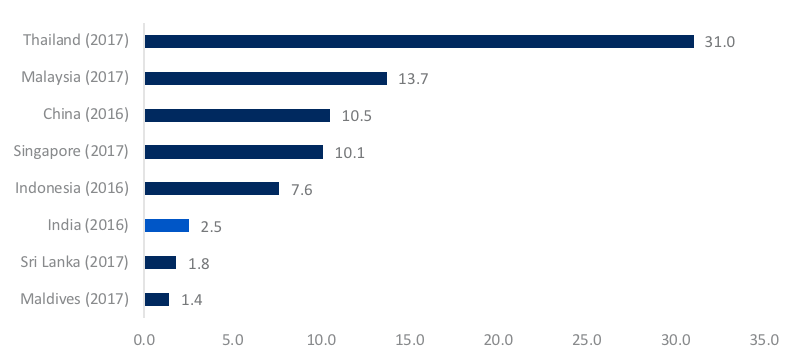 The majority of foreign tourist arrivals in India are from long haul source markets
In 2017, just over 8 million foreign nationals (excluding citizens of Bangladesh, who mostly crossed the border by land) arrived in India for all purposes of visit, with the US and the UK being the two largest source markets. However, Russia, China and Australia have been the fastest growing over the past decade.
Foreign tourist arrivals in India from leading source markets in 2017 (all purposes of visit)
In 2016, the majority of India's inbound tourists (60.6%) were from long haul source markets, i.e. flight of more than six hours. In contrast, most of the world's leading tourism destinations receive the largest share of their visitors from short and medium haul markets.
Figure 21: share of long, medium and short haul source markets in total FTAs – India vs. competitors' average vs. world's top 10 inbound markets' average
This distance puts India at a strategic disadvantage in terms of cost and ease of access, and increases the number of potential destinations it competes with that lie within a similar arc. From key source markets in North America, Europe and Australia, the majority of passengers currently make at least one stop to/from India.
Proportion of traffic to/from India that travels nonstop

India's immediate neighbours do not represent significant potential in terms of inbound leisure tourism, which means that it is less well placed to attract travellers planning short, spontaneous breaks.
However, with appropriate promotion and product development there may be an opportunity to stimulate short haul traffic from the community of Western expatriates residing in the Gulf, of whom there are over 1 million with high disposable incomes. Being located just 3-4 hours away, with significant low cost capacity and often direct to secondary cities, India has an opportunity to position itself as a short break destination for wellness, culture or luxury. A resident of Dubai can fly direct to Jaipur for example, for a long weekend in a palace resort, or to Cochin for an ayurvedic spa retreat.
Indian airlines have an opportunity to grow, whereas foreign network airlines are constrained
With close to 98% of leisure tourists arriving in India by air, direct connectivity and availability of seats is key. India will need to ensure that Bilateral Air Services Agreements (BASA) deliver the necessary capacity to achieve visitor arrivals targets. If capacity constraints mean that airfares are expensive, or seats are simply not available – especially during the times that people want to travel – tourists will simply choose another destination.
From the perspective of BASAs, Indian airlines face no major challenge as there are significant entitlements available for services to the leading source markets.
However, several foreign hub airlines from countries such as the UAE, Qatar, Turkey, Singapore, Malaysia and Thailand, which could potentially bring tourists to India on a 1-stop basis, have exhausted their entitlements and are unable to expand.
International expansion by Indian airlines should stimulate inbound traffic
Air India and Jet Airways are the two largest international operators at present, but IndiGo and SpiceJet are both planning to expand their international networks over the next 12-18 months. The re-engined narrowbodies that are being inducted into their fleets deliver longer range and lower costs, significantly expanding the number of viable routes on sectors up to 6 hours or more.
GoAir has recently announced plans to venture overseas for the first time from Oct-2018, and Vistara has also applied for an international flying permit. Major cities in China – which CAPA identified as being the highest potential market to develop – could be operated using long haul narrowbody equipment.
Similarly, destinations in Southeast Asia such as Vietnam (which has great potential for the Buddhist Circuit in eastern India) or Singapore and Malaysia (which have relatively higher income levels) could be opened up. And routes from Turkey, Israel and Iran (for which widebodies may be too large) may be viable with re-engined narrowbody equipment.
Potential inbound markets that could be stimulated with long haul narrowbodies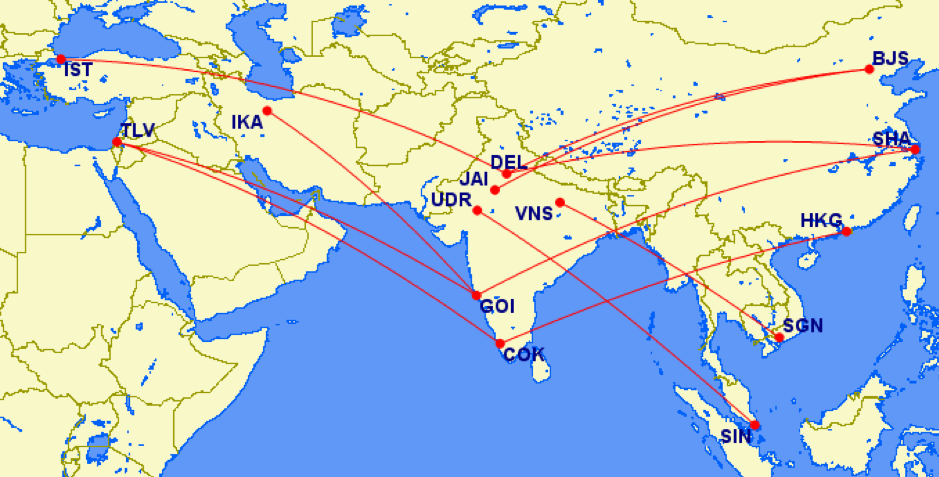 Next year could see the launch of long haul low cost services in the market by IndiGo and SpiceJet, with the deployment of widebody equipment to markets in Europe and Asia, and in the next phase – even to Australia and Africa. Although these long haul plans may be deferred due to the challenging conditions at present.
Potential inbound markets that could be stimulated with long haul LCC services
International expansion by Indian airlines could also develop stopover traffic.
The primary focus of home-based airlines will be to develop point-to-point traffic. However, as their networks increase, they will as a consequence be able to carry more connecting traffic, e.g. between Sydney and London or between Tokyo and Johannesburg via India. Special packages for such travellers to stop over should be actively developed and promoted. Not only does this generate incremental visitors, but it provides visitors with a taste of what India has to offer and hopefully encourages them to return in future for a longer visit.
To request a complimentary copy of the full executive summary visit: CAPA India Inbound Tourism Report