Air Arabia prepares to launch a new Jordan-based airline as Royal Jordanian posts another loss
Analysis
Cross-border low-cost carrier joint-ventures are prolific in Asia but are starting to gain ground in the world's latest LCC markets: the Middle East and Africa. Sharjah, UAE-based Air Arabia has foreign bases in Morocco and Egypt and intends to open its Jordan base around May-2015, Air Arabia CEO Adel Ali told CAPA at its recent Airlines In Transition conference in Dublin. Air Arabia took a minority 49% stake in existing Jordanian carrier Petra Airlines and intends to initially focus on destinations within the Middle East/Levant and later Europe.
Air Arabia Jordan will be able to "join the dots" and receive synergies from serving destinations already reached by other Air Arabia brands. Air Arabia Jordan plans to launch with two A320s and future growth is unclear.
Air Arabia has mostly focused on its UAE operation, which has 36 A320s. Air Arabia Maroc has four and Air Arabia Egypt has one. Although there are fleet benefits to being part of a group, these small sizes are sub-scale. Air Arabia Jordan's growth will be important for Jordan to meet tourism targets, but could be an unwelcome competitor to Royal Jordanian, which has reported another annual loss as it grapples with regional instability.
Royal Jordanian increases loss in 2014. Another loss expected for 2015
Royal Jordanian issued a brief statement about its 2014 financial position and full accounts are not available. Royal Jordanian reported a net loss of JOD39.6 million (USD55.9 million) in 2014 compared to a JOD38.8 million (USD54.8 million) loss in 2013. Operating income increased increased 27.3% year-on-year to JOD42 million (USD59.3 million), but without further details it is difficult to explain the figures. The airline attributed the result to regional instability, reduced tourism and competition from other Middle East airlines.
Royal Jordanian key financial metrics (JOR millions): 2013-2014
| | | |
| --- | --- | --- |
| | 2014 | 2013 |
| Revenue | N/A | 744 |
| Operating Income | 42.0 | 33.0 |
| Net Profit (Loss) | -39.6 | -38.8 |
Traffic figures are unavailable but Royal Jordanian said it carried 3% fewer passengers in 2014. Capacity data from OAG indicates Royal Jordanian saw a 2% increase in available seats in 2014 but a 1.3% decrease in ASKs. 2015 capacity so far shows a 10% decrease in seats and 6.9% decreases in ASKs. Royal Jordanian's 2015 capacity is slightly below 2010 levels and is at a five year low.
Royal Jordanian annual available seats and ASKs: 2005-2015F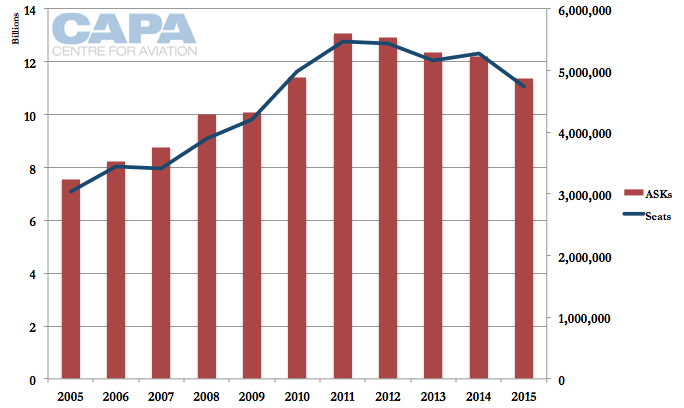 Royal Jordanian said it gained little from the low fuel prices at the end of 2014. Its fuel hedge position is unknown. Royal Jordanian suffered losses in 2008 as a result of bad hedges and reportedly stopped hedging after that. However, the carrier said 31% of its fuel needs in 2012, the latest data is available for, were covered by hedges.
In Jun-2014 Royal Jordanian head of network management and alliances Basma Al-Majali predicted an unspecified loss for 2014 and 2015, but the resulting decrease in fuel prices should change the outlook for 2015. Few airlines saw a significant benefit in calendar 2014 from the low fuel prices, which started to occur only late in the year and as many were hedged at higher prices. As CAPA previously wrote:
Ms Al-Majali says Royal Jordanian aims to add back capacity to Egypt, Libya and Lebanon once these markets stabilise. The carrier is also keen to return to Syria, which remains a key market in its long-term business plan. Services to Aleppo and Damascus were suspended in 2012 due to the crisis in Syria.

As the focus on the Levant and Gulf region returns, Royal Jordanian will drop smaller destinations which are not beneficial to the overall strategy. Sri Lanka and Ghana were clearly under-performing and other non-core routes will likely get the axe.

Over the medium to long term Royal Jordanian is confident market conditions in the region will improve. This is reflected in its expectation to return to profitability in about two years.

After posting a small profit in 2012, Royal Jordanian incurred a large loss in 2013 and expects another loss for 2014 and likely another loss in 2015. Prior to 2011, when the start of the Arab Spring led to a large loss, Royal Jordanian had been profitable for six out of seven years – benefitting from a period of relative stability as it profited from its Levant niche.
See related report: Royal Jordanian prepares new 10-year plan as 787s enter; narrowbody renewal & expansion to follow
Air Arabia Jordan is expected to launch around May-2015
Sharjah, UAE-based LCC group Air Arabia announced in Jan-2015 it took a 49% stake in Jordan's Petra Airlines (with existing shareholder RUM Group holding the remaining 51%) and would re-launch the airline as Air Arabia Jordan. Air Arabia already has two foreign units, Air Arabia Egypt and Air Arabia Maroc.
These are part of Air Arabia's plans for a pan-Arab world LCC group, not dissimilar to AirAsia or Jetstar in Asia but being pursued far less aggressively. In addition to the Egypt and Morocco operations, Air Arabia has a small hub in the UAE's Ras al-Khaimah emirate to complement its main Sharjah operations. Jordan will be Air Arabia's fifth hub.
Air Arabia Jordan intends to launch with two A320s; this is what Petra Airlines currently has in its fleet, according to CAPA's Fleet Database. Transforming an existing airline into a LCC can be difficult and other LCC groups have shied away from this. However, Petra has only two aircraft and transforming an existing airline may be easier from a regulatory perspective than securing a new license. In some cases, working with an existing airline is the only option as a new license may not be granted. Both the Egyptian and Moroccan AirArabia units were started from scratch.
Air Arabia Group CEO Adel Ali gave an interview with CAPA TV at CAPA's MAr-2015 Airlines in Transition conference in Dublin. Speaking in late-Mar-2015, Mr Ali said Air Arabia Jordan would commence operations in four to six weeks, giving a launch timeframe of around May-2015. There have been no further details since then.
Air Arabia Group CEO Adel Ali interview with CAPA TV: Mar-2015
Specific routes have not been announced yet, but Mr Ali said the initial focus for Air Arabia Jordan would be around the Middle East and then gradually expand to North Africa and Europe. It will be interesting to see how Air Arabia Jordan grows, as Air Arabia's non-UAE bases have seen limited developments, although in the case of Egypt this has largely been because of instability over the last few years.
"The way we see it, it has huge opportunity – both not far from Europe as well as the Middle East," Mr Ali says. The Middle East is the backyard of Air Arabia in Sharjah. The only existing Air Arabia-branded unit in Jordan is Air Arabia, with double daily flights. Air Arabia's website offers connections, allowing passengers to fly beyond Sharjah on one ticket. There are no indications how many passengers already do this from Amman.
Air Arabia Jordan will be based at Amman, the country's main airport. Royal Jordanian holds a 47% seat share followed by a combined 9% from Dubai's Emirates and flydubai. Other hub carriers – Etihad, Qatar and Turkish – are Amman's other top carriers, although small.
Amman Queen Alia International Airport system seat capacity by carrier: 13-Apr-2015 to 19-Apr-2015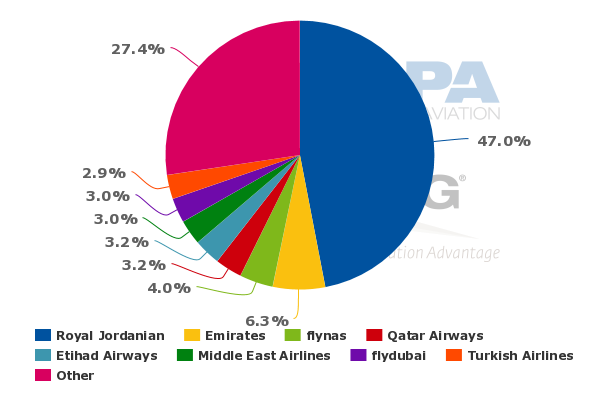 Given this airline composition, it is unsurprising 62% of Amman's capacity is to the Middle East, with the UAE the single largest country served from Amman.
Amman Queen Alia International Airport international seat capacity by region: 13-Apr-2015 to 19-Apr-2015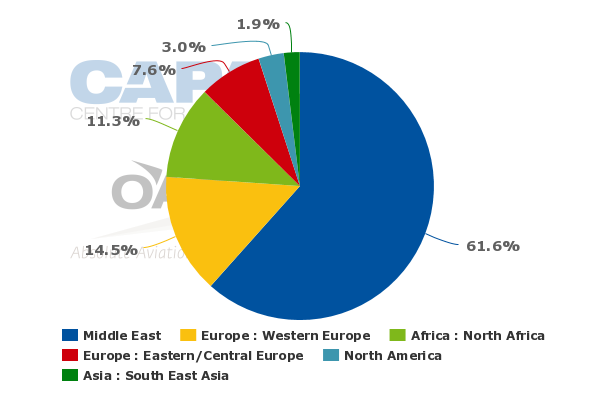 Amman Queen Alia International Airport international seat capacity by country: 13-Apr-2015 to 19-Apr-2015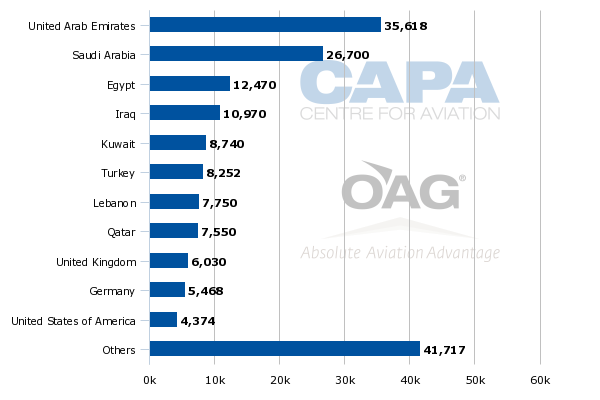 Amman is connected to 40 cities in the Middle East in Apr-2015, according to OAG. However there is a wide disparity in capacity concentration. Although there are over 1,600 seats a day to Dubai, Amman's tenth largest Middle East destination, Baghdad, sees 283 a day. Even smaller cities will see less than a daily flight while other destinations are unserved.
Although Amman has high connectivity to hubs like Dubai, connections on short-haul routes can easily double the journey time of what a non-stop service could provide. Further, hub carriers may charge a high fare on intra-regional travel as they need to offset the loss from having a higher total trip revenue on an intercontinental itinerary.
Top 10 Middle East destinations from Amman: 13-Apr-2015 to 19-Apr-2015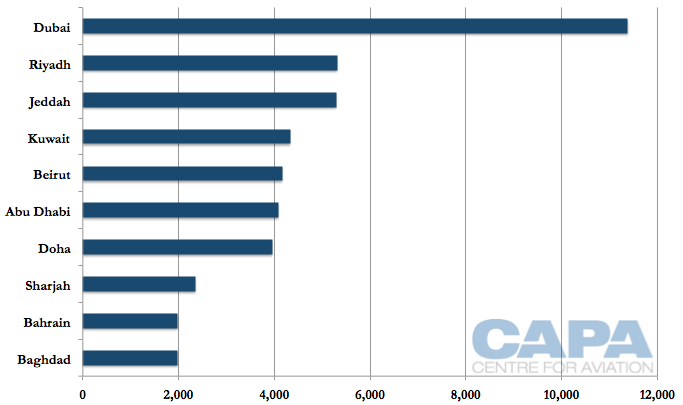 Royal Jordanian should expect some impact from Air Arabia Jordan, although with an initial two A320s it will be limited. Royal Jordanian operates 29 aircraft and half of its seats and a quarter of ASKs are within the Middle East, according to OAG. Middle East destinations heavily comprise Royal Jordanian's top routes.
Air Arabia Jordan is not just a competitor but an LCC. While Air Arabia Jordan can stimulate new demand, there will inevitably be some passengers who choose Air Arabia Jordan over Royal Jordanian.
Royal Jordanian top 10 international routes ranked on available seat capacity: 13-Apr-2015 to 19-Apr-2015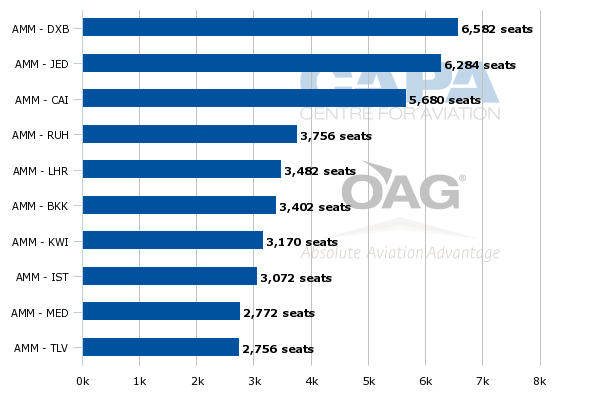 Air Arabia sees Amman as the hub for the Levant. Israel could be interesting destination
In addition to the Middle East, Air Arabia sees Air Arabia Jordan serving the Levant; Amman is the main airport for the region. The Levant includes countries Air Arabia Jordan would focus on under its Middle East mandate, but the Levant also primarily includes Cyprus and Israel. Israel could be an interesting destination given its lack of regional links; Tel Aviv-Amman is Israel's only international link to the Middle East, with Royal Jordanian having a 90% share and Arkia 10%.
Middle East travel to Israel is a gray area, but there is demand, with the market accessing Israel via air services from Jordan or ground links from Egypt. Mr Ali did not mention Israel, but it will be interesting to see if Air Arabia serves Israel, and if so whether it offers connecting itineraries to Tel Aviv from other parts of the Middle East.
Tel Aviv is the second-largest Levant destination from Amman. Beirut is first and Larnaca a distant third. Royal Jordanian has suspended services to Syria, previously a large Levant market from Amman.
Levant destinations from Amman ranked on available seat capacity: 13-Apr-2015 to 19-Apr-2015
Mr Ali says a later objective of Air Arabia Jordan would be to commence flying to Europe. Air Arabia Jordan could piggyback on the existing European experience and infrastructure of Air Arabia Maroc, which only flies from Morocco to Europe. This will reduce route launch costs as the Air Arabia group already has a presence in Europe. Air Arabia Maroc serves 16 European cities in Apr-2015, according to OAG data.
Air Arabia Maroc European destinations: Apr-2015
This "joining the dots" is a strategy LCC groups use to ride on their scale and expand with lower costs. European markets familiar with the Air Arabia group merely need to be introduced to Jordan as another destination, and not a new airline linking Jordan with Europe.
The similar branding of these LCC units is intentional so consumers do not see "Air Arabia Maroc" and "Air Arabia Jordan" but rather simply "Air Arabia".
Both Morocco and Jordan have signed open skies agreements with the EU. Morocco saw far greater success, with open skies ushering in rapid growth, particularly from LCCs. However, Jordan has yet to see a similarly large outcome. There are differences, notably Jordan being further from the EU than Morocco and Jordan having a shorter tourism period, but there is opportunity for further EU-Jordan growth. EU-Morocco has been a far larger market than EU-Jordan.
The impact of EU-Morocco open skies in 2006 is evident with a capacity jump in 2007. In comparison, EU-Jordan open skies in 2010 provoked little change. Between 2005 and 2015, Jordan-Europe capacity (including to countries outside of the EU bloc) increased 49%, with most of this growth occurring prior to 2010. In comparison, Morocco-Europe capacity has increased 131% in the same period.
European seat capacity from Morocco and Jordan: 2005-2015F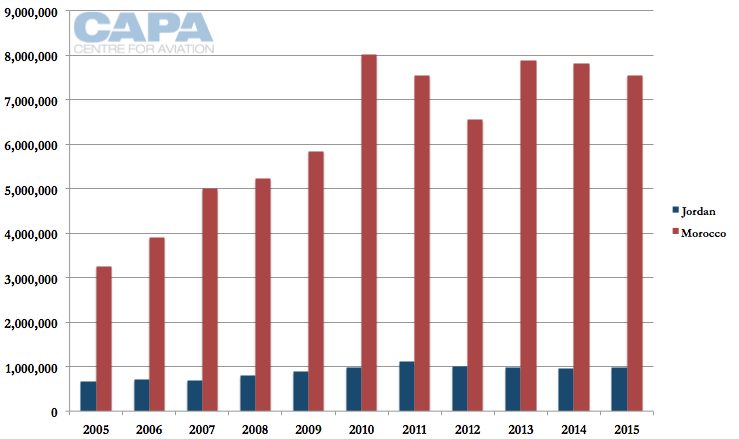 See related report: Jordan continues to see no LCC influx despite EU Open Skies agreement
Air Arabia Maroc has a 7% of the large and fragmented EU-Morocco market. It can be expected to have a larger share of the EU-Jordan market (no European LCC serves Jordan in 2015) but is unlikely to overload supply on the market.
Air Arabia Jordan's entry on Europe-Jordan routes could see Europe's LCCs reconsider the market. Only easyJet has served Jordan, with London Gatwick-Amman service from 2011 to 2014. Mr Ali is not phased about the prospects of future LCC competition to Europe from Jordan, saying: "We compete with European LCCs from Morocco as that hub only flies to Europe. Jordan will be no different."
Top 10 European destinations from Amman: 13-Apr-2015 to 19-Apr-2015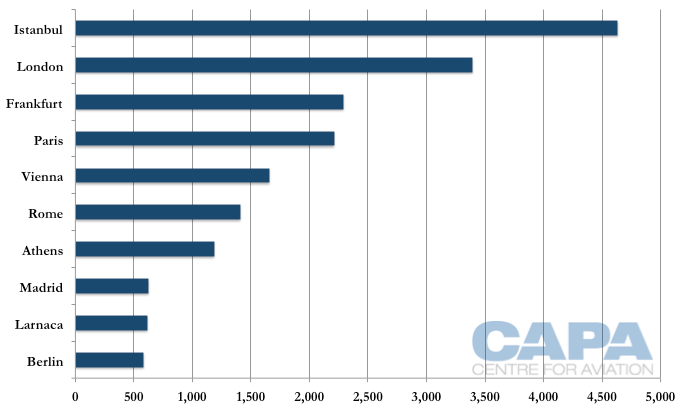 Royal Jordanian accounts for 60% of the Jordan-Western Europe market. The next largest carriers are British Airways and Lufthansa with about a 10% share each.
Jordan to Western Europe (seats per week, one way): 19-Sep-2011 to 27-Sep-2015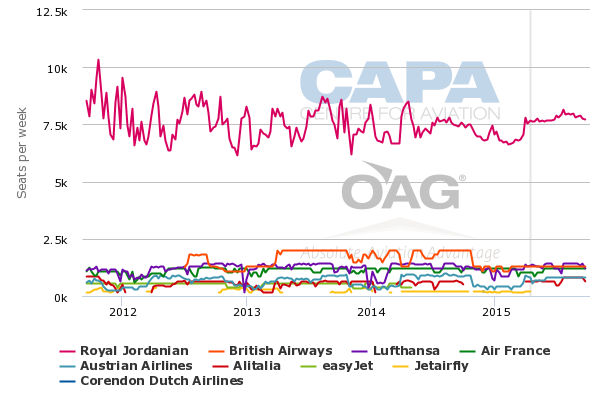 To Eastern and Central Europe, Royal Jordanian and Turkish Airlines each have about a 42% share of the market, reflecting Turkish Airlines scooping up Jordanian traffic. For westward traffic flows from Jordan, Istanbul is a convenient hub; Gulf hubs to the east entail significant backtracking to Europe and North America.
Jordan to Eastern/Central Europe (seats per week, one way): 19-Sep-2011 to 27-Sep-2015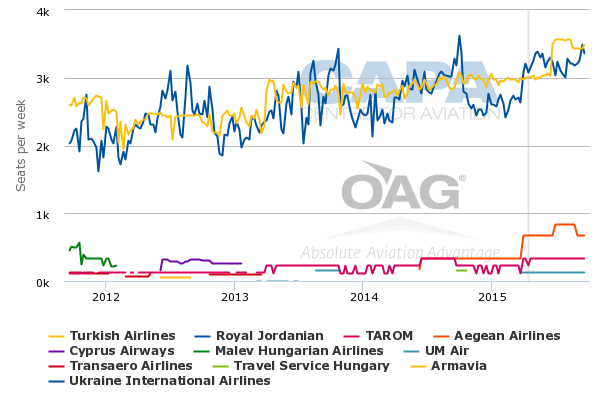 Outlook: Air Arabia Jordan launches at difficult time for Jordanian aviation, but will quickly be an important player
Royal Jordanian continues to be impacted by regional unrest. Prior to the instability, the flag carrier had been profitable. Air Arabia Jordan's launch does not come at an easy time with flag carrier Royal Jordanian still responding and restructuring. But Air Arabia Jordan will be an important development for Jordan and meeting the country's tourism objectives.
Air Arabia Jordan will likely be able to achieve more than its predecessor, Petra Airlines, could have. Exactly how big Air Arabia Jordan becomes is uncertain as the group has remained focused on its home based Sharjah operation.
In early 2015, LCCs will account for 13.5% of international seats to/from Jordan, according to OAG data. This is slightly above the 11.2% figure for seats to/from the Middle East but lower than the 18.9% figure for seats within the Middle East.
LCC capacity share (%) of total seats in Jordan: 2003 to 2015 Jan-Apr*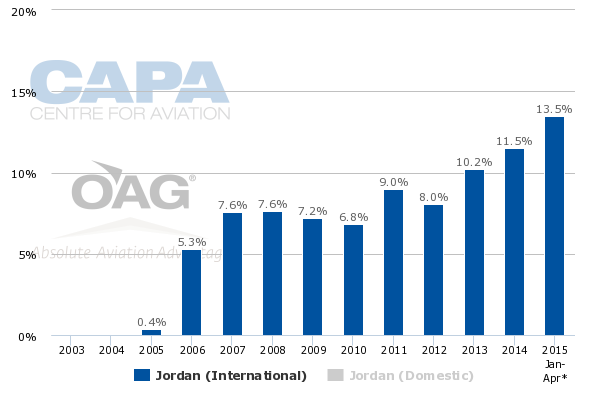 LCC capacity share (%) of total Middle East seats: 2003 to 2015 Jan-Apr*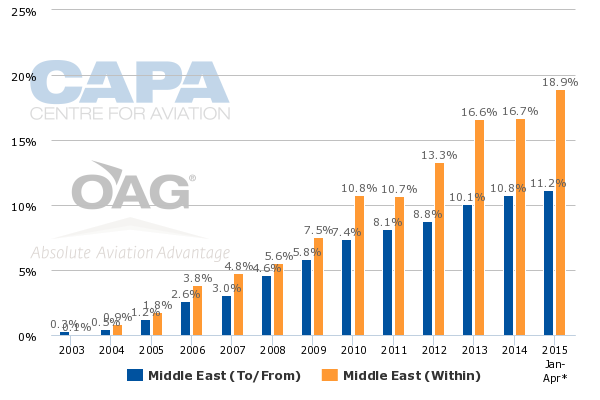 With LCCs having carved markets throughout the Americas, Asia and Europe, it is the Middle East and Africa where opportunities await. For now, Air Arabia Jordan will remain one of the few LCCs in the region, but no doubt that with time others will follow.