Aeromexico predicts a rise in domestic market share as rivals continue to grow
Analysis
Mexico's largest carrier Aeromexico predicts a rebound in its domestic market share during 4Q2012 after watching its rivals grow in the market during the last year as they worked to seize on opportunities created by Mexicana ceasing operations in Aug-2010. Aeromexico's management during the last three months of 2012 plans to focus more on building load factor instead of yield strength, which company executives believe will shore up its standing in the domestic market after the summer high season that was tilted more heavily towards leisure traffic. The carrier is also planning a trans-Atlantic push as it works towards the launch of new service to London Heathrow and forging a partnership with a Middle Eastern carrier to funnel traffic through its new European destination.
Aeromexico's focus on improving yields was reflected in the nearly 7% growth the carrier recorded in that metric during 3Q2012, which helped to drive the carrier's unit revenue growth up 3.6% year-over-year. While the yield strength reflects Aeromexico's ability to garner favourable pricing, its 6% rise in capacity year-over-year in 3Q2012 outpaced the 2% traffic growth, driving the airline's load factors down by 3.7ppt in 3Q2012 to 77%.
During a recent discussion with analysts, Aeromexico CEO Andres Conesa explained that its higher mix of business travellers was reflected in market share statistics for the busy summer season. He estimated Grupo Aeromexico, which includes subsidiary Aeromexico Connect, began 2012 with a 40% domestic passenger share, which fell to roughly 38% in Jul-2012. He stated the company's position started to improve in Aug-2012, and should continue an upward trend from Oct-2012 to Dec-2012, due to seasonality and "a change of strategy to focus on load factor instead of yields".
Aeromexico's competitors continue to build domestic share
Data from Mexico's DGAC show that Grupo Aeromexico's domestic market share has dropped about 5ppt over the last year. The group's market share was only 35% in Sep-2012, compared to 40% in Sep-2011.
Interjet's share also has been slipping as it has focused on expanding its international offering. The LCC's share of domestic passengers carried dropped from 24% in Sep-2011 to 23% in Sep-2012.
Meanwhile, Volaris saw its share jump 3ppt in Sep-2012 to 21%, reflecting the airline's rapid domestic growth throughout 2012 driven somewhat by a pronounced expansion from Guadalajara. VivaAerobus also enjoyed a rise in domestic share year-over-year from 12% in Sep-2011 to 14% in Sep-2012. The carrier's domestic route launches in 2012 included Cancun to Guadalajara and Cuernavaca and Monterrey-Cuernavaca.
Domestic passenger share for Mexico's carriers (% of passengers): Sep-2012 vs Sep-2011
| | |
| --- | --- |
| Sep2012 | Sep-2011 |
During Sep-2012 total domestic passenger numbers in Mexico increased 10% year-over-year to 2.2 million, which was slower than the 13% growth recorded in Aug-2012 as the country's carriers transported 2.6 million passengers. Passenger levels peaked in Jul-2012 at 2.8 million, a 12% rise from the year prior.
Grupo Aeromexico's domestic share for the nine months ending Sep-2012 was roughly 37%, down from about 40% the year prior. Interjet's share slipped 1ppt to 24% while Volaris saw its share rise 2ppt to 20%. VivaAerobus' share remained flat year-over-year at 12%.
Mexico carrier's transported about 19 million passengers for the first eight months of 2012, compared to about 14 million for the first seven months of 2010 when Mexicana was still in operation.
Domestic passenger share for Mexico's carriers (% of passengers): Jan-Sep-2012 vs Jan-Sep-2011
| | |
| --- | --- |
| Jan-Sep-2012 | Jan-Sep-2011 |
Even as Aeromexico's rivals continue to enlarge their share of Mexico's domestic market, Mr Conesa retains faith in the carrier's intra-Mexico network. He remarked that Aeromexico launched three additional markets in 3Q2012, leaving just a couple of cities untouched by the Aeromexico brand.
During 3Q2012, Aeromexico introduced service from Mexico City to Saltillo and Queretaro and from Veracruz to Tampico. Schedules in Innovata show that Aeromexico has competition on only one of those pairings. Mexican regional operator Aeromar operates service from Mexico City to Saltillo.
Aeromexico is serving the new markets with 50-seat Embraer ERJ-145s. The carrier has nearly 40 ERJ-145s but is slowly upgauging its regional fleet to the larger Embraer 170/190 models. During 3Q2012 Aeromexico Connect increased its Embraer 190 fleet by nine aircraft year-over-year and introduced the Embraer 170, with three aircraft in service as of 30-Sep-2012.
Aeromexico fleet as of 30-Sep-2012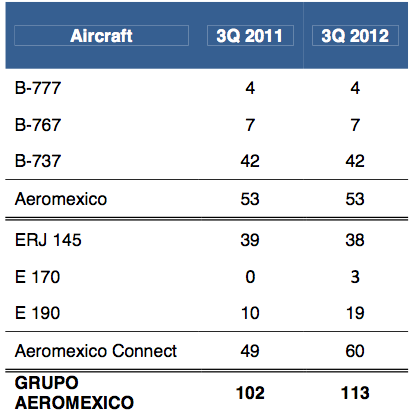 Despite Aeromexico's confidence in holding its own in the domestic market, the reality is that most of the gaps created by Mexicana's demise have been filled. Few routes exist where Aeromexico will not face competition from the country's three low-cost carriers – Interjet, Volaris and VivaAerobus.
Aeromexico executives have previously admitted that Mexico's domestic market has slowed down, citing yield pressure during 1H2012. But that appears to have improved during 3Q2012 as 54% of Aeromexico's total passenger revenues was derived from domestic operations while the remaining 46% was attributed to its international service. But Aeromexico likely garners higher yielding business travellers on its international services, where it still holding the market share lead among Mexican carriers, aiding its yield growth in 3Q2012.
Going forward the competitive pressure in the domestic market place will intensify in 2013 when Interjet starts deliveries of 20 93-seat Sukhoi Superjet 100 aircraft that are pegged for medium-density, short-haul routes. Interjet will certainly put the new type on some of the same pairings Aeromexico operates with its Embraer 170/190 fleet, which at 70 to 90-seats is similarly-sized to the Superjet 100.
See related articles:
Continued transborder strength
Echoing similar sentiments he has offered throughout 2012, Mr Conesa stated that Aeromexico's transborder operations in 3Q2012 remained strong as margins expanded year-over-year. Since the beginning of 2011 Aeromexico has launched service from Atlanta, Washington DC and Dallas/Fort Worth from its Mexico City base. The carrier has also introduced service from Guadalajara to Fresno and Sacramento in California; from Cancun to New York; and from Monterrey to Brownsville in Texas.
But Aeromexico's transborder expansion during that time has been met with more rapid growth from Interjet and Volaris. Grupo Aeromexico's (including Aeromexico Connect) share among Mexican carriers transporting international passengers fell in Aug-2012 by roughly 10ppt to 64%.
By contrast Interjet grew its share of international traffic among Mexican carriers to nearly 10% in Aug-2012, a roughly 8ppt rise year-over-year. Volaris grew its share by 1ppt in Aug-2012 to 24% and VivaAerobus by 1ppt to 2%.
During Sep-2012 Grupo Aeromexico's international share fell from 74% to 68% year-over-year. The 6ppt slip was absorbed by Interjet as its share year-over-year grew 7ppt to 9%. VivaAerobus' share inched up 1ppt to 2% while Volaris saw its share fall 1ppt to 21%, driven by some of the carrier's domestic growth.
International passenger share for Mexico's carriers (% of passengers): Aug-2012 vs Aug-2011
| | |
| --- | --- |
| Aug-2012 | Aug-2011 |
Interjet's rapid rise is a result of new transborder service it introduced during the last year from Mexico City to San Antonio in Texas (which it also serves from its Toluca base), Orange County in California (also served by Interjet from Guadalajara), Miami and New York. Interjet has also launched international service from Mexico City to San Jose in Costa Rica, Guatemala City in Guatemala and Havana in Cuba during the last year.
The carrier plans further transborder expansion during Nov-2012 with the launch of twice-weekly service from Toluca (located 65km from Mexico City) to Las Vegas. Schedules in Innovata show that Volaris has a small presence between Toluca and Las Vegas, operating just 150 seats per week, but Volaris along with Aeromexico offer approximately 3,600 seats in the Mexico City-Las Vegas market. The carriers have a fairly even split in terms of seat share with Volaris holding a 51% stake and Aeromexico accounting for a 49% share.
Mexico City to Las Vegas capacity by carrier (seats per week, one way): 19-Sep-2011 to 28-Apr-2013
None of Interjet's US transborder markets are uncontested, as it squares off against AirTran from Mexico City to both Orange County and San Antonio, and with Aeromexico on the San Antonio-Mexico City pairing. Interjet also competes with Aeromexico and another SkyTeam carrier, Delta, on service from Mexico City to New York JFK and with Aeromexico and American Airlines on flights from Mexico City to Miami.
Interjet and Volaris in part are shifting focus away from filling Mexicana's service gaps in the domestic market place to launching flights in some of the defunct carrier's transborder routes. Volaris has backfilled Mexicana's service from Guadalajara to Las Vegas while Interjet entered another Mexicana transborder market when it introduced flights from Mexico City to New York. Aeromexico has also filled in some of Mexicana's capacity between Mexico City and Las Vegas.
The international market among Mexico's carriers grew 18% in Aug-2012 to 550,500 passengers and 13% during Sep-2012. But DGAC data show that the 3.8 million international passengers transported by Mexican carriers from Jan-2012 to Aug-2012 is still below the five million transported from Jan-2010 to Aug-2010 prior to Mexicana's collapse. All four of Mexico's major carriers – Aeromexico, Interjet, VivaAerobus and Volaris – are calculating their opportunities to fill the still existing gap in Mexicana's international operations.
But Aeromexico's share has slipped in the international market as Volaris and Interjet have stepped up their transborder expansion. From Jan-2012 to Sep-2012 Grupo Aeromexico's share fell from 76% to 68% year-over-year while Volaris grew its share from 21% to 22% and Interjet's share made a healthy jump from 2% to 7%.
International passenger share for Mexico's carriers (% of passengers): Jan-Sep-2012 vs Jan-Sep-2011
| | |
| --- | --- |
| Jan-Sep-2012 | Jan-Sep-2011 |
As Mexico's only true intercontinental carrier, Aeromexico is setting its sights on further long-haul expansion as the first of nine 787-8 widebody aircraft is scheduled for delivery in 2013.
Looking to forge a strategic partnership on Heathrow flights
While Aeromexico's feed opportunities at London Heathrow appear limited given SkyTeam's weaker presence at the airport compared with the oneworld alliance dominated by Heathrow-based British Airways, Mr Conesa assured that Aeromexico has been studying the Heathrow market for a couple of years. He believes in addition to capturing business passengers in the market, Aeromexico can drive traffic from Heathrow to Mexico City and on to some of its leisure points, and stated that Aeromexico aims to sign a codesharing pact with a Middle Eastern carrier, either Etihad or Emirates, to flow Heathrow passengers on its flights to Mexico City and beyond.
Etihad just signed a landmark deal with Aeromexico's fellow SkyTeam partner Air France that covers codesharing on flights in Europe and from Paris to Etihad's Abu Dhabi hub and several destinations beyond. A tie-up with Aeromexico could further entrench Etihad among the SkyTeam carriers.
See related articles:
On a pure numbers basis Aeromexico has a greater chance of flowing more passengers through Heathrow via a tie-up with Emirates, who presently offers roughly 16,436 seats per week between Dubai and Heathrow while Etihad's seat offering from Abu Dhabi to Heathrow is approximately 8,250. Aeromexico's proposition is attractive to either airline as now Middle Eastern carriers have a presence in Mexico or Central America.
Etihad has no direct flights to any part of Latin America while Emirates serves Sao Paulo, Rio de Janeiro and Buenos Aires. Aeromexico's declaration of its intent to partner with a Middle Eastern carrier gives an added dimension to the spate of partnerships that the region's three main carriers – Emirates, Etihad and Qatar – have forged recently as carriers recognise the importance of partnering with those airlines in order to offer passengers a comprehensive global network.
As the domestic and international market share shifts amongst Mexico's carriers continue, Aeromexico's financial performance is under some pressure. During 3Q2012 the airlines's passenger revenues grew 8% to MXP9.4 billion (USD712.6 million) year-over-year. But currency fluctuations and negative effects of its fuel hedges drove Aeromexico's net income down 53% to MXP422 million (USD32 million), while operating profit slid about 18% to MXP976 million (USD74 million).
Despite the slide in profits, Aeromexico believes it is making the right fleet and network decisions to compete effectively against its now quite familiar domestic competitors. Even as it cedes some market share within Mexico, it still retains leading carrier status and plans to leverage that stature to build its share back up to create a more comfortable gap with its competitors.