Aeromexico faces formidable challenges in making new London Heathrow flights viable
Analysis
See related article: Spain's Air Europa bucks trends and expands short-haul network at Madrid
Aeromexico previously served Mexico City-Barcelona, but earlier in 2012 carrier management stated their intent to eliminate the route due to its lacklustre performance. Executives stated the route was loss-making, and explained its cancellation was to coincide with the return of two Boeing 767 widebodies to lessors.
See related article: LCCS help drive Mexican international passenger growth of 42% in 2012
Europe and the UK account for a small portion of Mexico's international passenger traffic
Previous efforts by Mexican carriers to serve the London market have proven largely unsuccessful. Mexicana launched a loss-making operation from Mexico City to London Gatwick in early 2009, and abandoned the route as it ceased operations entirely in Aug-2010. By serving Gatwick, Mexicana's passengers were limited in their connection opportunities as oneworld partner British Airways does not offer flights to many major European gateways from Gatwick, and presently accounts for 19% of the seating capacity deployed to and from the airport. easyJet accounts for the majority of Gatwick's seating capacity, holding a 42% share.
Europe and the UK represent only a small fraction of Mexico's international passenger traffic as US carriers still transport the bulk of foreign customers to Mexico through their various transborder connections.
Data from Mexico's DGAC covering Aug-2012 show that American carriers represent 54% of the country's international passenger traffic by nationality. However, the number of passengers transported by those carriers remained flat year-over-year during Aug-2012 at 1.2 million.
European air carriers increased the number of passengers they transported to and from Mexico during Aug-2012 from 208,000 to 210,000 year-over-year, but those airlines still accounted for just 8% of Mexico's international traffic for the first eight months of the year.
Mexico scheduled international passenger traffic share by carrier nationality: Jan-2012-Aug-2012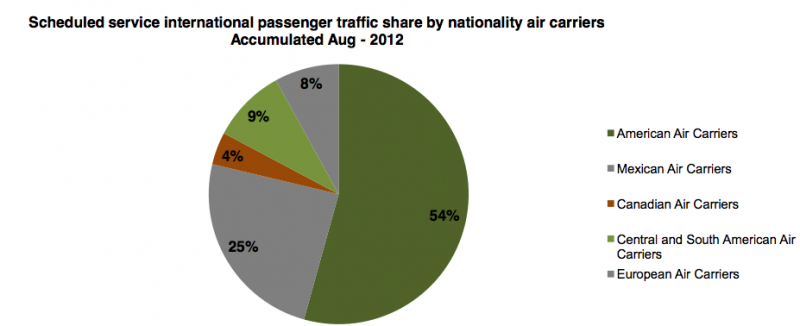 Roughly 16,000 passengers travelled between Mexico and the UK during Aug-2012, up from the approximately 15,300 passengers transported the year prior. Among the scheduled international passenger traffic of the top markets tracked by the DGAC, the UK represented just 1% of the total in Aug-2012.
With so little O&D demand between Mexico and the UK, Aeromexico could face challenges as it attempts to build scale on its new service from Mexico City to Heathrow.
Scheduled passenger share among Mexico's top international markets: Aug-2012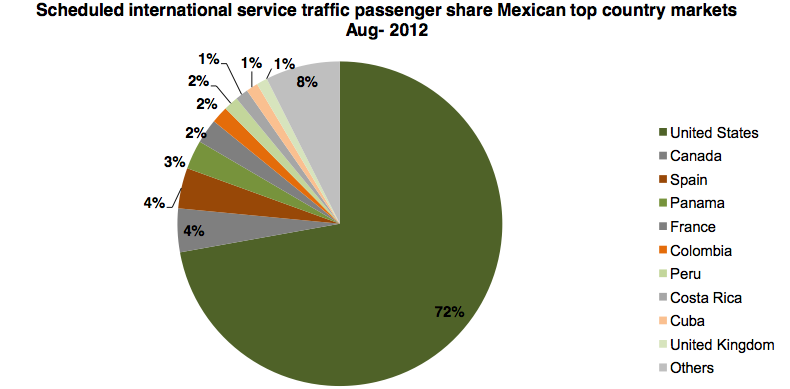 Limited connection opportunities at Heathrow and SkyTeam partner services are few
Aeromexico's competition from Mexico City to London Heathrow is oneworld anchor British Airways, which offers four weekly flights with Boeing 747-400s on the pairing. Heathrow is dominated by British Airways and by default the oneworld alliance. According to current schedules in Innovata (15-Oct-2012 to 21-Oct-2012), BA accounts for 46% of Heathrow's seating capacity, while the oneworld alliance holds a 53% seat share there. By contrast, Aeromexico's SkyTeam alliance only represents 7% of Heathrow's seating capacity.
London Heathrow capacity by alliance (% of seats): 15-Oct-2012 to 21-Oct-2012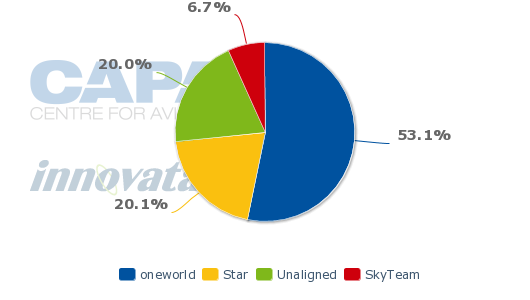 Aeromexico runs the risk of facing the same challenges as Mexicana in generating meaningful feed at Heathrow through connections onto its SkyTeam partners. Schedules in Innovata show that SkyTeam members offer flights from Heathrow to roughly 13 destinations. Aeroflot serves Moscow Sheremetyevo, Air France operates service to Paris while Alitalia offers flights to Rome Fiumicino and Milan Linate. The group's Chinese members China Eastern and China Southern offer service to Shanghai and Guangzhou respectively, while Korean Air operates service to Seoul. Kenya Airways operates service to Nairobi while Middle Eastern Airlines offers flights to Beirut. SkyTeam carrier Saudia operates flights from Heathrow to Jeddah, Riyadh and Medina, Saudi Arabia. Tarom also operates flights from Heathrow to Bucharest.
While those offerings include some major gateways in Europe, Africa, Asia and the Middle East, specific schedules in some markets might not allow for favourable connections for Aeromexico's passengers, including less than daily frequencies to Saudia's markets, MEA's service to Beirut, China Southern's service to Guangzhou and China Eastern's flights to Shanghai.
Aeromexico has a much more favourable opportunity to offer optimised connections on its flights from Mexico City to Paris Charles de Gaulle, where Air France currently accounts for 58% of the seats on offer and SkyTeam represents 66% of the seating capacity. With Aeromexico's partner Air France offering ample service from Paris to London Heathrow, Aeromexico's motives for going through the effort to secure and pay for slots at Heathrow for direct service that currently generates little demand are unclear.
Paris Charles de Gaulle capacity by alliance (% of seats): 15-Oct-2012 to 21-Oct-2012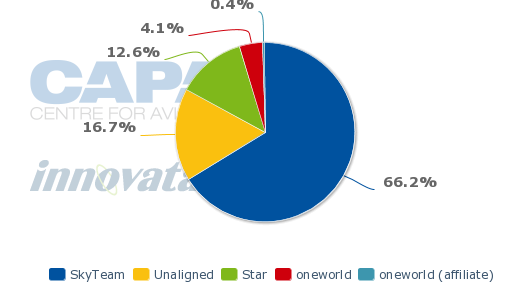 Launching long-haul flights to combat domestic sluggishness
Aeromexico's decision to introduce flights to London Heathrow in Dec-2012 follows a recent declaration by the carrier to focus the bulk of its capacity deployment during 2H2012 into international markets as the Mexican domestic market during 1H2012 became less dynamic, with yields coming under pressure. Competition in the domestic market has intensified now that Aeromexico, Interjet and Volaris have largely filled the gap within Mexico created by Mexicana's demise.
See related articles:
Most of Aeromexico's international push during 2012 has been in transborder markets through the launch of flights from Mexico City to the Atlanta hub of SkyTeam partner Delta, Washington Dulles and Dallas/Forth Worth beginning in Nov-2012. Previously, Aeromexico CEO Andres Conesa has cited strong demand in international markets, particularly on US transborder flights. But Aeromexico has also faced increasing competition in US transborder markets from Volaris and Interjet. Competition between Volaris and Aeromexico will intensify in Nov-2012 when Volaris launches service from Guadalajara to Sacramento following Interjet's challenge of Aeromexico from Mexico City to New York and Miami.
As its Mexican rivals look towards further transborder expansion and continue their domestic push, Aeromexico appears to be looking at longer-haul flights to fuel its expansion. Even as the London Heathrow market does not appear to be the most logical choice, Aeromexico could be testing the waters with smaller-gauge 767s to potentially place Boeing 787-8 aircraft on flights from Mexico City to London Heathrow. Aeromexico is scheduled to receive the first of eight 787-8 aircraft it has ordered during 2013. The carrier in Jul-2012 ordered 10 787-9s along with 90 737 Max 8 narrowbody aircraft. The 250-seat 787-9 is pegged to replace Aeromexico's four 777-200ER widebody aircraft.
Aeromexico will have to unlock a secret that Mexicana was unable to if it is to prosper
Aeromexico has most surely done a careful analysis to support its decision to launch new service to London Heathrow. But given Mexicana's challenges in the market coupled with current thin demand, Aeromexico will face obstacles in spooling the route up to the desired level of profitability.
Aeromexico's challenges are further compounded by SkyTeam's comparative weakness in Heathrow, making it tough to sell a strong European network from London, and general economic uncertainty in the Eurozone. As the service gets under way, Aeromexico's performance will soon show if the challenges posed by serving Heathrow were fully accounted in the carrier's route analysis.