US carriers face a mixed outlook in Latin America as yields in the region weaken
Analysis
US carriers are facing some weakness in their Latin American performance as significant capacity growth between the two regions appears to be pressuring unit revenue and yields. All three major US network carriers with a robust presence in the market – American, Delta and United – watched their yields plummet during 4Q2012 as they expanded capacity significantly to Latin America year-over-year. The weakness during the last three months of 2012 follows a somewhat lacklustre performance by those airlines during 3Q2012, which could indicate the US-Latin American market is reaching a certain level of maturity.
During 4Q2012 American, Delta and United posted declines in unit revenue and yields on their routes between the US and Latin America. American recorded the greatest decline in unit revenues of 5.4% while United posted the largest slide in yields of 6.5%. Delta and American increased capacity to the region by 9.4% and 8.3%, respectively, while United's capacity declined slightly by about 1%.
US Airways, which has a marginal presence between the US and South America and the Caribbean (and doesn't break out yield and unit revenue performance by region), recorded a 3% drop in unit revenues in the region. The carrier serves only one market in South America, Rio de Janeiro, and several leisure points in the Caribbean. US Ariways' new service from its Charlotte hub to Sao Paulo begins in May-2013
US carrier Latin America performance year-over-year: 4Q2012
| Carrier | Unit revenue | Yield | Capacity Increase |
| --- | --- | --- | --- |
| American | (-5.4%) | (-2.6%) | 9.4% |
| Delta | (-1.4%) | (-6.2%) | 8.3% |
| United | (-4.2%) | (-6.5%) | (-1.3%) |
Delta executives recently offered some colour on the Latin American market, noting that capacity in South America was somewhat outpacing demand. The carrier's management believes going forward that supply and demand will reach an equilibrium in the region. But Delta's weak 4Q2012 performance in Latin America follows lacklustre results posted by the carrier in the region during 3Q2012, when its yields fell 3% on flat unit revenue growth and a 3% rise in capacity.
At that time Delta's management specifically highlighted that capacity expansion by the LATAM Airlines Group was pressuring yields and traffic in the region. South American powerhouses LAN and TAM closed on their landmark merger in mid-2012. TAM is Brazil's largest carrier and LAN operates a pan-regional network in Latin America and is one of the largest international carriers offering flights from the region.
See related articles:
Data from Innovata show a significant increase in capacity from the US to Latin America between Oct-2011 and Oct 2012. There was roughly an 11% expansion year-over-year to Central America and the Caribbean, a 10% rise to upper South America and a 7% increase to lower South America.
Seat capacity between the US and Latin American regions: beginning of Oct-2011 versus Oct-2012
LAN and American Airlines recorded the largest increases in seats on offer between the US and upper South America between the beginning of Oct-2011 and Oct-2012. The number of seats offered by LAN grew 19% year-over-year while American expanded its seats by 18%
LATAM during 2012 attempted to place more emphasis on its North-South international markets instead of long-haul trans-Atlantic service to combat effects of the weak economy in Europe. LAN directed the bulk of its focus into North American markets from its Lima hub, bolstering frequencies to Los Angeles, Miami, New York and San Francisco.
LAN is the largest airline group operating from Lima and have stressed Peru's strategic importance in the combined LAN-TAM network given its attractive positioning for flowing traffic between North and South America. LAN management has stressed a large portion of the 3%-4% rise in LATAM's overall capacity during 2012 would stem from bolstering service on North-South long-haul routes.
Combined traffic for LATAM in its international operations, which includes trans-Atlantic service to Europe and long-haul flights to Australia and New Zealand, increased nearly 10% year-over-year in Dec-2012. But the 15% capacity growth surpassed the rise in traffic, which resulted in system-wide international load factors falling 3.7ppt to 75.7%. Some of the performance is likely driven by lingering effects of soft demand in Europe, but the drop in loads could also be attributable to too much capacity on offer between Latin America and the US.
See related article: LAN-TAM parent LATAM's first combined financials offer a mixed bag behind consolidated net profit
American and TAM work to retain leading positions between the US and Brazil
The majority of American's recent capacity growth into South America stems from new and increased service to Brazil, which is Latin America's largest market. American has been expanding its offerings to Brazil during the last year to hold onto its strong presence in the US-Brazil market, where it currently accounts for 38% of the seats on offer between the two regions.
United States to Brazil capacity by carrier (seats per week, one way): 19-Sep-2011 to 21-Jul-2013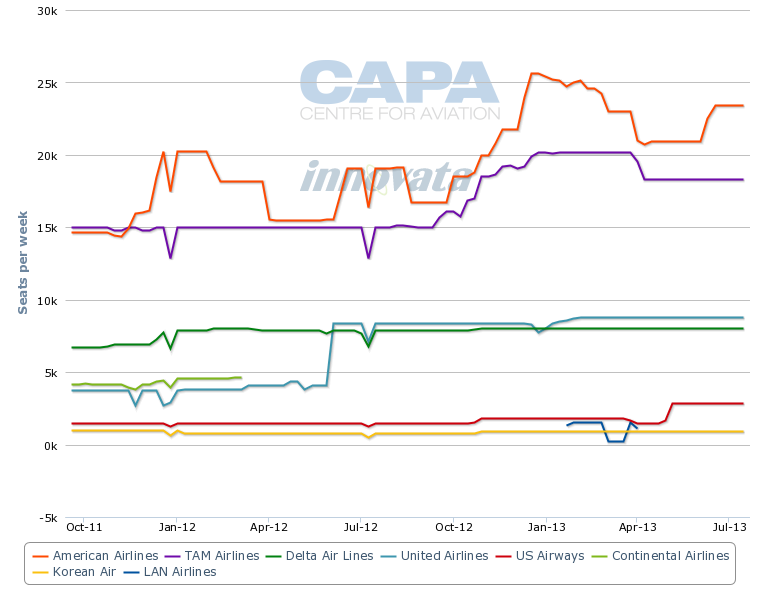 American during the last year has inaugurated new service from its Miami hub to Manaus and increased frequencies from Miami to Belo Horizonte and Brasilia and between Dallas and Sao Paulo. The carrier has also added frequencies from JFK to to Sao Paulo and Miami and Rio.
TAM, which is the second largest carrier between the US and Brazil with a nearly 31% seat share, also expanded capacity to the US during 2012 by up-gauging its equipment between Miami and Sao Paulo from 223-seat Airbus A330-200s to 362-seat Boeing 777-300ERs. The carrier also launched service from Rio de Janeiro to Orlando, joining existing flights from Sao Paulo to Orlando. LATAM management has outlined a strategy to feed some intra-regional traffic to long-haul routes, and expects to feed traffic from LAN's flights from Argentina, Chile and Peru to TAM's long-haul operations, which will expand traffic flows from lower South America to North America and Europe.
Delta makes push into the Caribbean from New York
Much of Delta's capacity expansion into Latin America and the Caribbean during 4Q2012 was dedicated to the Caribbean. Innovata data show that Delta's seats on offer to the Caribbean between the start of Oct-2011 and the beginning of Oct-2012 jumped about 37% while the carrier estimates its available seat miles grew roughly 25% in the region during 4Q2012.
Delta made a push into the Caribbean from New York JFK and LaGuardia during late 2012 into the Caribbean through the addition of new service and transitioning many seasonal flights into year-round offerings. New services included LaGuardia-Bermuda, JFK-St Maarten, JFK-Fort Myers and LaGuardia-Sarasota. Additionally, transitioned seaonsal flights from JFK to Aruba and Punta Cana and LaGuardia to Nassau to year-round service.
Delta expansion from New York to the Caribbean: Dec-2012 to Apr-2013

The new flights Delta introduced to the Caribbean (as well as some Florida markets) heightened its competition with JetBlue from New York. JetBlue serves most of the markets Delta either introduced or strengthened in the Caribbean, and expanded its seats on offer from the start of Oct-2011 and Oct-2012 by 10% in the region. During 4Q2012 JetBlue added new service from JFK and Boston to Grand Cayman and from JFK to Samana, Dominican Republic.
American's seats to the Caribbean grew about 13% between Oct-2011 and Oct-2012, but that is more a function of fortifying existing routes rather than introducing new service. The carrier has not unveiled any new Caribbean routes within the last year, and during Mar-2013 its wholly-owned regional subsidiary American Eagle is shuttering its San Juan hub, where it operates on intra-Caribbean routes.
See related articles:
American has introduced new service to Central America during the last year to Roatan, Honduras and Puebla, Mexico. The addition of those markets contributed to the carrier's 11% seat growth year-over-year from the start of Oct-2011 to the same time period in Oct-2012. Delta's seats grew by 10% during the same time, and even as the carrier recorded a weaker performance in Latin America during 4Q2012, Delta executives highlighted that markets in Mexico and Central America remained strong.
Delta has coordinated more closely with fellow SkyTeam carrier Aeromexico after taking a stake in its Mexican partner in late 2011. The enhanced partnership has allowed Delta to feed passengers into Aeromexico's extensive Mexican network from its Mexico City hub. Delta serves Mexico City from its US hubs in Atlanta, Detroit and New York JFK. Aeromexico's seat share expanded by 7ppt in the US-Central America market from the start of 4Q2011 to 4Q2012, driven by the introduction of new service from its Mexico City hub to Washington Dulles and Delta' hub in Atlanta in May-2012 and Jul-2012.
Both US and Latin American carriers have turned to capitalising on North-South traffic as US carriers manage their capacity from season-to-season to pull-back from trans-Atlantic markets during slower periods and as Latin American carriers conclude long-haul routes are more profitable than trans-Atlantic markets pressured by Europe's economic uncertainty. But even as Delta believes the supply-demand balance will rationalise between North America and Latin America, carriers will not rein in capacity anytime soon as Dec-2012 marked the start of Latin America's high season. While demand for services between the US and Latin America continue to grow at a faster clip than other markets, with all the recent big capacity additions the carriers run the risk of having too many seats in 2013.