Thai Airways forward bookings and short-term outlook plummet due to Bangkok floods
Analysis
Thai Airways International is facing a challenging November and December as tourists reconsider travelling to Bangkok in the aftermath of the recent floods. The flag carrier, which had been banking on a profitable 4Q2011 to offset year-to-date losses, now faces the prospect of a full-year loss for 2011.
Thai Airways president, Piyasvasti Amranand, says international forward bookings are down significantly, with Asian routes the most impacted. Domestically, Thailand's carriers have been recording high load factors since the floods began late last month. Most Thai carriers have been operating additional flights over the last two weeks in response to a surge in demand as roads connecting Bangkok with northern Thailand have closed, making bus travel to major domestic destinations such as Chang Mai impossible.
But high domestic load factors are little solace to Thai Airways as the carrier relies primarily on international traffic. "Domestic air travel has gone up but unfortunately it represents less than 10% of our revenues," Mr Piyasvasti said during a panel discussion at last week's Association of Asia Pacific Airlines (AAPA) assembly of presidents in Seoul. Thai Airways currently has a 35% share of Thailand's domestic market and a 32% share of Thailand's international market, based on current capacity (seats) figures (see Background Information below).
Mr Piyasvasti joked that he has been asking Bangkok residents to consider leaving the flooded neighborhoods of the capital for London instead of Chang Mai because the carrier's London flights "are really empty".
Load factor of less than 70% expected for Nov-Dec period as forward bookings plummet
Speaking to CAPA during the assembly, Mr Piyasvasti said he now expects Thai Airway's load factor for 4Q2011 to come in under 70%. The carrier was initially expecting load factors of about 80% for the quarter, which would have driven a healthy profit.
Mr Piyasvasti acknowledged that inbound passenger numbers "are dropping rapidly because no one is coming to Thailand". This follows earlier statements from Airports of Thailand, which has indicated that traffic at the country's main hub airport Bangkok Suvarnabhumi began dropping on 25-Oct-2011 with year-over-year declines approaching 10%.
CAPA understands that Thai Airways' forward bookings for November are now indicating a load factor of only 65%, which would represent a 6 ppt drop from a relatively weak Nov-2010. Forward bookings for December, typically one of Thai's best months of the year, only now point to a load factor of about 70%, down from initial projections of above 80% and a 75% load factor achieved in Dec-2010.
Thai Airways load factor: Jan-2009 to Sep-2011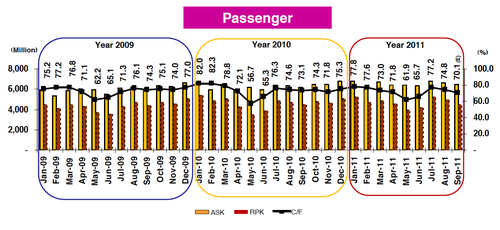 Mr Piyasvasti says European bookings for the upcoming peak season have so far been less impacted by the floods compared to Asian bookings as Europeans typically plan their Thailand holidays further in advance than Asian travellers. Thai Airways is concerned Asian tourists will continue to decide against booking holidays to Thailand during the upcoming year-end peak season because of a misplaced fear that their holidays would be impacted by the floods. Mr Piyasvasti said unwarranted travel warnings from several foreign governments, which are recommending against travel to Thailand, is adversely impacting traffic and forward bookings.
Thai carriers aim to dispel misconception that Bangkok's tourist facilities are impacted
Thai Airways and new AAPA member Bangkok Airways told CAPA during the AAPA assembly they are irritated at continued reports in the international media about the closure of "Bangkok's airport" which fail to explain that only small domestic airport Don Muang is closed while Suvarnabhumi Airport remains fully open. Both carriers are appealing to tourism and airport authorities to mount a public relations campaign as soon as possible to inform the public that downtown Bangkok and the city's main airport continue to function normally.
Only Bangkok's outer neighbourhoods, including the Don Muang area, have been flooded. Thailand's carriers are hoping to persuade passengers to continue visiting Bangkok as the city's tourist attractions have not been impacted. But if tourists remain reluctant to visit the capital, Thailand's carriers are hoping passengers will keep their Thailand holiday plans intact and upon arriving at Suvarnabhumi immediately transfer to domestic flights to the beach or other tourist destinations.
The only impact on Thailand's aviation and tourism industry should actually be the MRO sector as Don Muang still houses most of Thailand's heavy maintenance facilities including Thai Airways and Bangkok Airways hangars. MRO operations at Don Muang Airport have been suspended until the airport can be reopened, which will likely be several weeks as it remains submerged in water. The only two carriers that serve Don Muang, Thai Airways' partial subsidiary Nok Air and Orient Thai Airways, have temporarily moved all their Bangkok flights to Suvarnabhumi.
Thai Airways and foreign carriers serving Bangkok have not yet seen significant cancellations on European routes as European tourists have predominately elected to keep their peak season bookings intact, with some choosing to bypass planned stopovers in the capital and head straight to the beaches. Bangkok Airways, which focuses primarily on offering domestic and short-haul international connections for European passengers through codeshares and interlines with several foreign carriers, also has not yet been impacted by the floods and is cautiously optimistic about a relatively positive peak season.
But forward bookings in the Thailand-Asia market, which are typically made about now for the upcoming holiday season unlike in the European market where most of the bookings were made earlier, have fallen off the cliff. Bookings in three of Thai Airway's largest Asian markets – Japan, Korea and Singapore – have been particularly hard hit with bookings practically non-existent since the floods began. Other Thai and Asian carriers have also been impacted, who now fear that tourists from these three countries and greater China will skip Thailand entirely until next year.
Such as a scenario will have a devastating financial effect on Thai Airways as the carrier's Asian routes in recent months have been outperforming European routes. Through the first nine months of 2011, Thai Airways reported a 2% drop in European RPKs, including an 11% year-over-year decline for Sep-2011. RPKs on routes within the Indo-China region, however, were up 10% through the first nine months of 2011.
For Sep-2011, Thai Airways reported only a 65% load factor on European routes, representing a significant drop compared to the 76% European load factor recorded for Sep-2010. Thai Airways a few months ago revealed that load factors on its key Frankfurt and London routes during the months of May-2011 and Jun-2011 dropped to about 55%. Some secondary European routes have also been performing poorly, particularly Athens which will be dropped permanently from Thai's network later this month.
European traffic is of huge importance to Thai Airways, accounting for 31% of the carrier's total revenues. Overall Thai Airways relies heavily on the holiday/leisure sector. Thai Airways data shows that 71% of its passengers are foreigners, including 22% Europeans.
Thai's European load factor may still increase slightly for the upcoming peak season compared to the unusually low numbers in the recent off-peak months but are now not likely to increase significantly. The 2012 prospects for Thai's European routes also remain dim due to Europe's banking crisis. The introduction of A380s into Thai's fleet in 2H2012 will also result in capacity increases to Europe just at a time when demand is expected to remain relatively low.
Thai Airways is due to receive its first three A380s in 2H2012, with the first aircraft slated for delivery in Sep-2012. Mr Piyasvasti tells CAPA that the first batch of aircraft will be used on Thai's Bangkok-Frankfurt route from Sep-2012. He says the plan is to also start deploying the A380 on Bangkok-London Heathrow and Bangkok-Sydney in 2013 as the second batch of aircraft from Thai's six-aircraft order arrives. Thai Airway's fleet plan shows three A380 deliveries scheduled for 2012 followed by the final three deliveries in 2013.
Thai Airways already operates two daily flights to Frankfurt, London and Sydney. According to Innovata's schedule database, both Frankfurt and London flights are currently operated with B747-400s while the two Sydney flights are now operated with A340-600s. Thai Airways is expected to use the A380 for at least one daily frequency in each market.
If given the choice, Thai Airways would likely not move forward with its A380 order as it would be better off replacing B747-400s and A340s with medium-size widebody aircraft, allowing it to better match capacity with expected medium-term demand while maintaining frequency. But with Thai's A380s already well into the production process, a cancellation of the order is no longer an option.
The ill-timed introduction of the A380s will likely pose a network dilemma for Thai Airways in 2H2012 and 2013. The carrier will have to choose between reducing frequency to Frankfurt, London and Sydney to one daily flight or increasing capacity as the A380 replaces B747s and A340s. Frequency reduction would not be Thai Airway's preference as having two flights in each market are needed for it maintain the connections within Asia and on the kangaroo route that it relies on to fill up its long-haul network. But retaining the existing level of frequencies as the A380s are delivered means increasing capacity at a time when Thai Airways is already struggling to fill up its B747-400s.
Increasing competition from Gulf carriers poses major challenge for Thai Airways
In recent years Thai Airways has been significantly impacted by Middle Eastern carriers, which have rapidly added capacity into Bangkok and capturing an increasing share of traffic between Europe and Thailand. The three big Gulf carriers now provide over 60,000 seats per week in the Bangkok market, making Thailand by far the most served country from a Middle Eastern carrier perspective in the ASEAN region.
During the CEO panel discussion at the AAPA assembly, Mr Piyasvasti acknowledged Thai Airways has been impacted significantly by the expansion of Gulf carriers at Bangkok and the overall Europe-Australia market. Thai Airways is a major player on the kangaroo route, serving four Australian destinations – Sydney (double daily with B747-400s), Melbourne (double daily with B777s), Brisbane (single daily with B777s) and Perth (single daily with A330s).
"Our Government has been very kind. It has been very open [in not capping foreign carrier capacity]," Mr Piyasvasti lamented. He added: "If it's a level playing I don't mind. But I don't think it's a level playing field."
As part of a revitalisation plan led by Mr Piyasvasti, Thai Airways has already embarked on major investments to improve its long-haul product, hoping to woo back passengers who have been swayed over to the Middle Eastern carriers. Thai Airways is now in the middle of a major cabin retrofit programme which will significantly improve its economy and business products. Thai Airways also completed a major new aircraft buying spree earlier this year, ensuring the rapid renewal of its widebody fleet.
"I believe a good product can attract passengers," Mr Piyasvasti said. He expects passengers will soon recognise that Thai Airways offers a better service than the fast-growing Gulf carriers, claiming "it's a good thing their service level is not as good as they make it out to be".
Thai's new long-haul strategy also envisions more secondary destinations in Europe
Mr Piyasvasti also said some the new medium-size widebody aircraft Thai Airways has on order will be used to open more secondary destinations in Europe. The first example of this new network strategy for Europe is Brussels, which is being launched later this month with three weekly B777 flights.
All the Gulf carriers currently have a much larger European network than Thai Airways. While Thai Airways will never be able to match these networks, new generation aircraft such as the B787 will make new non-stop routes such as Bangkok-Manchester viable.
Thai Airways currently has a fleet of 84 widebodies and only five narrowbodies. Its current fleet plan envisions an all-widebody fleet consisting 105 aircraft by the end of 2017. Thai Airways currently is committed to taking delivery of 45 additional widebody aircraft from 2012 to 2017, including six A380s, 14 additional B777-300ERs, five additional A330-300s, eight B787s and 12 A350s. About half these aircraft will be used for growth while the other half will allow Thai Airways to retire its remaining A300-600s, A340-500s, A340-600s and some of its B747-400s.
The investment in new aircraft and interim retrofits, however, is costly and comes at a time when Thai Airways' operation is also bleeding cash. The carrier incurred THB7.874 billion (USD257 million) in losses in 1H2011. It is expected to report later this month a net profit for 3Q2011 but only when factoring in foreign currency exchange gains.
Thai Airways ended the first nine months of 2011 in the red and was hoping to offset these losses with a 4Q2011 profit. However, this is no longer feasible following the sudden drop in bookings since the start of the flooding crisis. A stiff loss for the full-year coupled with the major ongoing investments will result in a drain of capital.
See related article: Thai Airways falls back into red and faces challenging future
Thailand's new government is not seen to be keen to pump in additional capital. A broad review of Thai Airways and its new strategy by the Government, which took office in Aug-2011, is already overdue. Typically a change in power in Thailand results in a shift in strategy at the flag carrier, which remains majority government-owned, and a change in the executive team. Changes under the new government are almost inevitable, although may now not occur until next year as the Government will need to focus now on recovering from the floods.
See related article: Thai presses on with current strategy and new regional carrier despite upcoming political changes
In addition to pursuing the major renewal of its long-haul fleet and product, Thai Airways' new strategy includes a major adjustment in its approach to the regional international market. The carrier is already committed to launching the new hybrid low-cost regional carrier Thai Smile in mid-2012. While Thai Smile will initially operate domestically, Mr Piyasvasti told the CEO panel the carrier "will concentrate on regional international", a market where Thai Airways has struggled to compete against low-cost carriers. He said Nok will continue to focus on the domestic market, where it has been performing well.
See related articles: Thailand's Nok Air to stick with domestic focus following restructure and fleet renewal and Thai Airways to use Thai Smile to fight back at AirAsia and rapid LCC growth in Thailand
Government intervention in Thai's strategy likely as outlook worsens
It is unlikely the Government will derail Thai's new multi-brand strategy for responding to increasing LCC competition in the domestic and regional international markets. But the long-haul strategy and capacity plans could be adjusted as Thai Airways now faces the prospect of more losses over at least the short- and medium-term across the long-haul network, particularly European routes. Competition will only get more intense while market conditions remain relatively poor, a challenging combination for achieving even a slight financial improvement.
The inbound Thailand tourist market has a track record of quickly bouncing back from crises. A disappointing peak Northern Hemisphere winter season is inevitable, resulting in a big financial blow for all of Thailand's carriers and particularly Thai Airways. But the market will likely be back to normal sometime in 1H2012, with Asian routes again outperforming European markets. However, such a partial recovery will not fix in any way Thai Airways' long-term issues, including potential over-capacity following the introduction of its A380s, and increasing competition from Gulf carriers on long-haul routes and LCCs on short-haul routes. A period of political instability also looms as it remains uncertain what Thailand's new government will do with the country's again floundering flag carrier.
Background information
Capacity share by carrier in Thailand's international market
(based on seats per week): 07-Nov-2011 to 14-Nov-2011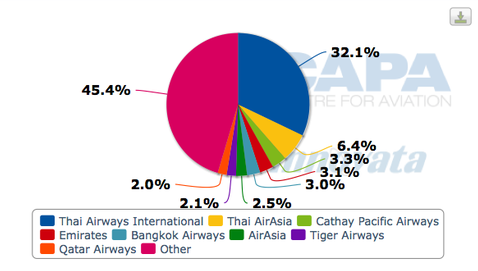 Capacity share by carrier in Thailand's domestic market
(based on seats per week): 07-Nov-2011 to 14-Nov-2011