Thailand's Nok Air to stick with domestic focus following ownership restructure and fleet renewal
Analysis
Thai low-cost carrier Nok Air is entering a new phase in its development as it plans major capacity growth and pursues a closer relationship with part-owner Thai Airways. But at least for now Nok will remain focused entirely on the domestic market despite the potential opportunity to fill the void in Thai's group strategy left by previously planned international LCC Thai Tiger.
Nok is one of the oldest LCCs in Asia, having just celebrated its seventh birthday, but is perhaps the least known as its brand, while very strong locally, has virtually no international exposure. The carrier's profitability and success at carving out a niche by focusing on the local Thai market, and particularly the country's younger generation, has gone largely noticed in the global industry. Nok has quietly grown to become a major player in Thailand, accounting for a 20% share of Thailand's fast-growing domestic market according to capacity data from Innovata.
Nok has turned over USD50 million in profits since launching in 2004
Nok launched in 2004 with initial capital of only THB500 million (USD16 million) provided by a large group of shareholders including Thai Airways. Nok has not required a single infusion of additional capital since then and now has approximately THB1.5 billion (USD49 million million) in the bank, according to CEO Patee Sarasin.
Nok has been profitable every year except 2007 and 2008, when skyrocketing oil prices and falling domestic demand prompted it to slash capacity, return seven of its 10 aircraft and put fleet renewal plans on ice. But Nok resumed expansion and was back in the black in 2009 as market conditions improved.
The carrier turned a net profit of more than THB600 million (USD19 million) in 2010. Mr Sarasin says Nok was also able to turn a profit of THB230 million (USD7 million) over the first three quarters of 2011 despite the rise in oil prices. With the last three months typically being the best quarter in Thailand, Nok expects 2011 profits to reach almost THB400 million (USD13 million) for the full year. Nok is projecting it will generate almost THB6 billion (USD194 million) in revenues in 2011 and carry about 4 million passengers.
Nok Air CEO Patee Sarasin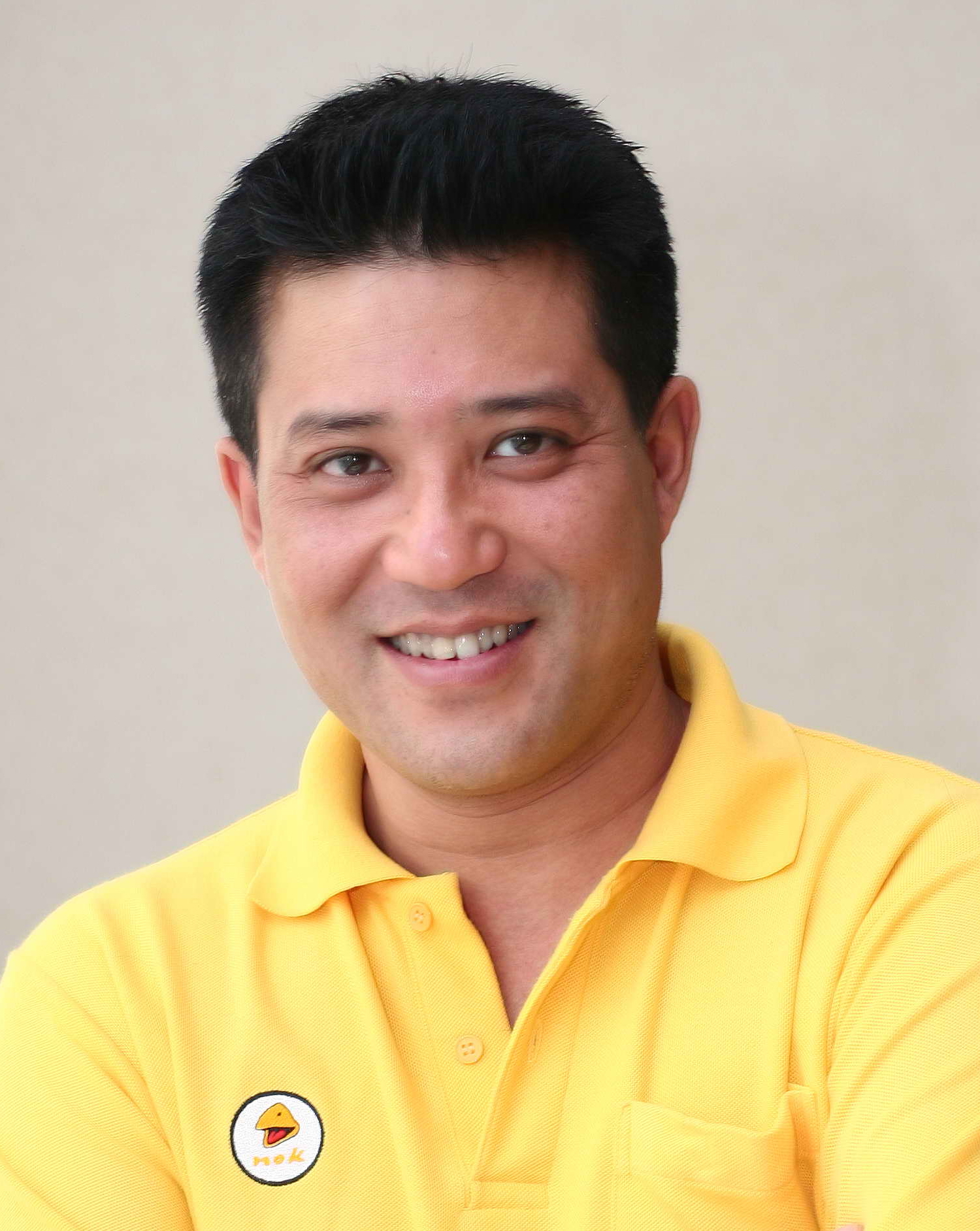 Thai Airways buys additional 10% stake in Nok for USD5 million
Thai Airways earlier this month increased its stake in Nok from 39% to 49%, acquiring the 10% stake previously held by Krung Thai Bank. Thai Airways last week disclosed it paid THB165 million (USD5 million) for the stake. As a result, Nok is currently valued at THB1.65 billion (USD 53 million).
Mr Sarasin tells CAPA that Nok's management team at the same time increased its stake from about 5% to 30%. Siam Commercial Bank Group still owns 11% while the remaining 10% is spread across several small shareholders.
Mr Sarasin says the restructuring of the ownership group will allow Nok to pursue faster growth as it will have fewer owners and one owner with a near majority stake. "It brings us to closer to Thai Airways in many ways," Mr Sarasin tells CAPA. "We are trying to complement Thai Airways. Holding 49% gives them a little more mandate."
Thai Airways now has five of the nine seats on Nok's board, giving it control over the carrier. Thai Airways president Piyasvasti Amranand has been added to Nok's board, showing Thai's eagerness to become more involved in the LCC. Thai Airways stated last week that the additional board seat and extra 10% stake in Nok "allows Thai to determine strategic policies for Nok Air to be a competitive low cost carrier, protecting the market share from other budget and low cost carriers".
Mr Sarasin, however, is not keen for Nok to shift strategy given the success it has had so far domestically. He expects to eventually discuss with Thai Airways a potential international role for Nok within Thai's new multi-brand strategy, which includes new regional unit Thai Smile. But for now Mr Sarasin is focused on exploiting opportunities for further profitable growth domestically and continuing to use Bangkok's old airport, Don Muang, as Nok's only base.
International expansion would require Nok to have a split operation as Don Muang is only open to domestic services. Thai's domestic strategy includes Nok continuing to operate point-to-point services from Don Muang, following an LCC model with a "value for money" service. Thai's new domestic strategy also includes domestic connections at Bangkok's main airport, Suvarnabhumi, from Thai mainline and increasingly Thai Smile.
Thai Smile plans to launch services in Jul-2011 with four 174-seat A320s, initially taking over domestic routes from Thai mainline. Thai Smile will have low- to medium-cost base, following a hybrid model that is part LCC and part regional full service. Thai Airways hopes Thai Smile will achieve two primary goals: first, its lower cost base and high-density single-class configuration will prove to be a more formidable competitor to Thai AirAsia, which is now competing against Thai Airways on nearly every major domestic route from Suvarnabhumi, and second that Thai Smile will preserve feed to the long-haul operation of Thai Airways and its Star Alliance partners. Nok last year resumed a limited codeshare with Thai Airways but switching airports in Bangkok is an unappealing option for long-haul passengers and less than 10% of Nok's passengers now come from tickets sold on Thai's code.
See related article: Thai Airways to use Thai Smile to fight back at AirAsia and rapid LCC growth in Asia
Thai Airways also plans to use Thai Smile, which will operate a fleet of 11 A320s by the end of 2015 and use Thai's 'TG' code, to eventually operate regional international services as Thai mainline transitions to an all-widebody fleet. Thai Airways was initially planning to use a combination of Thai Smile and Thai Tiger to fend off increasing competition from Thai AirAsia in the international regional market. Thai Tiger was envisioned as a pure low-cost carrier with an ultra-low cost base. But after failing to secure government approval to launch the proposed joint venture with Singapore's Tiger Airways, Thai Airways has dropped plans for Thai Tiger.
As Thai Smile will be a full-service carrier, it is unclear how Thai will now approach the low-end of the regional international market. Expanding Nok into the international market or establishing a new international offshoot under Nok could become alternatives. But Mr Sarasin says such discussions have not yet taken place and for now Nok is only preparing for domestic expansion.
First Nok Air B737-800 to enter service next week
Domestic expansion will be pursued as 12 189-seat B737-800s enter Nok's fleet, which currently consists of 10 B737-400s and two ATR 72s. Nok also plans to expand its ATR 72 fleet from two to seven aircraft, using the additional turboprops partially to replace smaller Saab 340s that have been successfully used to open small markets under the sub-brand Nok Mini.
Mr Sarasin says Nok's first B737-800 will enter service next week on the Bangkok-Chang Mai route. Two additional B737-800 deliveries are planned for Nov-2011 and Jan-2011. The first batch of aircraft will be used for expansion while later deliveries will be used to replace the B737-400s. Capacity will also increase significantly as a result of the replacement process because the smaller B737-400s are configured with only 150 seats and have a relatively low utilisation rate.
Nok is now planning to gradually return its 10 B737-400s, four of which are owned by Thai, from mid-2012 through 2015. Nok initially planned a much faster fleet renewal process, with the last B737-400 to be phased out by the end of 2013. Mr Sarasin says Nok still has the flexibility to accelerate the phase-out of its B737-400s because all the leases are expiring over the next two years. But he is now planning for a longer transition because he expects availability of B737-800s in the second hand leasing market will improve in the medium term, resulting in more attractive rentals if Nok is patient and waits a couple of years to secure all 12 aircraft that have been approved by its board.
Mr Sarasin says Nok decided to begin acquiring second-hand B737-800s primarily because it will allow it to reduce maintenance costs and increase average utilisation to over 11 hours while increasing seat capacity. Last week Nok signed a maintenance deal with Lufthansa Technik covering heavy checks for the B737-800 and ATR 72 fleets. Nok, whose only maintenance functions is line maintenance, has been using Air France to provide heavy maintenance on its B737-400s.
Nok plans turboprop fleet expansion
Nok's new fleet plan also envisions expanding the ATR 72 fleet from two to seven aircraft by 2015. Mr Sarasin says he signed lease deals last week for two more ATR 72s that will be delivered in Jan-2012 and give the carrier four of the type. Nok continues to search the market for up to three additional ATR 72s with Mr Sarasin again saying Nok will be patient and wait for the right deal.
While Nok operates the ATR 72s as part of its own operation, it also has experimented during the past few years with wet-leased Cessna turboprops that are operated by a small regional carrier, SGA Airlines, under the sub-brand Nok Mini. Earlier this year the Nok Mini/SGA operation was expanded to include the wet-lease of two Saab 340s. Mr Sarasin says the load factor of the Saab operation has been close to 100%, indicating the regional routes can support larger ATR 72s. Nok plans to continue wet-leasing the Saab 340s, which it will use to open new regional markets as some of the current Saab markets are transitioned to the larger ATR 72s. "[Nok Mini] has turned out to be very successful in opening up new markets around Thailand – much better than anticipated," Mr Sarasin says.
Nok, including the Nok Mini operation, now serves about 25 destinations in Thailand, more than any other Thai carrier. Mr Sarasin says the plan is for Nok "to completely dominate the country" and eventually have a network of about 35 cities.
While it has the largest domestic network in Thailand, Nok still does not serve two relatively large destinations in Chang Rai and Krabi – both of which are served by Thai AirAsia. Mr Sarasin says Chang Rai and Krabi will be among about five new destinations to be launched in the "near future" as Nok's fleet is expanded. Additional frequencies to several existing destinations are also planned.
Nok, along with two other LCCs, Thai AirAsia and Orient Thai/One-Two-Go, have helped stimulate growth in the Thai domestic market over the last several years. Based on Innovata data, Thailand's three LCCs now account for 51% of total domestic capacity. Thai Airways accounts for 35% while boutique full-service carrier Bangkok Airways accounts for the remaining 14%.
Thailand domestic capacity by carrier (seats per week): 10-Oct-2011 to 16-Oct-2011
According to Thai Airways data, the country's trio of LCCs has seen its share of the domestic market (based on total passengers carried) increase from only 16% in 2003 to 45% in 2010. In 2010, Thai Airways captured 40% of the domestic market, down from 84% in 2003. During this seven-year period, average annual LCC growth in the Thai domestic market has been 32% per year while Thai Airways' domestic traffic has shrunk over the same period at an average rate of 2% per year.
Over the last year LCC domestic growth has been particularly fast at Don Muang. According to Airports of Thailand data, Don Muang accommodated 3.8 million passengers for the nine months ending Jun-2011, a 44% increase over the same period the previous year. Nok, which has an approximate 80% share of the Don Muang market with Orient Thai accounting for the remaining 20%, has driven most of this growth.
Thailand's domestic market has been growing over the last eight years at an average clip of 5%, reaching 13.1 million passengers in 2010. Thai Airways expects continued annual domestic growth of 4% to 5% over the next six years, resulting in a projected 17.4 million passengers in 2017. Most of this growth will once again be captured by LCCs as Thai Smile will likely take over some of Thai's share of the market rather than stimulate significant new demand.
International market too risky for Nok – at least for now
With Thailand's population of over 65 million, including a large middle class, Mr Sarasin sees plenty of room for more domestic capacity. He points out Nok's capacity expansion over the last year has been easily absorbed by the increased demand with no impact on load factors. While tempting, Nok sees no need to risk international expansion.
Nok briefly served Vietnam and India in 2007 and 2008 with relatively success, recording load factors above 80%. But it pulled out of both markets after skyrocketing fuel prices made them unprofitable. Its forthcoming B737-800s, with larger capacity and better fuel consumption, would provide a better tool for international growth. International routes would also help boost utilisation levels on the new aircraft type as they could operate during overnight hours.
But Mr Sarasin points out Nok's predominately young clientele, which have traded in bus journeys for frequent domestic flights, may not yet be ready to embrace international flying. He believes AirAsia's passenger profile is different, including a much larger portion of foreigners. "The behaviour (among Thais) is changing definitely domestically. In terms of international travel it's still taking time. There is still a small fear of international travel," he explains.
Significant international expansion would also require more capital. Until now Nok has been very conservative, expanding slowly with its limited pot of funds and sticking with second-hand aircraft from the leasing market. But it also has quietly been studying a potential initial public offering (IPO) which could provide the funds needed for international expansion and potentially new aircraft purchases. An IPO is at least one year away but is plausible if Nok's new board, now led by Thai Airways, decides that is the way to go. The new Nok board will clearly be monitoring the success of the upcoming IPO at Thai AirAsia.
But first Nok has to wait and see what happens with Thai Airways and its new multi-brand strategy. While Thai Smile almost certainly will launch next year as planned, uncertainty remains with the overall Thai Airways strategy given the recent change in Thailand's government, which still owns a majority stake in the flag carrier.
Nok's outlook, relative to Thai Airways, is bright. It is in the better end of the market and in a position to pursue growth domestically and, if needed, internationally. Like Indonesia's Lion Air, Nok has proven there is room for a local LCC brand in an AirAsia market. Inevitably Nok will begin receiving the international recognition it deserves.
See related article: Thai presses on with current strategy and new regional carrier despite upcoming political changes
Background Information
Nok's top 10 domestic routes (by seats per week): 10-Oct-2011 to 16-Oct-2011
Nok's current fleet