Spring Airlines moves to establish Japanese base while ANA sees cannibalisation from new LCCs
Analysis
Spring Airlines' plans to establish a Japanese subsidiary are advancing, with local reports stating the carrier will be based at Tokyo Narita with domestic operations to commence by Oct-2013 and international operations in 2014. Spring Airlines Japan was reportedly incorporated at the end of Oct-2012 with a registered capital of JPY1,500 million (USD19.2 million). The carrier plans to increase its capital to JPY6,000 million (USD937.5 million) with investment from undisclosed local Japanese companies.
As CAPA previously wrote:
The Japanese base will enable Spring to more easily serve other Chinese cities. "If we can set up a company in Japan that can pick up passengers from China, that would be good for us," Spring CFO Johnny Lau said at CAPA's Financing the Asian Revolution in Macau on 7-Sep-2012. In addition to any Chinese regulatory issues (outside of sheer air rights; China and Japan recently agreed to an open skies agreement) on further international expansion, flights on Spring's Chinese AOC from cities other than in its bases/focus cities – Shenyangand Shijiazhuang – could require a branch company to be established, adding costs.

While a Japanese affiliate will have higher costs on China-Japan routes than Spring's Chinese AOC, the affiliate may be the only way to access those markets. Additionally, while Spring is lean compared to Chinese legacy carriers, government restrictions – such as personnel structure – have prevented Spring from achieving as much efficiency as it would like or would be possible in other markets; it averages approximately 160 staff per aircraft. So Spring may not be as low-cost on the labour side as one would assume for a Chinese carrier (plus salaries are rising across the board at Chinese carriers, often with double-digit increases).

Mr Lau said Spring will also have a domestic network. This is partially due to the regulatory time required to be approved for international services, with China typically taking longer than other countries. The short and medium term focus for the Japanese subsidiary will be domestic services and flights to China with Mr Lau saying that after a few years the Japanese AOC will also consider international flights to countries other than China. A launch date is not set yet, but the ownership of the affiliate will include a minority shareholding from Spring (as is common elsewhere, majority foreign ownership is not permitted) with the remaining held from non-airline Japanese companies. AirAsia Japan and Peach Aviation have ownership ties to ANA while Jetstar Japan has ownership ties to JAL.

Spring has discussed a Japanese affiliate for over a year but no longer holds a first move advantage. "We are one year late in Japan but that may not be bad," Mr Lau said.
The Japanese subsidiary will use 737s, as CAPA previously wrote:
Spring has so far been an all-Airbus operator with over 30 A320s, but Mr Lau said Spring will use Boeing 737NGs for its Japanese operation. Noting that Spring has "been satisfied with the Airbus service in China", Mr Lau said Spring expects that Boeing's longer history in Japan and deeper penetration than Airbus will yield operational advantages. "If you want to find pilots, engineers, all kinds of support, Boeing seems to be a better choice," Mr Lau said.
See related article: Spring Airlines embarks on pan-Asian strategy with establishment of Japanese subsidiary
Spring will compete with AirAsia Japan and Jetstar Japan, but serve secondary points
AirAsia Japan and Jetstar Japan are based at Tokyo Narita, where Spring will reportedly establish its Japanese subsidiary. The third new LCC in the market, Peach, is based at Osaka Kansai but looking at other bases across Japan, such as Okinawa (but not Tokyo).
Jetstar Japan was due to open a second base in Osaka Kansai, competing with Peach, but this has been delayed following the carrier's internal regulations not being met (although these are higher than those required by the local regulator). The decision to curb expansion was mutual, avoiding the regulator handing down an embarrassing restriction, as has occurred in other markets with other carriers.
AirAsia Japan is also understood to be evaluating a base at Nagoya in central Japan. Jetstar Japan's eventual establishment of a base at Osaka Kansai will likely propel AirAsia Japan to enter too, even if it competes with Peach. AirAsia Japan and Peach are not affiliated but do have a common shareholder, ANA.
While Spring may share a common base with two competitors, it will likely focus on serving secondary cities in Japan rather than first-tier cities as AirAsia Japan, Jetstar Japan and Peach are doing with services to cities including Fukuoka, Naha (Okinawa) and Sapporo.
This replicates Spring's strategy at its home in China where its main base is Shanghai (Hongqiao and Pudong but with international services only at the latter) but services to Japan are to, partially out of choice and partially necessity, secondary Japanese cities. (It should be noted there are few secondary airports in China.)
Spring Airlines Japanese destination airport comparison: Dec-2012
Japan is ripe with airports eager for service as a result mainly of two factors. First, eager infrastructure from Japan in past years has dotted the country with far more airports than it realistically needs; most airports in Japan are unprofitable. Legacy carriers have concentrated marketing efforts mainly on trunk routes.
Spring will be able to secure favorable discounts for servicing secondary airports while using marketing to drum up demand for destinations the market would not have considered flying to, or encouraging the local population to take trips they previously would not have been able to due to limited flights and high prices. Japan's travel propensity is one of the lowest of a mature market.
LCC penetration in Japan will reach 20% on the back of the three new LCCs starting and further growth from incumbents like Skymark and Solaseed, which are considered, for now, as LCCs/hybrids.
LCC capacity share (%) of total Japanese domestic seats: 2001 to 2012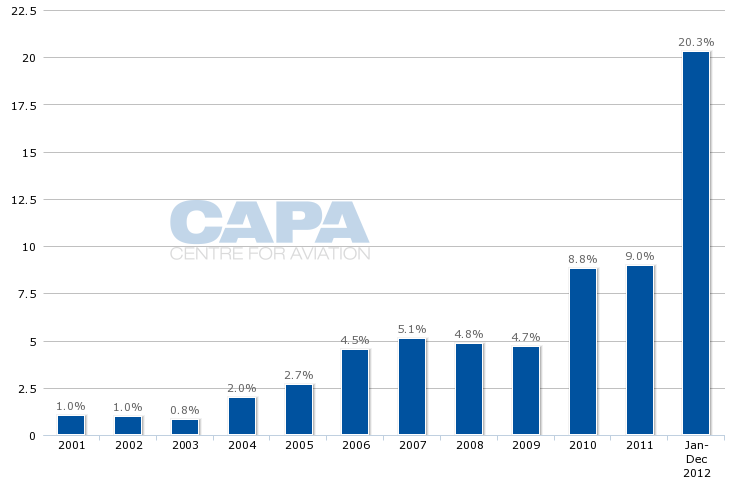 Overall, however, LCC penetration remains small at only 7% in all of Northeast Asia (Southeast Asia is 14%). International LCC penetration in Japan is only 4%, compared to 16% in Thailand and 47% in Malaysia.
Airlines vie for who can create a suitable brand for the Japanese market
Spring will enter a contestable debate over which Japanese LCC can best market and appeal to Japan. Peach takes the view that as the only truly local carrier (AirAsia Japan has pedigree from Malaysia's AirAsia while Jetstar Japan is from Australia's Jetstar) it is best positioned.
Jetstar toots how the Jetstar brand has gained traction in Japan over many years since Jetstar Australia and Singapore-based Jetstar Asia serves Japan. Jetstar is now reportedly one of the 100 most recognised brands in Japan. Spring will likely take the view that while it cannot match Peach's local origins (but could beat it on CASK), as a North Asian carrier it is closer to Japan than AirAsia Japan's Malaysian home can claim to be.
As CAPA previously wrote:
Each of the three LCCs is counting on brand to help differentiate themselves. Jetstar has pointed to its early success of being named in 2010 as one of the top 100 brands in the country. Itself and AirAsia Japan will look to ride on the success of their brands elsewhere in the region. Long-haul flights and connecting services will help.

Peach does not have those explicit advantages. Jetstar originated in Melbourne and AirAsia in Kuala Lumpur while the Peach brand was formed for the carrier. While seemingly perplexing – peaches are an expensive fruit in Japan – the brand has resonated well amongst women, who Peach say book the vast majority of leisure tickets and on Peach flights account for a higher percentage of passengers, 50%, than traditionally found on Japanese carriers (30%). Mr Murphy expects the market to favour a local brand. "We're not Asian. We're not Australian. We're Japanese," he said at the panel discussion.

But other markets have shown themselves to be oblivious of a brand's origin. Jetstar COO David Koczkar remarked that one study found that Singaporeans thought Jetstar was a Singaporean, not Australian, brand. While Japan was a brand-focused society, that has shifted, reducing any allegiance a discernible public may have.

LCCs are a group of carriers where the winning factor is typically price, not branding, which is weak overall in aviation. Peach may be able to offer a Japanese-styled menu onboard flights, but AirAsia Japan and Jetstar Japan do that too, featuring miso soup and rice balls.
See related article: As new Japanese LCCs – AirAsia, Jetstar and Peach – settle in, strategy differences become apparent
Ryanair and easyJet of course have created pan-European brands. The upshot from each Japanese carrier's claim will take more time to evaluate as their networks grow – and likely with more differentiation than similarities, skewing direct comparisons.
While these LCCs will significantly grow the market in Japan, there will be transfer of passengers from high-cost ANA and JAL to the LCCs, decreasing demand for the legacy incumbents. This is evident with All Nippon Airways' announcement to end Tokyo Narita-Seoul Incheon service from 31-Mar-2013.
ANA first offered Narita-Inchoen service in 1988 and currently has a sole daily A320 flight while JAL has double daily 767-300 services. Both carriers offer much more capacity between Tokyo and Seoul's far more convenient downtown airports, Haneda and Gimpo, respectively. ANA has three daily 777-200 flights while JAL has three daily 767-300 flights on the Haneda-Gimpo route.
ANA says in a statement, the cancellation "reflects the marked decline in demand on the route, particularly amongst business passengers who prefer to use the Haneda to Seoul (Gimpo) service." ANA told the Japan Times that its Tokyo Narita-Seoul Gimpo service had an average 60% load factor in Sep-2012 and Oct-2012 compared to the 80% average across its international network.
LCCs did not have a direct impact: the only new entrant in recent times on the route is AirAsia Japan's service, which only commenced on 28-Oct-2012. But there was an indirect impact as ANA said it expected LCCs to launch the route. The route is a likely contender for when Jetstar Japan commences international services in mid-2013. The inference from ANA is that the situation on the Tokyo Narita-Seoul Incheon route will only deteriorate with time.
ANA has recognised that there will be cannibalisation, saying earlier in 2012 that "we do not believe that there will be zero cannibalization from our existing air traffic demand", although it declined to specify how much shift might occur. "Since AirAsia Japan is a consolidated subsidiary, we think any demand shift or cannibalization is acceptable as long as the Group revenue grows in total," the carrier added.
ANA has a distinct cost disadvantage to AirAsia Japan. AirAsia Japan's current CASK is undisclosed but ANA expects it to achieve a CASK of JPY6 (USD7 cents) once it has 10 aircraft, around 2013 or 2014. ANA's FY2010 average CASK was JPY10.1 (USD12 cents), although it aims to decrease this by about JPY1 over the next few years.
But ANA's stated CASK is a system average. With long-haul operations being far more efficient than short-haul sectors, ANA's lower cost long-haul component brings down higher cost short-haul segments. The result is that when comparing ANA and AirAsia Japan's CASK on similar sector lengths, AirAsia Japan could have one-half to one-third the cost of ANA – a significant structural advantage.
Further, ANA is disadvantaged by aircraft configuration. AirAsia Japan uses 180-seat A320s between Narita and Incheon while ANA used A320s too but in all-economy configuration of 166.
ANA did not provide load factors for Nov-2012, the first full month when the service could be measured after AirAsia Japan's entry. AirAsia Japan has a single daily flight about 3.5 hours after ANA's.
ANA and AirAsia Japan Tokyo Narita-Seoul Incheon flight times: Dec-2012
Although ANA has a partial stake in AirAsia Japan, the two officially do not coordinate routes. Jetstar Japan and its part-owned JAL do, however, coordinate routes to ensure the carrier that can deliver the greatest profit on a route is the one deployed. This relationship of having a "flying committee" replicates the relationship between Australia-based Jetstar Airways and its parent, Qantas.
An early outcome of the JAL-Jetstar Japan relationship was JAL withdrawing from Tokyo Narita-Osaka Kansai services within a week of Jetstar Japan's entry. JAL and Jetstar Japan are in discussions to codeshare whereas AirAsia Japan does not intend to codeshare with ANA. ANA also does not intend to codeshare with the other Japanese LCC it has a stake in, Peach Aviation.
JAL and Jetstar Japan Tokyo Narita-Osaka Kansai services: Jul-2012
See related article: Japan LCC era yet to enter full swing, but route cannibalisation starts
Japan-South Korea market is growing, but LCCs are becoming more popular
The Japan-South Korea Korea market is growing, with 2012 capacity at record highs. There are 14 active carriers between the countries in Dec-2012, including fifth freedom service from Delta Air Lines and United Airlines, but the two largest carriers – Korean Air and local competitor Asiana – collectively account for 64% of capacity.
The next two largest carriers, JAL and ANA, collectively account for 15% of capacity. ANA's share of capacity between the countries has been around 6% for much of the last decade.
Japan-South Korea monthly available seats and ANA share (%): Jan-2002 to Dec-2012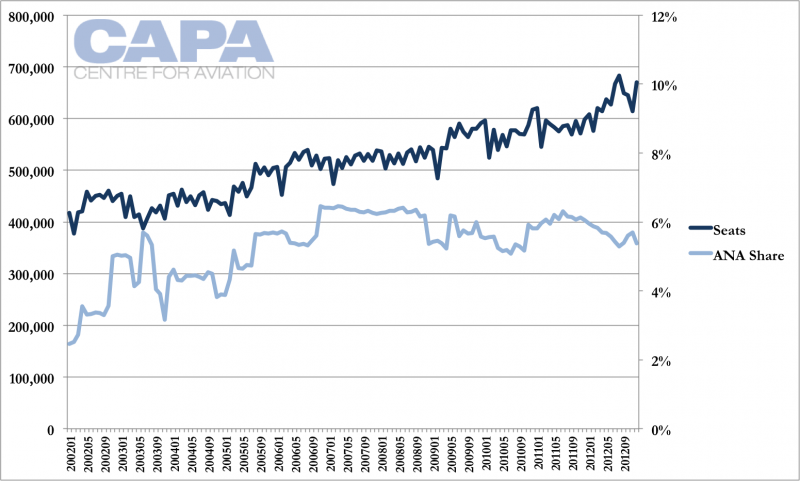 The Tokyo-Seoul route is the largest in the Japan-Korea market. Regular services between the downtown airports of Haneda and Gimpo commenced in 2003, at which point services between the less convenient airports, Narita and Incheon, declined until about 2005 when capacity held steadily.
There was a sharp drop at the turn of the 2010/2011 calendar year and this has been sustained but with some lift at the end of 2012 following AirAsia Japan's entry. Overall the market has grown. Further growth will be likely as AirAsia Japan increases its frequency and Jetstar Japan likely enters.
Traffic between Tokyo and Seoul is primarily on Narita-Incheon and Haneda-Gimpo services although there is also limited capacity from Seoul Incheon to Tokyo Haneda (but none from Seoul Gimpo to Tokyo Narita).
Tokyo Narita-Seoul Incheon and Tokyo Haneda-Seoul Gimpo monthly available capacity: Jan-2002 to Dec-2012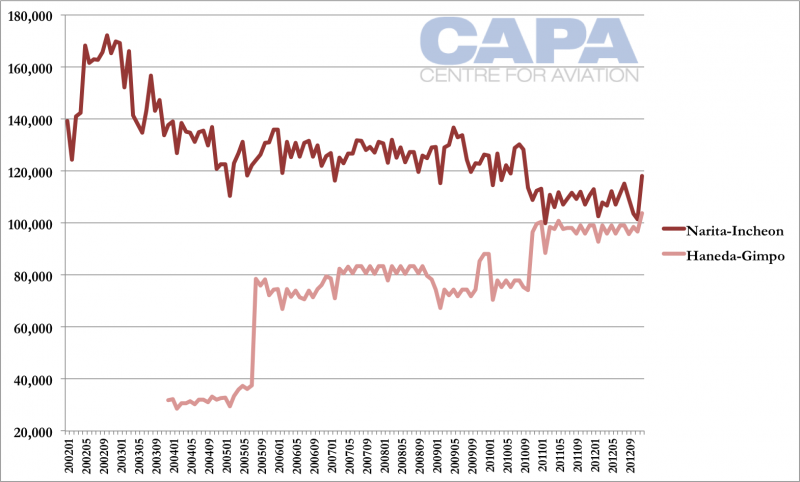 Despite the decline in Narita-Incheon capacity, ANA's share on the route since 2003 has held at 4% but increased in 2010, although of the four major carriers between the cities (ANA, Asiana, JAL and Korean Air) it has had the least capacity.
Tokyo Narita-Seoul Incheon monthly available seats and ANA share (%): Jan-2002 to Dec-2012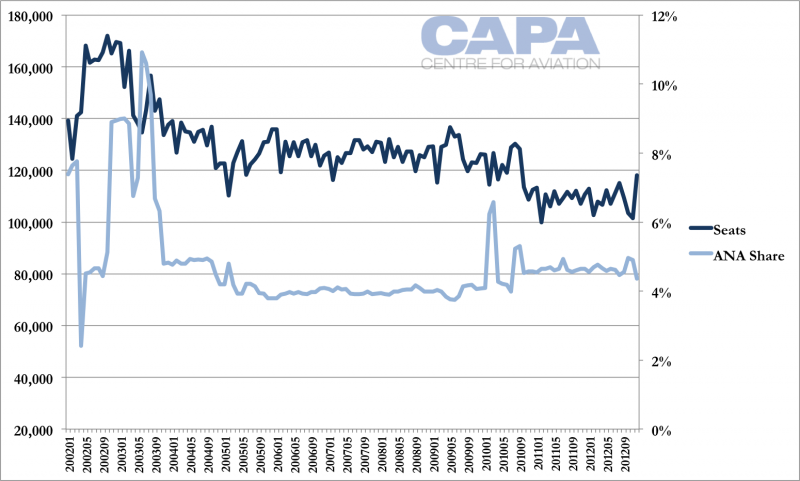 Much growth in the market has been from Korean LCCs that mainly launched late last decade as LCCs, but without an impressive cost basis. There are now five Korean LCC/hybrid carriers: Air Busan, Eastar Jet, Jeju Air, Jin Air and T'way. Air Busan and Jin Air are owned by Asiana and Korean Air, respectively.
South Korea-Japan capacity (seats) by carrier: 03-Dec-2012 to 09-Dec-2012
How will the Korean airlines respond?
The shift from full-service carriers to LCCs on short-haul sectors is evident. This should not be surprising, as this trend is a global one, from Australia to Europe to America. While Japan lagged South Korea with lower cost carriers, it has now entered the scene with blunt force as carriers like AirAsia Japan and Jetstar Japan target aggressive LCC costs and market growth.
Their counterparts – as best can be described given the higher cost in Korea (even though the country can support lower labour costs) – have been reticent. Air Busan and Jin Air, respectively owned by Asiana and Korean Air, have been put on a firm leash: Korean Air is the largest carrier by far between Japan and Korea, but its low-cost venture Jin Air is dead last, flying only to Fukuoka in Japan, according to Innovata, while other Korean LCCs target main cities of Osaka and Tokyo.
Route development lags, as does cost base. The Korean LCCs may have a lower cost than their full-service peers, but nothing to make a global comparison.
The Korean LCCs are more hybrid, offering free checked luggage and in-flight drinks and snacks. They have been reluctant to move to an a la carte model, fearing the Korean consumer will not like having to adjust to the LCC concept – although evidence is mounting the Korean market is becoming well aware of LCC service following the entry of foreign LCCs like AirAsia X, Cebu Pacific and Peach. Jeju Air, which may see a revitalisation following the appointment of a new CEO, would like to boost ancillary revenue but does not want to be the pioneer in the Korean market.
See related article: Jeju Air, under new management, looks for partners and considers IPO as it weighs LCC transition
The further shift of passengers from full-service carriers to LCCs, and the growing role of Japanese LCCs, will demand that Korean LCCs shed their shackles.
North Asia is finally moving, and rewards are not bestowed on the laggards
After years of stagnation, North Asia is finally seeing smart competition as legacy carriers get their businesses into shape – witness JAL's restructuring – and LCCs gain a foothold in a market ripe for fare stimulation and growth. But it is early days, with Spring yet to enter, which will bring its own impacts.
As JAL and ANA having shown, cutting their own routes as LCCs make inroads, there are realities to recognise as North Asia changes. JAL and ANA moved relatively quickly, but the Narita-Kansai and Narita-Incheon routes each respectively cancelled are drops in the bucket for total traffic. Further impacts from LCCs will be bigger and require bigger responses, which as in any company can become more contentious and time-consuming to implement. But the momentum must continue.