Singapore-India market poised for rapid growth as IndiGo eyes large operation at Changi
Analysis
IndiGo has already set a 15-Oct-2011 launch date for a daily flight from Mumbai to Singapore and is now eyeing several other potential routes to Singapore as part of an ambitious expansion plan for its new international operation.
IndiGo president Aditya Ghosh told CAPA at last week's launch event in Singapore that the carrier plans to add services to Singapore from Chennai and Kolkata within the next few months. Services from other Indian cities including Bangalore and Hyderabad are also under consideration but the initial priority will be Chennai and Kolkata. Mr Ghosh also says additional capacity on the Delhi-Singapore and Mumbai-Singapore sectors is envisioned by early next year as he believes both routes can support at least two daily flights.
Mr Ghosh is bullish on the Singapore market as IndiGo is the first LCC to connect Singapore with the two main Indian metros of Delhi or Mumbai. Both routes are already relatively underserved given the economic and ethnic ties between the two countries. IndiGo's lower fares are also expected to stimulate significantly more demand on both routes.
Prior to last week Singapore-Delhi was only served by three full-service carriers – Air India, Singapore Airlines and Jet Airways. Singapore-Mumbai is now served by the same three carriers as well as two other full-service carriers, Kingfisher Airlines and Qantas.
The Singapore-Chennai market has significantly more competition as it is already served by six carriers including two LCCs – Tiger Airways and Air India Express. But Mr Ghosh says there is huge demand between Singapore and Chennai because a large portion of Singapore's ethnic Indian population hails from the Chennai area. He also believes IndiGo offers a different experience than Singapore-based Tiger, which now offers two daily A320 flights to Chennai, and will not have any trouble competing against the LCCs already serving the Singapore-Chennai market.
Air India Express currently operates one daily B737-800 flight between Singapore and Chennai while its full-service parent, Air India, offers two daily A321 flights on the route. Jet Airways also operates a daily B737-800 flight between Singapore and Chennai. The Singapore Airlines (SIA) Group offers 13 weekly frequencies, including a daily B777-200 flight operated by SIA and six weekly frequencies operated by regional airline subsidiary SilkAir with A320 family aircraft, giving the SIA Group the most total capacity on the route (see Background for more information).
Singapore-Kolkata is a smaller market but also has significant low-end demand, particularly from the Indian expatriate worker sector. The route currently is served by only one LCC, Air India Express, but was previously served by Jetstar Asia. Mr Ghosh believes IndiGo can make the route work as IndiGo is already the largest carrier at Kolkata. Air India Express currently only has three weekly frequencies between Singapore-Kolkata as the route is dominated by the SIA Group, which has daily flights with four of the weekly frequencies operated by SilkAir and three by SIA.
Chennai is currently the largest Indian route from Singapore
Singapore-Chennai is currently the largest route between Singapore and India based on current capacity data from Innovata. It is also India's eighth largest international route and the second largest international route at Chennai, only slightly behind Colombo based on seats per week. Singapore-Mumbai is currently the second largest Singapore-India route, followed by Singapore-Delhi, Singapore-Tiruchirappalli, Singapore-Bangalore and Singapore-Kolkata.
Capacity by route and by carrier from Singapore to India (seats per week, one-way): 19-Sep-2011 to 25-Sep-2011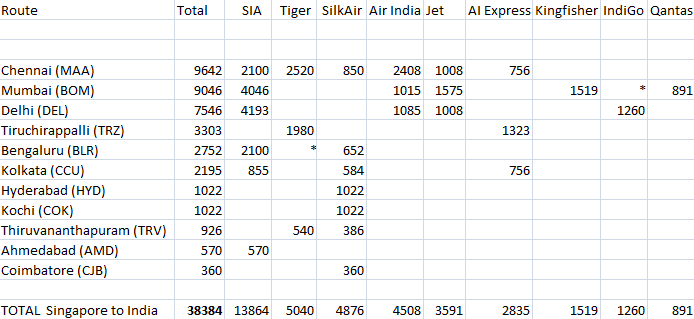 Singapore-Mumbai, however, will overtake Singapore-Chennai by the end of October as the largest Singapore-India route. In addition to IndiGo launching services on the route in mid-October, Singapore Airlines is adding three frequencies (for a total of 17) from the start of the Northern Hemisphere winter schedule at the end of October. But Singapore-Chennai could re-emerge as the largest route between Singapore and India early next year if IndiGo follows through on its plans to begin operating the route.
In total there are now just over 38,000 seats per week in each direction between Singapore and India. This will increase to over 41,000 seats by early November and over 42,000 by early January as several carriers add capacity between the two countries. Other capacity increases taking effect from the end of October include Tiger Airways resuming Singapore-Bengalaru service with four weekly flights, Jet Airways up-gauging its daily Singapore-Delhi flight from B737-800s to A330-200s (Jet's Singapore-Mumbai flight is already operated with A330s) and SIA adding a third weekly frequency to Ahmedabad.
Singapore to India capacity by carrier (seats per week, one way): 04-Jul-2011 to 04-Mar-2012
The Changi Airport Group is bullish on even more growth on Indian routes. Changi says Singapore-India traffic surged 14% last year to 2.55 million passengers and grew another 7% through the first seven months of 2011.
Changi is now trying to woo SpiceJet, another Indian LCC which is looking at expanding into Southeast Asia. Qantas, which already operates three weekly A330 flights from Singapore to Mumbai, is also now looking at using its potential new Asian premium carrier to serve the Singapore-India market.
While Changi now has services from 11 Indian cities, in terms of total seats India is only Changi's seventh largest market (behind Indonesia, Malaysia, Australia, Thailand, China and Hong Kong), which shows there is a lot more room for potential growth.
Currently there is not a single India route among Singapore's 20 largest routes by capacity (seats). But of India's 20 largest international routes, three are now to Singapore (Chennai, Mumbai and Delhi, all of which fall within the top 15).
Top 15 international routes to/from India based on capacity (seats per week): 19-Sep-201 to 25-Sep-2011
IndiGo believes it is well positioned to tap into the expected growth in Singapore-India traffic given its low fares, which are particularly attractive to ethnic traffic, and its strong position in the Indian market. IndiGo also hopes to take advantage of the fact that in the Singapore-India bilateral there is currently more unused capacity on the Indian side.
Plenty of space for expansion by Indian carriers in Singapore-India bilateral
IndiGo tells CAPA that while Singaporean carriers are fully utilising or nearly fully utilising the capacity available to each side in the bilateral, there is still plenty of room for growth for Indian carriers. The cap is based on total seats per week and is applied to the entire market with no route specific limitations.
Innovata data shows Singaporean carriers currently account for 62% of total capacity between Singapore and India while Indian carriers account for 36% (Qantas accounts for the remaining 2%). The SIA Group, including SilkAir, now accounts for nearly half of all capacity in the Singapore-India market.
As a result, there is room for Indian carriers to add at least several thousand seats each way before approaching the current capacity cap. IndiGo's potential six flights – two from Delhi, two from Mumbai and one each from Chennai and Kolkata – would provide a total of 7560 one-way seats from Singapore to India. Such an operation would give IndiGo about a 16% share of the market, making it the largest Indian carrier in Singapore.
IndiGo would also become the fourth largest low-cost carrier or group at Changi after the AirAsia, Jetstar and Tiger groups. Cebu Pacific is currently the fourth largest LCC player at Changi.
The ambitious plan for Singapore comes as IndiGo rapidly builds up its new international operation, which it launched at the beginning of this month after reaching its 5th birthday. Indian regulations limit new carriers to domestic routes for the first five years.
Mr Ghosh told CAPA that IndiGo will remain largely a domestic carrier but will allocate a large portion of its additional capacity to the international market if it sees opportunities on international routes. He said within three years 30 to 40 of IndiGo's A320s could be allocated to international routes.
CAPA previously reported that IndiGo plans to have 10 A320s and 15% of its total capacity allocated to international routes by Mar-2012. See related article: IndiGo launches international services, targets 15% of seats in this segment by Mar-2012.
IndiGo last week took delivery of its 44th A320 and according to Ascend data has 231 additional A320s or A320neos on order. Mr Ghosh says IndiGo's massive order book ensures fleet growth of one aircraft per month for the next 14 years. All of the carrier's A320s have 180 seats in an all-economy configuration.
Indigo expects to have seven or eight international gateways in India
Mr Ghosh told CAPA last week that he expects IndiGo will eventually operate international services from seven or eight Indian cities. In addition to Bengalaru, Chennai, Delhi, Hyderabad, Mumbai and Kolkata, IndiGo is also looking at launching international flights from the southern state of Kerala. However, Kerala will likely only be connected to destinations in the Middle East, particularly Dubai, rather than Southeast Asia.
In addition to Singapore, IndiGo has already launched international flights to Bangkok and Dubai. Mr Ghosh says flights to Muscat in Oman and Kathmandu in Nepal will be launched next month. Muscat will be served from Mumbai while Kathmandu will initially be served from Delhi. Dubai is already served from both Delhi and Mumbai with routes to other Indian cities expected to be launched over the next few months.
IndiGo has previously said it is looking at serving about six cities in the Middle East. Mr Ghosh told CAPA last week that after Dubai and Muscat the priority would be Jeddah in Saudi Arabia. He says IndiGo is now seeking authority to serve Jeddah and is "hoping sometime this winter" to launch the service.
At Bangkok, IndiGo only has services from Delhi but is launching services from Mumbai early next month. Mr Ghosh says IndiGo also aims to start within the next few months serving Bangkok from Kolkata but says Chennai will likely only be linked with Singapore.
He says Kuala Lumpur is not being considered initially but may be added to the international network as part of a later phase. Mr Ghosh says IndiGo prefers to focus for now on high density operations to a smaller number of Southeast Asian destinations.
BACKGROUND
Singapore to Delhi capacity by carrier (seats per week, one way): 04-Jul-2011 to 04-Mar-2012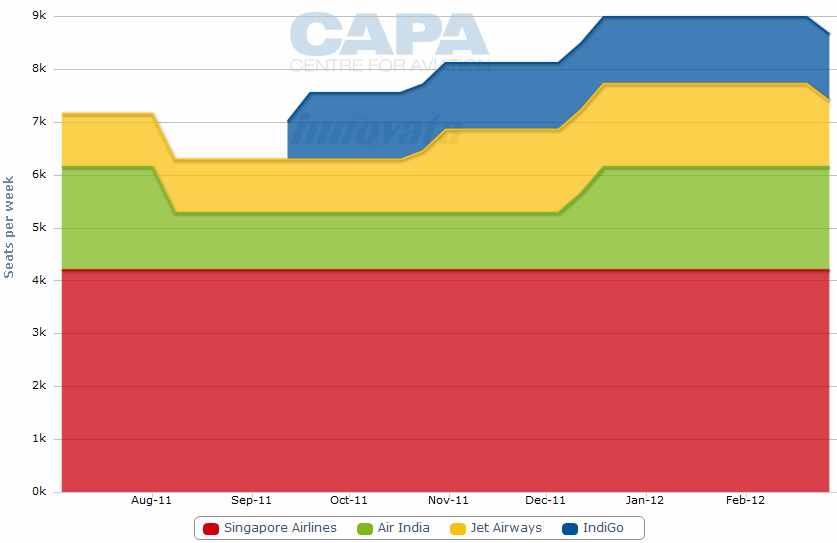 Singapore to Mumbai capacity by carrier (seats per week, one way): 04-Jul-2011 to 04-Mar-2012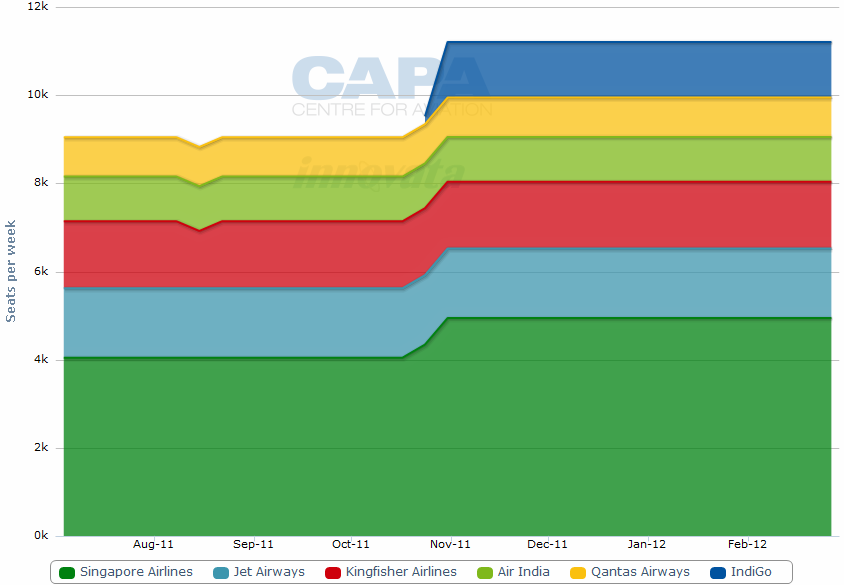 Singapore to Chennai capacity by carrier (seats per week, one way): 04-Jul-2011 to 04-Mar-2012
Singapore to Kolkata capacity by carrier (seats per week, one way): 04-Jul-2011 to 04-Mar-2012