Qatar Airways & Italy's Meridiana Part 1: Similar to Etihad-Alitalia, but different - and smaller
Analysis
On 04-Feb-2016, Qatar Airways and Italian leisure airline Meridiana disclosed that they are working on a "potential partnership project" that could include a minority equity stake of up to 49% in Meridiana and a commercial partnership. Understandably, this immediately drew a comparison with Etihad Airways' investing in Alitalia and the two forming a partnership.
The comparison probably ends there. Although both cases feature a Gulf airline investing in an Italian airline, the motivations are different. The potential gains between Qatar and Meridiana are far smaller than between Etihad and Alitalia, largely a result of Meridiana being so small: it is the fourth largest airline in the Italian domestic market but with only a 6% share. Internationally, it is the 22nd largest in winter. Qatar will not be required to input as much work into Meridiana as Etihad into Alitalia. Meridiana, however, is no walk in the park: it has not reported financial results since its losses for 2013, but it has been restructuring for some years.
Although a Qatar investment in Meridiana would follow Qatar's 10% stake in International Airlines Group, this does not present a marked change in Qatar's acquisition strategy. Qatar is not setting out to replicate Etihad's investment strategy. Absent compelling strategic interests, a Qatar investment in Meridiana could be best explained by sovereign interests.
Qatar Airways helping to strengthen Meridiana's future grows the ties between the State of Qatar, the owner of Qatar Airways, and Sardinia, where Meridiana is based and where the State of Qatar has growing investments.
An MoU was announced on 04-Feb-2016 between Qatar Airways and Meridiana's shareholder Alisarda (controlled by the Aga Khan). Speculation over Qatar's interest in Meridiana has been circulating for at least 18 months. The announcement gave few details beyond saying that the two are working on a "potential partnership project".
Some reports have even suggested that the Doha-based airline will have full control over Meridiana's routes and network planning. "Full control" obviously is against EU law. The EC has been investigating foreign control of European airlines.
See related report: Airline ownership & control. Why might Europe uphold something its officials call "stupid"?
Qatar and Alisarda said that they both aim for a "reinforcement of Meridiana with the objective of making it a solid player in the very competitive European aviation industry". A Memorandum of Understanding has been signed and a deal could be completed during 1H2016.
Meridiana's route network varies hugely from winter to summer. Small, and with a falling market share, it does not appear to offer immediate significant strategic benefits to Qatar Airways. For the Italian side, the deal could offer much. Meridiana could have a brighter future while the Italian island of Sardinia secures the future of what could be termed its home airline. Although there are increasing calls to let the market decide the fate of airlines, governments maintain significant pride in their local airlines.
Press reports have said that IAG, of which Qatar Airways owns 10%, could also be involved in the transaction. This is unclear, and so far unsubstantiated.
Italy-Gulf market has changed since Etihad's acquisition of Alitalia. Yet Qatar-Meridiana unlikely to be a response
Qatar Airways had a clear second-place stronghold in the Gulf-Italy market (with Emirates firmly cemented as the largest airline). However, the Alitalia-Etihad partnership and resulting growth have meant that the two of them combined rival Qatar's presence (see first graph below). Qatar has broadly been able to maintain market share (see second graph below) but because it has grown capacity. Alitalia and Etihad's market share gains have come at the expense of Emirates, despite Emirates' own significant growth in the Italian market.
CAPA surveyed Gulf airline growth in 2015 and Italy was their sixth fastest-growing market. The Gulf-Italy market doubled in size between 2011 and 2015. The two graphs below are from the original report.
See related report: Gulf airline 2015 expansion: Italy growth highlights competition between Etihad, Emirates and Qatar
Alitalia, Emirates, Etihad and Qatar annual Gulf-Italy seat capacity: 2004-2015
Alitalia, Emirates, Etihad and Qatar annual Gulf-Italy seat capacity share: 2004-2015F
In recent years Italy has moved up in the rankings of Gulf airlines' largest markets. Moreover, Gulf airlines have moved up the rankings of airlines in Italy. This is especially the case for Etihad.
Gulf airlines: ranking position by seat numbers to/from Italy Jul-2013, Jul-2014 and Jul-2016
| | | | |
| --- | --- | --- | --- |
| | Jul-2013 | Jul-2014 | Jul-2016 |
| | 13 | 16 | 11 |
| | 22 | 30 | 24 |
| | 59 | 55 | 39 |
It was with surprise, and perhaps some annoyance, that Emirates and Qatar watched Etihad acquire Alitalia after a number of other acquisitions over the years. It is thus easy and tempting to portray Qatar's interest in Meridiana as a strategic response – to replicate with Meridiana what Etihad has with Alitalia. Yet this cannot be the case.
The State of Qatar, which owns Qatar Airways, has made investments in Italy. This includes projects around the country, such as an art museum in Venice and the Valentino fashion house. However, there is a particular focus on Sardinia. In Apr-2012 Qatar, via investment arm Qatar Holding LCC, announced its purchase of four hotels on Sardinia.
At the time of the announcement, then-Qatar Emir Sheikh Hamad bin Khalifa Al Thani explained: "We have invested in Sardinia given the importance of the area." The announcement was made with the Italian Prime Minister.
In Feb-2013, Qatar Holdings announced an EUR1 billion investment in Sardinia's tourism, including more hotel rooms. Also flagged were a park, nature trails and extension of the runway at Olbia, the gateway to Sardinia. Qatar and Sardinia aim to remove some of the seasonality in Sardinia's tourism. The deal reportedly followed a meeting in Doha between the Emir and various Sardinian officials, showing the close ties between the sides.
The non-profit Qatar Foundation Endowment, an arm of the Qatar Foundation run by the former Emir, constructed the Mater Olbia Hospital in Sardinia.
Coincidentally or not, the 04-Feb-2016 MoU between Qatar and Alisarda came a week after the Emir's state visit to Italy in late Jan-2016.
Against this wider background of relations between Qatar and Sardinia extending well into the billions of dollars, it is a small ask between business friends for one of the world's largest airlines (and with awarded service) to take a small airline under its wing. If the MoU results in Qatar Airways taking a minority stake in Meridiana, this would surely be a sum in the millions of dollars. To the Qatar of State and Sardinian officials, this is small change.
Qatar Airways' investment strategy is unchanged. Meridiana should not become a management distraction
The concern, if any, is management bandwidth and the risk that Meridiana's needs, however small, distract Qatar Airways from its own, larger needs. No modern airline has a surplus of competent managers who can look after another airline without disturbing their own workload.
The role of sovereign interests in acquiring or partnering with airlines is not new. It is still applied today. Etihad Airways' acquisition of Air Seychelles and Air Serbia could be best explained by sovereign interests between Abu Dhabi and the countries of those two airlines. More broadly, Chinese aviation can be synonymous with political development as certain countries cosying up to China purchase Chinese-manufactured aircraft.
Qatar Airways has repeatedly stated that it would consider investing only in airlines that are profitable and do not require significant restructuring; surely commentary directed at Etihad. Qatar's investment to date has been in IAG whose CEO, Willie Wash, is friendly with Qatar Airways CEO Akbar Al Baker. Mr Walsh was instrumental in bringing Qatar into oneworld and the two airlines are considering a JV. The investment, however, appears to be more about cementing the relationship between Qatar and IAG.
See related report: Qatar Airways buys its 10% stake in IAG, showing it wants a serious relationship
Qatar has flirted with Indian LCC IndiGo. A partnership between them would advance Qatar's interest in India, its third largest source market after the UAE and Saudi Arabia. (Qatar has a proposed start-up in Saudi, Al Maha Aiways). Depending on load factors, the gap between the three largest markets may not be so large as seat capacity figures indicate.
Qatar Airways international seat capacity by country: 8-Feb-2016 to 14-Feb-2016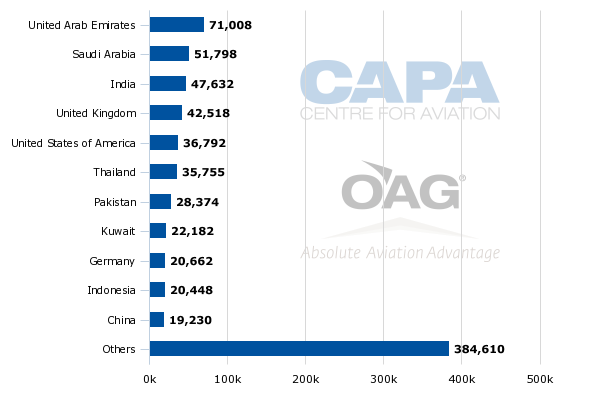 Meridiana is based at Sardinia and is the island's largest airline
Meridiana has its head office at Olbia on the Italian island of Sardinia. This is its biggest airport base by seats in the summer, but Milan Linate is its largest winter base, followed by Naples, with Olbia in third place. As a leisure sun destination, Olbia comes into its own more in the summer. In contrast, Alitalia does not serve Olbia in either the winter or summer (when more airlines serve the airport). Meridiana's Linate operation is almost twice the size in summer compared with winter, but Olbia scales up multiple times, reflecting higher seasonality at Sardinia.
Meridiana top 10 hubs/bases/stations/focus cities ranked on available seat capacity: 8-Feb-2016 to 14-Feb-2016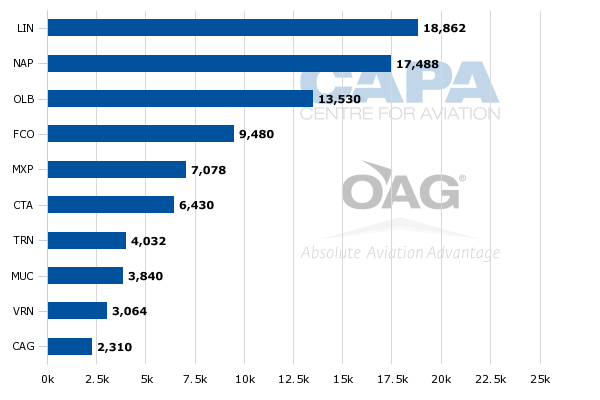 Meridiana top 10 hubs/bases/stations/focus cities ranked on available seat capacity: 4-Jul-2016 to 10-Jul-2016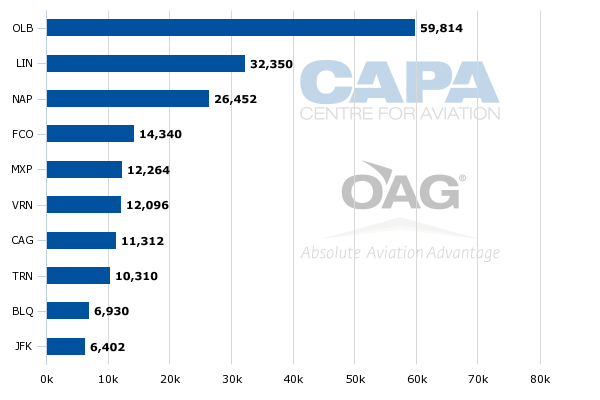 The importance of Meridiana's domestic network is highlighted by the presence of nine Italian airports in its top ten airports by seat numbers. In the winter, the three already mentioned are joined by Rome Fiumicino, Milan Malpensa, Catania, Turin, Verona and Cagliari. Munich is the only foreign airport in the winter list. In the summer Catania is replaced by Bologna, and Munich is replaced by New York JFK in the top ten.
Meridiana's leisure focus, with an orientation around Olbia, naturally shapes a potential Qatar-Meridiana partnership differently from that of Alitalia-Etihad. Qatar's online markets and frequency to Italy are the same as those of the Alitalia-Etihad partnership. Meridiana's smaller network and lower overall profile compared with Alitalia will not bring Qatar the same scale of benefits as Alitalia brings Etihad.
Weekly Italy-Gulf flights: 08-Feb-2016 to 14-Feb-2016
Alitalia's largest base is at Rome, which Etihad serves. Alitalia also has domestic/regional flights, and a significant presence at other Italian airports (Milan Malpensa, Venice), with flights to Abu Dhabi from the Alitalia-Etihad partnership. Frequency is high and destinations include business centres. This facilitates network flows.
In contrast, Meridiana's network is concentrated on its hub at Olbia. 48% of its flights in a sample peak week in Jul-2016 either arrive or depart from Olbia. Elsewhere its flights tend to be limited in frequency (often once or twice a week) and are to lower-profile destinations.
From Rome, Meridiana in a sample peak Jul-2016 week plans to serve eight destinations. Six of them will have only one flight a week, the seventh will be twice weekly and the eighth will have 36 weekly flights, but it is to Milan Malpensa, which Qatar already serves. From Milan, Meridiana plans to serve 24 destinations: 11 once a week, four twice a week, three times a week and six daily or more. From Venice, Meridiana has a daily service to Olbia and a once weekly flight to Ibiza. The limited frequency across the majority of routes attests to Meridiana's leisure orientation and the seemingly odd match it makes for Qatar Airways strictly on a strategic basis.
Italian press reports have flagged that larger Qatari investments in Sardinia could result in Olbia's runway lengthened beyond its existing 2,446 metres – not enough for normal widebody operations. A flight to the Gulf has been flagged by the Italian press as being of interest to Sardinia. In a possible scenario of Olbia-Doha flight under a Qatar-Meridiana partnership, there are limited hub benefits.
In a sample peak Jul-2016 week, Meridiana serves the following domestic points from Olbia: Bologna (14x weekly), Florence (5), Milan (Bergamo, Linate and Malpensa: 75), Naples (10), Rome (36), Turin (14), Venice (7) and Verona (14). Milan and Rome are already online markets for Qatar. It is possible that connections could be aligned (limited frequency could be a challenge) to help sustain an Olbia-Doha route. Naturally, it is in Sardinia's interest for most passengers on a possible such flight to remain in Sardinia, rather than connect beyond.
Internationally, Meridiana also plans to have three weekly flights from Olbia to Paris, one to Moscow and three to London Gatwick. These cities are served non-stop by Qatar and possible international connections at Olbia are insignificant. Even a significant expansion would be off a low base, and present limited value to Qatar. In addition, Meridiana's growth should be focused on higher-yielding point-to-point traffic and not likely lower-yielding connections from Qatar Airways.
Qatar relationship could give Meridiana better long haul access – and cash
The proposed relationship with Qatar Airways could give Meridiana enhanced access (albeit indirect) to long haul markets, particularly in the Middle East and Asia Pacific, through codeshare and/or other forms of commercial cooperation. However, it is questionable how useful this would be: Meridiana is not close to the size of Alitalia and thus does not have the local awareness and distribution of Alitalia. Meridiana's potential to sell Qatar flights could be limited. In summer, Meridiana is Italy's sixth largest airline (in winter, it is tenth). A number of foreign airlines, including Lufthansa, are larger than Meridiana in Meridiana's home market.
Italy system seat capacity by airline: 4-Jul-2016 to 10-Jul-2016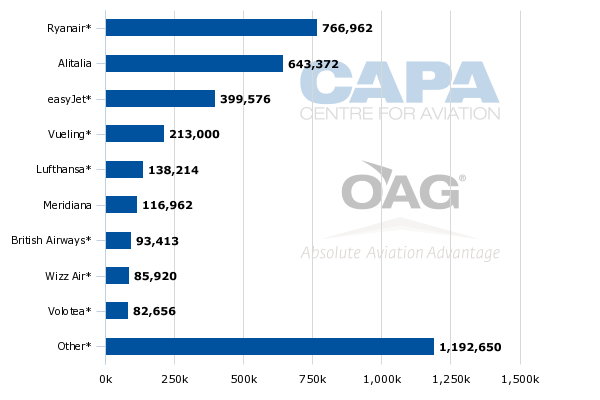 A partnership with Qatar Airways, if it involves an equity investment (as has been reported), should also give Meridiana time and funds with which to complete a restructuring. Qatar could also help to modernise Meridana's fleet. However, it cannot replace management resolve to lower costs.
A strategic component usually exists when airlines invest in another. It is rare for airlines to invest solely or mostly for financial reasons. Qatar's strategic links (directly or via its shareholders) with Meridiana are evident. However it should be briefly asked whether Qatar's interest in Meridiana could not be about synergies between Qatar and Meridiana, but rather about Meridiana as a stand-alone business.
Meridiana's last reported financial figures – a loss – are a concern. As a business with potential point-to-point growth, as opposed to network synergies with Qatar, the outlook is not strong. Meridiana's existing European network is not very big and would need to be significantly developed if it were to have a pan-European presence. This would require significant capital, work and, most importantly, risk. The state of European competitiveness makes it unlikely for Meridiana to be a significant European player. As it is, LCCs in recent years have moved into Italy. Meridiana partially acknowledges this with its Vueling partnership. Finally, Meridiana's existing shareholders and the Sardinian government are unlikely to have pan-European aspirations for the airline.
Part 2 of this report will analyse the route network implications of the proposed partnership