Gulf airline 2015 expansion: Italy growth highlights competition between Etihad, Emirates and Qatar
Analysis
Competitors sometime assume the three Gulf network airlines – Emirates, Etihad and Qatar Airways – have a coordinated strategy. The reality is they are fierce competitors with individual motivations and nuances. The Italian market is a strong indicator of this: Etihad's acquisition of Alitalia gave it a significant boost in the market. Emirates, the largest, is looking to maintain its lead while Qatar Airways, once comfortably second largest, is being overshadowed.
Italy is the sixth largest growth market for the three Gulf airlines in 2H2015. Gulf carriers will have about 1,035 extra seats to Italy compared to 2,352 to the US (the largest growth market) 1,954 to the UK (second largest) and 1,903 to India (third largest). In percentage terms, Gulf carriers growth of 24% in Italy is outpaced only by the 28% growth in the US. Among other developments, Emirates is launching the first Gulf link to Bologna, bringing to four the number of Italian cities linked to Gulf hubs. But this expansion to Bologna comes as Emirates shifts capacity from Rome. Etihad and Alitalia are paring back growth plans from what they expected at the start of 2015, while Qatar Airways is planning faster growth.
Italy is the sixth largest growth market for Gulf carriers in 2H2015
Globally, Italy is the sixth-largest market for Gulf carrier growth measured in absolute seats. It is the second-largest in Europe after the UK. Of the top 10 growth markets, four – the US, UK, Italy and Spain – are non-emerging markets.
The growth rate for the top 10 carriers ranges between 9% (Saudi Arabia) and 43% (Spain).
Top 10 growth markets for Emirates, Etihad and Qatar on net additional seats: 2H2015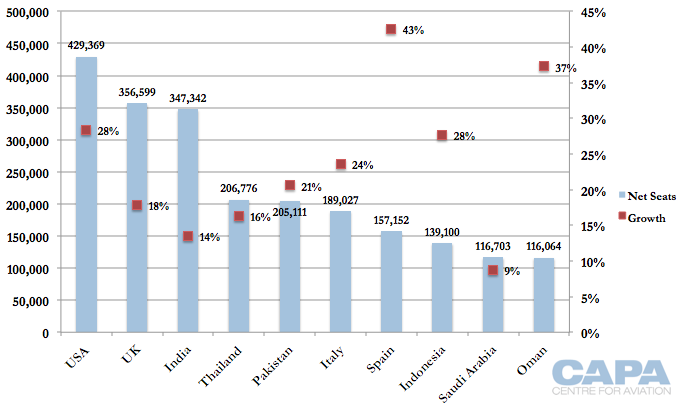 The fast growth in Italy makes it the ninth largest market overall for Gulf carriers in 2H2015; in 2H2014 it was tenth.
Spain's 43% growth will move it up from 23rd largest in 2H2014 to 18th largest in 2H2015. Spain has been deprived of direct Asian services, but this looks likely to change with a number of route developments expected to emerge.
It will be interesting to see the impact on Spanish tourism, as more effective connections are introduced.

Ranking of the 10 largest markets for Emirates, Etihad and Qatar: 2H2014 v 2H2015
| | | |
| --- | --- | --- |
| Rank | 2H2014 | 2H2015 |
| 1 | | |
| 2 | | |
| 3 | | |
| 4 | | |
| 5 | | |
| 6 | | |
| 7 | | |
| 8 | | |
| 9 | | |
| 10 | | |
Other notable developments will include the USA overtake Australia as third largest market, a significant development given the distances between the Gulf and the US. Some of the Gulf-US routes are the longest for the airlines and among the longest in the world. In 2H2014 the US market was 76% the size of the UK market for the Gulf carriers, but in 2H2015 the US nudges up to 83%.
An eventual overtaking is all but guaranteed. The UK market has grown as Etihad and Qatar have acquired London Heathrow slots, launched new services (Abu Dhabi-Edinburgh for Etihad) while all three have up-gauged in London.
A calmer political atmosphere in Thailand has meant a return in passenger demand, and Thailand moves up to be the fifth largest market for Gulf carriers. Some movement on air traffic rights is supporting growth in Pakistan and Saudi Arabia, with Pakistan moving from eighth largest to ninth largest.
Germany's regulatory restrictionism means that country will fall from seventh largest to eighth largest while China, the ninth largest market for Gulf carriers in 2H2014, drops to eleventh largest in 2H2015.
Infographic - top 10 growth markets for Emirates, Etihad and Qatar on net additional seats: 2H2015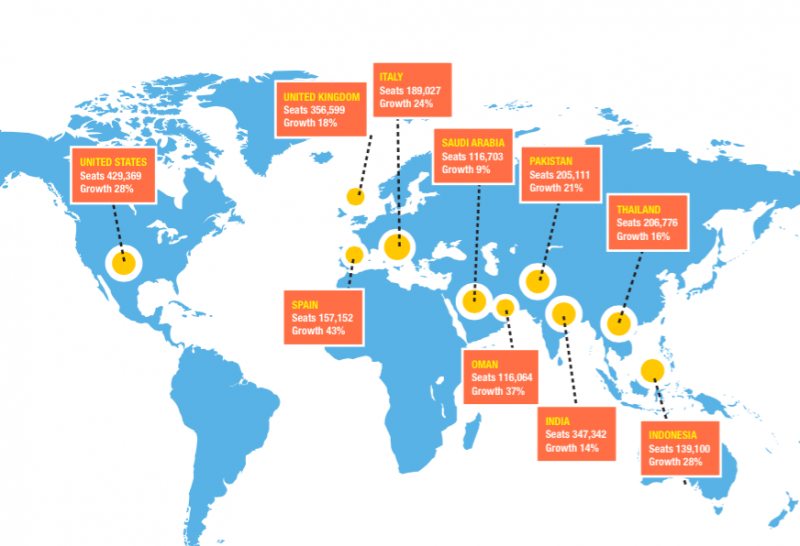 Gulf carriers recalibrate their growth in Italy
When CAPA looked at the Gulf-Italy market at the beginning of 2015, schedules then indicated the market would receive 1.68 million seats from Gulf carriers, or 1.87 million including Alitalia.
As of Jul-2015, Gulf carriers will have 1.72 million seats (an increase) but slower growth from Alitalia will mean the total market expands slightly less than anticipated, to 1.85 million seats.
However, this is still a record total and Gulf airline capacity in Italy will be 30% larger than 2014. Given the level of growth planned, to see only a minor correction downwards is impressive.
See related report: Alitalia and Etihad complete deal as Emirates and Qatar add seats. Record growth for Italy-Gulf
Etihad and Alitalia will jointly grow about 7% less than their schedules indicated at the start of 2015. Alitalia is experiencing slower growth across its three routes (Milan, Rome and Venice to Abu Dhabi), although Etihad is growing faster than originally projected to Rome, suggesting Alitalia has transferred part of its growth to Etihad.
There has been further growth as well since the Abu Dhabi-Rome route in 2015 is due to be 13% larger in 2015 than planned in Jan-2015. Etihad's Milan capacity has been revised about 5% lower.
Alitalia, Emirates, Etihad and Qatar annual Gulf-Italy seat capacity: 2004-2015F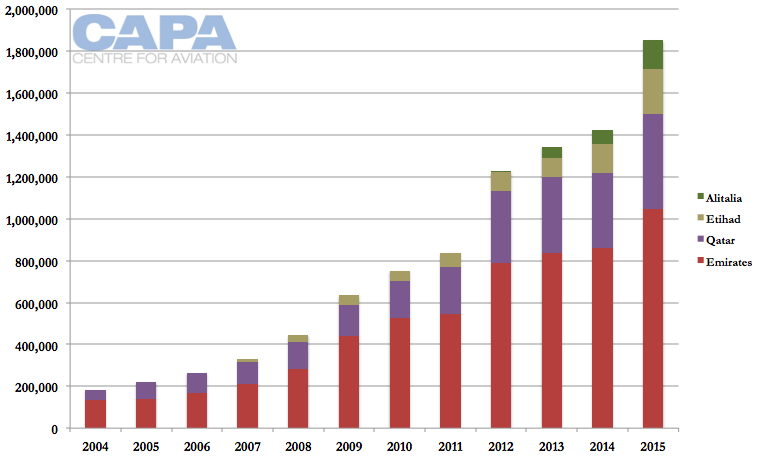 Emirates capacity to Italy will grow about 3% less than planned in Jan-2015. Milan and Venice are unchanged while Rome sees a 12% reduction in growth from Jan-2015 plans – perhaps Etihad's growth has proven too much.
Emirates has shifted Italian capacity, with plans to launch its fourth Italian point, Bologna. Emirates will be the only Gulf carrier in Bologna. This may have also be a pre-emptive move, in anticipation of any service from Etihad or Alitalia between Abu Dhabi and Bologna.
The one airline that is planning more growth than back in Jan-2015 is Qatar Airways, which plans 11% growth from Jan-2015 levels. Overall Qatar now expects to grow 27% in 2015 in Italy compared to 22% for Emirates, 56% for Etihad and a doubling for Alitalia. Qatar's slowest growing route will be Rome at 6% while Milan and Venice, its only other markets, grow 13% and 16% respectively.
The carriers' latest plans will mean Emirates commands a 56% share of the Italy-Gulf market, its lowest level ever, although still a majority position. Until 2013 Emirates had about a 65% share of the market. Qatar is broadly maintaining market share at 24%, down from 25% in 2014, but this has been gradually decreasing. Etihad and Alitaiia will have a 19% share, comprised of 12% for Etihad and 6% for Alitalia.
Prior to Etihad's stake in Alitalia, Etihad had a fraction of Qatar Airways' market share, but now the combined Alitalia-Etihad is a close competitor to Qatar.
Alitalia, Emirates, Etihad and Qatar annual Gulf-Italy seat capacity share: 2004-2015F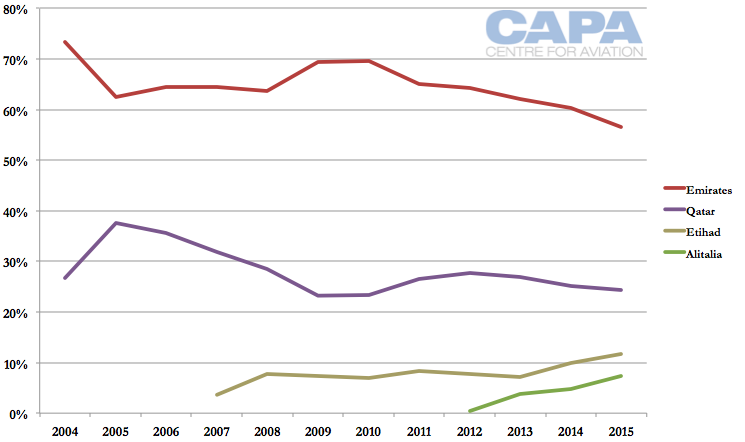 Italy is growing across both short haul and long haul
Gulf carriers have been consistently growing in Italy, although growth in recent years has been at unprecedented levels.
Short haul has been a different story, with contraction earlier in the decade but now growth.
As CAPA previously summarised:
The Italian market continues in a state of flux. It looks like 2015 will join 2014 as a growth year, following contraction in 2012 and 2013. Alitalia has stabilised its total seat capacity after years of decline, but continues to lose market share to fast-growing rivals. Europe's three biggest LCCs - Ryanair, easyJet and Vueling - are pursuing what seems like relentless expansion across Italy, but Wizz Air is also building a presence.

Furthermore, the leading airlines in Italy continue to jostle for places in difference parts of the market. This is illustrated by easyJet's recent decision to close its Rome Fiumicino base from Apr-2016 and to redeploy aircraft through the expansion of bases at Milan Malpensa and Naples and at a new base at Venice Marco Polo.

Ryanair overtook Alitalia as the biggest airline in Italy by seats in 2013 and offers far more destinations. As it continues to improve customer service quality and to increase the proportion of primary airports in its pan-European network, Ryanair's position as market leader in Italy and the lowest cost producer in Europe will make it hard to beat.
See related report: Italy aviation: Ryanair, easyJet and Vueling pursue Alitalia across the country
This growth occurs during Expo Milano 2015 and the integration of Etihad and Alitalia.
One of Etihad's stated objectives in its acquisition of Alitalia was to help cement Italy's role as a leading tourism destination. Growth from all airlines in short- and long haul spaces will fuel this - as will the fierce competition between the Gulf carriers.