Qantas continues overdue restructuring with fleet impairment worsening a sour AUD646m pre-tax loss
Analysis
By his own admission, Qantas CEO Alan Joyce is well past thinking he has won the popularity contest. His calling however is not how people see him but rather securing a future for Australia's over-loved, and previously much-neglected, airline. Mr Joyce inherited an airline that was privatised from government ownership but never shaken of its legacy habits. It was easy for predecessors to avoid taking surgical action: Qantas had the full service domestic market to itself, and now-household names like Emirates and AirAsia X were not yet in the fray. Domestic profits subsidised steadily eroding internationals services. Then the world changed; international performance has deteriorated and the domestic cash cow is under attack from a resurgent Virgin Australia.
There were factors outside of Qantas' control that led to its FY2014 underlying loss of AUD646 million, but that also included Qantas adopting a flawed strategy in its domestic capacity war. A more rational Qantas is calming down and the gains have been immediate. Qantas expects a 1H2015 profit, implying that the disastrous 2014 was not the terminal decline that some have trumpeted. And nor does Qantas need to sell its prized loyalty division. The pre-tax loss was dragged down by the shock headline figure - with just a touch of spin - of a post-tax loss of AUD2.8 billion. With that number behind them, Qantas can only look good now. That non-cash technical adjustment was driven by a one-off AUD2.6 billion write-down of its international fleet, confirming long-held views the fleet was over-valued but never previously addressed.
Driving the write-down is a change in corporate structure that Qantas expects will make it easier for its international division to receive foreign investment. On this investment prospect there is no timeframe or clear suitor; CEO Alan Joyce talks of a "long term option". Perhaps this move is driven less by interest than by a need to be seen as having secured options out of the public, and ultimately unsatisfactory, ownership debates in Canberra.
Qantas' record AUD2.8 billion statutory loss driven by impairment related to new corporate structure that facilitates consolidation
Qantas announced it is establishing a separate corporate entity for its international division that will be 100% owned by Qantas Airways Limited. The entity will allow investors – essentially foreign airlines – to take a minority stake of the business. Qantas says this could be a stand-alone investment or part of a global consolidation. Qantas' group stock is already over 40% foreign owned, limiting the potential for a foreign carrier to take a significant stake. Australian government changes have removed restrictions that limited any single foreign airline from having a stake in Qantas larger than 25%, and any number of foreign airlines from collectively having a 35% stake.
The reform stopped short of removing the 49% foreign ownership restriction. Australia allows majority foreign ownership of domestic airlines, and Virgin Australia was able to find a way of circumventing this restriction by ring-fencing its international division, ensuring it remained majority Australian owned while the domestic operation saw foreign ownership. In the 1990s, when Ansett was still owned by News Ltd, a rather similar model was used.
See related reports:
Although both Qantas and Virgin with their corporate structure changes are both aiming to welcome foreign investment, the approaches are different. Qantas is opening up its international, not domestic, unit. Domestic is arguably the bigger prize, but for Qantas to replicate Virgin's legal but creative structure would surely upset Canberra, which did not budge on the 49% foreign ownership cap. One senior departmental official has suggested that many parliamentarians appear to believe that the airline is still government owned, hence their imposing stricter ownership controls on the older flag carrier. In its move Qantas is also being pre-emptive, as Virgin already had foreign shareholders reaching their threshold.
Qantas says this move creates "optionality" for the medium- and long-term and that it is not actively seeking an investor, although there have surely been talks. The Australian government raised with Emirates and the UAE an investment in Qantas, in which Emirates once again refused to show interest, at least publicly. Emirates is five times the size of Qantas' international network and is profitable, so that a commitment to uncertain upside risks could be a distraction from Emirates' own successful organic growth. The political rabble rousing in Canberra around anything Qantas related would also be a concern for any buyer, not just Emirates.
Qantas stressed the corporate move was about opening up options for investment and not circumventing the restrictions the government left Qantas shackled to. However the discussion may be less about practicalities and more about giving the appearance of having achieved a benefit from the government debate that Qantas was unable to win.
In Feb-2014 Qantas suspended its establishemnt of a separate AOC for its international business, citing the reason as being a distraction from focussing on the restructure. Resuming a separate AOC for Qantas International is possible in the future, but as for corporate structure, Qantas ruled out any further changes.
Qantas does need a more thoroughgoing international strategy and the (partially) successful partnership with Emirates goes some way towards that. But it did lose nearly half a billion dollars on international routes in FY2014, despite a full year of operating with Emirates. A more comprehensive solid equity partnership/foreign investor which also brings operating synergies is what the airline needs if it is to resurrect its international aspirations. For now Qantas is putting a bold face on it, but the fact remains that aside from a violent international marketplace, the biggest drag on securing Qantas' international future is imposed by Canberra.
(As noted, for Virgin the issue is more about securing its domestic support against a much more powerful rival; with it neo-virtual operations the smaller airline has a much better adapted international model for a modern environment than has Qantas.)
An underlying pre-tax loss of AUD646 million was ugly - but better than feared
Qantas Airways revenue down 3% – financial highlights: 12 months ended 30-Jun-2014
Qantas Group changes in underlying profit before tax: FY2014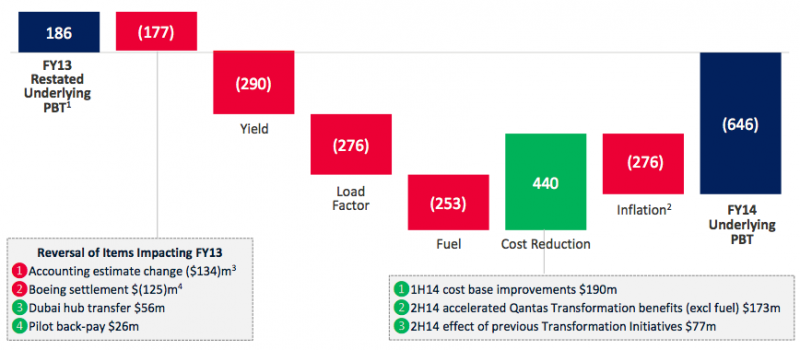 Qantas elects to keep the loyalty programme in the group and not sell it
Qantas had been weighing a decision to sell stakes in units, mainly the loyalty programme, although the Jetstar businesses were mentioned as well. Qantas has elected not to do so, believing "there is still value to be created" in the loyalty programme.
Given the division is growing its size and profits faster than the group's airlines, this is a very valid view. There remains much innovation in this segment and, if the same has not always been true of the rest of the airline, Qantas' non-legacy FFP operation is a world leader.
While Qantas has had financial losses, it still sits on a relatively healthy cash pile of AUD3 billion and a fire auction of units would have sacrificed the long term for the short term. Qantas has routinely shown itself willing to take short term pain for a better future.
The Group says it has identified, valued and will continue to assess opportunities to sell non-core assets such as airport terminals, property and land holdings, with proceeds from such sales used to repay debt.
Qantas stripped bare as domestic profits dry up and international losses double
The domestic market is the heart and soul of Qantas and the market overall has historically delivered upwards of AUD1 billion in profit. Two years ago in the difficult FY2012, when there was industrial action and Qantas grounded its operations, Qantas and Jetstar produced a domestic profit in excess of AUD600 million – a figure that at that time was under pressure.
Profits have now all but dried up. FY2014's domestic profit is meagre: AUD30 million from Qantas and under AUD20 million from Jetstar. The Australian dollar negatively impacted Qantas' fuel bill while weak consumer confidence further hurt already existing over-capacity.
With no domestic insulation, Qantas international's damage could not be contained. Losses doubled at international to almost a half billion dollars due to restructuring. Loyalty continued to provide lift, but not enough to reverse the damage at the Qantas brands and the net loss across the Jetstar Group. Jetstar's international operations negated the small domestic profit.
Qantas segment performance summary: FY2014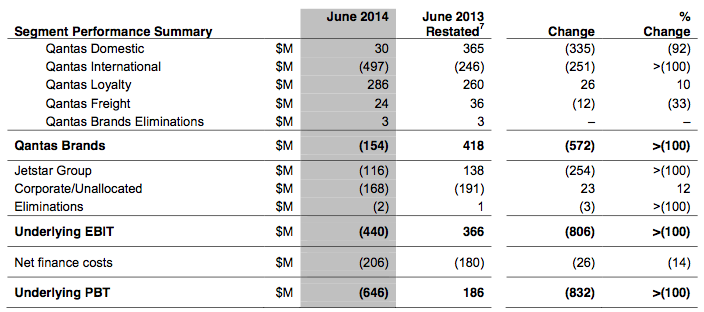 Qantas Group's flying division was imbalanced in FY2014 as ASKs increased by 1.3% but RPKs decreased by 1.1%, leading to a drop in load factor of 1.9ppts. Despite capacity growth, revenue decreased 3% (comprising a 3% drop in passenger revenue and 11% decrease in other revenue). Expenses increased by 2%.
This is weak performance, but is across the group. Performance was worse in the Qantas domestic segment, traditionally the cash cow of the group that has sustained unprofitable international operations. The mainline network saw a 3.1% decline in RPKs on a 0.1% decrease in ASKs. The regional network saw 9.4% ASK growth outstrip 4.2% RPK growth.
Load factors fell 3.1ppts to 62.1%. This part of the market is difficult to stimulate as leisure traffic is limited. The resource-driven nature of the market meant performance dwindled as the resource sector changed. Qantas does not break out yield and unit revenue for the divisions.
Qantas Domestic performance: FY2014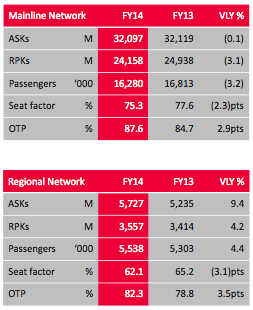 Qantas Domestic will have flat growth in 1H2015, but as CAPA previously noted, this flat growth is achieved through large reductions in Western Australian and growth along key markets in the east, suggesting there will continue to be pressure in certain markets.
See related report: The Qantas-Virgin Australia capacity/fare war is not over: WA decreases offset east coast growth
Qantas international saw declines in traffic (RPKs), load factor and RASK (unspecified) as 3.3 million additional seats entered the Australian international market in the first 11 months of FY2014, according to Qantas.
This includes 22% LCC growth. Qantas says its international unit costs have decreased 9% over two years, although it is unclear how much impact different sector lengths have had.
Qantas International performance: FY2014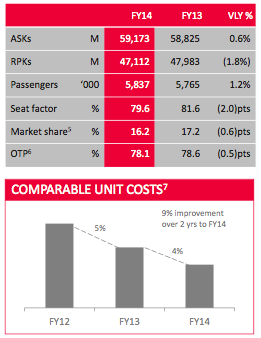 Strategic changes are being made that need time to settle in, while restructuring costs are removed from financial statements. Qantas is increasing its partnership activity in China and continues to bed down its Emirates partnership.
These are long-term propositions, and it is unclear if Qantas' European network can be profitable in the medium-term or if the network can only have lower losses than before the Emirates partnership.
Qantas is shifting its international long-haul focus to the Americas, where competition is significantly lower with no Gulf or Asian competition. Europe has been reduced over the years while Asian points are being down-gauged (or dropped) while North and South America (Santiago) see growth. Fleet utilisation is also being increased to reduce what has historically been full-day layovers in London and Los Angeles. 747s are also being retired, aside from the nine that have been refitted to conform with the airline's A380 interiors.
Qantas International right-sizing: as of 28-Aug-2014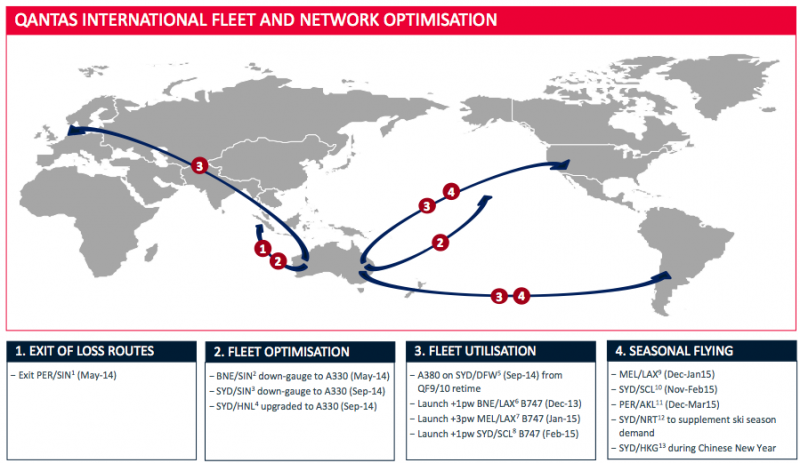 Jetstar's message continues to be about growth in absence of profits
Qantas affirmed it will continue to suspend growth of new Jetstar ventures as it looks to bed down its international units. Jetstar Pacific will take new aircraft, and Jetstar Hong Kong would do likewise if it secures the increasingly challenging prospect of a license.
But elsewhere growth is on hold, suspended in Singapore at Jetstar Asia while Jetstar Japan looks to top up its fleet and then correct under-utilisation. While profits are short outside of Australia, Qantas' message is that Jetstar is a long-term proposition with value still to be created.
Qantas tweaks its fleet while updating restructuring plans
Qantas has in recent years changed its aircraft order book to reduce capital expenditure while retiring existing aircraft. Qantas has retired its 737-400s while final retirement in 2014 of 767s, used mostly in the domestic market, will provide cost savings. Qantas announced or re-affirmed the following changes:
Qantas also provided the following update on its restructuring programme announced in Feb-2014:
See related report: Qantas responds to deterioration: cuts 5,000 jobs & 50 aircraft – but changes are overdue
Qantas once again looks for better times. But some unpleasantries may still appear
When Mr Joyce declared Qantas had "reached an inflection point" after an annual loss, he implied the future would be better.
But those words came not in Aug-2014 but two years prior, in Aug-2012. At the time, overcapacity concerns were brewing but it seemed improbable that Qantas and Virgin would escalate growth and jointly wipe out the billion dollars the domestic market has previously produced.
See related report: Qantas' annus horribilis and net loss behind it, will gain from restructure but with overcapacity
Mr Joyce refused to acknowledge that in hindsight Qantas should not have driven over-capacity. Instead, Mr Joyce considers that the capacity growth ensured Qantas remained the carrier of choice for business, with Qantas capturing "over" 80% of corporate travel revenue. But there is the possibility Qantas, already much larger than Virgin, could have held its position without such an intense capacity drive.
"We believe the worst is over now," Mr Joyce declared of the FY2014 results. Aviation is always in turmoil, but is difficult to see another competitive circumstance arising as the capacity drive did. And certainly if one did arise, Qantas might opt for a different response. Virgin Australia too is in a different place now.
Australia domestic market growth: FY2013-1H2015F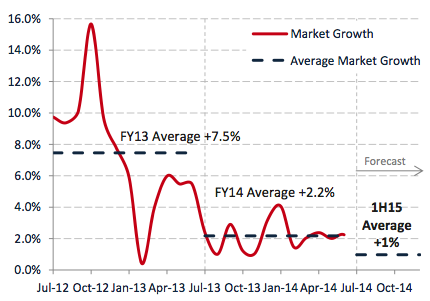 The focus returns to improving Qantas International while narrowing Qantas Domestic's cost disadvantage to Virgin. Qantas says it has lowered its cost disadvantage to Virgin from 18% to 15% since last year, and aims to bring the difference down to only 5%. This however has occcurred while Virgin Australia's CASK has increased by over 3%, helping narrow the distance, but is unlikely to recur next year.
For Qantas this is a tall order, and the risk is international; Jetstar could continue to be collateral as the focus remains on domestic. Qantas has made changes to international markets, including adjustments to Jetstar, but these efforts have often come late and piecemeal.
See related reports:
In the domestic market, Qantas contends with what its main competitor Virgin alone is doing. Internationally, there are more carriers and differing circumstances that create impacts. For now, these appear to be plateauing, helped partly by the lower AUD, which has greatly diluted foreign airline yields for outbound sales. Southeast Asian growth into Australia is slowing, Etihad will bring a surge of seat capacity into Australia but within constrained bilaterals, Jetstar Asia in Singapore has suspended growth and Jetstar Japan will ramp up its existing under-utilised fleet.
Qantas expects 1H2015 competitor international capacity to be up only 2.4%, compared with the 9.5% increase in FY2014, and the 44% growth between FY2009 and FY2014 - against a global average growth of 29%.
But there are concerns: the Philippines, Hong Kong and UAE are pushing for bilateral expansion, China will undoubtedly grow capacity again soon, Jetstar Pacific in Vietnam has uncertainty as competitors rapidly grow, and the long-delayed Jetstar Hong Kong is still a gnawing cost.
See related reports:
The predicted 1H2015 profit will return some comfort and feeling of normality (while, after the hype - Qantas' share price has surged - a loss would be perhaps too difficult to explain away) but with much still left to do. There is by now a familiar chorus of opposition and pattern of statements from the disenfranchised and vested interests, but this battle will eventually be fought out in the markets, not the tabloid forum.
The investment community still backs Mr Joyce, securing him in his job, and with Qantas' stock price up well over 10% since the results announcement the message is clear.
Mr Joyce meanwhile continues to do the unpleasant work often neglected by those before him. Given the size of the order, there are bound to be some casualties and mistakes made along the way. In the end, Mr Joyce expects to find a sustainable Qantas – and vindication. A 1H2015 profit will be a vital hurdle in that respect, if the tabloid pressures are to be kept separate from investor sentiment.