Qantas' annus horribilis and net loss behind it, will gain from restructure but with overcapacity
Declaring that Qantas has "reached an inflection point", CEO Alan Joyce sees the group heading into a comparatively calmer environment after an annus horribilis capped with significant restructuring costs that led the group to post a net loss of AUD245 million (USD257 million), its first since privatisation in 1993.
The group is continuing two key themes of late: first, reduced capital expenditure and, second, domestic growth to maintain a line-in-the-sand 65% market share. While Qantas is cancelling 35 firm order for the 787-9, it is likely to exercise retained options in order to support the growth of Jetstar, which will still take delivery of 15 787-8s.
Domestic overcapacity will show no signs of relenting as Qantas plans to increase 1H2013 mainline capacity by 9-11% to ensure it maintains its marketshare share against an expanding Virgin Australia. Yields, already weakened, will continue to fall. Bright spots emerge as new partners – Emirates – or closer partnerships – China Eastern – become increasingly possible.
Qantas Group segment results (AUD millions): FY2012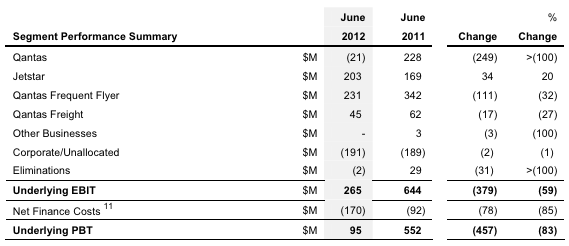 This result will be the last in its current form as Qantas from 01-Jul-2012 split its mainline operation into Qantas Domestic and Qantas International, each with a dedicated CEO and reporting line to the balance sheet, a move created to help bolster its defense against rejuvenated Virgin Australia.
See related article: Qantas restructures in a bid to wrest back the initiative in a turbulent world
Blunt actions – grounding and necessary international restructure – drive Qantas' loss
The Qantas Group's net loss is largely a direct result not of poor airline health but one-off occurrences recorded at the statutory level. This included the Oct-2011 grounding of Qantas mainline that successfully halted industrial action by the carriers' unions that was causing ongoing network disruptions and with brash union leaders promising to only step up their attacks. Although the group recorded an AUD194 million hit to the Qantas division as a result of industrial action including the grounding, it reckons the damage would have been far higher if management permitted the unions to carry on without a grounding.
Qantas mainline EBIT (AUD millions): FY2012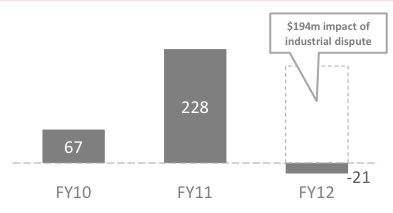 While Qantas' Jun-2012 announcement of a net loss for the year shocked the market, the warnings signs had been evident and the shock was a result of poor market supervision and management, perhaps understandably, not eagerly promoting the public warning signs. In addition to industrial action was an AUD376 million hit in FY2012 due to the restructuring of loss-making Qantas International. This includes exiting a number of loss-making long-haul routes, impairments from retiring aircraft, reducing workforce and facilities. Without the restructure Qantas would have posted a healthy profit in troubling times that have even seen losses at Cathay Pacific and Singapore Airlines, regional peers Qantas' aggressive unions point to as better run carriers.
Items not reflected in PBT (AUD millions): FY2012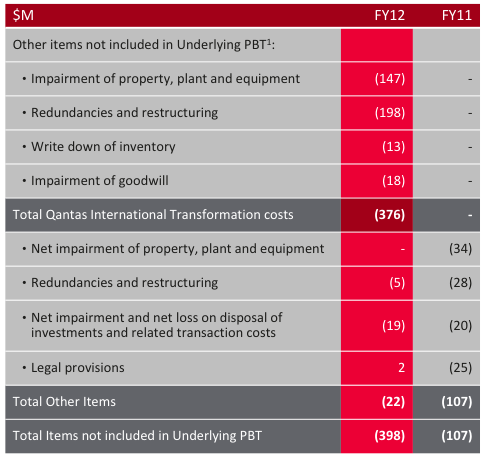 Mr Joyce deserves credit for the Qantas International restructure and the speed with which he has moved. The division, at the time of the restructure's announcement, produced returns in three of the past 15 years. Previous management had avoided tackling the loss-making division as complacency with record profits, and weaker competition at home and abroad, made the losses palatable. Whereas other carriers elect to distribute one-off costs in order to pad the books and appease investors – at the expense of operational efficiency – Mr Joyce has spared no time to rectify Qantas International as quickly as possible, with the result being the AUD376 million cost. The downside is that was a move the market was not used to examining or considering.
Domestic expansion of 9-11% in 1H2013
Qantas expects to grow domestic capacity by 9-11%, with absolute growth split between Qantas and Jetstar, leading Jetstar to have higher growth percentage than Qantas given its smaller size. Overall group capacity in FY2013 is expected to increase only 3-4%, reflective of reduced Qantas International flying.
Qantas Domestic, heart and soul of the group, remains strong but with yield pressure
Qantas Domestic combined with Jetstar domestic delivered over AUD600 million of EBIT profit, stronger than FY2011. The group estimates it has an 84% share of the high-yielding corporate market, down from previous years as a result of Virgin Australia further pushing into the market; it aims to have a 20% share by mid-2014. Over the past year it has added corporate contracts worth approximately AUD40 million and while it has lost or not renewed some, amounting to AUD6 million, Mr Joyce says some were on occasions where the asking price from the company was too low. Some contracts that were gained were at decreasing yield levels.
Qantas affirms that the overall corporate market is growing and revenue gains are not just from shifting contracts between companies. While yields are declining, partially a result of increased domestic capacity, Qantas defends the declines, saying they are reasonable and that "we're not trashing yield". Capacity growth also outstripped demand, leading to a fall in load factors. Investors in the lead up to Qantas' results were eagerly waiting word on the impact of yield as a result of capacity expansion and increased competition.
Total group yield increased 2.6% to AUD10.99 cents while the group's domestic yield on paper increased 3.9% with the group reporting undisclosed yield growth in all three businesses: Qantas, QantasLink and Jetstar, but the yield growth has been tilted in Jetstar's favour, with Qantas mainline yield growth insufficient to offset rising fuel costs. Fuel costs increased 17% in FY2012.
Qantas mainline domestic performance summary: FY2012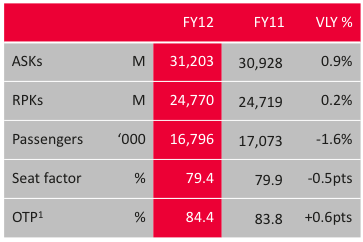 Regional QantasLink continues to be quiet achiever and source of growth
While Qantas mainline saw growth in available seat kilometres of 0.9%, far larger growth was recorded at QantasLink, the group's regional division that almost exclusively serves domestic markets. Growth has been in regional markets that rival Virgin Australia is entering with ATR72s operated by Skywest, including markets important for the resource industry driving Australia's economy. Qantas mainline growth was also tilted towards the resource industry, with capacity added on east-west trunk routes that link the more populous eastern seaboard with the resource industry concentrated in the west.
QantasLink performance summary: FY2012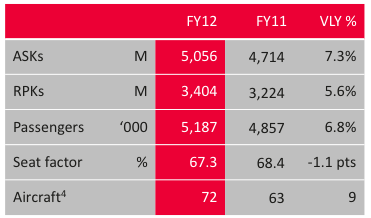 Qantas international in FY2013 to reap benefits of FY2012's restructure
Qantas International, as it has for over a decade, dragged down the group's results with an AUD450 million loss. The restructure, the first phase of which was announced in Aug-2011, is expected to deliver AUD300 million of benefits annually. With the biggest restructures implemented in FY2012, Qantas is looking to see the benefits of more than half in FY2013.
See related articles:
Qantas International change benefit timeline: FY2012 to FY2014
The largest element of the restructure is shedding unprofitable long-haul routes, although significant ones – such as to Europe – remain operated for now. A prospective new alliance with a Middle Eastern network carrier, such as Emirates, could potentially bring Qantas' European operation to a profitable level.
See related article: oneworld's BA and Qantas may shake up global alliances irreversibly as Emirates and Qatar enter
Qantas International in FY2013 will see significant decreases as a result of reduced international flying implemented from late FY2012, and not fully reflected in FY2012's performance result.
Qantas mainline domestic performance summary: FY2012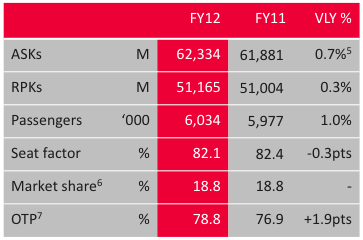 Impact on yields will be mixed, however, with re-configuration programmes on the A380 and 747-400 fleets adding economy seats, potentially undermining any yield improvement recorded as a result of performing less flying. Also impacting the international operation is fuel, which Qantas expects will increase at a group level from AUD2.2 billion in 1HFY2012 to AUD2.3 billion in 1HFY2013. Further outlooks for FY2013 were not provided.
Summary of Qantas International network changes: 2012
Freight down, reflecting industry
Qantas Freight's EBIT fell AUD17 million to AUD45 million as a result of the global downturn in freight, including what Qantas identifies as a softening of the retail market in 4QFY2012. There are opportunities for when the freight market rebounds, including greater space on Jetstar (A330s and A320s) flights within Asia as well as a new freighter service to Chongqing in western China, where some manufacturing is shifting to.
While yields were up 8% excluding FX, loads were down 9%.
Qantas Freight performance summary: FY2012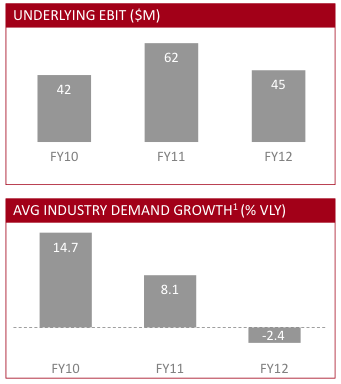 Frequent flyer, continuing to grow, accounts for more profit than passenger flying
The Qantas International restructure costs have seen the group return to the days around the GFC when the frequent flyer division posted greater profits than the passenger flying divisions. While the programme had a paper earnings decrease, once normalised due to a new accounting standard, increased profits.
Qantas Frequent Flyer performance summary: FY2012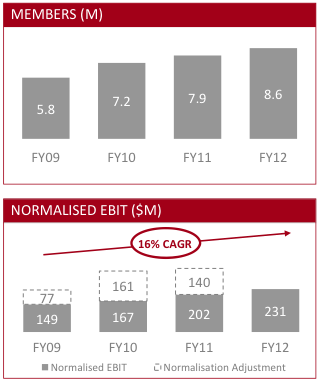 Jetstar posts record profit but expects slower yield growth
Jetstar's increase in profit to another record year was accompanied by further accomplishments: a 27% increase in ancillary revenue (partially as a result of "fare bundles" including Qantas frequent flyer points being sold) to AUD30.60 per passenger. Unit costs declined 2%, the eighth consecutive year of declining costs.
Jetstar Group performance summary: FY2012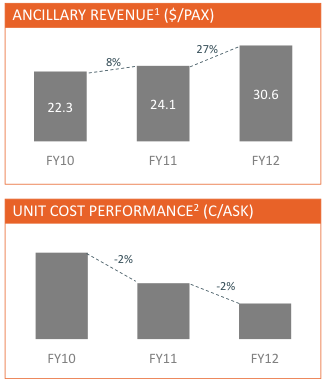 2H2012 yields increased 10% but CEO Jayne Hrdlicka notes "We don't expect to see the same yield growth this year as we did last year." Yields in FY2012 were significantly boosted after Tiger Australia's grounding and schedule cutbacks from which it has largely returned from. Ms Hrdlicka noted yield pressure is particularly intense on the bottom end of the market, where it competes with Tiger, although peak season around the southern hemisphere summer (Dec-2012 through Jan-2013) is looking strong.
See related article: Qantas yields soar on Tiger's grounding
Qantas Group to take delivery of 35 aircraft, retire 11, in FY2013
The Qantas Group, excluding Jetstar Pacific in Vietnam, will take delivery of 35 aircraft in FY2013, with most going to Jetstar subsidiaries. Deliveries include one A330 for Qantas Domestic, three Q400s for QantasLink, seven 737-800s for Qantas mainline and 24 A320s. Of the A320s, nine will go to Jetstar Japan to increase its fleet to 13 by Jun-2013; three to Jetstar Hong Kong; and 11 to a mixture of Jetstar Asia, Jetstar Australia and/or Jetstar New Zealand. Four of those 11 A320s will replace four Jetstar Asia A320s whose leases are expiring. The final A320 is unallocated.
The group will in FY2013 will also retire five 747-400s, five 737-400s and one 767-300.
Cancellation of 787-9s adds to capex reduction of A380 deferment, but exercising of options likely
Throughout FY2012 Qantas has looked to decrease capital expenditure, first deferring A380s, and on 23-Aug-2012 announced it was cancelling orders for 35 787-9s. "Because they were so late we had the complete ability to walk away; they became options" Mr Joyce said.
Qantas is maintaining its options and purchase rights, noting that includes a pre-determined price and delivery date. "The optionality is on our side. It's not on both sides," Mr Joyce said. Boeing, however, will be eager to free up delivery slots owing to the 787's delay. Initial under-selling of the aircraft will potentially allow Boeing to use Qantas' delivery slots for airlines paying more for their 787. As a result Qantas will receive USD433 million, with the majority – USD355 million – in FY2013. USD140 million will be gained in 1H2013. A portion of pre-delivery payments will also be returned.
Some of the options – in either a -9 or -10 variant – will undoubtedly be exercised to fuel Jetstar's international expansion, although the options are now from FY2016, two years later, potentially leading to stunting of Jetstar's international growth.
The cancellation and likely exercising of options although perhaps circuitous allows Qantas to reduce capital expenditure, which it sees as critical to maintaining its investment grade rating that allows for favorable narrowbody acquisition and the lean expansion of Jetstar, whose profitability is far more guaranteed than the weak Australian full-service market.
Mr Joyce said the move allows Qantas "to be flexible if the world is a different place."
Largest change yet – partnering with a Middle East carrier – awaits
The international market remains difficult, with it having since the Global Financial Crisis largely shifted to an outbound market for Qantas, losing inbound potential. An expansion of partners or re-alignment to work with more strategically relevant and located partners, such as China Eastern and Emirates, will further improve the international restructure.
Mr Joyce did not rule out further changes to Qantas International's network, saying it is a "dynamic beast". While Qantas mainline may be limiting international growth prospects until FY2016 when 787 options become available, Mr Joyce noted that is in the timeframe discussed of not increasing assets to Qantas International until it meets its cost of capital but flexibility remains to shift capacity. A number of internationally-configured A330s have been placed into the domestic market to fuel Qantas' growth against Virgin Australia. Additionally, potential postponement of the 767 retirement could allow for further growth as ex-Jetstar A330s become available once 787-8s are delivered. New or extended partnerships with China Eastern, Emirates or even LAN in the booming Australia-Latin America market could see capacity shifted. An Emirates partnership would potentially reduce the asset-intensive flying Qantas performs to Europe, allowing for redistribution.
Qantas International may appear to be stripped down but there is considerable flexibility with the operation that has become contentious but also likely Mr Joyce's legacy.