Qantas cuts international services to grow profitable domestic market as Jetstar grows all around
Analysis
Qantas is making significant competitive responses to invigorated challenger Virgin Australia's push in the lucrative Australian domestic market. Qantas will withdraw international routes and re-allocate aircraft primarily to the domestic market to keep the 65% market share it believes is optimal for overall performance. Additional network changes will right-size its fleet to demand while the company looks to shrink engineering facilities due to aircraft retirements. For its planned Asia-based premium carrier, Qantas will pursue a capital light option in which an airline partner – likely Malaysia Airlines (MAS) – shares part of the risk.
The story is more positive overall at the group's low-cost subsidiary Jetstar, which posted its largest-ever underlying profit. The carrier is benefitting from increased yields in Australia while its Singapore operation has held up profitably despite its competition, Tiger Airways, not being able to profitably absorb significant capacity increments.
Strikes see Qantas profit decrease, but other losses occurred too
The Qantas Group's 1H2012 underlying profit before tax fell to AUD202 million, a 52% decrease from the previous year. Three large and understandable factors contributed. First, there was an AUD40 million (114%) increase in net finance costs due to loan draw-downs and increase in average interest rates. Second, accounting changes at the frequent flyer division saw an AUD70 million (37%) fall in underlying profit, but once normalised, according to Qantas' calculation, the frequent flyer division saw AUD12 million (11%) growth in underlying EBIT.
Third, industrial action hampered the Qantas segment result, which decreased AUD99 million (60%). Separating out the industrial action impact is difficult. While Qantas has put an AUD194 million "cost" on industrial action, AUD95 million of that represents lost revenue, not lost underlying profit, for pre-grounding bookings and decline in forward bookings. With Qantas mainline achieving a margin of 1%, that AUD95 million may only account for less than AUD1 million of underlying EBIT profit.
Qantas has put an AUD70 million cost on charges directly related to its Oct-2011 self-imposed grounding, but that includes lost revenue, refunds, third-party carrier costs and accommodation. With Qantas mainline earning on average AUD34 million of revenue a day, the grounding – over the slow weekend period – likely saw lost revenue of around AUD30-50 million, with an underlying profit contribution of less than AUD1 million. The remaining AUD20-40 million represents direct costs, as does an AUD29 million customer recovery initiative. Once claims of lost revenue are converted to lost profit, the industrial action likely wiped out AUD60-80 million of underlying EBIT, leaving an AUD19-39 million decrease of underlying EBIT unrelated to industrial action.
Qantas Group segment performance summary: 1H2011-1H2012

Jetstar posted its largest ever EBIT of AUD147 million, a 4% increase from the previous period, although passengers increased 11% on top of capacity growth of 15%. Jetstar also saw significant gains from groundings in 1H2012: AUD10-20 million from the Jul-2011 Tiger grounding and AUD5-10 million from the Oct-2011 Qantas grounding. (Qantas expects Virgin Australia to have gained significantly more from the Qantas grounding. Virgin will release its results on 23-Feb-2012.)
Jetstar was also buoyed from a 35% increase in ancillary revenue due to full affect of May-2011 fare structure changes, which included the introduction of fare "bundles" that give ancillary options like earning Qantas Frequent Flyer points. (The Frequent Flyer division saw billings increase 16%, largely due to Jetstar's bundles.) Average ancillary revenue per passenger in1H2012 was AUD29.
While Jetstar has labelled this "industry leading", there are four carriers (AirAsia X, United Continental, Jet2.com and Allegiant) who achieved more per passenger according to the Amadeus 2011 ancillary revenue yearbook. Jetstar's result is also compounded as it includes short- and long-haul operations, the latter of which can achieve significantly more revenue per passenger due to longer sector lengths; long-haul carrier AirAsia X in 2010 achieved USD41.60 ancillary revenue per passenger while short-haul sister carrier AirAsia achieved USD13.65 per passenger.
Elsewhere at Jetstar, cost per available seat kilometre (CASK) decreased 3% to AUD4.1 cents, but decreased only 1% when adjusted for the significant amount of new long-haul capacity that operates with a lower CASK.
Jetstar ancillary revenue and CASK: first half FY2010-FY2012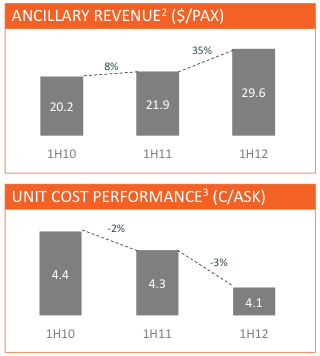 International reductions to grow domestic trunk network
Qantas will withdraw Singapore-Mumbai and Auckland-Los Angeles services from 06-May-2012, freeing up three to four A330 aircraft. One will be deployed on the Sydney-Bangkok route (facilitating the retirement of two Boeing 747-400s) while the rest will primarily be used on trunk coast-to-coast flights from Sydney and Melbourne to Perth.
Competitor Virgin Australia views the trans-continental market as under-served. "We've been so under-weight on the east-coast, west-coast capacity over the last three or four years that we need to catch up, hence the A330," Virgin Australia CEO John Borghetti remarked in Aug-2011. Virgin in May-2011 deployed its first A330s on Sydney-Perth, and from May-2012 will expand A330 services to Melbourne-Perth with twice daily service.
Qantas Group CEO Alan Joyce is dogmatic that maintaining a 65% domestic market share is critical for optimal business performance. "The biggest and most important thing for us would be a 65% market share. We know it's optimal in terms of profitability. We will make sure our growth rates are at the appropriate levels to meet that level of market share."
Not only are the trans-continental routes to Perth high-yielding, the use of widebodies brings down seat costs.
As for the routes Qantas is suspending to expand the domestic A330 expansion, Singapore-Mumbai was far from optimal given its limited frequency of thrice-weekly. Competitors like Singapore Airlines offer a far greater service to the fragmented India market where there is not a majority of traffic going to a single point. Qantas does view India as a strategic destination, but this route cut appears to favour short-term commercial considerations over long-term objectives. Qantas has entered and withdrawn services to India numerous times in recent years, casting doubt in the Indian market about Qantas' commitment. It was due to work closer with Kingfisher Airlines, who serves Singapore but recently suspended its ascension to oneworld. Qantas maintains a connection to India via a codeshare with Jet Airways. But far greater a significance, in terms of strategy and profitability, is Qantas' domestic network.
The decision to end Auckland-Los Angeles services was less about a lack of profitability and more about opportunities to re-deploy aircraft into the more profitable domestic market. Qantas has also grown the trans-Pacific market by replacing 747-400 services with higher-capacity A380s. (The reduction will benefit Air New Zealand, now the sole operator between New Zealand and the US. Although ANZ will next week announce a long-haul network restructure, North America was not expected to be significantly affected.)
On the daily Sydney-Tokyo Narita service, a 747-400 will replace the A330 that operates on one day only, making all services on 747-400 equipment. The Los Angeles-New York tag flight (operated without local carriage of traffic) will switch from A330 to 747-400 service on May-2012 due to Qantas withdrawing Auckland-Los Angeles, its sole A330 trans-Pacific services.
No update on Asia-based premium carrier
Significant emphasis was placed on the route restructure and job losses, which distracted attention from an update on Qantas' planned premium carrier to be based in Asia. Qantas announced the broad scope of the carrier in Aug-2011, with Mr Joyce saying final discussions over a base in Singapore or Kuala Lumpur were progressing and would be made in the near future.
Qantas has now taken a less aggressive approach, scaling back its plan to operate 11 A320s to instead a "capital-light" approach of using aircraft in partnership with another airline, namely although not explicitly stated as Malaysia Airlines. Mr Joyce is also backing down on the carrier's time frame, saying, "We've always said it would take some time".
Since the start of discussions Singapore has been assumed the preferred hub. Some sections of Singapore approve of the carrier while others do not. Additionally, Singapore Airlines (SIA) has understandably done close-door lobbying against the carrier. The last viable option by default may be Kuala Lumpur, but Mr Joyce rejected a notion Qantas would be forced into a "sub-optimal hub".
Mr Joyce said there was "a whole element of different criteria" that Qantas would need to vet, including "on local traffic flows, on the route network we can start, on the route network we're given access to, on the competitive dynamic, on the political dimensions around it, on the support that we're granted, on airport access in terms of slots…it's not just on the perceived quality of the hub. There are a lot of other factors that go into it."
Mr Joyce's mention of those particular elements alludes to the key factors for and against Singapore and Kuala Lumpur. If Qantas did manage to secure Singaporean approval to establish a carrier, allocation of traffic rights would likely become another difficult measure to pass and would be a factor for "political dimensions". Although Singapore Changi is not slot restricted, Kuala Lumpur International Airport (KLIA) has far more available capacity. The airport authority and Government, long wanting KLIA to rise in prominence, would lend huge levels of support to the carrier.
There is also the likely plausibility that increased oneworld presence at KLIA could create a larger alliance-focussed traffic feed than at Singapore. MAS later this year plans to join oneworld and is also exploring forming joint-ventures with oneworld carriers, as MAS flagged in Dec-2011 when announcing its new business plan.
See related article: Malaysia Airlines new business plan targets premium sector, following strategies of Cathay and SIA
A significant hurdle for a MAS premium carrier tie-up is that MAS plans to launch its own regional premium carrier, Sapphire, and may not see a need to share responsibility – and ultimate profits.
See related article: How Qantas planned to make its Asian premium carrier viable
Reduced capital expenditure, with more to come, hints at slowing domestic market
Qantas is continuing its push started in Aug-2011 to decrease capital expenditure in the outlook of economic uncertainty and Moody's downgrading Qantas' investment rating to Baa3/stable in Jan-2012. Qantas has made a point of noting it is only one of two airlines in the world to be rated investment grade by Moody's and Standard & Poor's, and would continue to work to maintain an investment grade rating.
Qantas will strengthen its balance sheet by further reducing capital expenditure over the next 18 months by AUD700 million. This in addition to the AUD2.5 billion reduction for FY2012 and AUD2.8 billion for FY2013 identified in Aug-2011. Deferral of six A380s primarily drove those previous capital expenditure reductions. The additional AUD700 million will come from downsizing catering and maintenance operations (see next section) as well as fleet changes.
Qantas in Nov-2011 announced the group's first 787s would be delayed by six months to mid-2013. This shifts capital expenditure over the next 18 months. (For the delay, Qantas booked an AUD28 million payment from Boeing.) CFO Gareth Evans stressed Qantas was "actively" seeking additional capital expenditure reductions. Such reductions could come from near-term fleet changes, such as not renewing leases or postponing new deliveries. Qantas routinely notes its leased fleet permits flexibility.
Mr Joyce emphasised Qantas' relationships with aircraft manufacturers and said any possible further fleet changes would be "orderly" – all but guaranteeing further capital expenditure reductions. Reduced growth, Mr Joyce said, would be less in response to demand forecasts than what its competitors put in the market place and subsequently what Qantas needs to deploy to maintain a 65% share. "The ability for us to scale back is a consequence of our competitors not adding as much capacity as believed," Mr Joyce said.
Virgin Australia also maintains a flexible fleet that can be scaled up or down to match demand. Between Jun-2011 and Jun-2013 Virgin plans to take delivery of 40 aircraft but retire or return 25 aircraft, providing significant room to adjust growth profiles. Virgin has recently confirmed it will not proceed with installing business class seats on its 737-700s, indicating either reduced demand or earlier lease returns, both of which could permit Qantas to scale back its growth and resulting capital requirements.
The Qantas Group in 2HFY2012 plans to increase capacity by 7%, equivalent to 5% after accounts for weather disruptions and the A380 grounding in 2HFY2011. That growth represents 3% for Qantas and 20% for the Jetstar Group. Jetstar domestically will grow 9% while international operations will grow a staggering 28%. Much of that growth has already been put in the network – mainly new long-haul services from Singapore – but the group is expected to soon announce further long-haul and short-haul growth out of Singapore.
With reduced flying, maintenance bases closing and jobs going
Qantas used its half-annual results presentation to announce the redundancy of 500 positions, although not all would result in job losses. Some losses, like pilots, directly relate to reduced flying, while others relate to decisions on catering and maintenance infrastructure sites that had been lingering. Qantas has been given notice that it must vacate its catering facility at Adelaide Airport to make room for airport expansion. The carrier has elected not to rebuild the facility, although it is proceeding with an AUD75 million facility in Brisbane to open later this year. Catering sites in Cairns and Riverside, Sydney are operating "significantly below capacity", Qantas says, and the Riverside site has lost AUD15 million over the past three years.
A review and scaling back of engineering has been expected following Qantas' decision to advance retirement of maintenance-intensive heavy aircraft as well as preparing to introduce new aircraft, like the 787, that require less maintenance in the medium-term. A review of maintenance facilities has been especially evident since Qantas' Aug-2011 restructure, but the carrier likely waited until its contentious relationship with the engineering union simmered. Relations had been soured since an enterprise bargaining agreement expired in early 2011 and the union went on the defensive in anticipation of Qantas' restructure. The situation was tempered only after Qantas' Oct-2011 self-imposed grounding that resulted in Australian courts forcibly ending union industrial action, which Qantas used to impose an employee lockout and subsequent grounding.
Qantas will consolidate its engineering and maintenance facilities, leading to 225 redundancies, and commence a 60-day review of its heavy maintenance facilities in Melbourne Tullamarine, Melbourne Avalon and Brisbane. Qantas will seek to consolidate to one or two facilities. Mr Joyce was at pains to express affected engineering and maintenance jobs – beyond the 225 – would not be moved offshore, which Qantas has been heavily criticised in the past of doing so, but were surplus to requirements.
"This is just maintenance that doesn't exist any longer. It's maintenance that's just disappeared because of the older aircraft being retired and newer aircraft requiring maintenance less often," Mr Joyce said. While no new overseas engineering and maintenance contracts have been signed – one of the most recent, retrofit work for nine 747-400s, was awarded to Avalon – previous offshoring decisions have contributed to the surplus of capability. Mr Joyce, however, argues Qantas is merely catching up to local and global industry practice to offshore some maintenance to countries with lower cost bases. Qantas went as far as to distribute a table indicating how much local heavy maintenance its Australian competitors conduct in the country. Tiger does none while Virgin Australia conducts approximately 35% with plans to increase that. (Note: Virgin Australia subsequently issued a release saying "that during calendar year 2011, 66% of the airline's airframe maintenance was performed in Australia"). Qantas reports it conducts over 85% of its heavy maintenance in Australia, which it estimates is at a 30% cost premium to competitors.
"We will not be propping up the past at the expense of the future," Mr Joyce said. In a familiar talking point, Mr Joyce said that "Preserving the status quo in the short-term would only risk the business over the long-term". The issue of maintenance will not be over after the 60-day review. Qantas is yet to decide where it will locate maintenance for its 50 787s. A significant portion will be based in Singapore with its Jetstar Asia subsidiary, supporting the case for Asia-based heavy maintenance. Qantas in coming years will face a decision similar to the Adelaide catering facility: Sydney Airport has proposed an extensive redevelopment that would see Qantas' large engineering base relocated. Qantas could elect to not rebuild the site if engineering work is located overseas. A decision on Sydney is still a few years away while 787 maintenance could be used as a negotiating card for the current maintenance facilities Qantas will consolidate after extensive consultation, likely in part to receive financial incentives from the Government.
While the 500 potential job losses have thrown Qantas into the limelight, recent job cuts from Australian banks amounting to three times that figure have escaped as much attention; such is the result of Qantas' position in public eyes.
To public's like or dislike, Qantas Group continues to focus on profitable growth
The theme in aviation for end-of-line carriers in Australasia taking action on geographically disadvantaged positions is unlikely to reverse in the medium-term. Changes from Qantas have been most high-profile and extended this week with additional international route cuts, leaving much of its long-haul network dependent on traffic feed from partners. That has been Virgin Australia's strategy for 18 months, and Air New Zealand is expected to follow suit when it announces its international restructure on 24-Feb-2012. The Qantas Group continues to be buoyed by Jetstar and its far greater margin than at Qantas mainline.
Development of the group's premium carrier is taking longer than Qantas projected, although the task should never have been seen as easy. There are other areas of concern within the group to watch: corporate contracts remain lucrative and any large scale fallout may not occur until coming months as contracts are renewed. Qantas also shows indication of weaker performance outside of industrial action while Jetstar has seen revenue lag capacity increases, although its most important subsidiary – in Singapore – remains profitable where the competition is not.
This scenario of Qantas shrinking and Jetstar growing will certainly continue in the near future as Qantas eyes further capital expenditure reductions while Jetstar launches a Japan affiliation and eyes which of a number of markets it can expand to next.