Qantas and Jetstar plans for the long term: partnerships and Asian expansion, if the unions allow it
Analysis
Increased reliance on the oneworld alliance and tapping into the growth potential of Asia are the cornerstones of a five-year plan to turnaround the Qantas Group's international operations. The loss-making division Qantas is seeking to restructure through consolidated long-haul flying, a new premium airline will be established in Asia that will see Qantas introduce a third brand, and significant fleet and product changes have been announced. Qantas also confirmed it would establish a new Jetstar subsidiary in Japan with Japan Airlines and Mitsubishi. The carrier is finally owning up to irreversible changes in the competitive landscape. But the key risk lies in the implementation of the plan.
International profit within 5 years
Qantas projects the turnaround plan to make Qantas International profitable within 5 years. While the restructure, termed "A New Spirit", will see 1000 positions made redundant from a workforce of approximately 32,500, chief executive Alan Joyce is upbeat about the larger potential.
Mr Joyce says the announcement is a "proud moment for the Qantas Group" since "it shows Qantas is leading the way in aviation."
With the exception of Argentina's Buenos Aires, which Qantas is dropping in favour of Chile's Santiago, the list of destinations on the Qantas route map is being left in tact. The past month had seen numerous reports from within and outside Australia speculating on route cuts, including Auckland-Los Angeles, Los Angeles-New York, Qantas services to Tokyo, and Johannesburg—all routes that will remain in place.
Of particular note, industry sources confirm, the Los Angeles-New York route is bolstered by strong cargo performance while Sydney-Johannesburg was Qantas's most profitable destination last decade, followed by Papua New Guinea and Los Angeles. Qantas will continue to place its international gateway at Sydney with support form Melbourne.
Consolidation on Kangaroo route
Qantas International's biggest route change is a significant decrease on services to London Heathrow from April 2012. Although chief executive Alan Joyce acknowledged the London "Kangaroo Route" services are an iconic and flagship route, he disclosed that it is primarily routes to Asia and Europe that are incurring losses for Qantas International, "with no improvement in sight". This year Qantas International will lose approximately AUD200 million before interest and tax. The division has "achieved its required returns" three times in the past 15 years, Mr Joyce said.
Going forward Qantas will only serve London Heathrow from Singapore; it will cut its daily service from Bangkok and Hong Kong. Qantas will manage the changes with British Airways, who it has a joint-services agreement with. British Airways will upgauge its Singapore-London service from a B777-200 to a B747-400, adding more seats although there will be a net decrease. British Airways will also withdraw its Bangkok-Sydney service and instead rely on Qantas' Bangkok-Sydney service. British Airways will only serve Australia with a daily service from Singapore.
The changes will reduce "asset intensive flying", as Mr Joyce termed it, as Qantas aircraft endure long layovers in London in order to meet optimised schedules. The consolidation will immediately reduce losses and could in the long-term see yield increase unless competitors pick up on the lost traffic, as Virgin Australia partner Etihad Airways has said it can do.
Qantas' suspended routes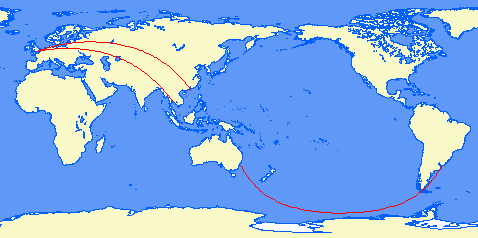 Qantas' new routings and its London service post-Apr-2012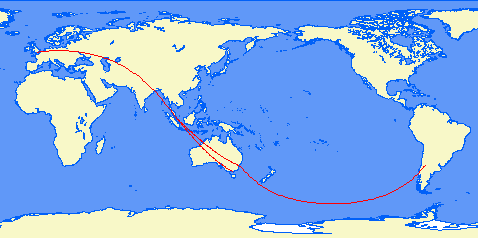 New Asian premium airline brings a three-brand strategy
The Qantas Group is acknowledged as being the only successful holder of two major complementary airlines - full-service Qantas and low-cost carrier Jetstar - even as Singapore Airlines and Air Canada will soon try their hand, but the Qantas Group is embarking on having three brands by establishing a premium carrier in Asia that will initially operate narrowbody aircraft. The premium airline will be established through a joint-venture in which Qantas will have a minority share.
The new carrier will offer same-day services to and within Asia while increasing net frequencies between Asia and Australia, hinting the division and its lower operating cost could take over Qantas' Asian routes. "All of this is about getting efficiencies we can't get in Australia," Mr Joyce said, explaining, "real opportunities are primarily in Asia". Qantas' cost base is 20% higher than unspecified "key competitors", Mr Joyce said.
Mr Joyce said the Group was still evaluating a number of destinations. He acknowledged a hinging factor may be possibly synergy opportunities at Kuala Lumpur airport, home to Malaysia Airlines, who in June announced its intention to join Qantas in the oneworld alliance and last week conducted an equity swap with low-cost carrier AirAsia, creating further potential opportunities for Qantas. "Once that beds down, we want to talk to Malaysia Airlines and AirAsia," Mr Joyce said.
While Qantas is still deciding on a base for the premium carrier, Qantas has determined the carrier will take on its own brand—the group's third. "The airline will not be called Qantas," Mr Joyce said. "This joint venture airline will have a new name, a new brand, new aircraft and an exciting new look and feel."
The operation will initially utilise 11 Airbus A320 aircraft: up to three from the group's previous orders and eight from a new order announced today for up to 110 A320 aircraft, with 28-32 current or "standard" A320s and 78 A320neos. The move rules out the premium carrier, at least for now, launching services from China into Europe, as Mr Joyce last year expressed interest in doing so provided the Australian government successfully renegotiates air service agreements.
Selection of narrowbody aircraft for the region Qantas admits is experiencing high-growth may reflect concerns of widebody aircraft injecting too much capacity in an unfamiliar operating environment.
A320 order to fuel growth and keep costs down
Qantas' order for 110 A320s, standards and neos, comes with 194 purchase rights and options. It is the largest aircraft order in the history of Australian aviation. Approximately half of the firm 78 neos will be for lease replacements, ensuring a low cost is maintained by not operating older narrowbody aircraft, whose maintenance costs typically increase significantly after seven years in service.
The remaining half of the 78 neos will grow Jetstar's bases - which currently include Australia, New Zealand, Singapore, and Vietnam and will soon be joined by Japan – with a particular focus on growth in the later part of this decade, Mr Joyce said.
Although Qantas is looking to reduce capital investments and is deferring six A380s, Mr Joyce said the A320 order is not only "low on risk" but is "a very prudent investment" that comes with a great deal of flexibility from Airbus and lessors.
A380 deferment reduces debt and capital commitments
Qantas has deferred delivery its last six A380s by five to six years and will accept them between 2018 and 2021. By the end of the year Qantas will have 12 A380s in its fleet with the outstanding two A380s to be delivered over the next few years.
Delivery deferment reduces capital expenditure on new aircraft and lowers overall debt, Mr Joyce said. The six A380s are worth AUD2.3 billion at list prices, although airlines negotiate steep discounts and pay a portion of costs in advance.
While Qantas had expected to operate a large A380 fleet side-by-side with B747-400ERs, which are newer and more efficient versions of its B747-400 long-haul workhorse, the last six A380s will be delivered to line up with the retirement of the B747 fleet. There are no changes at present to orders for the B787, although the group now expects to receive its first example of the type in early 2013, a 3-6 month delay from the mid/late 2012 timeframe previously given.
Mr Joyce announced Qantas would look to expand its European network through oneworld member elect Malaysia Airlines. Mr Joyce singled out the destinations of Amsterdam, Istanbul, and Rome.
Mention of Rome should resonate with industry watchers as it, along with Athens, was one of the much-talked about initial destinations for Jetstar's European expansion with B787 aircraft. Mr Joyce said these three European destinations would be "ideal for price-sensitive premium leisure passengers", suggesting there could be further room for non-premium leisure passengers.
Qantas has been heavily criticised for having a sparse European network compared to Emirates and Southeast Asian carriers, but such criticisms neglect to consider the larger traffic feed Middle Eastern and Southeast Asian carriers have, as well as the importance of having strong, high-yield premium traffic and not just low-yield leisure traffic. Although long-time oneworld partner Cathay Pacific operates a sizeable European network, Qantas has not been able to achieve anything from the partnership.
Potential access to Malaysia Airlines' services to Amsterdam, Istanbul, and Rome show Malaysia Airlines may finally give Qantas the close regional partner it has been in need of—and which competitor Virgin Australia now has with Singapore Airlines.
South American tango as Buenos Aires dropped for Santiago
Qantas also announced that in Apr-2012 it will serve from Sydney Chile's Santiago in favour of Argentina's Buenos Aires, a route Qantas resumed in Nov-2008 after a six year hiatus.
The thrice-weekly route will be able to tap into hub traffic from oneworld carrier LAN, who also operates to Sydney via a stop in Auckland, a route that is understood to be very high-performing despite high fuel costs from using fuel-inefficient A340 equipment. Qantas says it will work to eventually increase the route to a daily service.
Keeping South America in Qantas's route network could be seen as a strategic move while the Asian-South American market develops. Air New Zealand is bullish on the potential for Oceania to become a hub linking the high-growth regions of Asia and South America. Travel between two regions is currently done via hubs in the Middle East or Europe.
Qantas confirmed it will launch by the end of 2012 "Jetstar Japan", a domestic Jetstar subsidiary in Japan in partnership with oneworld partner Japan Airlines and the Mitsubishi Corporation, each of whom will have a 1/3 share (voting-rights-basis) in the company. Capitalization commitment is up to JPY12 billion (USD156 million).
Jetstar Japan will be based at slot-restricted Tokyo Narita, the same location as ANA-AirAsia LCC "AirAsia Japan", but will receive slots from Japan Airlines, who has been cutting routes as part of its own restructure. The carrier will initially operate three A320s in a 180-seat configuration with potential to grow to 24 aircraft "within its first few years". The carrier will officially be launched in Tokyo on the afternoon of 16-Aug.
But first the Qantas unions
Airlines globally have lamented the huge traffic shifts wrought by emerging markets and network carriers, particularly in the Middle East, and Qantas is no different but stands out as being the only carrier to so far make the structural changes necessary to compete in the new operating environment, even if it means surrendering large swathes of capacity on the route nicknamed after the animal on your tail.
These decisions are to the credit of Mr Joyce, who first saved Qantas from Virgin Blue's threat by establishing Jetstar, and is now poised to save Qantas again – this time from the world. But that is not how Qantas' powerful and well-connected unions see it. They rightfully worry about their jobs being off-shored, a sentiment that will not be eased with today's news the "New Spirit" of Qantas will cost 1000 positions, although it will also create jobs in Asia.
Negotiations between the unions and Qantas could not be worse. Qantas pilots are making announcements on flights asking for Qantas flights to be operated by Qantas pilots, a plea replicated on billboards and across social media. Those were efforts stepped up after Mr Joyce took a tough line earlier this year, accusing pilots of living on "cloud-cuckoo land" and the pilots and other unions waging "kamikaze" industrial action.
Now that the restructure is public, the unions will have a better idea of what is realistic for Qantas to give. In turn, the unions may realize certain causes are lost and they are best to fight for what is left. Reaching a compromise cannot be understated to secure stability for the Australian operation, but although Qantas is moving in many new directions, it cannot budge on keeping costs low.
Outlook - turning the flagship around
There are still some major areas of detail to work through, but the foundations have been set for a new, more focused international business to emerge. Qantas' share price has fallen almost 40% over the past 12 months, putting it last in a peer assessment with Singapore Airlines (down 30%), Cathay Pacific and Virgin Australia (each down 15%). Qantas' shares have risen as much as 4.2% in early trade on 16-Aug-2011 after the announcement - an early endorsement from the market at least that the airline can get back on track under Mr Joyce's plan.
Share price index for Qantas, Singapore Airlines, Cathay Pacific and Virgin Australia over the past 12 months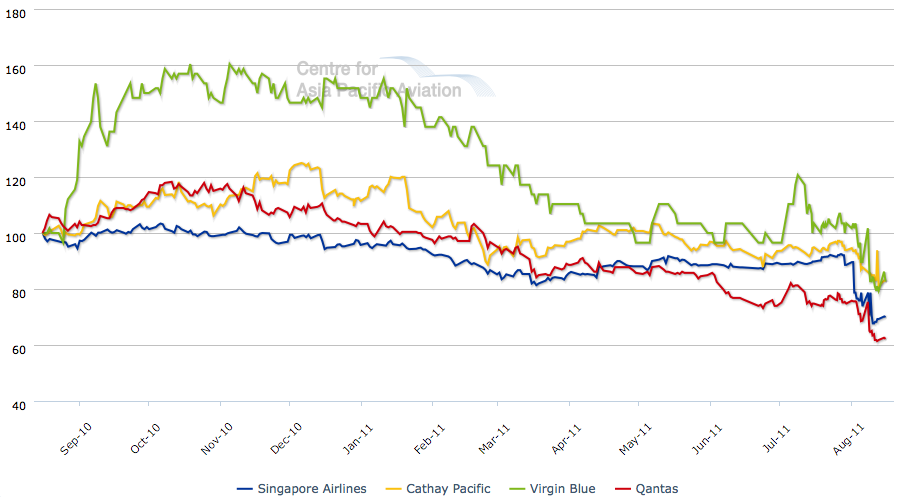 707" height="389" />