Region: Southwest Pacific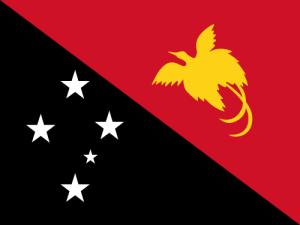 About
Beset by a lack of land-based transportation infrastructure, due to its mountainous terrain, Papua New Guinea relies heavily on air travel as the single most important form of transporting human and freight cargo. The capital, Port Moresby, is not linked to any other major centre by road and access to remote villages necessitates air travel. About 2000 airstrips have been cut out of the bush or into hill tops and coral islands during the last 80 years and the aeroplane has become symbolic of the way technology has intruded so successfully into what was a loose collection of hunter-gatherer societies. PNG is richly endowed with natural resources and the resources sector provides significant demand for domestic air travel. For a long time, the nation's flag carrier Air Niugini monopolised most air travel in the country, however, with deregulation, new private entrants to the market have increased competition and pushed down fares. The aviation sector in PNG is controlled by the Civil Aviation Authority of Papua New Guinea.
The national carrier of Papua New Guinea is the wholly government owned Air Niugini (IATA: PX), which is based at Jacksons International Airport, Port Morseby and operates both domestic and international services to Asia, Australia and Oceania.
To have full CAPA Profile access you need a CAPA Membership
Our suite of profiles covers:
Your portal for aviation data
CAPA Profiles contain the most up to date news and analysis plus a comprehensive range of timely and reliable data including schedules, capacity share (passenger and cargo), fleet summary, traffic results (monthly and annual), financial results and more. Access Profiles for the latest statistics and insights on airlines, airports, suppliers, countries and regions.
I didn't realise all this traffic data was here. The data is much more up-to-date than the other results we usually use - I'll be using this from now on.

- Air Services Development Manager, Airport Member.