The Qantas-Virgin Australia capacity/fare war is not over: WA decreases offset east coast growth
Analysis
When Qantas Group informed the market that it would not add domestic capacity in the first quarter of FY2015 commencing 01-Jul-2014, the perceived implication was that the capacity and fare war Qantas had fought with Virgin Australia was over. Virgin's "Game Change Programme" re-positioned the carrier as a full-service airline with business class offering, bringing premium competition to the Australian market for the first time since Ansett's 2001 collapse. Virgin was bullish on growth opportunities while Qantas abided by its strategy calling for 65% marketshare. In borad terms, when Virgin added a flight, Qantas added two.
But the white flag has not been raised. Qantas Group's 1QFY2015 domestic capacity will be flat, but this is comprised of capacity decreases in the Western Australia market (a 10% reduction in intra-WA) and capacity increases in the east coast, mainly around Queensland. The WA market already was so over-capacity that there were never going to be winners. Pulling back capacity is not so much a strategic decision as delayed common sense. More reductions may still be needed. The Qantas-Virgin fight appears set to continue in the country's east.
Qantas Group plans overall flat capacity while Virgin plans for 4% increase
The Qantas Group in mid-May-2014 was planning a 3.4% increase in available seat kilometres for 1QFY2015, but revised this to a 0.1% decrease, or flat growth, according to the schedules Qantas files with OAG. Prior to the Qantas decision to have flat growth, Virgin Australia was planning a 4.5% increase in ASKs but as of 08-Jun-2014 has brought this down slightly to 4.3%. Both carriers are likely to make further revisions.
Qantas Group and Virgin Australia (excluding Tigerair) domestic capacity changes: 1QFY2015 vs 1QFY2014
| | | | | |
| --- | --- | --- | --- | --- |
| Carrier | 1QFY2015 as of | Frequency | Seats | ASKs |
| | May-2014 | 3.2% | 3.4% | 3.4% |
| | Jun-2014 | 0.6% | 0.2% | -0.1% |
| | May-2014 | 6.1% | 3.9% | 4.5% |
| | Jun-2014 | 5.8% | 3.5% | 4.3% |
Qantas will cut capacity while Jetstar will grow
The Qantas Group's flat ASK growth is comprised 3.0% growth at Jetstar and a 1.6% decrease at Qantas mainline.
Qantas, Jetstar, Virgin Australia and Tigerair domestic capacity changes: 1QFY2015 vs 1QFY2014
| | | | |
| --- | --- | --- | --- |
| Airline | Frequency | Seats | ASKs |
| | 2.1% | 4.3% | 3.0% |
| | 0.1% | -1.7% | -1.6% |
| | 5.8% | 3.5% | 4.3% |
| | 21.3% | 21.3% | 27.7% |
Virgin Australia's figure includes Skywest but excludes Tigerair. In Aug-2013 Virgin Australia phased out Skywest's XR code, leading schedules to be integrated within the VA network. We have included Skywest's separate XR operation in Virgin's 2013 capacity figures. Skywest's schedule is fully under the VA code for 2014. Virgin is still building up group coordination with Tigerair.
See related report: Virgin Australia moves to integrate Skywest and challenge Qantas' regional domination
Tigerair expands by 28%, but from a low base
Tigerair is the growing the most, increasing its operation by nearly a quarter. But this is from a small base: Tigerair's growth will have it increase from approximately 60 flights a day to 72 in 1QFY2015.
Tigerair's largest increase will be between Melbourne and Brisbane, with the carrier growing from about 2.9 daily flights to 4.4, still giving Tigerair a minority position but catching up to Jetstar's capacity.
Melbourne Tullamarine Airport to Brisbane Airport (seats per week, one way): 19-Sep-2011 to 7-Dec-2014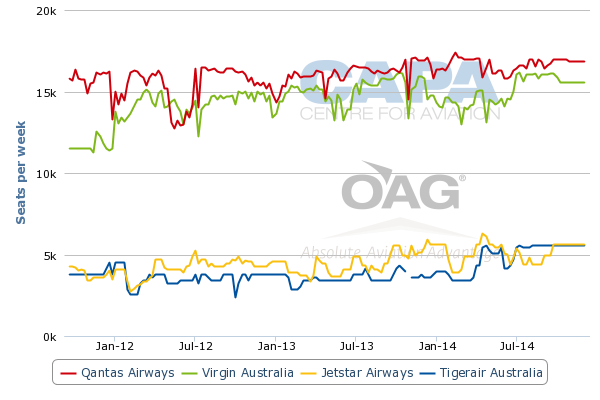 Other notable (but much smaller) Tigerair increases are between Adelaide and Melbourne, and Gold Coast and Sydney.
There are route exits (Melbourne/Sydney-Alice Springs and Melbourne-Sunshine Coast) as well as decreases, such as Coffs Harbour-Sydney, which Tigerair entered in a challenge to Virgin and Qantas (before Tigerair's acquisition).
Coffs Harbour Airport to Sydney Kingsford Smith Airport (seats per week, one way): 19-Sep-2011 to 7-Dec-2014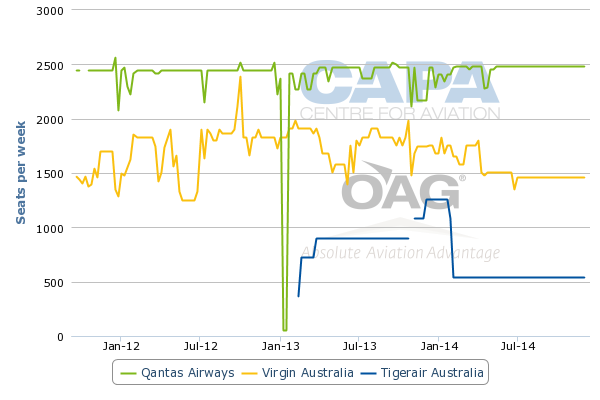 Georgia, 'Times New Roman', Times, serif;">Source: CAPA - Centre for Aviation and OAG
Intra-Western Australia capacity will decrease by 10%
Two Qantas Group markets are scheduled to have ASKs decrease by 10%: intra-Western Australia and Western Australia to New South Wales. Victoria-Western Australia ASKs will decrease by approximately 8%. Western Australia-Queensland, Victoria-New South Wales and intra-Queensland ASKs will decrease by about 1%.
Qantas Group ASK changes in top markets: 1QFY2015 vs 1QFY2014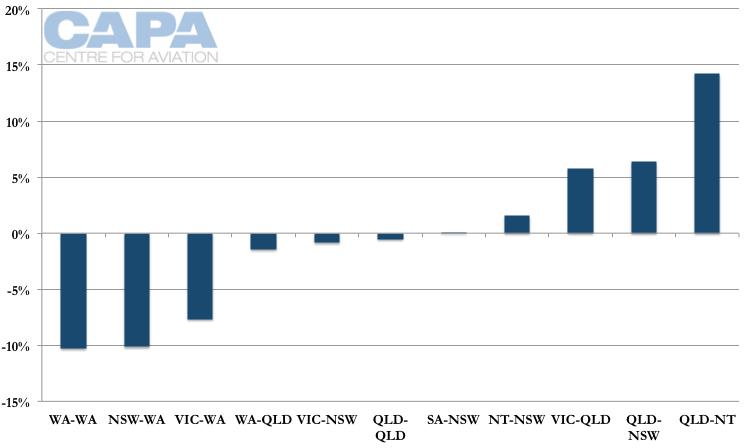 It is unsurprising Western Australia is leading in capacity decreases. As CAPA previously wrote, services are dependent on business traffic, which has decreased as the resource sector has lost impetus. Given the smaller populations and longer distance (leading to higher fares), it was exceptionally difficult to stimulate traffic using pricing strategies. This is unlike east coast routes that are relatively short and connect major population centres, providing a larger pool of discretionary travellers for the airlines to stimulate.
See related report: Airline overcapacity is concentrated in Western Australia. Can Qantas and Virgin recalibrate?
Qantas in Jul-2014 is suspending three services from Karratha in Western Australia: Karratha to Brisbane, Melbourne and Sydney, all operated by 737s. Qantas cited "softness in the resources sector" to the ABC, with load factors under 50%. Qantas previously announced plans to cancel Kalgoorlie-Adelaide, also due to weak demand in the resource sector.
Queensland is leading in growth
The capacity focus is shifting east from Western Australia to Queensland. Three Queensland markets ASKs will grow over 5% from the Qantas Group: Victoria-Queensland, New South Wales-Queensland and Queensland to Northern Territory.
Queensland to Northern Territory ASKs will increase by 14%, led by the growing resource boom there.
Australia's top 10 routes will grow by 2.7%
Australia's top 10 domestic routes will on average experience a 2.7% increase in ASKs. Three of the top 10 routes will see decreases: Melbourne-Perth, Melbourne-Sydney and Brisbane-Cairns. Melbourne-Perth in recent years has experienced large growth, and now some of that is being scaled back.
Some routes will experience large increases, such as 10.7% for Melbourne-Gold Coast and 10.5% growth for Brisbane-Perth. Jetstar and Virgin on the route will grow by less than 2% while Qantas records 18% growth. Frequencies are remaining flat but capacity is increasing as Qantas replaces 767-300s with larger-capacity A330s. Qantas is not replacing 767 services with A330s on a one-for-one basis as 737s will operate more frequently between Brisbane and Perth. This affirms that Qantas continues to face the challenge of how to serve long-distance markets (which require a more premium product) with high frequency but without large capacity widebody aircraft.
Other growth highlights include 8.0% growth between Melbourne and Brisbane, 6.5% growth between Brisbane and Sydney and 6% for Adelaide-Sydney. These growth levels are likely too high for the market to sustainably absorb, indicating there will be continued pressure between the Qantas and Virgin groups.
Year-on-year ASK change in Australia's top 10 city-pairs ranked on 2014 capacity: Jul-2014 to Sep-2014
| | | |
| --- | --- | --- |
| 2014 Rank | City-Pair | YOY Change |
| 1 | Melbourne-Perth | -4.5% |
| 2 | | 1.0% |
| 3 | Melbourne-Sydney | -0.5% |
| 4 | Melbourne-Brisbane | 8.0% |
| 5 | | 10.5% |
| 6 | | 6.5% |
| 7 | Melbourne-Gold Coast | 10.7% |
| 8 | | 6.0% |
| 9 | | 2.2% |
| 10 | | -3.4% |
Aircraft changes impact capacity: fewer widebody services, more 717 services
Qantas mainline frequencies will be flat in 1QFY2015 compared to 1QFY2014. But as Qantas reduces Western Australia capacity in favour of shorter routes, its use of aircraft types will also change. Widebody A330 and 767s accounted for 12.4% of frequencies in 1QFY2014 but this will decrease to 11.0% in 1QFY2015. There will be growth in A330 frequencies and decreases in 767 frequencies due to the A330's replacement of the 767.
QantasLink's Dash 8 becomes the most common fleet type, surpassing the 737. The number of 737 flights will be impacted by the type replacing widebodies, including on medium-haul routes.
Qantas aircraft type share in the domestic market: Jul-2013 to Sep-2013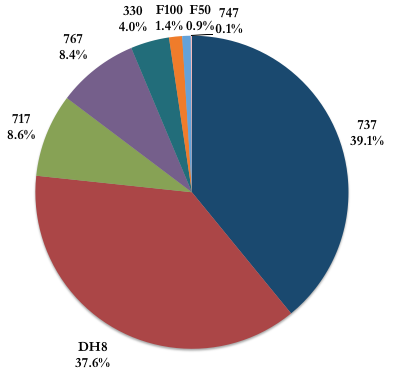 Qantas aircraft type share in the domestic market: Jul-2014 to Sep-2014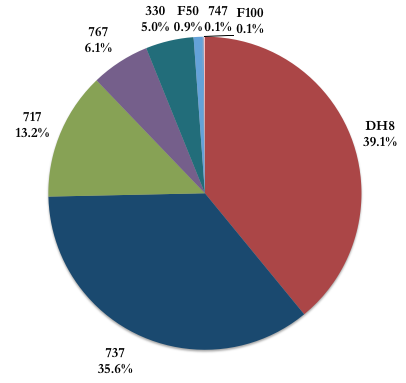 Outlook: adjustments are sensible but more are needed
Australia is the world's sixth largest domestic market, but certainly delivers more excitement than many larger markets, as well as enjoying potentially one of the most lucrative duopolies. It has in the past generated greater profits, with Qantas in times past generating AUD1 billion or more - from a population of approximately 20 million people. Those profits of course in recent times have been adjusted by a few decimal places at Qantas while Virgin Australia has red ink.
The capacity war is not over. Positive adjustments – arguably initial adjustments – are being made. But there is more to do before sustainability returns. For one thing, the negative impact on business and consumer confidence of draconian budget plans is undermining travel plans and does not look as if it will quickly go away.
As Qantas and Virgin eye handsome profits once again, they do so in a markedly different environment. Virgin is full-service but with its own low-cost brand, while Qantas seeks efficiency to reduce the size of its gap with Virgin.
Capacity plans will apparently continue to be influenced heavily by strategic goals, while - at least in the near term - soft demand is also complicating the planning process.