Qantas responds to deterioration: cuts 5,000 jobs & 50 aircraft – but changes are overdue
Analysis
A surge of domestic and international capacity have largely contributed to Qantas' underlying PBT loss of AUD252 million in the first half, traditionally the stronger period. With 5,000 full-time jobs to be eliminated and 50 aircraft to be cut or deferred, it is a larger restructure than previous momentous changes, but the conditions are not just heightened but, according to CEO Alan Joyce, the worst the company has seen in its history.
The conditions have also galvanised Qantas to make over-due changes. After bringing needed efficiency to its front line employees, Qantas was left with a bloated back office. Overall, Qantas staff are paid more than at Virgin Australia but are less productive.
There are capacity adjustments and a single route cancellation (Singapore-Perth) to the international network, which are needed. A380s will be deferred – again – but it has become difficult to eventually see a home for them. Likewise for Jetstar's last three 787s that it will defer; Jetstar is focusing on short-haul flying, wise as more efficient long-haul LCC capacity ramps up. Jetstar remains in tact – including growth at Jetstar Japan and continuing to work to launch Jetstar Hong Kong.
The Qantas Loyalty programme remains part of the group, overall smart moves that Mr Joyce will no doubt be heckled by his unions (and some investors) for. Qantas will receive AUD112 million from an agreement with Brisbane airport, while in coming days Qantas is expected to have its debt guaranteed by the government.
The changes are part of measures to take AUD2 billion out of Qantas' cost base by FY2017.
See related reports:
Qantas Domestic, once the heart and soul of the group, sees profit go down to only AUD57 million
Qantas Domestic managed to eke out an AUD57 million profit, down from AUD218 million in 1H2013. Capacity has increased while load factors have decreased.
Qantas Airways monthly available seat kilometres (Domestic): 2011-2013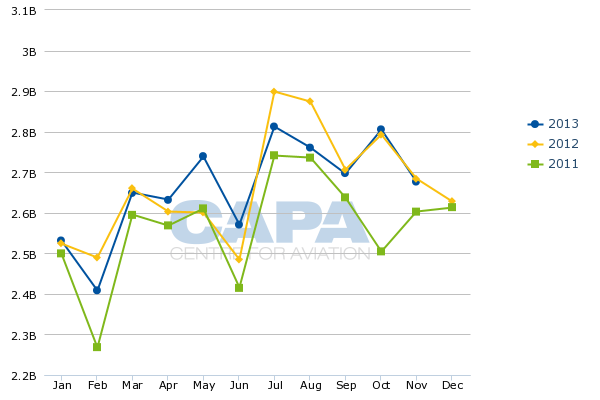 Qantas Airways monthly passenger load factor (Domestic): 2011-2013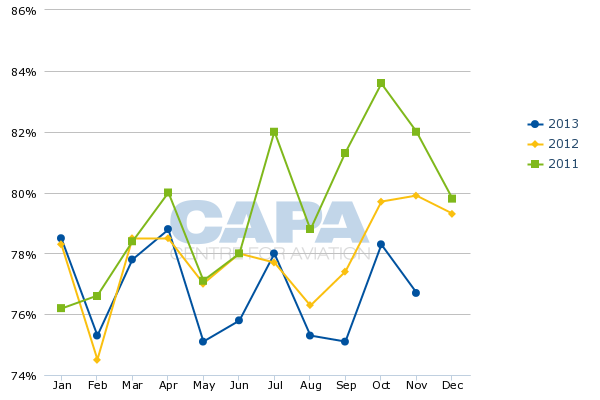 Qantas Airways revenue down 4% – financial highlights for six months ended 31-Dec-2013:
*Based on the average conversion rate at USD1 = AUD1.0856
5,000 jobs to be cut
Reduced flying and changes to maintenance operations will produce a surplus of positions that Qantas will cut, in addition to needed cuts in the back office. The cuts will see Qantas trim its workforce from over 32,000 to 27,000 – a reduction of 15%. Qantas outlined the sources of job cuts as follows:
Reduction of management and non-operational roles by 1,500.
Operational positions affected by fleet and network changes.
Restructure of line maintenance operations.
The closure of Avalon maintenance base, as previously announced.
Restructure of catering facilities including the closure of Adelaide catering, as previously announced.
In addition, wage freezes for executives and reduced board member fees will continue, and no pay rises or bonuses will be "contemplated", Qantas says, until it records a full-year underlying PBT profit.
These are as financially practical as they are to keep unions and boisterous commentators from saying employees, not management, bear the grunt of changes. Qantas notes Mr Joyce's take-home compensation decreases by 36% – but no doubt others will say that is not enough.
2,000 of the cuts - some of them already in the pipeline - will be made by 30-Jun-2014 and another 2,000 in the 2015 financial year.
Over 50 aircraft to be cancelled or deferred – but many already announced
Qantas has also announced plans to cancel or defer over 50 aircraft, but many of these have already been announced. They are as follows:
All six of Qantas International's non-reconfigured B747s will be retired ahead of schedule, by the second half of FY16. Nine reconfigured B747s with A380-standard interiors will remain.
Qantas' final two B737-400s have been retired this month and all B767s will be retired by the third quarter of FY15, resulting in cost and passenger benefits from fleet simplification.
Qantas International's eight remaining A380 orders will be deferred, with an ongoing review of delivery dates to meet potential future requirements. Schedule changes will allow maximum use of Qantas' current 12 A380s.
Qantas says this reduces its capital expenditure by AUD1 billion, leaving it with only AUD800 million. Deferment – or ultimately reduction – in Jetstar long-haul aircraft is unsurprising as Jetstar was already cutting long-haul routes while its remaining long-haul markets have increasingly become competitive with more capacity influx, mainly by AirAsia X.
See related reports:
Aircraft finally move back into the international network
Qantas in recent years pulled aircraft out of the international market to fight a domestic capacity war with Virgin. A330-200s will return to international, initially to replace ageing 747-400s, delivering better costs, reducing capacity, and giving a better product. Qantas previously announced plans to re-fresh its main A330-300 international fleet, including new business class seats.
The reduction in capacity is needed as the Asia-Australia market has reached over-capacity and Qantas is at a network and cost disadvantage.
See related reports:
Only one international route will so far be cut: Singapore-Perth, which has already been reduced from two daily to one daily and saw competition from Tigerair and more recently Scoot. Qantas' Jetstar brand serves the Singapore-Perth route and seems better positioned to do so sustainably.
Perth Airport to Singapore Changi Airport (seats per week, one way, 19-Sep-2011 to 17-Aug-2014)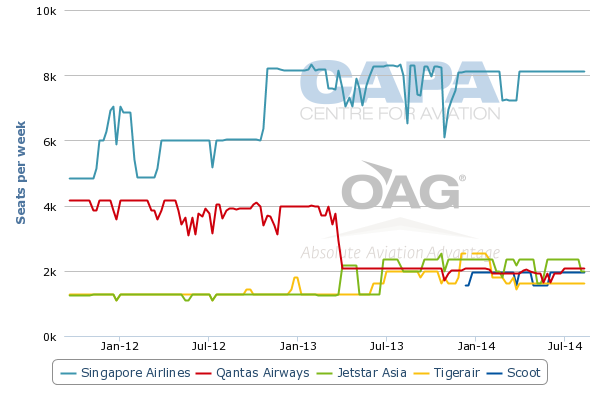 Qantas International saw its loss grow from AUD91 million in 1H2013 to AUD262 million in 1H2014. This challenges Qantas' plan for near-future international break-even.
See related report: Qantas in a changing world: quantifies refocused international strategy and limits capital exposure
Growth at Jetstar Asia suspended – formally. Jetstar Asia had been making cuts
Qantas Group will continue its Jetstar presence in Asia, including its venture in Japan, Jetstar Japan, and work towards launching Jetstar Hong Kong while finally growing Jetstar Pacific after an embattled launch. But Mr Joyce announced suspension of growth at Singapore-based Jetstar Asia. This is a formal announcement; Jetstar Asia has been cutting capacity as a result of over-capacity in Singapore, largely attributable to Tigerair growing Singapore since its other ventures were faltering. There is no immediate sign of a remarkable turnaround in the Singapore market.
See related report: Tigerair cements position as Singapore's largest low-cost group, overtaking Jetstar & AirAsia
Jetstar Asia monthly available seat kilometres: 2011-2013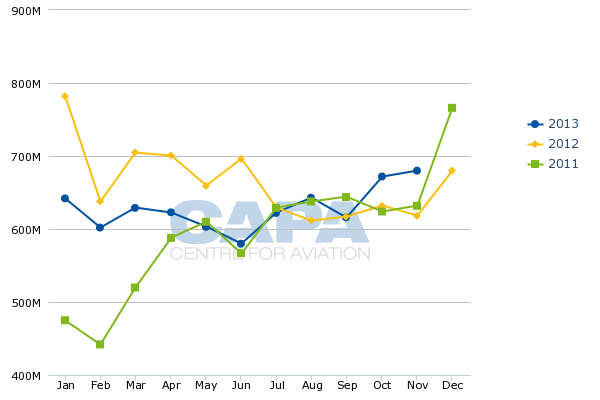 Outlook: unpopular but necessary changes, and probably more to come
Mr Joyce was bound to be unpopular (more so than he already is in certain quarters), and said so himself, but he has taken brave decisions few predecessors have. He is working to take the legacy out of Qantas that built up over years.
He has resisted quick-cash propositions from the market, such as selling the valuable frequent flyer programme. He remains committed to the long-term potential of Jetstar, which has shown its value in Australia but is still wobbly in Asia. However, Qantas International as it was has a structural disadvantage without the clear long-term prospects of Jetstar.
While Qantas needs to make these changes, it also needs to show the Australian government it is working towards a sustainable future and will not take the government's likely debt guarantee without making concessions. Changes to the Qantas Sales Act could give Qantas access to foreign capital – but from whom remains speculation; Emirates has said it is not interested. More symbolically, the unshackling of Qantas will bring it out of the half-way house of being a private company but having expectations put on it by the government.
A more clear-cut relationship will allow Qantas to act more independently. That could very well mean more changes to staff and routes. But with that comes the sustainability Qantas and Mr Joyce have continuously sought and have had to revise as conditions in Australia see drastic change. There is much criticism placed on Qantas for being in its position, but much of that is the result of increased competition that consumers have benefitted from and continue to clamour for. They, like the government, cannot have it both ways.