Korea's Jeju Air signals it must change from hybrid to pure LCC model as it seeks partnerships
Analysis
Change may finally be coming to South Korea's low-cost carrier scene. Once the home of innovation and the only notable examples of LCCs in North Asia, the numerous LCCs stagnated under a "Korea-style" LCC model that reduced some costs, making them lower-cost than the full-service legacy incumbents, but far from being internationally competitive. There were bouts of unprofitability and plenty of unexploited opportunities for expansion.
Independent Jeju Air, Korea's third-oldest carrier (now eight years old) and first LCC, is more acutely aware than its mainline subsidiary LCCs of the changing dynamics in North Asia and is looking to respond.
Japanese low-cost carriers as well as those from Southeast Asia have a growing presence in Korea, and the Korean market is increasingly warming to them. With a new CEO, Jeju Air is looking to move away from its hybrid model to further reduce costs, and is also open to partnerships and alliances. If Jeju is able to achieve these goals, Korea's other LCCs will be pressed to respond – creating a very dynamic North Asia LCC scene.
LCCs are increasing presence in Korea, helping – and forcing – Jeju to change
The change at Jeju is being driven by the arrival of foreign LCCs with notably low cost bases and what might be termed a more "pure" LCC model with acute attention to cost savings and for example by charging for luggage and food and beverage, which Jeju gives for free. The foreign LCCs also have a much stronger online distribution.
Despite its edge on its North Asian neighbours, Korea's exposure to LCCs has been limited. Jeju launched in Jun-2006 and was followed by carriers including Air Busan, Eastar Jet, Jin Air and t'way. All have adopted the similar "Korean-style" LCC model of not charging for luggage, meals or seat assignments.
Foreign LCCs came in the form of Cebu Pacific from the Philippines (although this traffic was heavy on Philippines-originating passengers), as well as AirAsia X, linking Seoul Incheon to Kuala Lumpur with connections available across the AirAsia Group network.
South Korea weekly international seat capacity by LCC: 25-Mar-2013 to 31-Mar-2013
The market was fundamentally changed with Peach Aviation's launch in Japan and subsequent establishment of international operations from Osaka Kansai to Seoul Incheon, which Peach in Mar-2013 serves three times a day. Peach's low fares facilitated travel between the two cities – a mere two hours apart – at prices the market had not seen before. Fares were sufficiently low, Peach targeted day-trippers looking to shop in Seoul, a concept that would have been seen as unimaginable a mere year earlier.
AirAsia Japan, which launched after Peach, also made Korea its first international market, opening a daily Tokyo Narita-Seoul Incheon and Tokyo Narita-Busan service. Its forthcoming Nagoya base will see some domestic services but also a Nagoya-Seoul Incheon service. Jetstar Japan, which launched between Peach and AirAsia Japan, is building up its domestic market (with admirable scale) before moving into international markets, but has flagged Korea as being too big for it.
These have not been welcome developments for Korea's LCCs. Not only do the foreign carriers have lower costs – and sustainably lower fares – they have big names and considerable weight behind them.
And on 21-Mar-2013 Scoot, the long-haul LCC of Singapore Airlines, announced it would commence three times weekly Singapore-Taipei-Seoul Incheon service, adding another big name to the Korean market, as well as capacity: Scoot's 777-200s seat just over 400 passengers.
Korea has an exceptionally limited domestic market: 76% of seat capacity is in international markets. High-speed rail, the KTX, covers most routes on the Korean peninsula while the main domestic flights are to the island resort of Jeju, which is not served by the KTX. Jeju routes are the bread and butter domestic services for Korea's LCCs, with the exception of Air Busan operating between Seoul and Busan, a loss-making service but one that loses less money than when operated by Asiana, Air Busan's part-owner. Korean LCCs must therefore look to international markets for their expansion opportunities, whereas in neighboring countries – China and Japan – they can take a backseat to domestic growth.
Jeju predicated seizing momentum for change on the Korean market being willing to accept it.
Jeju's business plan covering 2013-2015 takes the view the market is ready for change and Jeju will respond. But these foreign LCCs are also a blessing for Korea's LCCs. They have previously shied away from innovation, which could be attributed to a number of elements: not wanting to move ahead of the market and upset their standards (polluting their brands or losing "face"), or simply lacking the capability to innovate. The result had been a quiet defence of the "Korean-style" LCC approach. But following the appointment of a well-accredited businessman Choi Kyu Nam as Jeju's CEO in the second half of 2012, the dialogue shifted to one acknowledging the current model was not suitable and change was needed.
See related articles:
Now Jeju targets a LCC model more strictly focused on costs
Jeju, beginning in 2013 says it will boost ancillary sales, promote more direct bookings and look to form partnerships and alliances. While specifics are not yet forthcoming, free luggage, meals and drinks as well as no booking charge may instead become revenue centres.
Jeju notes it has already made efficiency gains by having a single fleet (737-800s), operating it in a dense all-economy layout, having a high utilisation rate and focusing on point-to-point traffic. IT investment will help make possible future changes.
Jeju is in a strong position in Korea: it is not tied to the strategy of a full-service parent the way Air Busan is to Asiana or Jin Air to Korean Air. Those two LCCs are unable to take full advantage of growth opportunities as doing so is perceived to put too much pressure on the full-service carrier.
Jeju is the largest Korean LCC and has the largest market share in the domestic and international markets. Its average load factor is 84.9%. It boasts a brand featuring quirky but well-received in-flight activities as well as branding initiatives, including a partnership with Korean "K Pop" artists Korean Wave.
Jeju Air share of domestic and international LCC markets: 2012
In 2012 LCCs accounted for 28% of the domestic market and 7.5% of the international market, but this increases to over 15% when considering only routes within narrowbody range.
Jeju in Jan-2013 announced it had carried 10 million domestic passengers in the six years and seven months since the carrier launched operations in Jun-2006.
Jeju Air domestic route passenger traffic: through Jan-2013
By route:
o Seoul Gimpo-Jeju: 6.6 million;
o Busan-Jeju: 2.5 million;
Growth has not had a close correlation to profitability. Jeju was profitable in 2011 but 2012 saw sharp drops in profits.
Jeju Air financial performance
Three months ended Sep-2012:

Sales: KRW93.6 billion (USD86.2 million), +18.9% year-on-year;
Operating profit: KRW4.4 billion (USD4.1 million), -65.9%.

Nine months ended Sep-2012:

Operating profit: KRW5 billion (USD4.6 million), -66%.
*Based on the conversion rate at USD1 = KRW1086
Further expansion planned around key Japan and China markets
Although Korea has not embarked on the stunning liberalisation path of nearby Japan, it does have a number of open skies arrangements around Southeast Asia as well as with Japan, Hong Kong (from 27-Oct-2013) and the Hainan and Shandong provinces of mainland China, which has resulted in significant growth between Korea and Shandong province (a major tourist area).
Jeju Air international scheduled seat capacity by region: 25-Mar-2013 to 31-Mar-2013
Japan and China especially will drive Jeju's growth. Its network plan for 2015 calls for service to about 13 mainland Chinese cities and five Japanese cities. Some of these will be facilitated by converting charter services to scheduled flights, while other cities will be entirely new destinations.
Jeju 2015 network plan: as of Feb-2013
Jeju Air received permission to serve Jeju-Nanchang, in southeast China (but not necessarily part of its stated 2015 route network), from 20-Mar-2013. Nanchang as well as a twice-weekly Jeju-Fuzhou service (effective 25-Jan-2013) are two of the three or four Chinese cities Jeju plans to open in 2013. Jeju has flagged resuming its Jeju-Wenzhou service, which it operated for four months from Aug-2012. Many Chinese services are operated as charters, given bilateral restrictions and the two nations not yet reaching a full open skies agreement.
At the tail end of 2012 Jeju Air launched Seoul Incheon-Taiyuan 04-Dec-2012 and twice weekly Jeju-Ningbo service on 11-Dec-2012.
Jeju's North Asian presence will be rounded off by services to Hong Kong and Macau, which it already serves (three times weekly Busan-Hong Kong services were resumed on 16-Dec-2012), and Taipei. Jeju also intends to have services to the tropical getaways of Guam and Saipan.
Jeju no doubt can see the weight of mainland Chinese carriers, but they are so far concentrating their growth within the domestic market, giving Jeju an advantage for now. While Chinese carriers offer the potential of an exceptionally low cost base, they tend to be inefficient, giving some relief to Jeju. Spring, China's most aggressively low-cost operator, has so far focused most of its international attention on Japan. Korean carriers offer a potential lower cost base than Japanese peers if they can take costs out of their business.
Some expansion to Southeast Asia, too – and AirAsia X's new base is coming
Jeju will have a lighter presence in Southeast Asia – a reflection of part of the region being limited by Jeju's narrowbody range – but with destinations including Manila in the Philippines, Hanoi and Ho Chi Minh in Vietnam, Siem Reap in Cambodia and Bangkok in Thailand. Jeju launched daily Seoul Incheon-Cebu service on 21-Nov-2012.
Jeju Air cancelled Seoul-Ho Chi Minh from 01-Mar-2013 but will likely re-evaluate the fast-growing market later.
Southeast Asia may become more competitive soon with AirAsia X reportedly looking to establish a base in Bangkok by the end of 2013 with one initial route being to Seoul. With the local Thai AirAsia operation in Bangkok, this could create a significant avenue for further Southeast Asia-Korea traffic, especially since Bangkok – being more north than Kuala Lumpur – could facilitate more convenient and less circuitous connections, which also could bring prices down.
Jeju Air top 10 international scheduled routes ranked on seat capacity: 25-Mar-2013 to 31-Mar-2013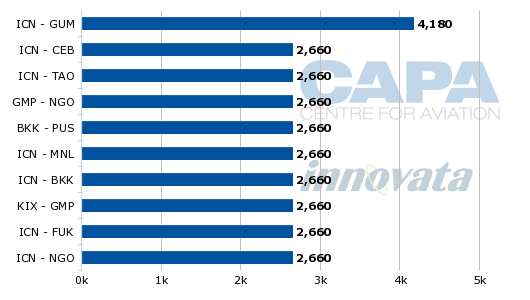 Jeju also plans to increase Seoul Incheon-Bangkok Suvarnabhumi frequency from nine to 14 times weekly from 31-Mar-2013 to 30-Apr-2013. Korean Air, Thai Airways, Asiana Airlines, Business Air, t'way, Jin Air and Eastar Jet also operate on the route, with t'way also operating Seoul Incheon-Bangkok Don Mueang service, according to Innovata. Jeju has said it may consider further expansion of its Thailand operation via a partnership, possibly codeshare, with an undisclosed local LCC, and could also launch a third route between Thailand and Korea, possibly Seoul Incheon-Chiang Mai to be launched by Nov-2013.
Jeju plans to serve most cities from Seoul, but some from Busan as well: Bangkok, Fuzhou, Guam, Hong Kong, Nagoya, Osaka and Saipan. Jeju has not given frequency projections but in Sep-2012 expected two 737-800s to join in mid-2013, adding to its fleet of 12 737-800s. In early 2013 Jeju said its goal for 2015 is to have USD650 million of annual revenue. Jeju reported 1H2012 revenue as being KRW155,900 million (USD136.9 million) with 3Q2012 adding KRW93.6 billion (USD86.2 million). Jeju forecast second half revenue to reach KRW198,000 million (USD173.8 million) for a total annual revenue of KRW350,000 million (USD307.3 million) in 2012, which the carrier has not yet fully reported.
Based on current projections, Jeju will need to double its 2012 revenues by the end of 2015. Jeju aims for KRW480 billion (USD439 million) revenue in 2013, a 40% year-on-year increase from 2012 estimates, and a KRW17 billion (USD15.5 million) operating profit. Passenger projections for 2013 are 4.95 million, up from 3.82 million in 2012.
Jeju Air schedule: northern winter 2012/2013
Jeju Air schedule: northern summer 2013
2015 now becomes a target for IPO
While Jeju had been considering 2014 for an IPO to fund future fleet growth, this has now been pushed back to 2015, while it readies itself for a new environment. Jeju projects a profit in 2012 and 2013, which combined with its 2011 profit, will give it three consecutive years of profit, a listing prerequisite. Aekyung Group, a Korean industrial conglomerate that holds 82% of Jeju, will look to sell part of its stake.
The group has reportedly injected USD100 million into Jeju in recent years.
Can Jeju Air deliver on goals – and force change amongst Korean peers?
If Jeju is able to transition from its "Korea-style" hybrid model to a more globally familiar LCC model – a move more dependent on Jeju having the change capability rather than the market accepting change – its peers must surely follow.
As the short-haul low-cost market inevitably blossoms, to Japan, to China and beyond, that will create a more sustainable industry, lead to higher growth and establish a basis of better home grown competition within North Asia – giving the Korean LCC market the shakeup it needs. For independent Jeju this may be a harder call than for its well-supported low-cost competition from Jin Air and Air Busan. It will also probably rely on achieving significant partnerships – for example through codeshares, requiring some hybridisation of its model – or finding a cornerstone partner with complementary goals.
Jeju is sitting on a potential mountain of opportunity as the Northeast Asian short-haul market opens up. Getting its operational and strategic positioning right in 2013 will be critical in deciding whether it is able to exploit the openings.