Kenya Airways profit down, but moving ahead with plan to serve six new Chinese destinations
Analysis
Kenya Airways remained profitable for the six months ended Sep-2011, despite high oil prices and the European economic climate, due to strong passenger demand and its continuing route expansion. The East African carrier plans to continue with its aggressive expansion plans, aiming to begin additional services to major trading partners China and India in the near future. Kenya Airways' board of directors approved the carrier's planned rights issue in the period, which will fund the planned route and fleet expansion. The board also approved the doubling of the carrier's share capital to KES300 billion (USD3.0 billion) ahead of the cash call.
Kenya Airways has remained tight-lipped about its LCC subsidiary Jambo Jet's progress, only revealing it will operate all, and possibly more, of its parent's East African routes. If this is the case, Kenya and East Africa's domestic and regional capacity share will be given a major shake-up as a LCC will become one of the region's largest carriers.
Operating profit down nearly 60%
Kenya Airways reported an operating profit of USD10.5 million in 1HFY2011, which is down 57.2% from last year's figure. Its operating costs increased 38.8% to USD555.8 million, however, these were kept partly at bay through fuel hedging that offset the costs due to the Kenya shilling's depreciation against the US dollar.
Kenya Airways operating profit margin: 1HFY2009 to 1HFY2012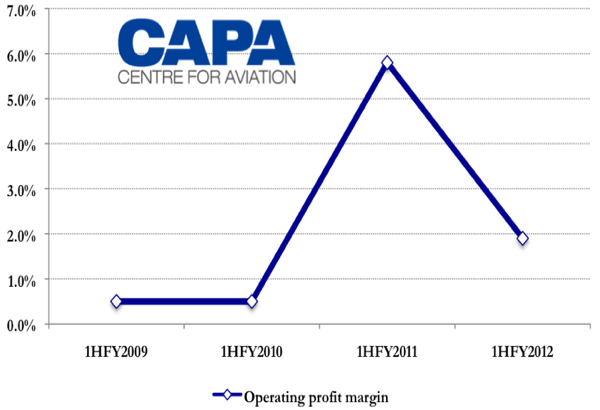 For the period, Kenya Airways reported a 13.2% increase in passenger capacity (ASKs) and a 17.9% increase in passenger traffic (RPKs). Passenger yields including fuel surcharge rose slightly by 0.9%, while cargo volume surged 16.5% from 1HFY2010's levels. The carrier's top international route by ASKs is Nairobi-London, followed by Nairobi-Bangkok Suvarnabhumi.
Kenya Airways top 10 international routes by ASKs: 07-Nov-2011 to 13-Nov-2011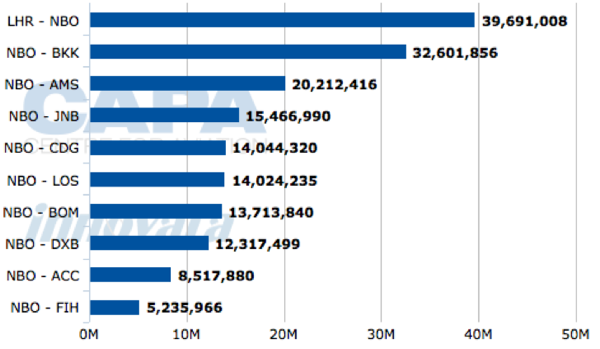 3Q2011 passenger traffic surges
Passenger traffic for Kenya Airways was up on both its international and domestic networks. The carrier transported one million passengers in the period, an increase of 18.2% from the same period last year. Passengers from Europe, the Middle East/Far East/India, within Africa and within Kenya all increased by between 11% and 42%, with domestic traffic seeing the biggest increase thanks to the introduction of the Nairobi-Mombasa route (known as the "Mombasa Shuttle"), which averaged 10 services per day and reintroduced service to Malindi in the southeast.
Passenger load factor increased 5.1 ppts overall with the most significant increase coming from within Africa (7.3 ppts). During the period, Kenya Airways launched two new services to N'Djamena (Chad) and Ouagadougou (Burkina Faso), which contributed to the traffic increases. The Naiobi-N'Djamena service operates twice weekly and aims to connect the land-locked country to markets such as Dubai, China and the Far East. The Nairobi-Ouagadougou service operates twice weekly with B737-700 equipment.
Cargo volume rose to 16,021 tonnes for the period, an increase of 135%. Kenya Airways plans to launch a dedicated freighter business with a focus on West Africa and Asia routes "shortly" but until then, will continue to use belly space on passenger aircraft. In the long-term, the carrier expects its freight service to contribute 20% of total revenue.
Kenya Airways' 10-year plan includes more services to major trading partners China and India
Kenya Airways plans to move forward with its 10-year plan, which starts from this financial year and runs until 2020/21, includes the roll out of new destinations covering six continents as well as a fleet acquisition plan. The carrier plans to open six new destinations in China and five in India – a further reinforcement of Kenya's second and third largest trading partners. It currently operates to Guangzhou in mainland China, Mumbai in India, and Hong Kong in East Asia.
Kenya Airways route map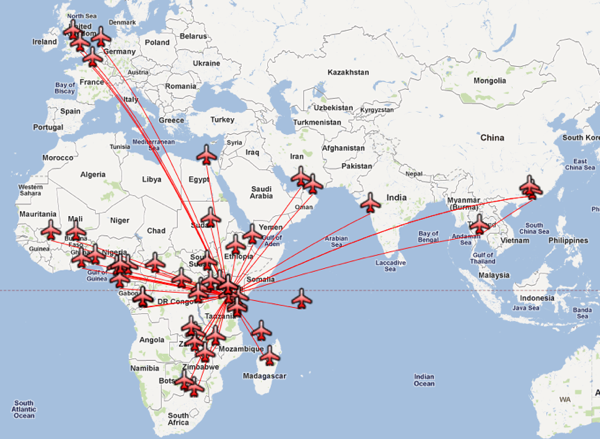 So far the carrier has announced plans to acquire 21 new aircraft, including nine B787-8s, two B777-300ERs and 10 E-190s. It put three of its current four E-190s into operation between May-2011 and Sep-2011. The contract for the E-190s, reportedly worth USD428 million, was finalised on 30-Aug-2011 following the signing of a letter of intent during the 2011 Paris Air Show. The deal includes the supply of 10 jets and the rights for Kenya Airways to purchase an additional 16 with delivery from 2Q2012. The purchase rights will either be for E-190s or other members of the E-jet family. The carrier is likely to deploy some of the aircraft, which has a range of 2400 nm, to its planned LCC subsidiary, using them to open new routes in its sorely under-developed domestic network, as well as on short- and medium-haul routes.
Kenya Airways routes operated with E-190 aircraft
| Destination | Country | Region |
| --- | --- | --- |
| | | |
| | | |
| Gaborone | | |
| Harere | | |
| Juba | | |
| Kigali | | |
| | | |
| | | |
| | | |
| Mombasa | | |
| Yaounde | | West Africa |
Kenya Airways currently operates a fleet of 33 aircraft including B777-200ERs, B767-300ERs, B737-800s, B737-700s, B737-300s, E-170s and E-190s.
Kenya Airways fleet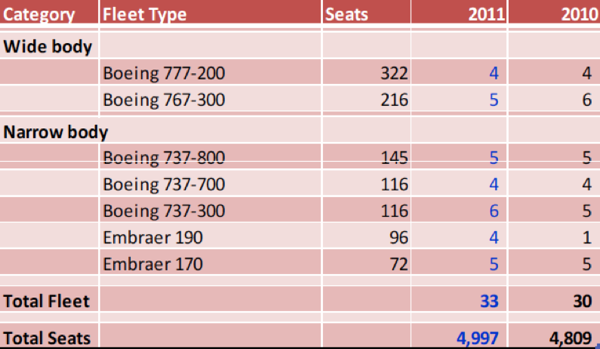 Kenya Airways has the fourth largest operating fleet in Africa, behind South African Airways (56), Royal Air Maroc (52) and Ethiopian Airlines (47).
Pilot shortage likely as expansion plans roll out
Kenya Airways CEO, Titus Naikuni, stated obtaining qualified pilots to operate its new order of E-190s would be the carrier's "greatest challenge" and the need for skilled pilots will become "acute" in the coming years. The carrier's staff headcount has been steadily rising, reaching a nine-year record in 2011. With its plans to double fleet size by 2016, estimates show the carrier may require an additional 300 pilots by this time. To combat the possibility of a pilot shortage, the carrier is currently recruiting expatriate pilots.
Kenya Airways historical employees and pilots headcount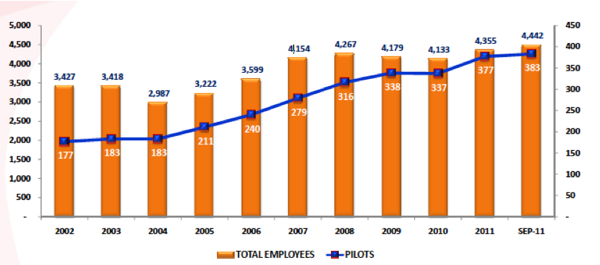 Kenya Airways' largest competitor and neighbour, Ethiopian Airlines, also recently revealed its 15-year expansion plan, which will also see the carrier undergo route expansion and fleet acquisition.
See related article: Ethiopian Airlines aims to become the largest carrier in Africa by 2025
Board approves rights issue and doubling of share capital

The first item to be implemented in the 10-year plan is a rights issue, which was recently approved by Kenya Airways' board of directors. The rights issue, where the carrier hopes to raise KES580 billion (USD5.8 billion), will form part of the initial fleet pre-delivery payments for the years 2013/14 and 2014/15 aircraft acquisitions. The number of allotted shares has not yet been announced, however, will be influenced by the rights issue price and the KES/USD exchange rate at the time of the offer.
The board approved the doubling of Kenya Airways' share capital from KES150 billion (USD1.5 billion) to KES300 billion (USD3.0 billion) ahead of the cash call. The carrier is still waiting on approval from the Capital Markets Authority before it discloses the exact amount it plans to raise from the rights issue and other details. The carrier suffered a small setback in Sep-2011 when the Kenyan Government cut more than half the funds it had allocated for the rights issue, to fund famine-relief efforts. Finance Minister, Uhuru Kenyatta, had set aside USD58.8 million to participate in the offer to avoid having its 23% stake diluted. The Government said it remains committed to the carrier and will process the payment at the end of the year in parts.
Contrary to an earlier note issued by Standard Investment Bank, the rights issue is unlikely to eventuate in Nov-2011. The carrier is now embarking on local and international investor road-shows and will not finalise issue details unless the market conditions are suitable.
Over in neighbouring Tanzania, Precision Air launched its rights issue in hopes of earning TZS27 billion (USD16.5 million). Precision's IPO got off to a slow start and interest has remained fairly local, which suggests Kenya Airways may wait to see how that rights issues pans out before setting a date for its own.
See related blog: Precision's IPO off to a slow start but hopes remain high
Will a LCC become one of East Africa's largest carriers?

Kenya Airways' LCC subsidiary, Jambo Jet, will be operational by Apr-2012. While few details have been released, Mr Naikuni has stated Jambo Jet will take over all Kenya Airways' East African routes, and possibly more as well.
Kenya's LCC market certainly has room for growth, as the model only accounts for 8.6% of the country's total capacity.
Kenya total capacity, seats per week, by carrier type: 07-Nov-2011 to 13-Nov-2011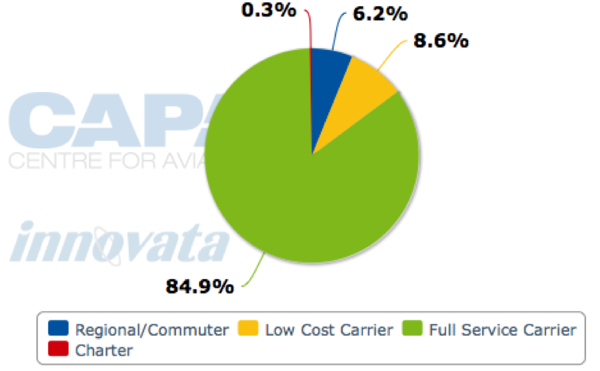 Pan-African carrier Fly540 provides all of Kenya's domestic LCC capacity, which accounts for 22% of the domestic market. Kenya Airways, on the other hand, has 56% of the domestic capacity share, meaning Jambo Jet could have instant access to the largest capacity share, should it also take over Kenya Airways' domestic network.
Kenya domestic capacity, seats per week, by carrier: 07-Nov-2011 to 13-Nov-2011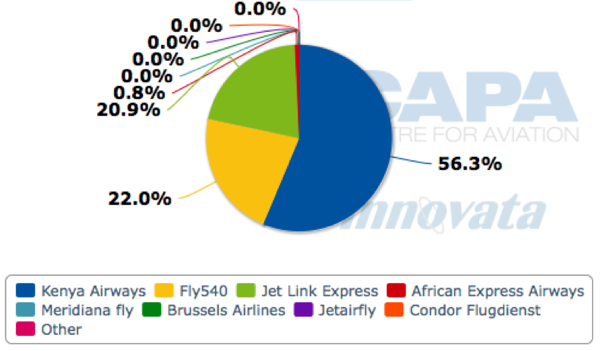 Regionally, Jambo Jet stands to gain 19% of the market share in East Africa, if it receives all of Kenya Airways' routes as planned. This would make Jambo Jet, a LCC, the third largest carrier in the market, which would be a significant boost for East Africa's current LCC capacity share of 4%.
See related article: Say "hello" to Jambo Jet: Kenya Airways' low cost subsidiary
East Africa domestic capacity, seats per week, by carrier: 07-Nov-2011 to 13-Nov-2011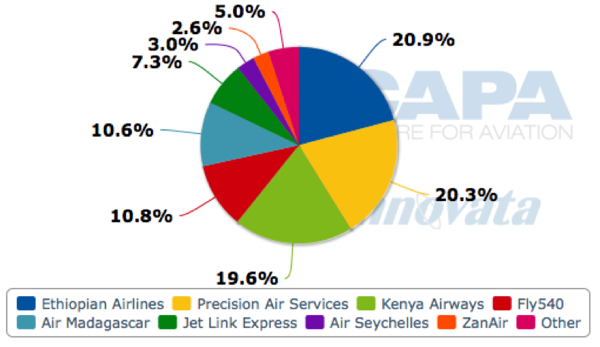 Kenya Airways needs to speed up its network expansion
Kenya Airways has been steadily rolling out its network expansion plans but may need to increase the speed if it wants to achieve its goal of serving every African capital by 2014. The carrier serves 33 of the 57* African countries, meaning it needs to launch at least 24 new routes within the next three years. Kenya Airways needs to launch around four new routes each half year to make this target. The service to Tripoli may miss the deadline as governmental talks were severely slowed by the civil unrest in Libya.
Even amid the cash-draining expansion agenda, Kenya Airways' financial outlook is promising. With good fuel hedging, the carrier will be able to minimise the impact of high fuel prices, though European economic woes and the further weakening of the Kenya shilling are twin concerns. The carrier's first B747F, which is slated for delivery in a matter of weeks, will be a much-needed boost to its cargo operations. Although cargo can be a volatile market, the addition of the carrier's first dedicated freighter is expected to significantly boost cargo revenues. The board expects the company's performance to improve in its full year results.