IAG seeks full ownership of LCC Vueling as its cuts Iberia to the bone
Analysis
International Airlines Group (IAG) is putting its Spanish house in order and will eliminate up to 4500 jobs at Iberia and downsize the fleet by 25 aircraft while planning a full takeover of the Barcelona El Prat-based LCC Vueling Airlines.
Iberia is on a downward rollercoaster and is burning EUR1.7 million cash per day with operating losses deepening in the first nine months of 2012 to EUR262 million owing to Spain's challenging recession, the unstoppable inroads of LCCs and the airline's high cost structure.
Iberia management was crystal clear in assessing the situation and warned that the airline is "in fight for survival" and tough decisions are needed now to save the company.
IAG's intent to make a formal takeover offer for the 54% of Vueling that it does not already own is part of the Group's remedy to help restructure Iberia's money bleeding short-haul operations and regain leadership in this segment. The LCC has managed to follow a steady and profitable growth path despite the Spanish economic slowdown, with a near doubling of net profit in 9M2012 to EUR41.3 million compared to the year-ago period. Vueling will bring a low-cost platform within IAG and give IAG geographic diversification as it has bases in Amsterdam, Toulouse, Rome Fiumicino and a noteworthy presence at Paris Orly Airport.
Vueling will bring geographic diversity and low-cost structure
IAG, formed by the merger of British Airways and Iberia in Jan-2011, on 08-Nov-2012 announced that it intends to make a formal takeover offer for the 54% of Vueling that it does not already own. The Group is offering EUR113 million in cash for the stake that is currently floated – or EUR7 per share. The offer will be formally launched to Vueling's shareholders in 1Q2013. If accepted, the deal is expected to complete in 2Q2013.
The transaction is not subject to regulatory approval by the European Commission (EC) because it cleared the merger of Clickair with Vueling in 2009 as a full Iberia subsidiary. The EC considered and cleared the 45% acquisition of Brussels Airlines parent SN Airholding by Lufthansa Group also as a complete takeover.
Vueling operated 59 narrowbodies in 3Q2012 and carried 5.2 million passengers, up 22.7% on the year-ago period, on a network spanning 54 scheduled passenger destinations across Spain, Europe, north Africa and the Middle East. Despite its double-digit growth rate and the extreme Spanish macro slowdown, the airline improved EBIT 12.2% year-over-year to EUR68.2 million in 3Q2012 (which represents a 16% EBIT margin over total revenues) and its operating profit jumped 79.6% to EUR54.5 million in the first nine months of 2012. Vueling expects to post a full-year operating profit above last year's level of EUR11 million. Its net cash position as of 30-Sep-2012 was EUR407 million.
Vueling's CEO Alex Cruz has a stubborn focus on operational efficiency and unit cost, and CASK excluding fuel decreased year-over-year 3% in 3Q2012 to EUR3.82 cents.
It is not difficult to see why IAG wants to acquire the LCC. Vueling will bring a low-cost platform, a profitable organisation, a leading market position at Barcelona Airport and a European growth strategy to the Group. The LCC recently announced a major network expansion for 2013, with 28 new routes from its main base at Barcelona Airport.
Vueling planned network for summer 2013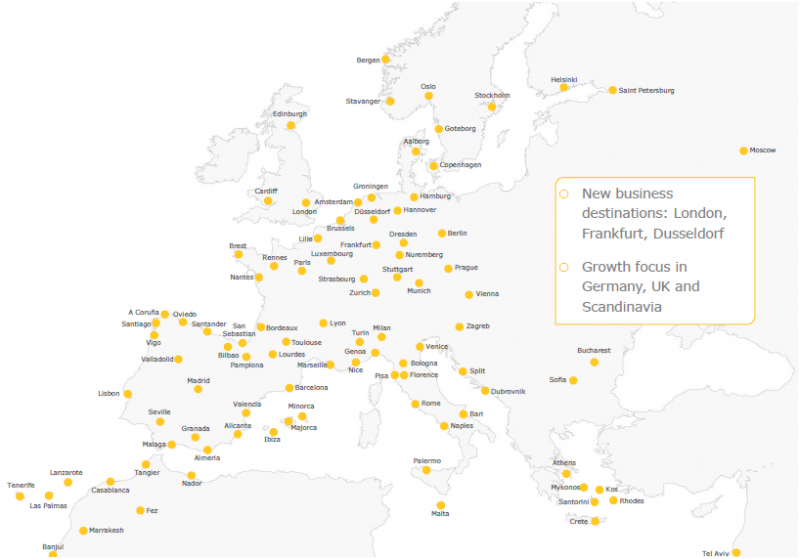 Vueling's all-A320 family aircraft fleet has a large commonality with the narrowbody fleet of Iberia, Iberia Express and BA and all Vueling flights carry the IB IATA code, so integration in IAG would be easy.
The LCC will operate as a separate operating company within IAG and its operations will not be merged with Iberia Express. Mr Walsh said he plans to retain the current Vueling management team.
Proposed new IAG airline structure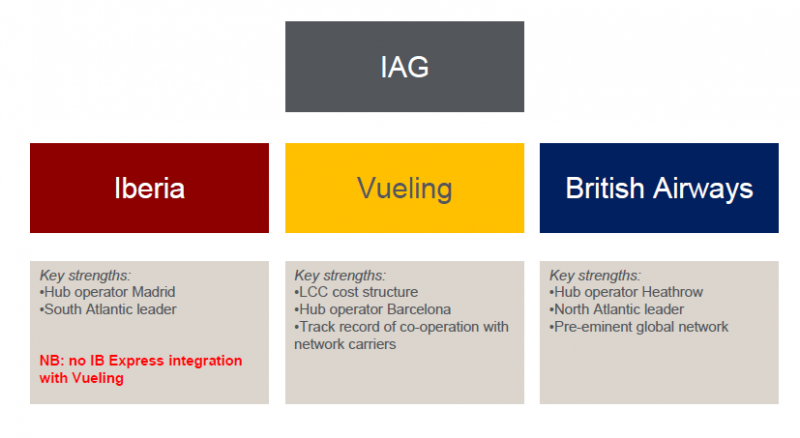 IAG's planned take-over of Vueling will allow Iberia to reposition itself as the leading airline in Spain, ahead of Ryanair which is currently the country's largest airline in terms of passenger numbers. Iberia will have two LCCs operating in Spain: Iberia Express, which has its base at Madrid Airprort and Vueling which has its main base at the country's second largest airport, Barcelona El Prat. Madrid is the third largest origin & destination market in Europe after London Heathrow and Paris Charles de Gaulle, with Barcelona the fourth largest.
Iberia and Vueling will have a dominant share of capacity in terms of seats in Spain. Based on schedules in Innovata for the week of 12-Nov-2012 to 18-Nov-2012, the pair has a near 55% capacity share of seats deployed on domestic routes and it has an approximate 32% share of system wide seats. Ryanair accounts for a 19% domestic capacity share and a 16% systemwide capacity.
Spain and Canary Islands system capacity share (% of seats) by carrier: 12-Nov-2012 to 18-Nov-2012
Spain and Canary Islands domestic capacity share (% of seats) by carrier: 12-Nov-2012 to 18-Nov-2012
If IAG manages to acquire full control of Vueling, the Group would become the second largest operator at Paris Orly airport after Air France-KLM. IAG is present at Orly with three airlines: British Airways, Iberia and BA's long-haul subsidiary OpenSkies. Presently, OpenSkies flies a double daily to New York Newark Airport with Boeing 757-200s and will add a daily service to New York JFK Airport on 31-Mar-2013.
Vueling Airlines is the airport's third largest operator offering some 40,900 seats per week on 230 frequencies to/from 11 destinations in Spain, Italy and Portugal, according to schedules in Innovata for the week of 12-Nov-2012 to 18-Nov-2012. It accounts for an approximate 6% share of seat capacity. Jointly, BA, Iberia, OpenSkies and Vueling have capacity share (seats) of about 12% at France's second largest airport.
IAG and Vueling routes from Paris Orly Airport: 12-Nov-2012 to 18-Nov-2012
| Airline | Destination |
| --- | --- |
| | |
| | |
| | |
| | |
| | |
| | |
| | |
| | |
| | |
| | Ibiza (seasonal summer route) |
| | |
| | |
| | |
| | |
| | Sevilla |
| | |
| | |
| | New York JFK (31-Mar-2013) |
Iberia's transformation plan is ruthless but overdue
Iberia's transformation plan, which was announced on 09-Nov-2012, aims to do exactly what it says: transform the Spanish airline into a viable and long-term sustainable business. It targets a turnaround in profitability of at least EUR600 million from 2012 levels to align Iberia with IAG's target of a return on capital of 12% by 2015.
The plan is comprehensive and touches on the airline operations, the company's ground handling activities as well as its MRO unit.
Iberia CEO Rafael Sánchez-Lozano's message cannot be misunderstood when he said that tough decisions have to be taken "now to save the company" and if no "radical action" is taken to introduce permanent structural change "the future for the airline is bleak".
He said that the company is unprofitable in "all its markets" and pointed out that Iberia's problems are systemic and pre-date the country's current difficulties, although the Spanish and European economic crisis has impacted Iberia. Spanish GDP contracted by 3.7% in 2009 and by 0.1% in 2010, it grew by approximately 0.7% in 2011 and it is expected to shrink 1.8% in 2012, according to recent forecasts of the International Monetary Fund. The unemployment rate in the country stands at 25% and is rising.
Iberia has posted operating losses since 2009 and it is currently burning EUR1.7 million every day.
Iberia revenue, costs and operating result: 2008 to 2012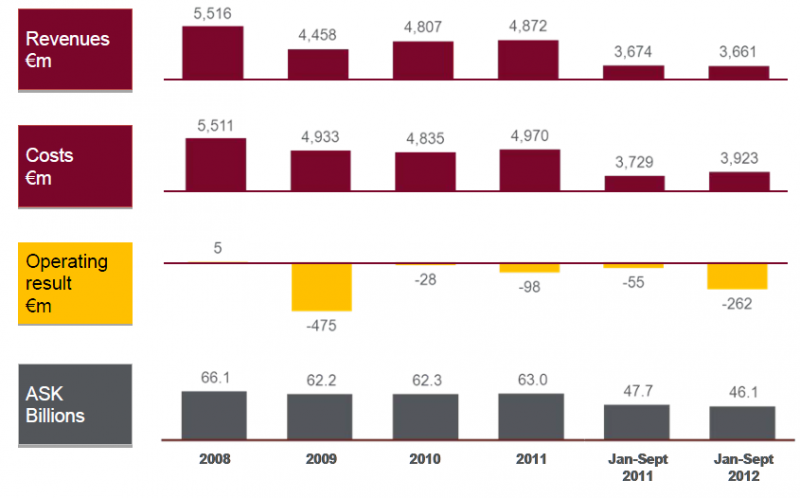 Since 2008, the net cash flow out of Iberia amounts to EUR1.12 billion.
Iberia net cash flow: 2008 to 2012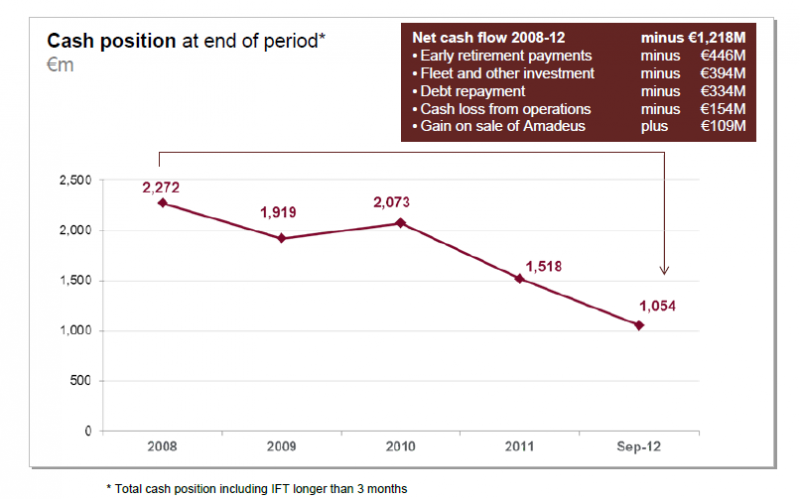 In the short term Iberia's restructuring will focus on stemming Iberia's cash losses by mid-2013 and creating a profitable route network. This will include suspending loss making routes and frequencies and ensuring there is effective feed for profitable long-haul flights. IAG has made clear that it wants to secure and build Iberia's current market position as the leading airline between Europe and Latin America.
Bottom 13 routes are accruing losses of EUR100 million
Iberia will trim down non-strategic, loss-making routes and frequencies and close the gap in product, fleet and cost as part of its network redesign. Both its short-haul and long-haul networks are being reviewed. Speaking at IAG's Capital Markets Day on 09-Nov-2012, Mr Sánchez-Lozano said that the Spanish airline's bottom 13 routes are currently losing around EUR100 million on an annualised basis – these are to be cut.
The airline will focus on long-haul premium markets and remove low margin flying that has higher leisure demand. To optimise operating costs it will move to a long-haul schedule with "traditional" flying patterns of seven and 14 flights a week.
Its short and medium-haul network will undergo a further shake-up and only routes with a "very relevant contribution to long-haul (in volume and yield) and reasonable margins will be maintained. Iberia has already been shifting capacity on domestic and European short-haul routes from Madrid to its new low-cost subsidiary Iberia Express, which launched operations in Mar-2012. This is likely to be intensified.
See related article: Iberia Express launches as Europe's latest salvo to bring short-haul model to profitability
Network-wide frequencies will be reduced and the selected frequency reduction will be positioned to drive profitability whilst protecting the customer proposition, according to Mr Sánchez-Lozano.
Overall, ASKs in 2013 will be reduced by 15%. Iberia has not yet make public which routes will be axed as part of its transformation plan, but certain route changes have already taken place or have been entered in the GDS displays.
The airline has stopped operating its twice weekly Barcelona-Sao Paulo Guarulhos International Airport service and reduced its five times weekly Madrid-Havana to four times per week with the start of the winter 2012/13 timetable. It will pull its thrice weekly Madrid-Los Angles service on 04-Jan-2013 and on 09-Jan-2013 it will abandon Madrid-Berlin Tegel (18 flights per week) and Madrid-Stockholm Arlanda (seven flights per week).
Iberia's fleet will be reduced by 25 aircraft
The network downsizing combined with the planned productivity increases will lead to a major reduction in the Iberia fleet in 2013.
Iberia's long-haul fleet will be reduced by five units and its short-haul fleet will lose 20 aircraft. This equates to a cutback of about one fifth on its current fleet, which comprises 33 Airbus A340-300/600ss and 77 A320 family aircraft (including the 14 A320s that are operated by Iberia Express).
Iberia's adjusted fleet plan for 2012 shows that the Iberia fleet will consist of 81 aircraft in 2015, whereas the airline's fleet plan drafted in 2011 had foreseen a 116-strong fleet in 2015. Further reductions from the 2013 level are thus in the pipeline.
Iberia fleet plan – detail 2012
| Aircraft | 2012 | 2015 | Deliveries 2012-2015 |
| --- | --- | --- | --- |
| | 33 | 29 | 8 |
| | 77 | 52 | 9 |
| Total | 110 | 81 | 17 |
Iberia fleet plan – detail 2011
| Aircraft | 2011 | 2015 | Deliveries 2012-2015 |
| --- | --- | --- | --- |
| | 36 | 40 | 8 |
| | 68 | 76 | 9 |
| Total | 104 | 116 | |
A major upgrade of Iberia's long-haul product is planned from 2013, when the airline's first new A330s will also join its fleet. The first A330 is scheduled for delivery on 22-Jan-2013.
Iberia has launched several restructuring exercises in the past years and management has repeatedly preached that the situation is "unsustainable" and requires a "paradigm shift" in the way it operates it short and medium-haul segment.
But results have been lacking, primarily due to the unswerving refusal by its pilots and the powerful SEPLA pilots union in Spain to accept the new realities of Europe's airline industry with LCCs and high-speed train operators accruing an increasingly higher market share of short haul travel. LCCs now account for an approximate 55% of capacity (seats) deployed on routes to/from Spain and 45% on domestic routes, according to OAG data. It is adapt or die, hence Mr Sánchez-Lozano's simple assessment that "Iberia is in fight for survival".
Spain LCC capacity share (%) of total seats on international: 2001 to 2012*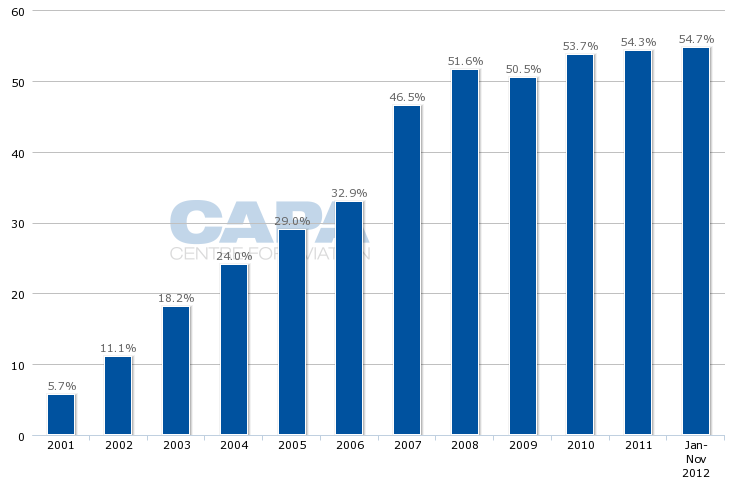 Spain LCC capacity share (%) of total seats on domestic routes: 2001 to 2012*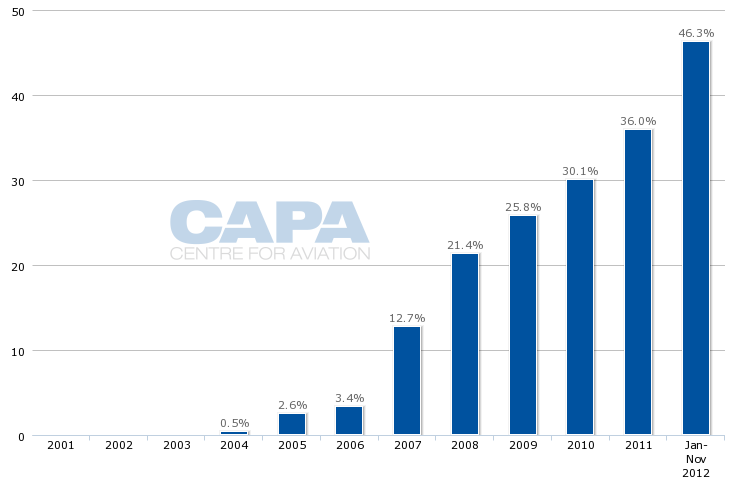 It took Iberia three years to get Iberia Express, its Madrid-based low-cost subsidiary, off the ground. The conflict with SEPLA is still ongoing and the failed arbitration has resulted in uncertainty over IAG's ability to continue to grow Iberia Express. This may have prompted IAG's decision to launch a bid to buy the rest of low-cost airline Vueling, and it is also likely the driver to tackle the cost and productivity problems from within the airline. In fact, Iberia has always said it would clearly prefer to use its mainline operation if staff were more agreeable to pay revisions.
Iberia's objective is unambiguous: it wants to narrow the CASK gap to low-cost competition while keeping an effective feed for the long-haul network.
The model for its short-haul mainline turnaround is Iberia Express, which Mr Sánchez-Lozano said has demonstrated an excellent track record in costs, operational performance and customer feedback. Iberia Express achieved an OTP at Madrid Airport of 94% since it launched operations on 25-Mar-2012. The Iberia Express product (simpler product, higher aircraft utilisation, etc) will be extended to Iberia mainline short-haul and will thus achieve lower costs than with the current product offering.
Salaries will be reduced and productivity in its short and medium-haul mainline operations will be improved by getting similar salary and productivity levels for pilots and cabin crew as low-cost carrier benchmarks, Mr Sánchez-Lozano told analysts at IAG's Capital Markets Day. He said management plans to negotiate salary adjustments and productivity improvements for the rest of the company too.
Unions will fight the planned 4500 lay-offs redundancies and salary cuts
The bombshell to unions was undoubtedly the announcement on 09-Nov-2012 that Iberia will cut some 4500 jobs across the company – or a quarter of Iberia's workforce of about 20,000. This is in line with the planned capacity cuts and improved productivity across the airline, the discontinuation of the company's non-profitable third party maintenance and the possible discontinuation of handling services outside Madrid unless they can deliver acceptable profit margins. Iberia has 21 licences to provide third party airport ground services at 36 airports in Spain and these licences will expire from the end of 2013.
Reportedly, the 4500 redundancies will affect 537 pilots, 932 cabin crew and 3031 ground personnel.
SEPLA was quick to voice its concern and said IAG's new viability plan "condemns the Spanish airline to death". SEPLA spokesman Justo Peral told state radio station RNE that "nobody doubts that Iberia needed restructuring to adapt it to the financial situation" but what is being undertaken is "a dismantling of the national carrier".
However, it is unlikely that Mr Walsh will give in to any kind of pressure from unions. During his time as CEO of British Airways he remained firm with cabin crew on new work practices, despite continuous strikes. "We want Iberia to be strong and successful. For too long the narrow self interest of the few has damaged the long term future for the many", Mr Walsh said, adding that Iberia's parent company IAG will "not hesitate to take the necessary steps to protect the interests of our shareholders, our customers and our employees".
The company has set a tight deadline of 31-Jan-2013 to reach agreement with trade unions. It has emphasised that the reduction of 4,500 jobs is necessary to safeguard around 15,500 posts across the airline and that it will further downsize Iberia if no consensus is reached. "If the unions fail to engage in negotiations, or engage in strike action, or fail to reach agreement by the deadline, we will implement further capacity reductions in order to preserve the viability of Iberia," Mr Sánchez-Lozano said.
Iberia weighs on IAG's financial results
Iberia's dismal performance nullified the positive results recorded by its British peer British Airways and dragged IAG's operating profit down to EUR17 million for the first nine months of 2012 from EUR451 million in 9M2011. For 3Q2012, BA recorded a EUR300 million operating profit (pre bmi) while Iberia reached a breakeven result on operations.
Net profit at IAG for the three months to 30-Sep-2012 fell 24% to EUR202 million from EUR267 million a year earlier and operating profit after exceptional items contracted by a quarter to EUR263 million as the increase in total operating costs outpaced the growth of revenues. Operating profit before exceptional items fell 26% to EUR270 million and operating margin slipped 2.8ppts year-on-year to 5.7% for 3Q2012, which is typically the Group's strongest quarter.
Revenue increased 12.6% to EUR5.06 billion and total expenditure on operations jumped 16% to EUR4.78 billion mainly due to a 20% hike in fuel costs to EUR1.66 billion and 14.9% rise in employee costs to EUR1.09 billion. Passenger capacity increased year-over-year 4.7% and cargo tonne kilometers rose 1.1%. Most of the ASK growth is due to the integration of bmi, the UK airline IAG formally acquired from Lufthansa Group in Apr-2012.
bmi's integration into the BA mainline operation is 90% complete and the integration will be finished by the end of 2012, British Airways CEO Keith Williams told analysts and media on 09-Nov-2012. He said that the exceptional costs related to the bmi integration will be below GBP100 million for FY2012 as previously guided and that the company envisages that the bmi operation will break even in 2H2013, which is six months earlier than the guidance.
The bmi operations contributed EUR153 million to IAG's revenues in 3Q2012, and had a EUR31 million impact on the Group after factoring its trading losses and restructure costs.
IAG select financial and operating figures: 3Q2012 vs 3Q2011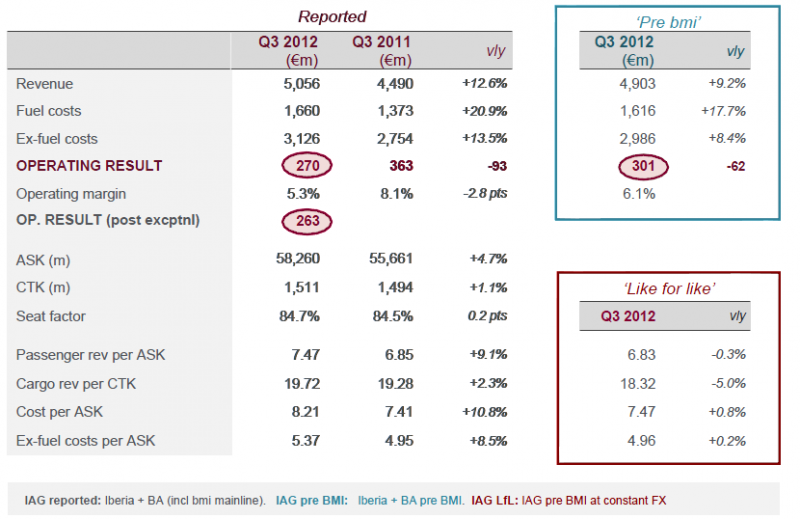 IAG CFO Enrique Dupuy noted that currency movements impacted both revenue and costs alike in 3Q2012 – EUR383 million on revenues and EUR375 million on costs.
Reported passenger unit revenue was up 9.1% for the quarter but slightly fell on a like-for-like basis (pre-bmi acquisition and on a constant currency basis) owing to the growing deterioration of the Spanish trading environment and the effect of the Olympic Games in London this summer which reduced business demand. Overall, the London Olympics created a "revenue gap" of about EUR100 million, Mr Dupuy said.
CASK excluding fuel remained largely flat on a like-for-like basis but unit costs increased 8.5% on a reported basis, owing to the strong rise of the cost of fuel and the strengthening of the dollar against last year's references.
Commenting on the Group's 3Q2012 results, Mr Walsh asserted that the Group's performance "is coming back to the levels seen in 2011 and this is particularly true if you strip out the bmi losses of EUR31 million in the quarter. However, there remains a strong difference between the performances of British Airways and Iberia".
The discrepancy between BA and Iberia's performance was already evident in 2011, when the Spanish carrier accrued an operating loss of EUR98 million and BA an operating profit of EUR518 million. The divergence in profitability between IAG's two units has continued into the first nine months of 2012, with British Airways recording an operating profit of EUR286 million and Iberia an operating loss of EUR262 million.
Owing to Iberia's deficit, IAG saw its 9M2012 operating profit before exceptional items plummet to EUR17 million from EUR451 million in the first nine month of 2011.
IAG's consolidated net result after exceptional items tumbled into a EUR39 million loss for the first nine months of 2012, compared to a profit of EUR338 million on a combined basis and a EUR365 million profit on a consolidated basis in the year-ago period. The consolidated 2012 figure includes bmi as of 20-Apr-2012 and the combined figure for 2011 includes 21 days of Iberia pre-merger facilitating a year-over-year comparison.
IAG financial highlights: 9M2012 vs 9M2011*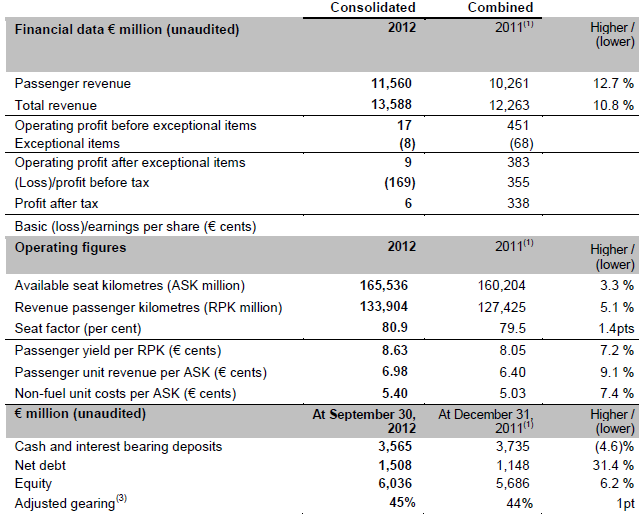 Excluding one-offs, IAG posted a meagre consolidated net profit of EUR6 million. It might not be of great solace to management, but the Group's bottom line is still a lot better than Air France-KLM which reported a EUR957 million net deficit for 9M2012 despite markedly improved 3Q2012 results.
Lufthansa Group remains the best performer among Europe's legacies and posted a EUR628 million operating profit for the nine months ended 2012 on revenue of EUR22.8 billion. This equals an adjusted operating margin of 3.1% for the period, which Lufthansa Group chairman and CEO Christoph Franz labeled as "not sufficient" to secure the future of the company in the long term. The Group's core and largest entity, Lufthansa Passenger Airlines recorded a paltry 0.8% adjusted operating margin for 9M2012 and is expected to end the full year with a "noticeable" operating loss.
See related articles:
And SAS Group, which hasn't posted an annual profit since 2007, postponed its 3Q2012 presentation to 12-Nov-2012 as negotiations with banks over the extension and amount of its revolving credit facility and backstop bilateral facilities stalled. Reportedly, banks want the governments of Norway, Denmark and Sweden to offer state guarantees on new loans and preliminary talks between the European Commission and the Scandinavian governments concerned have started.
All of Europe's legacies have a comprehensive turnaround programme in place, with names varying from SCORE (Lufthansa), 4 Excellence (SAS), Transform 2015 (Air France-KLM) or simply transformation (Iberia). The success of the implementation of these turnaround efforts will define the winners and the losers.
For Iberia, the ball is now in the court of employees and their unions. And, as Mr Sánchez-Lozano noted, "time is not on our side". On recent history, unions may not be ready to accept the logic of this argument and undoubtedly they will have something to say – and do – about it.