Hong Kong Airlines IPO Part 2: Main opportunities may lie in partnerships, careful strategic growth
Analysis
Hong Kong Airlines in recent years has focused on rapid growth, doubling ASKs in about 2.5 years to 8.1 billion in 2013 as it established a position in the market. It is now at the stage where it needs to bed down that capacity and refine its vision, prior to growing further.
Much of Hong Kong Airlines' operation is charter-style with over 80% of passenger revenue coming from travel agencies, mostly in mainland China and a large portion from sister HNA companies. Yet Hong Kong Airlines' strategy is to move towards becoming a premium carrier, offering a renovated lounge for passengers and lie-flat business seats.
Further growth cannot be assured as the carrier's AOC is currently capped by Hong Kong regulators and its key expansion markets are either highly competitive or suffer restricted bilateral access. Hong Kong Airlines has potential synergies with HNA, as yet untapped, and meanwhile its dual-brand strategy with HK Express remains unclear. There are numerous loose ends, so the story is one of potential – but a need to adopt the right strategies to unlock it.
| | |
| --- | --- |
| | CAPA's Asia Aviation Summit and LCC Congress will he held at the Capella, Sentosa in Singapore 13/14 October, followed by a Corporate Travel Day on 15 October. To hear about China's new LCC movements and from all of Asia's key aviation markets and players, and meet 20 airline CEOs, click here: CAPA Asia Aviation Summit |
Hong Kong Airlines' strengths lie mainly in its mainland presence, directly and through its HNA parent, and – albeit constrained – in holding some rare and valuable slots at Hong Kong International Airport.
As a locally based operator, Hong Kong Airlines has the opportunity both to leverage its considerable mainland network and to use the base as a destination. There are limits on it however. Although potential growth is typically a key part of an IPO, the airline cannot yet offer an unconditional commitment to expansion.
Hong Kong Airlines plans to grow its fleet from 25 aircraft as of May-2014, to 54 by the end of 2018. Hong Kong's Civil Aviation Department (CAD) has however restricted the airline's AOC to 17 A330s and eight A320s.
Hong Kong Airlines already operates 17 A330s and six A320s, meaning growth beyond two more A320s will be subject to the CAD revising the AOC. Ongoing, and sometimes unwarranted, negative publicity in Hong Kong does little to help its cause.
Hong Kong Airlines has effectively been able to grow by transferring some aircraft to HK Express, which has its own AOC and separate ownership. The HNA Group could theoretically continue to transfer aircraft from Hong Kong Airlines to new LCC, HK Express, but Hong Kong Airlines investors would be unlikely to see a large benefit unless they have an existing shareholding in the unlisted low-cost operator.
Hong Kong's airport slots constrain planning; Hong Kong Airlines' focus is on mainland traffic

If Hong Kong Airlines is able to grow, Hong Kong's slot constrained airport poses continuing challenges as it awaits a third runway. As a network carrier with large volumes of connecting traffic, Hong Kong Airlines needs slot growth in suitable schedule banks. Growth could, as a result, be more confined compared to HK Express, which as an LCC can more freely use slots as and when they are available.
Hong Kong Airlines states it is "primarily focused on the PRC market". Its traffic is primarily outbound mainland Chinese connecting in Hong Kong to Southeast Asia or Taiwan. China in 2013 comprised 45.4% of traffic revenue, defined as passenger and cargo (separate passenger figures were not stated). In the five months to 31-May-2014, China comprised 49.2% of traffic revenue.
Hong Kong Airlines currently carries limited outbound Hong Kong traffic to mainland China. Hong Kong Airlines also has a limited Japan network that is focused on the Hong Kong market; this is via tour agencies and is of a charter nature.
Hong Kong Airlines traffic revenue by region: 2011-2014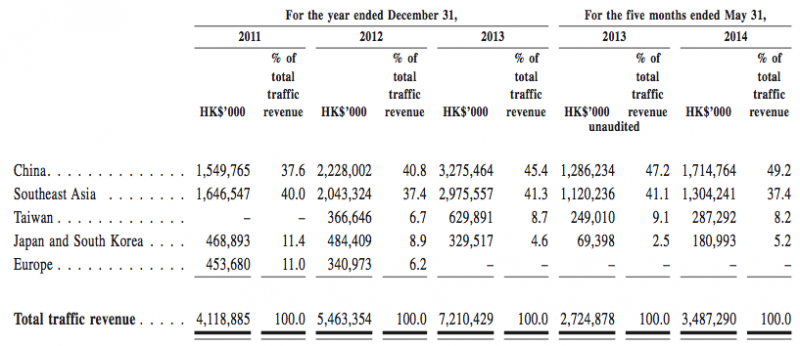 Traffic revenue comprises 84.4% of total revenue, with the balance mostly from aircraft leasing.
Hong Kong Airlines total revenue composition: 2011-2014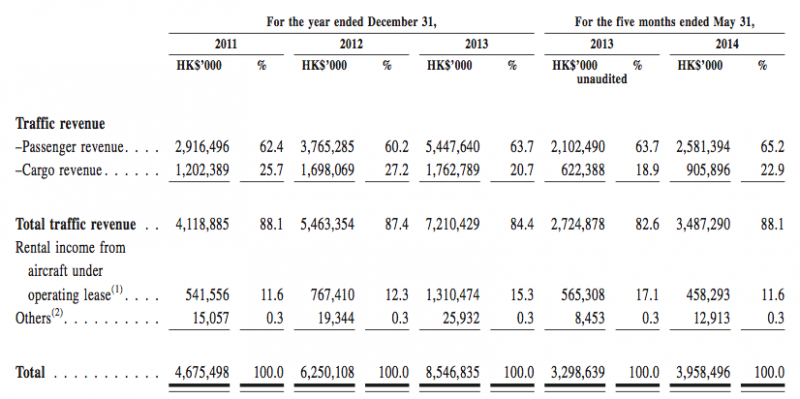 Hong Kong Airlines traffic revenue composition: 2011-2014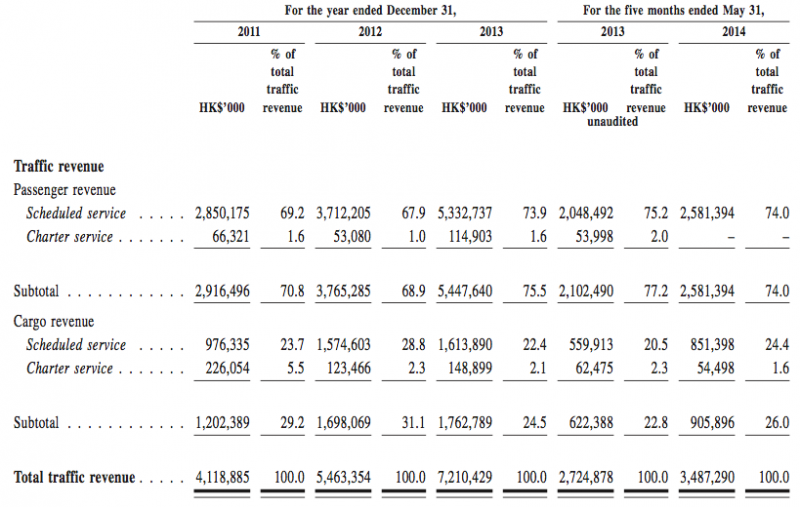 It should be noted Hong Kong Airlines in 2013 received HKD70.3 million (USD9.1 million) in route subsidies, largely from Chinese routes.
Hong Kong Airlines other income: 2011-2014

767" height="212" />
Hong Kong Airlines' major growth will continue to link mainland China with other markets. For now, it is largely confined to China and Southeast Asia. The current, but probably temporary, downturn in Chinese interest in Southeast Asia, due to a number of factors, demonstrates the drawback of a narrow network. Hong Kong Airlines however has ambitious and global growth plans.

The airline's reliance on Chinese agencies will challenge it to achieve foreign point of sale, a limiting factor hurting Chinese airlines at present on their long-haul routes. Partnerships are often the way to go for long-haul flying, but Hong Kong Airlines sees new demand out of China and a Hong Kong hub that can potentially capture it.
A slot constrained airport makes partnerships valuable; Hong Kong Airlines could pursue a partnership strategy
Congestion at Hong Kong International Airport is undoubtedly a limiting factor in establishing a new operation. But there can be two sides to the story. Cathay Pacific enjoys a considerable advantage thanks to the inability of other airlines to ramp up their presence. British Airways at London Heathrow and Turkish Airlines in Istanbul each enjoy similar advantages, which can convert to significant yield premiums.
For an airline like Hong Kong Airlines, which already has a range of slots (and connections into the mainland) across the day, foreign partnerships are a potential opportunity. Most foreign airlines are looking for "China solutions" and there is a shortage of options, especially as both China Eastern and China Southern are SkyTeam members and Air China is in Star (although the Chinese airlines have generally been relaxed about other relationships). For this reason any substantial China-related airline has an allure that radiates widely.
Leveraging its presence at HKIA by linking with other airlines would appear to be Hong Kong Airlines' most appropriate strategy. If new slots are not available to permit it to use its own metal on a full range of routes, it can still be sufficiently attractive to long-haul partners to be able to drive reasonable bargains on codeshares. Over time, as space becomes available, this can evolve.
No specific priorities have been laid out for where Hong Kong Airlines plans its first long-haul moves, but each of the markets it highlights predictably has positives and negatives. Inevitably the biggest hurdles are Cathay's well entrenched position and brand positioning and the limited potential for expansion at HKIA.

Australia: Only smaller points are currently available, but few directs exist beyond the major gateways
Hong Kong is using its full allotment of traffic rights to primary Australian cities. These services are exclusively fulfilled by Cathay Pacific, and it is understood Cathay is lobbying the Hong Kong government not to expand traffic rights with Australia as an expansion would likely mean Hong Kong Airlines would secure traffic rights, bringing competition to Cathay. Further, the Australian side has found Hong Kong to be uncompromising, meaning even if the two sides agreed to meet, a deal would be uncertain.
Even without added rights, Hong Kong Airlines could however still access smaller Australian destinations like Cairns, Gold Coast, Newcastle (just north of Sydney) and Adelaide that are not capped under the bilateral, as Australia has a unilateral open skies policy for all points outside its major cities.
Airlines like long-haul low-cost/hybrid AirAsia X have been extremely effective in serving Gold Coast for example, with much of its (Australian originating) traffic headed for China, via its hub in Kuala Lumpur. Australia's non-stop links to China are still relatively underdeveloped, with service only between the major gateways, allowing a window for intermediate hub operators. Cathay Pacific is able to exploit this, also connecting over Hong Kong on Dragonair.

For China outbound, Hong Kong Airlines would probably be better positioned, given its existing presence, in the mainland market – even if it has to rely on tour agencies for some of these sales, thereby diluting its role as a premium airline. Premium demand from secondary Australian cities is limited and unlikely to improve greatly. However, Hong Kong Airlines' potential to connect from some of the larger mainland cities that have no direct flights should generate higher yields in the absence of direct competition. It ought also be able to provide a lower cost premium option on point to point operations between Australia and Hong Kong than does Cathay.

China is keen to encourage its major airlines to increase international service, but their experiences in Australia have been lumpy so far, largely due to their weakness at selling outbound Australian traffic. This has opened the door for more intermediate, sixth freedom operations, a situation that is likely to continue even as some of the other mainland cities gradually open up. Hong Kong Airlines' local competitor Cathay has exploited this effectively from Australia's major cities.

Hong Kong Airlines may find occasional – or better – allies in Qantas or Virgin Australia. Both are searching for suitable north Asian solutions. Qantas is working closely with China Eastern, with whom it has set up the still grounded Jetstar Hong Kong, so that option might be limited, even where it offers the opportunity to compete with arch-rival Cathay. Virgin Australia is a potential candidate; it has Singapore Airlines as a partner, but that would not preclude a mutually valuable deal with Hong Kong Airlines to gain better access into the mainland markets.

Europe is competitive but will become a very large and diverse market; Cathay's Hong Kong dominance may allow for openings
Hong Kong-Europe markets typically produce a lot of premium travellers, as well as tourists, and the potential is for very substantial mainland traffic flows developing over the next five years. For the time being there is excess capacity on direct services between China and Europe, and this may worsen as secondary Chinese carriers like Xiamen Airlines and Sichuan Airlines hope to open long-haul routes to Europe.
But the ability to complement connecting traffic from numerous mainland points with some Hong Kong origin and destination travel does lend a certain advantage to Hong Kong Airlines. With support of the powerful HNA Group, Hong Kong Airlines has shown interest in acquiring an equity position in a Europe-based airline. To date this has not borne fruit, but this is one of the numerous potential opportunities which will need to be carefully nurtured if the airline's pedigree is to be fully exploited.

India is a market that Cathay dominates; Etihad and friends – or Star Alliance – could be helpful

Hong Kong has been unsuccessful in gaining substantial additional bilateral rights to India, whose airlines have been unable to compete effectively with Cathay Pacific's extensive geographic coverage. Hong Kong Airlines recently formed a codeshare partnership with Air India which delivers some value, both in India and on Air India's quirky services beyond Hong Kong to Seoul and Osaka. Air India is now a Star Alliance member and the alliance may see some potential in encouraging Hong Kong Airlines into the fold. Alternatively, since Etihad Equity Alliance member, Air Seychelles, gained access to Hong Kong, India's Jet Airways has also become an Etihad Alliance member.
Jet would be a more suitable partner for a Hong Kong based airline with premium pretensions and Hong Kong Airlines could find itself nicely enfolded in the Etihad Alliance too. Again this could help the airline extend its international reach through codeshares if it cannot gain enough additional slots at HKIA to operate its own metal in the short term.

Indonesia would seem a tougher prospect, with limited rights potential and low yields to Bali

Here again Cathay is heavily dominant in the Indonesia market, with twice as many weekly seats as Hong Kong Airlines and operations on Jakarta and Surabaya as well as being head to head with the smaller carrier on the lower yielding Bali route. Hong Kong in recent years expanded the air service agreement with only a minor increment. Further expansion in the short term is unlikely, meaning China-Indonesia growth will likely be taken up by Southeast Asian carriers, and in particular LCCs from the AirAsia and Tigerair/Scoot families. Indonesian airlines have limited interest in Hong Kong, Garuda flies even less than Hong Kong Airlines' 5,000 weekly seats, so there is little demand for more Hong Kong traffic rights.
Indonesian carriers are however growing non-stop flights to China, although flying times limit the number of Chinese cities that can be served from Bali, the main interest in Indonesia of Chinese leisure passengers.
North America is a high risk market without a partner
Cathay Pacific occupies two thirds of the current capacity between Hong Kong and the US. United is a substantial second, but both Delta and American (with its new Dallas-Fort Worth non-stop) have small operations. Delta has only a limited service from Seattle, which also takes in Seoul.

Cathay has such a powerful position in the market that it will be difficult for Hong Kong Airlines to make a meaningful entry in primary cities, while secondary cities may be too thin for Hong Kong Airlines' smaller regional feeder network. Further, it is unclear how adequately the A350-900 (the only variant of the A350 that Hong Kong Airlines has on order) can serve North America.

See related reports:
Part 3 of this report on Hong Kong Airlines' planned IPO will be released next week, beginning 22-Sep-2014