Gol enjoys price stabilisation in Brazil, but tough conditions will linger well into the future
Analysis
As it settles into the typically slow second quarter, Brazilian airline Gol is seeing faint signs that a slide in pricing driven by the country's weak economic climate could be stopping, and sagging corporate demand is also sprouting a few green shoots after starting to markedly fall during 2H2014.

But Gol is far from declaring a recovery as Brazil's economy is expected to contract in 2015, inflation estimates have been revised slightly upwards and the country's currency devaluation remains high. At best Gol is hoping that demand is starting a long and slow path to recovery.

For now Gol is sticking to its margin targets and flat domestic capacity projections as economic conditions remain weak in Brazil. It continues to diversify its network with more international flights, with more expansion into Argentina and the Caribbean. Perhaps Gol is also pleased that its exposure to the competitive Brazil-US market is small compared to some of its rivals.
Gol hopes that price stabilisation is the turning point for conditions in Brazil
Gol embarked on 2Q2015 as operating conditions in Brazil remained grim. Its top-line revenues in 1Q2015 remained stable year-on-year at BRL2.5 billion, held up by solid increases in cargo, ancillary and international revenues. But yields fell by 8.6% year-on-year and passenger unit revenues dropped 6.3%.

The airline seems to have a mixed outlook for 2Q2015. It is usually a low demand period, and that condition coupled with the general weak environment does not bode well for yield and unit revenue performance for Brazilian airlines.

Yields have been depressed in the Brazilian market since the Jul-2014 to Aug-2014 time period. In mid May-2015 Gol CFO Edmar Lopes concluded that yields in 2Q2015 could be lower than 1Q2015. However, he did remark that shortly after the mid point of 2Q2015 the drop in pricing was "not happening any more", but cautioned that it remained to be seen if prices could start trending down again.

Corporate demand in Brazil began to wane during the World Cup soccer tournament held in the country during 2H2014 and has never really recovered. Gol CEO Paulo Kakinoff remarked that corporate fares have dropped by 30% and up to 40% in some cases. Mr Kakinoff stated that the corporate sector is now even more challenging "because we have an economic scenario that it much worse than it was predicted to be when we discussed the 2015 budget by the end of last year". Fox News Latino recently reported that Brazil's economy is now expected to contract by 1.30% in 2015 versus previous estimates of a 1.27% reduction. Inflation rate estimates have also grown to 8.46% from a previous projection of 8.39%.

But Mr Kakinoff struck a slightly positive tone, noting the trend near the mid-point of 2Q2015 in which Gol did not see any further reduction in corporate traveller pricing.
LATAM Airlines Group, of which TAM is Gol's main rival in Brazil, has also made similar conclusions. Its executives recently noticed some signs of a corporate pricing recovery were emerging in 2Q2015. LATAM perhaps has a bit more shield from the fall-out in weak corporate travel trends. It estimates that 35% to 40% of its corporate international travel for Brazil originates in point of sale from other regions, versus 10% on its competitors.

Mr Kakinoff obviously could not predict when pricing in Brazil's corporate traveller sector would recover to prior levels, but stated "we cannot go worse than we are now, and it is probably, maybe the beginning of a turning point".

See related report: LATAM Airlines Group continues to build network utility as currency pressure remains an overhang
Gol believes its competitors could be slowing capacity growth
During the last couple of years as pricing and demand have weakened in the Brazilian domestic market, Gol and TAM have reduced their capacity to withstand those conditions.

Gol did increase its domestic capacity by 2% during 1Q2015, which is the high season in the country. But the airline assures that its domestic capacity growth will remain flat in 2015. Gol was the first Brazilian airline to start slashing its capacity, and recently remarked that the company is about 15% smaller in that regard than in 2012. Using that as a baseline, presently Gol does not see the need to refine its 2015 capacity guidance of flat growth in the Brazilian market.

TAM has also cut is domestic capacity during the last couple years, and its domestic ASKs were basically flat for the first four months of 2015, according to data from ANAC. TAM has also forecasted flat capacity growth in the Brazilian domestic market during 2015.

But Gol and TAM's other Brazilian rivals Azul and Avianca Brazil have been growing at a break-neck pace during the last two-to-three years in order to carve out their place in the Brazilian domestic market and bolster market share.

Azul, which posted a 49% jump in capacity for the first four months of 2014, slowed its ASK growth in the domestic market to 7% for the first four months of 2015. Its traffic grew at a similar pace, which resulted in load factors remaining flat at 80%. Avianca Brazil recorded 20% capacity growth for the first four months of 2015 on a nearly 19% rise in traffic. Its load factor dropped from 85.5% to 84.7%. Its ASK growth for the same four months the year prior was also 20%.

In May-2015 Mr Kakinoff concluded that "at the moment there is an overcapacity, because some of our competitors have increased their capacity over the last period while demand came down, mainly the corporate demand". He stated that behaviour was "about to change...when we look at the future sales and the inventory, which has been further available to the market, I would say all the competitors have changed the number of seats being put out available".
Gol works to diversify from its still domestic heavy network profile
As demand has worsened due to Brazil's economic conditions over the last couple of years, Gol has attempted to add new international markets to combat the weakness in the Brazilian domestic market. But the majority of its seats and ASKs, 95% and 88%, respectively, are still deployed in the domestic market.
Gol international vs domestic capacity (% of seats): 15-Jun-2015 to 21-Jun-2015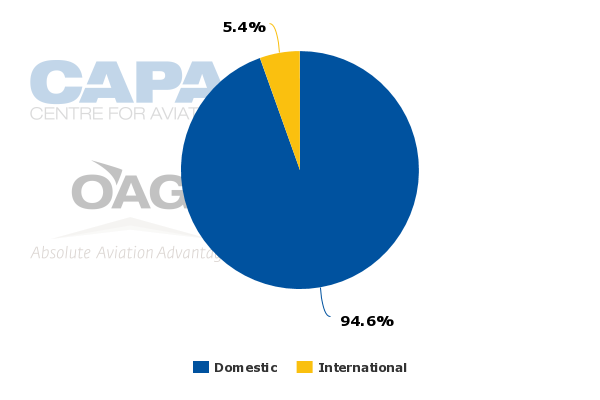 Gol international vs domestic capacity (% of ASKs): 15-Jun-2015 to 21-Jun-2015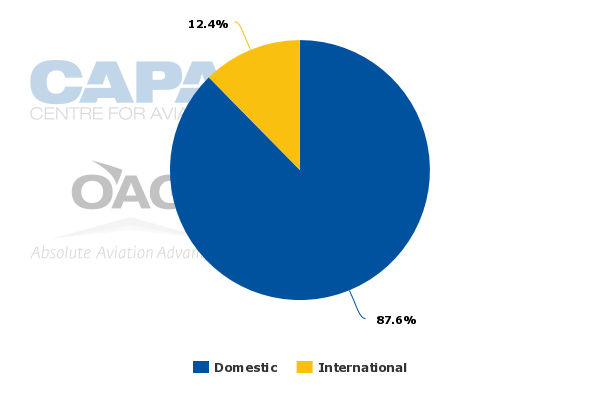 The bulk of Gol's international seat and ASK deployment is to Argentina. Gol serves Buenos Aires Aeroparque from Sao Paulo Guarulhos and Buenos Aires Ezeiza from Guarulhos, Rio de Janeiro, Curitiba, Florianopolis, Fortaleza, Salvador and Porto Alegre. It offers flights to Cordoba from Rio and Sao Paulo and Rosario from Guarulhos.
Gol international capacity by country (% of seats): 15-Jun-2015 to 21-Jun-2015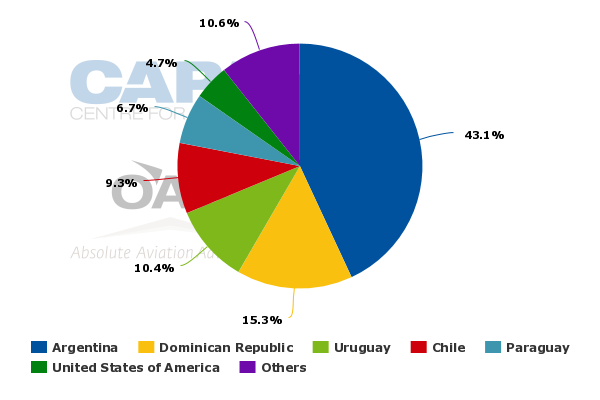 Gol international capacity by country (% of ASKs): 15-Jun-2015 to 21-Jun-2015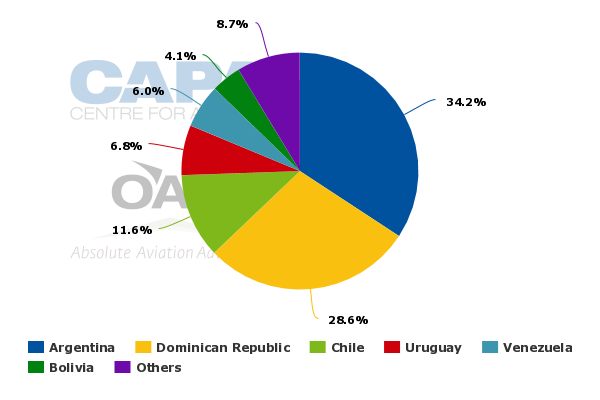 In Jul-2015 Gol is launching new service from Brasilia and Natal to Buenos Aires, Rio to Rosario and from Guarulhos to Mendoza. Gol has a codeshare with Aerolineas Argentinas that also includes reciprocal frequent flyer benefits.

Gol during 2015 has also launched service to Tobago through a stop-over in Bridgetown. The airline's other Caribbean destinations include Aruba, which is a part of a Guarulhos-Caracas-Aruba Queen Beatrix routing and Punta Cana. Gol offers flights to Miami and Orlando through a stop-over in Punta Cana, serving the Dominican Republic airport from Campinas, Rio, Guarulhos and Caracas. Gol is also launching seasonal service from Brasilia to Punta Cana in Jul-2015 and will operate the service through Aug-2015.

Other seasonal services Gol is introducing for the Jul-2015 to Aug-2015 timeframe include flights to Santiago from Belo Horizonte, Brasilia, Porto Alegre and Rio de Janeiro.

Gol's other international South American destinations include Asuncion from Guarulhos and Montevideo from Guarulhos, Porto Alegre and Rio. It also serves Santiago and Santa Cruz from Guarulhos.
Gol can leverage Delta's new service in the competitive Brazil-Florida market
Gol has set a goal of international markets representing 17% to 18% of its total revenue by YE2016. It plans to achieve that target by expanding its own international offerings and leveraging its codeshare agreements. Mr Kakinoff stated that Gol's two-way codeshare with Air France-KLM only became operational in Apr-2015, so the full benefit of the partnership should be achieved in 2Q2015. Gol's other codeshare partners include Delta, Alitalia, Copa, Etihad, Korean Air, Aeromexico, Aerolineas, Qatar and TAP Portugal.

When Azul launched its first long-haul service in late 2014 to Orlando and Fort Lauderdale from Campinas Viracopos (100km from Sao Paulo), speculation grew over how a direct flight from the Sao Paulo metro region would affect Gol's one-stop service to Miami and Orlando.

See related report: Azul shakes up Brazilian market with A330s and US routes, becoming the first long-haul LCC from the Americas

The Brazil-US market is set to expand further in late 2015 when Azul launches service from Sao Paulo Guarulhos and Belo Horizonte to Orlando. Delta is also seeking approval to introduce service from Guarulhos to Orlando. Just prior to Azul's late 2014 US service launch, American Airlines introduced service from Campinas to Miami.

See related report: Azul and Delta intensify competition in the Florida-Brazil market to solidify their long term goals

Mr Lopes recently stated that Gol has seen downward pricing trends in the US market. "This is very much related to a lot of capacity that was added in 2014," he concluded. Azul has also admitted that since its US market entry, American and Delta have lowered their prices on US-Brazil routes.

For now it seems that Gol's indirect flights are not seeing a lot of pressure from the increase in direct flights between Brazil and Florida. "If we had more capacity in the US corridor we would be more concerned than we are at this moment," said Mr Lopes.

As previously concluded by CAPA, Gol can market direct flights from Guarulhos to Orlando now that Delta has enlarged the number of competitors in the market.
Gol faces a tough uphill climb to regain profitability in the current operating environment
The gently positive signs of stabilised pricing in Brazil's domestic market are indeed a welcome development, but Gol and its rivals have no illusions about a quick recovery given the country's overall economic conditions. Currency devaluation remains a huge overhang as Gol estimates that the BRL dropped nearly 42% against the USD in Mar-2015 and averaged a 21.4% drop in 1Q2015.
The currency fluctuations not only affect Gol's expenses denominated in USD but also blunt some of the positive effects of generally lower, but climbing fuel prices. Gol estimates in 2Q2015 that its fuel price per litre will climb 10% due to both f/x pressure and general cost increases.

Over the long term Brazil will remain a powerful force in Latin American aviation. But in the short to medium term the country's economy is creating challenges for the country's airlines. Gol is sticking to its guidance of operating margins between 2% and 5%, which in the current operating environment is commendable. But after posting annual losses since 2011 regaining its profitability still seems far off on the horizon for the airline.