GOL Airlines SWOT: network expansion and cost containment are key in the new competitive era
Analysis
Brazilian airline GOL holds a special position in Latin American aviation, having ushered in the low cost model in South America during the early 2000s. Since that time it has faced competition from start-ups that have included Azul and a reinvigorated TAM, after its merger with LAN to create the LATAM Airlines Group.

After a recession swept over Brazil in late 2014, GOL was forced to undertake a financial restructuring in 2015 as credit for Brazilian companies dried up. GOL worked to create a more stable capital structure to withstand the downturn so that it could maintain its leading position in GOL's domestic market.

GOL has also evolved its product over the past few years to capture more lucrative corporate customers; it holds a leading share among Brazilian corporate travellers, which puts the airline in a favourable position as the country's economy starts a slow recovery. But GOL also faces formidable challenges, including a heavy reliance on Brazil's domestic market, where competition remains fierce. It also faces rising fuel costs in 2018, which ups the stakes in keeping its non-fuel costs at bay as a means to sustaining low fares.
The issue of Brazil's market conditions, Brazil's airport privatisation, and the outlook for Latin America's aviation are among topics for discussion at CAPA's Latin America Aviation Summit, to be held in Cartagena on 11/12-Sep-2017
For further information on attending or sponsoring please contact: info@centreforaviation.com
STRENGTHS
1. GOL is the largest airline in Brazil's domestic market (the largest in Latin America) measured by traffic share
During 1H2017 GOL's market share was nearly 36%, compared with 32% for LATAM Airlines Brazil, 18% for Azul, and nearly 13% for Avianca Brazil.
Domestic market share of Brazilian airlines for 1H2017
Much of GOL's focus during the past few years has been centred on building up its share of corporate business in Brazil.
The airline undertook a network revamp in May-2016 to improve its position in key domestic markets, and holds a number one or number two position in many of Brazil's largest domestic airports, measured by seats deployed and departing frequencies.
GOL's share of domestic seats and departing frequencies at Brazil's top domestic airports as of 14-Aug-2017
| | | |
| --- | --- | --- |
| Airport | Percentage of seats and ranking | Percentage of departing frequencies and ranking |
| São Paulo Guarulhos | 34.7%, second rank | 31.4%, second rank |
| São Paulo Congonhas | 46.5%, first rank | 43.6%, first rank |
| Brasília | 34.1%, second rank | 32.2%, second rank |
| Rio de Janeiro Galeão | 49.2%, first rank | 48.9%, first rank |
| Rio Santos Dumont | 40.5%, first rank | 33.2%, first rank |
| Belo Horizonte | 24.5%, third rank | 19.6%, third rank |
| Campinas Viracopos | 2.1%, third rank | 1.3%, third rank |
| Porto Alegre | 34.5%, first rank | 30.3%, second rank |
| Recife | 24.6%, second rank | 20.5%, second rank |
| Salvador | 28.7%, first rank | 25.9%, second rank |
The airline estimates that corporate clients are responsible for approximately 70% of its revenue, and statistics recently released by GOL's fellow Brazilian airline, Azul, show that GOL's share of corporate revenue in Brazil during 2Q2017 was 32%, compared with 30% for LATAM, 30% for Azul and 9% for Avianca Brazil.

There does not appear to be a rapid recovery of corporate demand in Brazil, but GOL executives recently stated that trends were moving in the right direction, and GOL's positioning will allow it to exploit the corporate sector once the positive trends gain momentum.
2. GOL recognises the importance of targeting a mix of corporate and leisure travellers as the low cost model evolves
GOL has been working to create a more attractive product for corporate clients, but at the same time has taken steps to ensure it remains relevant among leisure passengers.
During Jun-2017 the airline introduced a tiered fare structure after Brazilian authorities allowed the country's airlines to charge for checked baggage. The "Light" fare is the most heavily discounted fare, and company executives recently reported that approximately 7% of its customers had selected the Light option.

GOL is also working to reconfigure its existing Boeing 737-800s from 177 seats to 186 seats, while maintaining 34-in pitch in its extended legroom section. Its 737-8MAX aircraft will also be configured with 186 seats. At the same time, GOL is in the process of installing the inflight connectivity provider Gogo's high speed 2Ku system, which should further promote its competitive stance in Brazil's domestic market.
3. GOL's positioning in the Brazilian market makes it an attractive partner to numerous airlines
GOL has steadfastly maintained that it plans to remain independent from the three large global alliance groupings, even though the SkyTeam anchor members Delta and Air France-KLM hold equity stakes in the airline.
Although most of its codeshare partners – Aerolineas Argentinas, Aeromexico, Delta, Air France-KLM, Alitalia and Korean – are SkyTeam members, GOL also codeshares with Emirates, Copa and Air Canada. For now, it appears that GOL understands it can leverage its leading position to maximise partnership revenue, rather than erecting boundaries through alliance membership.
WEAKNESSES
1. GOL's reliance on Brazil's domestic market is not a viable long term strategy
Data from CAPA and OAG show that nearly 94% of GOL's seats for the week of 14-Aug-2107 are deployed into Brazil's domestic market. GOL's position as the leading domestic airline based on traffic share is admirable, but over the long term the airline needs to focus on building up a more attractive international network.
GOL: percentage of international vs domestic seats for the week of 14-Aug-2017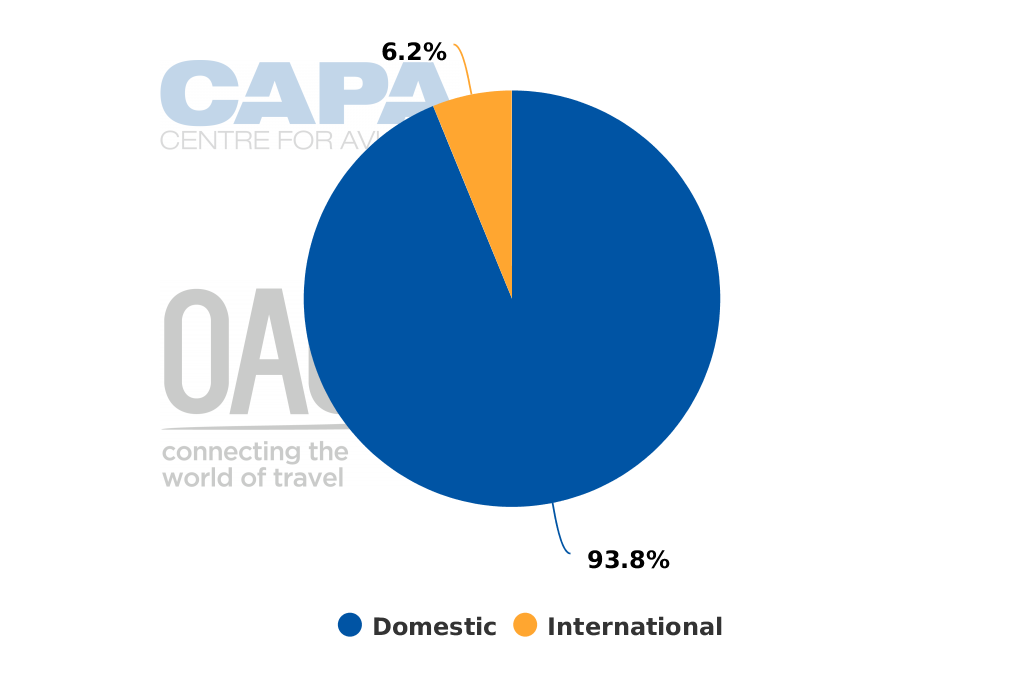 At present (14-Aug-2017), GOL serves 11 international destinations, with the bulk of its seats deployed to Argentina.
GOL: system seat deployment by country for the week of 14-Aug-2017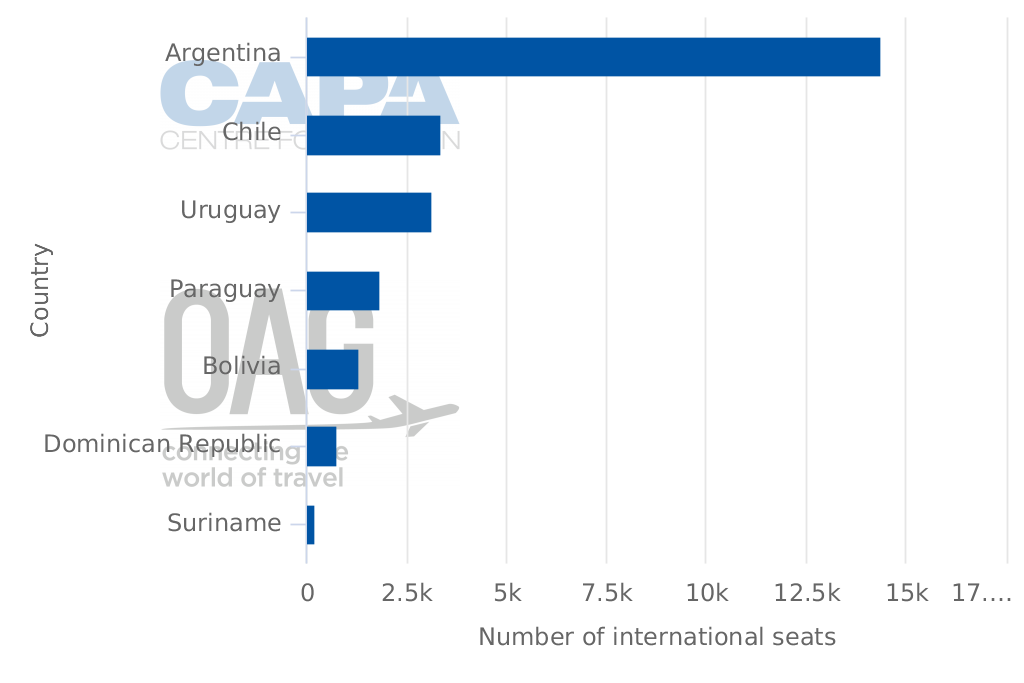 Argentina is drawing attention from numerous airlines after a new presidential administration, which took the helm in 2015, has ushered in a new liberalised era for the country's aviation industry.
GOL should continue to build up its presence in Argentina, but its low cost rival Azul serves Lisbon in conjunction with its partner TAP, and also operates flights from its largest base, Campinas Viracopos, to the US destinations of Fort Lauderdale and Orlando.

GOL briefly offered service to Europe and the US with Boeing 767s in the late 2000s, after it had purchased Varig, but abandoned the flights after a year after sustaining significant losses. In 2012 the airline offered flights to Miami and Orlando from São Paulo Guarulhos via Santo Domingo, but that service was also later cancelled.

GOL's domestic rival Avianca Brazil launched flights from São Paulo Guarulhos to Miami in late Jun-2017, and LATAM Airlines Brazil holds the largest seat share among Brazilian airlines to the US, 23%, for the week of 14-Aug-2017. Data from CAPA and OAG for the week of 14-Aug-2017 show that the US represents Brazil's largest international market, measured by seats deployed.
GOL has a solid presence in the second largest market – Argentina – serving Buenos Aires Ezeiza and Aeroparque, Mendoza, and Rosario. However, to remain relevant and maintain its leading position in the Brazilian market, GOL needs to give some attention to serving the US.
The airline begins receiving the first 737 MAX-8 aircraft in 2H2018, and the aircraft has a service envelope that allows for direct service to South Florida (Fort Lauderdale and Miami).
Brazil: system seat deployment by country for the week of 14-Aug-2017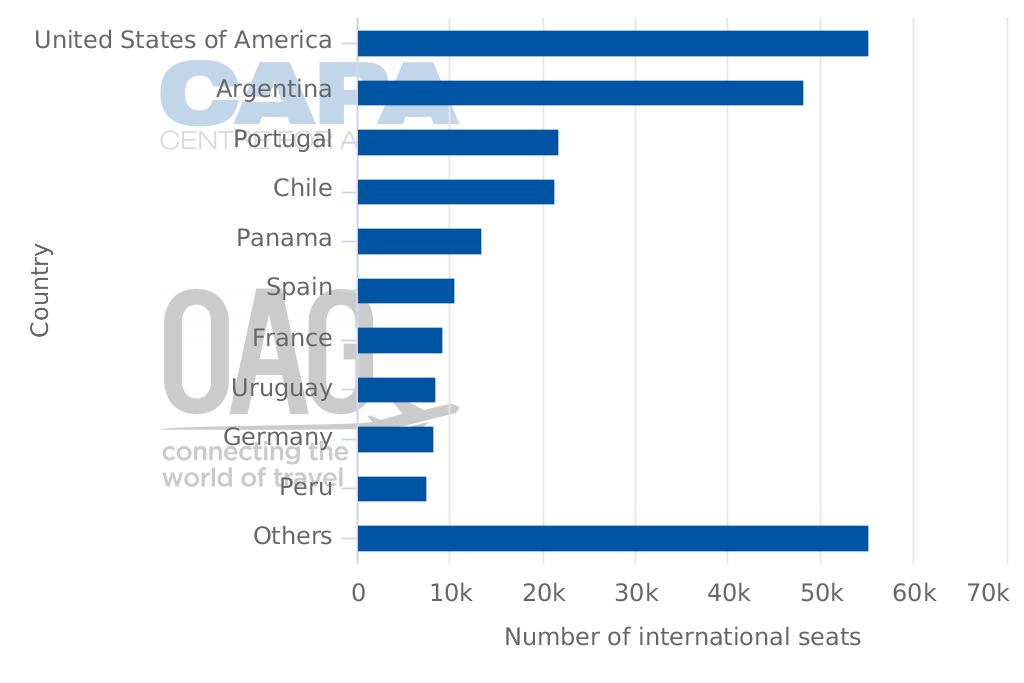 2. GOL has not demonstrated consistent profitability since 2010
During 2016 GOL posted its first annual profit since 2010 (which was prior to Brazil's recession), and its valuation on the New York Stock Exchange between mid Aug-2016 and mid-Aug-2017 jumped nearly 59%, to USD15.00 per share.
In 2Q2017 GOL posted its first second quarter operating profit in seven years and if yields continue to trend in the right direction –growing 4.8% year-on-year, and 11% from 2Q2013.
GOL: net losses from 2011 to 2015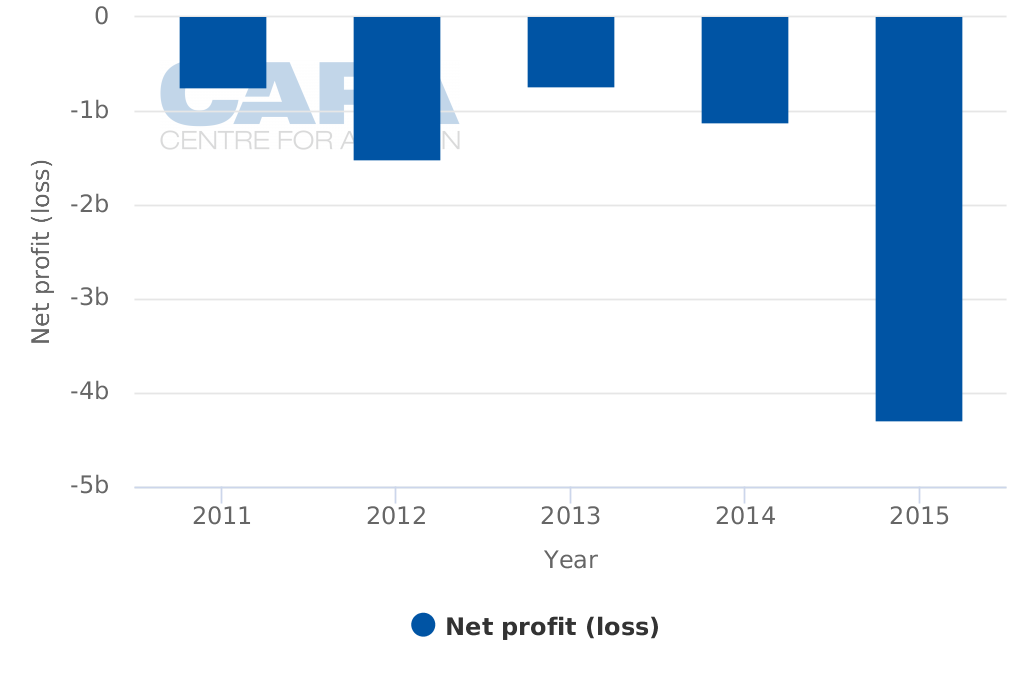 GOL has worked to revamp its capital structure and fleet commitments to attain manageable levels for its balance sheet, but to build shareholder and investor confidence for the long term, GOL needs to shore up its profitability.

Current projections indicate flat GDP growth for Brazil in 2017, and passenger demand is on a slow recovery. Domestic passenger growth notched downward 0.6% in 1H2017, to 43.7 million passengers, after passenger levels had fallen 7% year-on-year in 2016. With such a heavy reliance on Brazil's domestic market, GOL does not have the benefit of network diversity into other Latin markets that are experiencing more stable economic conditions, including those of Peru and Colombia.
OPPORTUNITIES
1. GOL's aircraft order book provides the backbone for the airline's necessary network expansion
The airline begins taking delivery of the 69 737 MAX-8 narrowbodies it has on order in 2H2018. GOL executives recently stated that the new market priorities were routes in Latin America and possibly new markets in the Americas.
Unlike the older 767s that GOL has operated in the past decade, and not having the stopover limits of current narrowbodies, the MAX jets offer a level of efficiency GOL has not enjoyed with its current fleet, one that allows it to operate longer services profitably.
GOL's projected fleet plan: 2016 to 2020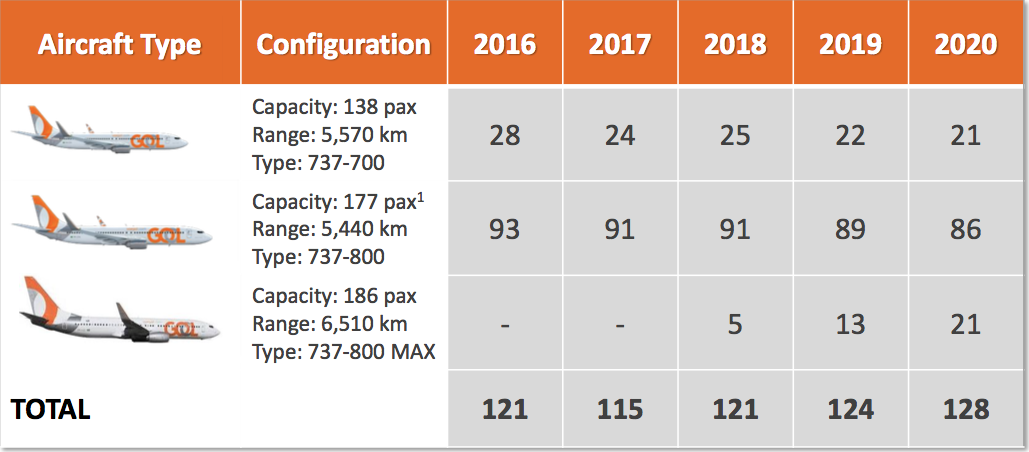 GOL is also operating its MAX jets in a higher density 186-seat configuration, which should help the airline sustain crucial cost efficiency. The airline is working with the fundamental that the 737 MAX-8's cost per seat is 8% less than that of the Airbus A320neo operated by its rivals Azul and Avianca Brazil. "...The first MAX is going to be a key driver on our ex-fuel CASK...", GOL CFO Richard Lark recently stated.

Additionally, the premium product that GOL offers on international flights should help drive revenue growth for the airline as it undertakes necessary network expansion.
2. GOL's product evolution helps it retain relevance among corporate customers
GOL has worked diligently during the past few years to attract more corporate customers, with the goal of having a more balanced passenger mix. In addition to GOL's network revamp directed at offering better flight schedules for corporate customers, the airline's medium frills product mix could be attractive for corporate clients as slow recovery of demand in that passenger segment within Brazil begins.

The airline is the process of improving its product offering: leather seats, in-seat power, and WiFi, in addition to an extended legroom section – a product evolution that GOL realises is necessary as passenger expectations evolve.
GOL executives recently reported that the product refresh had already increased its net promoter score; "...and business travellers are pretty much sensitive to that, we believe that we can expand our market share in the corporate segment", GOL CEO Paulo Kakinoff has remarked.
THREATS
1. Undisciplined capacity growth in Brazil's domestic market
GOL has warned that overzealous capacity growth by its rivals could pose challenges for a recovery in pricing within Brazil. GOL and LATAM Airlines Brazil have contained their domestic capacity growth during the past couple of years, while Avianca Brazil and Azul have continued expanding their domestic ASKs.
See related report: GOL warns of capacity imbalance created by competitors could pressure yields in Brazil
Both GOL and LATAM Airlines Brazil are planning flat capacity growth to a two percent reduction in 2017, whereas Azul plans 11% to 13% ASK growth. Azul's growth has been driven by the continued introduction of the Airbus A320neo into its fleet, which will represent 20% of the airline's capacity by YE2017.
Avianca Brazil has been growing rapidly during the past several years to expand its market share in the Brazilian domestic market. It achieved a 12.8% share of the market in 1H2017 (see chart above), and grew its capacity by approximately 14.8% during that time. Company officials recently told CAPA that Avianca Brazil was planning to slow its capacity expansion; this is because of political uncertainty in Brazil due to the turmoil triggered by presidential scandals, as well as the upcoming presidential, congressional, and Senate elections in 2018.
See related report: Avianca Brazil Part 1: slowing domestic expansion amid political uncertainty. Emfromovich interview.
Avianca Brazil executives recently told CAPA that the airline's domestic passenger and capacity growth for the full year of 2017 would be much less than in 2016. The company's domestic capacity growth was 14.1% in 2016.
Azul and Avianca Brazil will continue some level of domestic capacity growth in order to sustain and grow their share of the country's domestic passengers. It remains to be seen how that growth will affect the recovery of pricing in Brazil.
Azul's yield in 2Q2017 was essentially flat year-on-year, and LATAM Airline Brazil posted a 3.5% increase in Brazil unit revenues (denominated in BRL). GOL posted healthy yield growth of 4.8% year-on-year in 2Q2017, which is typically a slower period for the airline; but given Brazil's slow climb out of a recession, demand patterns remain uncertain, and any level of elevated capacity could wipe out gains airlines are achieving in pricing.
2. Changing dynamics in the Latin American market with new LCC rivals and competitive responses to new LCC threats
Four new low cost airlines – Wingo, Volaris Costa Rica, JetSMART and Viva Air Peru – have debuted in Latin America during the past year. Each of those airlines has aspirations to operate outside their respective domestic markets, which means GOL faces new competitors as it resumes international growth within Latin America.
Additionally, LATAM Airlines Group is introducing its own tiered pricing to be more competitive with existing and aspiring low cost airlines, which means that all airlines operating in Latin America need to double down on their cost performance. GOL is a strong performer in its cost performance, but is facing elevated fuel costs in 2018, based on projected prices and exchange rate pressure.
GOL believes that driving up aircraft utilisation, as well as the introduction of the 737 MAX, should help with its non fuel cost performance, and the airline is projecting flat unit cost growth (excluding fuel) for 2018.
But its rivals are also working to slash unit costs to remain competitive as the LCC model expands across Latin America.
GOL's fortunes lie in proper execution of its cost reduction and network expansion
GOL has weathered one of the worst operating environments in Brazilian history during the past few years, and its current stock valuation indicates that investors can see an upside after its financial restructuring, and an upside in what appears to be the start of slow economic recovery for the country.
To sustain its upward valuation GOL needs to think about long term network development, and how it will remain competitive as a new era marked by expanding low cost competition begins in Latin America.
GOL appears to be putting all the necessary pieces together to compete effectively, but favourable execution of its network and financial ambitions remains the key.