Gol warns capacity imbalance created by competitors could pressure yields in Brazil
Analysis
Brazil's largest domestic airline, Gol, is maintaining a cautious outlook for 2017 as concerns about capacity additions by Azul and Avianca Brazil create an overhang for a recovery in the country's domestic market. Gol and its main competitor LATAM Airlines Brazil have maintained a rational supply during the last couple of years, but forward looking schedules for 2017 show double digit ASK growth for Azul and Avianca Brazil year-on-year in early May-2017.

Gol made progress in unit revenue and yield recovery in 2016, but remains concerned about the effects of competitive capacity growth on fares, and ultimately yields. The airline is forecasting slower yield growth in 2017, and is warning a lack of industry capacity discipline could create additional yield pressure. Gol plans to keep its own system capacity in check for 2017, with projections of flat growth to a 2% decrease as its fleet shrinks, before growing in 2018 when the airline takes first deliveries of its 737 Max jets.

Although the corporate market within Brazil remains in tenuous shape, Gol believes it has expanded its share among business travellers – driven in part by network changes it adopted in 2016 to make schedules more attractive to corporate customers. However, the size of Brazil's corporate travel market remains stagnant, and predicting expansion of business travel remains difficult.
Gol improves yields in 2016 and maintains a leading market share
Gol recorded increases in yields and total RASK in each quarter of 2016; for the full year the airline's yields increased 8% versus 2015 and unit revenues grew 8.3%.
Gol yield and total unit revenue increases: 1Q2016 to4Q2016
| | | |
| --- | --- | --- |
| Quarter | Yield increase | RASK increase |
| 1Q2016 | 17.3% | 15% |
| 2Q2016 | 9% | 8% |
| 3Q2016 | 1.5% | 3.3% |
| 4Q2016 | 3.8% | 6.6% |
However, Gol's yields grew just 1.6% in 2016 compared with 2014, reflecting the dissolution of pricing traction among Brazilian airlines in 2015. Gol is largely a domestic operator, with 89% of its ASKs deployed onto routes within Brazil for the week of 6-Mar-2016.

Gol posted a 6.9% decrease in system ASKs in 2016 and a 5.4% in its domestic supply. Although the company's passenger levels fell 16% to 32.6 million, Gol emerged as the largest airine in Brazil during 2016, with a 36% market share.
2016 market share among Brazil's four largest airlines
Competitive capacity additions from Azul and Avianca Brazil a concern for Gol
Gol's outlook for 2017 is reasonably optimistic; however, competitive capacity increases are threatening the pace of recovery in Brazil's domestic market.

Company executives recently stated that Gol expects the industry environment to remain difficult in the short term, but the airline is seeing some positive trends. Its daily ticket sales grew 30% in Jan-2017 compared with Dec-2016, with load exceeding 80%.

Looking further out into 2017, Gol stated that pricing will remain a challenge due to Azul and Avianca Brazil adding capacity in Brazil's domestic market. Forward looking data from CAPA and OAG for the week of 1-May-2016 show Brazil's overall domestic ASKs are growing 5% year-on-year.
Brazil domestic ASKs: 2015 through mid 2017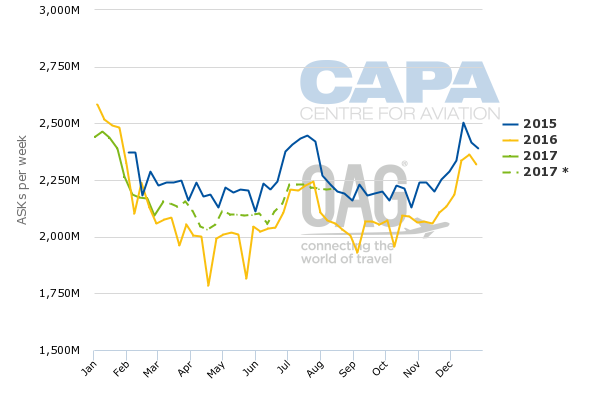 Both Azul and Avianca Brazil are growing their domestic ASKs by double digits year-on-year within that timeframe. Gol executives expressed uneasiness over a couple of competitors that are considering adding more aircraft to the domestic market in 2Q2017, the company stating: "which concerns us because of its potential effect on fares. So we are trying to do our part to match demand with supply". Azul is using some of its A320neo aircraft on domestic routes, and during 2017 is also making a push from Recife, its third largest base measured by destinations served.
Projected domestic ASK decrease/ increase among Brazil's four largest airlines in early May-2017
See related report: Brazil: LATAM And Gol tout capacity discipline. Azul looks outward and Avianca Brazil grows share
Gol has outlined system capacity projections of flat growth to a 2% decline in 2017, and LATAM Airlines Brazil is projecting similar capacity levels for 2017.
Gol fleet, capacity. load factor and EBITDA guidance for 2017

The airline's fleet projections show a 5% decrease in Gol's operating fleet year-on-year in 2017, from 121 to 115 aircraft; but Gol plans increased utilisation in 2017, reflected in a 10% rise in aircraft utilisation year-on-year in Jan-2017.
Gol fleet projections: 2015 to 2019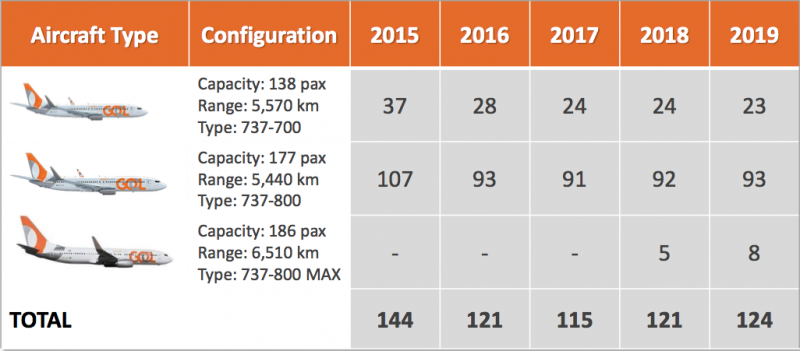 Gol grows corporate share, but business travel growth in Brazil stays stagnant
Gol has assessed that the size of Brazil's corporate market has not grown, but it achieved a higher market share of corporate travellers in 2016. "We are leading the market in the number of tickets sold to business travellers, and, in 2016 we achieved the market leadership in revenues", Gol CEO Paulo Kakinoff has said.

During 2016 Gol undertook a network revamp to bolster its position in Brazil's top eight airports that represent approximately 75% of Brazil's GDP.
Brazil top ten airports by domestic arrivals: 6-Mar-2017 to 12-Mar-2017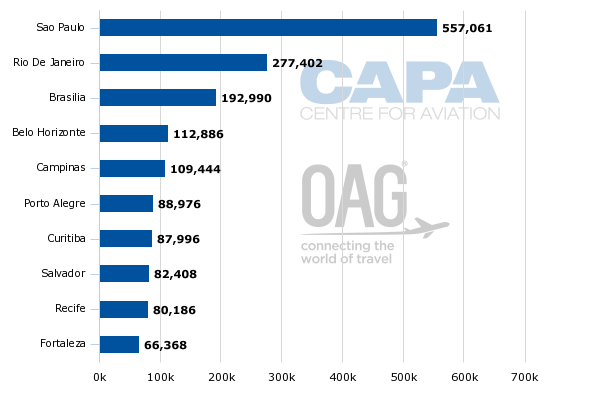 Mr Kakinoff advised that Gol's market share at those airports ranges from 35% to 52%. An example of Gol's restructuring included swapping peak short haul flights to leisure markets at São Paulo Congonhas for more business oriented flights with a longer stage length. In 2Q2016 Gol estimated its stage length from Congonhas had increased 41% year-on-year.

Gol has also worked to create more favourable flight times for corporate passengers from Rio de Janeiro, to provide better connections between Brazil's Northern and Southern regions. Rio also has two airports – Santos Dumont, which serves domestic markets, and Galeão, which is the city's international gateway.

See related report: Gol nears the end of a crucial debt overhaul, but challenges in Brazil still loom large

Gol has stated that one of its current challenges is maintaining its competitive position in the Rio de Janeiro market. Data from CAPA and OAG for the week of 6-Mar-2017 show that Gol represents 41% of domestic ASKs at Santos Dumont and 24% of system ASKs at Rio Galeão.
Rio de Janeiro Santos Dumont Airport domestic capacity by airlines (% of ASKs): 6-Mar-2017 to 12-Mar-2017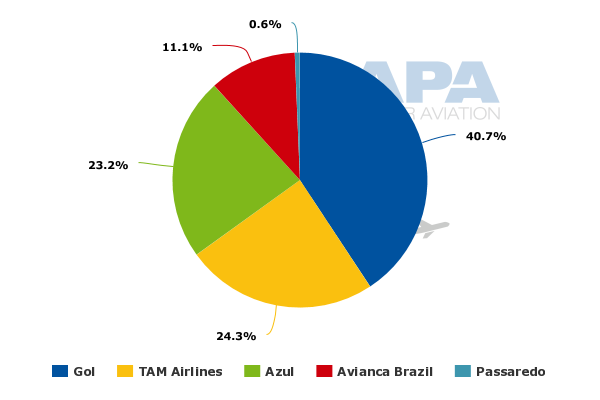 Rio de Janeiro Galeão International Airport system capacity by airline (% of ASKs): 6-Mar-2017 to 12-Mar-2017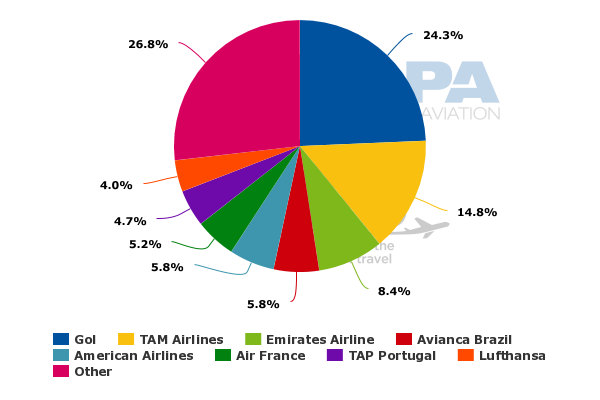 Gol warns of yield pressure from overcapacity in Brazil's market
Gol has little visibility over when growth in Brazil's corporate sector will resume. Mr Kakioff has remarked that Gol expects to have more meaningful improvements in 2H2017, but "we do need to find better economic conditions in Brazil, which is supposed to happen from July [Jul-2017] on".

Gol is forecasting a 6% rise in yields year-on-year for 2017, which is 2ppt lower than the 8% increase it recorded in 2016. The company hopes to post a higher increase in yields, but is warning that if capacity discipline does not ensue, yields could be pressured.
Overambitious capacity growth could delay a recovery of pricing in Brazil
Gol has taken painful and necessary steps during the past couple of years to ensure that it remains viable during what is a long and painful recession in Brazil. It now holds the title of Brazil's market leader in terms of market share and aims to capitalise on its position to entrench itself firmly among Brazil's corporate travellers.

But Gol appears to believe the growth of its smaller rivals in Brazil's domestic market is overzealous, and if a supply-demand imbalance ensues, it could delay a recovery in the country's air transport sector, prolonging the pricing weakness in the market.