Fort Lauderdale Airport - becoming a unique niche for low-cost airlines in South Florida
Analysis
Fort Lauderdale is a unique crossroads for three non-legacy airlines opting for the airport's lower costs, a built-in leisure traveller base and a visiting friends and relatives (VFR) passenger segment.

JetBlue has recognised Fort Lauderdale's trio of benefits, and has been rapidly expanding at the airport during the past two years. Fort Lauderdale is an important cog in JetBlue's network, and the carrier has a stated goal of reaching 100 daily flights from the airport by 2017.

Of course Fort Lauderdale still remains the largest base and headquarters of ultra low-cost carrier Spirit Airlines. Southwest also has a solid presence at the airport, which in some ways makes Fort Lauderdale a mecca for carriers that declare themselves hybrid, low-cost or ultra low-cost.
JetBlue's seat share continues to grow in Fort Lauderdale
During Oct-2014 JetBlue is launching three new routes from Fort Lauderdale – Cartagena in Colombia, Las Vegas and Pittsburgh. Based on data from CAPA and OAG, JetBlue presently holds an approximate 21.8% share of the seats deployed from Fort Lauderdale, compared with a 19% share for the week of 27-Jan-2014 to 2-Feb-2014.
Fort Lauderdale-Hollywood International Airport capacity by carrier (% of seats): 19-May-2014 to 25-May-2014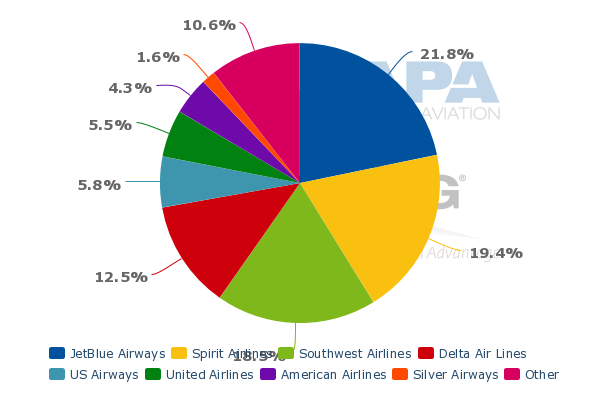 Once the new flights begin in Oct-2014, JetBlue's seat share in Fort Lauderdale increases to nearly 25%, reflecting the importance of the airport in the carrier's network.
JetBlue estimates a 5% to 7% capacity increase for CY2014, and expects to deploy 30% of its capacity into Florida, the bulk of which will likely be Fort Lauderdale.
Fort Lauderdale-Hollywood International Airport capacity by carrier (% of seats): 27-Oct-2014 to 2-Nov-2014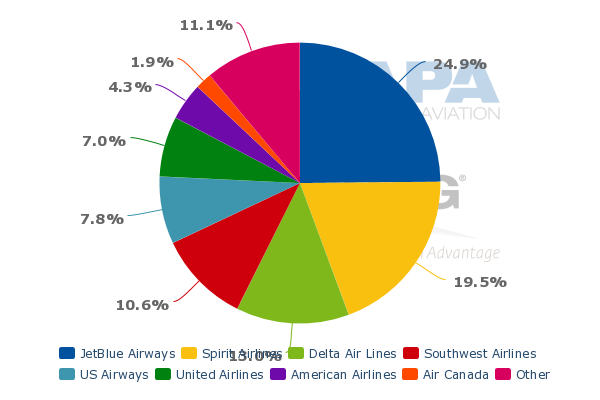 Cartagena is a logical destination for JetBlue since the airline already serves the market from its largest base and headquarters at New York JFK. Cartagena becomes the third route in Colombia where both Spirit and JetBlue operate from Fort Lauderdale. The airlines also offer service from Fort Lauderdale to Bogota and Medellin.

Each carrier posted healthy load factors on services to Colombia in Jan-2014, based on data from the country's DGAC. JetBlue's loads were 87% and Spirit recorded nearly 92% load factors. Spirit opts to operate denser A320s with 174 seats versus a seating capacity of 150 on JetBlue's A320s.

Both JetBlue and Spirit also see an opportunity to promote lower fares to Colombia from Fort Lauderdale rather than nearby Miami, a higher-cost airport dominated by American, which has higher fares than its low-fare competitors. Avianca, American and LAN all serve Bogota from Miami. Avianca also serves Cartagena from Miami and Avianca and American offer flights from Miami to Medellin.

It will be interesting to see if there is enough demand between South Florida and Colombia to absorb all the service on offer. Fort Lauderdale is about 45km north of Miami, which may make it less attractive for residents to the south, but there could be enough demand between Colombia and Fort Lauderdale for Spirit's "bare fare" product that essentially only covers the ticket price and JetBlue's higher fares that include free drinks, snacks and more seat pitch.

See related reports:
JetBlue's new Pittsburgh service opens up new one-stop international routes
JetBlue's new service from Fort Lauderdale to Cartagena coincides with the launch of the airline's flights from Fort Lauderdale to Pittsburgh, which should allow some connecting customers onto the new flights to Cartagena, a destination located on the Caribbean Sea.

JetBlue is competing with Southwest on new service between Fort Lauderdale and Pittsburgh, which is an interesting dynamic. During 1Q2014 JetBlue's average fare was USD168 and Southwest's was USD157. Southwest offers in-flight connectivity and JetBlue is in the midst of equipping its fleet with Wi-Fi. Both airlines offer free drinks and snacks; but JetBlue has assigned seating, which may be attractive to some passengers.

JetBlue also offers flights to multiple international destinations from Fort Lauderdale including six new markets introduced within the last year – San Jose, Costa Rica; Lima, Peru; Port-au-Prince, Haiti; Port of Spain, Trinidad and Tobago; Montego Bay, Jamaica; and Punta Cana, Dominican Republic. JetBlue also operates service from Fort Lauderdale to Kingston, Jamaica; Nassau, Bahamas; Santiago and Santo Domingo, Dominican Republic; San Juan, Puerto Rico; and Cancun, Mexico.

Presently, Southwest only offers international flights from Fort Lauderdale to San Juan. JetBlue's broader selection of international routes from Fort Lauderdale could be attractive as a one-stop option for some Pittsburgh travellers who do not have access to a large number of markets in the Caribbean and Latin America.
Schedules in OAG show that presently Delta and Frontier offer low-frequency service from Pittsburgh to Punta Cana and Frontier offers one weekly flight to Cancun. JetBlue's daily flights through Fort Lauderdale could offer some favourable connecting opportunities for travellers originating in Pittsburgh looking for fairly affordable flights to Latin America and the Caribbean.

Both Spirit and Southwest serve Las Vegas from Fort Lauderdale, making JetBlue the third carrier on the pairing when it launches service in Oct-2014. JetBlue also serves Las Vegas from JFK, its focus city in Boston, and Long Beach. It has point-of-sale familiarity in Las Vegas, and coupled with its strength in Fort Lauderdale, the airline should be able to turn a decent performance on its new service to Las Vegas.
JetBlue's entry into the market creates a near-unique competitive landscape – one ultra low-cost carrier, Southwest's low-fare brand and a hybrid offering by JetBlue. JetBlue CEO Dave Barger has in the past maintained that his airline's hybrid operation can compete very effectively with Spirit head to head, but the combinaiton of Spirit and the popular Southwest will be something new for everyone concerned. Logic suggest prices on the route should be among the lowest in the US domestic market - but still accompanied by a range of service standards.
Spirit breaks monopolies on planned new routes from Fort Lauderdale
Spirit during the past few years has focussed on US domestic expansion rather than continue its push from Fort Lauderdale into the Caribbean and Latin America. It has rapidly expanded from Dallas, Chicago, Las Vegas and Houston while JetBlue has worked to leverage Fort Lauderdale's strength as a connecting point to the Caribbean and Latin America and an end destination for passengers in the US northeast.

Earlier this year Spirit CEO Ben Baldanza stressed that Fort Lauderdale's performance is still above Spirit's average (likely due to the maturity of most routes operated from Fort Lauderdale), and that Spirit planned more growth there in CY2014 compared to CY2013.

See related report: Spirit Airlines sees no constraints to its growth and performance targets: a model of a modern ULCC

Spirit's market expansion from Fort Lauderdale in CY2014 includes new service to New Orleans beginning in Aug-2014 and Houston Intercontinental in Sep-2014. It faces competition in New Orleans from Southwest Airlines and United in Houston, breaking each carrier's monopoly status on the routes. Spirit will offer markedly lower base fares on each pairing, which should stimulate traffic in the respective markets.
In theory, Spirit will attract passengers priced out of the market. It is not clear if that theory applies when it is in direct competition with Southwest, but Southwest's fares have been rising during the past few years as its cost gap with US majors has dwindled. So Southwest may not have the ability to match Spirit's base fares for an extended period of time.
Spirit's examination of Miami poses an interesting scenario for South Florida
One wildcard in the South Florida market is Spirit's examination of launching service to Miami. The carrier has not formally declared any plans to add service from Miami; but two South Florida newspapers recently reported that Spirit was considering the airport.
Even if Spirit opts to introduce flights from Miami, Fort Lauderdale will remain its dominant airport in South Florida for quite some time, given the infrastructure the carrier has built up at the airport.

See related report: Could Spirit Airlines further exploit its ULCC strategy in South Florida with new Miami flights?
Fort Lauderdale Airport's competitive strengths prove its staying power
Fort Lauderdale may not be the busiest US market, but Spirit has used the airport and South Florida quite successfully to showcase the success of the ultra low-cost carrier niche in the US. Even as Spirit has opted to replicate that formula elsewhere in the US during the past couple of years, Fort Lauderdale's passenger numbers have remained fairly steady at almost 24 million.
The airport's passengers numbers stand to grow as it is now squarely a JetBlue focus city, the third largest base in the carrier's network.
Fort Lauderdale-Hollywood International Airport annual passenger numbers: 2010 to 2013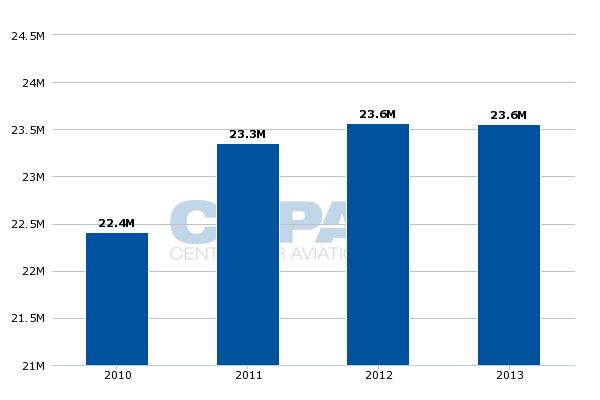 Overall Fort Lauderdale's prospects remain promising even if some uncertainty hangs over Spirit's long-term plans. And the lower cost commitment from JetBlue to grow to 100 daily departures, along with the airport's geography, give it a strong foundation for staying power and as an attractive alternative to Miami in leisure markets.
Meanwhile, Miami Airport remains solidly the full service airline hub for accessing Latin American routes. So the combination with an almost complementary set of services at Fort Lauderdale provides Florida residents with a highly attractive set of options for travel. As activity among the various low-cost and hybrid models evolves, this airport complementarity is likely to shift towards greater competitiveness, perhaps one reason why Miami is apparently looking to attract some Spirit services.