Could Spirit Airlines further exploit its ULCC strategy in South Florida with new Miami flights?
Analysis
Spirit's apparent discussions with Miami International over the prospects of launching service from the airport seem a bit illogical on the surface given that the carrier calls nearby Fort Lauderdale International home. But Spirit's expansion plans, coupled with the changing competitive dynamics at Fort Lauderdale during the past couple of years, might make flights to Miami plausible.

The carrier is obviously keeping any potential plans for Miami close to its chest as it charts a potential delicate course in possibly serving two airports in the South Florida market. But stripping out the sensitivities serving Miami would create, the airport fits nicely with Spirit's market strategy – an airport dominated by a legacy carrier that presumably charges higher fares.

In the ever-changing global airline market, there is a growing sense the playbooks of old are being tossed aside as market forces dictate new approaches to maximising profitability. In that sense, Spirit has to consider all options for expanding its ultra low-cost model, even it that means launching service from another airport practically in its backyard.
Spirit considers Miami service after a lengthy period of growing outside Fort Lauderdale
Recently reports surfaced in two South Florida news outlets – The Miami Herald and The Sun Sentinel – that Spirit had held months-long discussions with Miami airport officials and mayor of Miami-Dade county about introducing flights from Miami airport.

Those talks are against a backdrop of a years-long diversification effort undertaken by Spirit to expand outside of Fort Lauderdale, launching US domestic service in large metropolitan areas largely dominated by legacy carriers. Spirit's logic is it can stimulate low-yielding traffic in those markets that is generally unattractive to legacy carriers, which results in the major carriers basically leaving Spirit to its own devices. Prior to the strategy shift, Spirit built up Fort Lauderdale as a low-cost gateway to the Caribbean and Latin America, which appealed to South Florida's large Hispanic population.
Spirit Airlines route map as of Apr-2014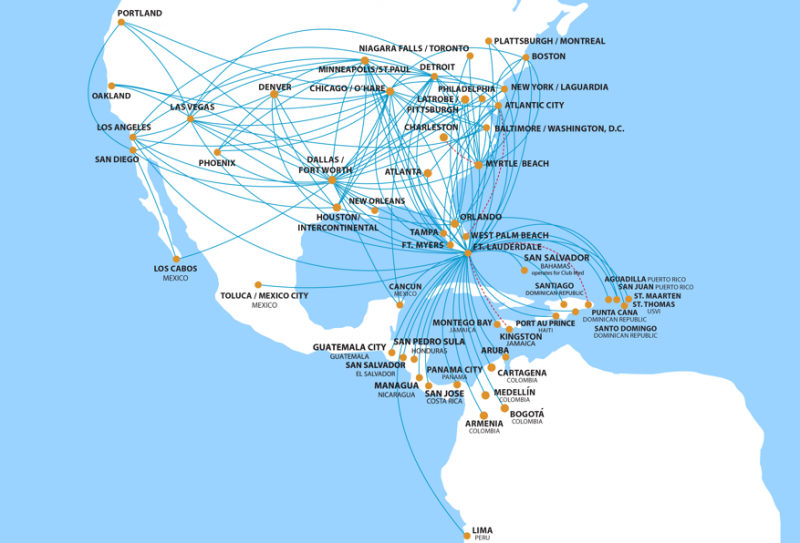 Throughout the time Spirit has opted to shift its focus on more US domestic expansion, it has consistently fielded questions about the role Fort Lauderdale plays in its network strategy, and its future at the airport.

In early 2014 carrier CEO Ben Baldanza remarked that Fort Lauderdale's performance was better than Spirit's system average, which in and of itself has "high margins". He also concluded that the carrier's total operations from Fort Lauderdale during 2014 would be "a little bigger" than the year prior.

See related report: Spirit Airlines broadens its focus to both legacy entrenchments and classic niche markets
JetBlue fortifies Fort Lauderdale as Spirit turns its attention elsewhere
While Spirit turned its attention to the US domestic market, JetBlue launched a rapid expansion from Fort Lauderdale, with a particular focus on the Caribbean and Latin America, which has created some competitive pressure for Spirit.

JetBlue's international offerings from Fort Lauderdale include Lima, Bogota, Medellin, Cancun, Santo Domingo, Nassau, Kingston, Port-au-Prince, San Juan, and San Jose, Costa Rica. It competes with Spirit on many of those routes with the exception of Nassau.
JetBlue's routes from Fort Lauderdale as of Apr-2014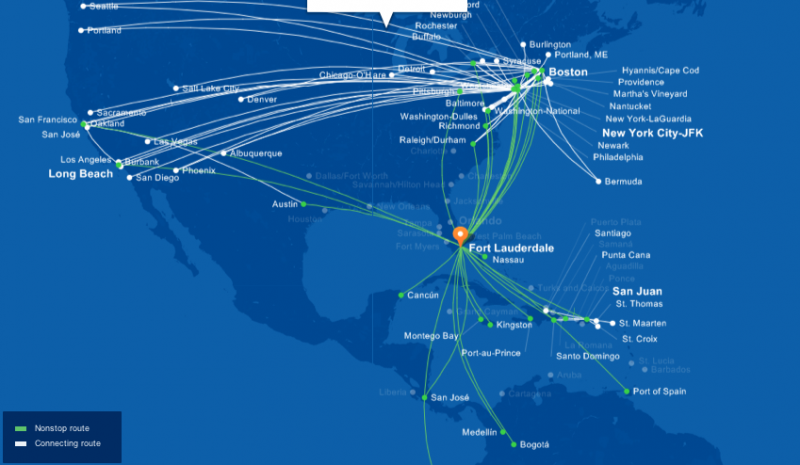 During the last couple of years JetBlue has heaped praise on the Fort Lauderdale market, including a declaration in May-2013 that the costs of operating from the airport were approximately four times lower per enplanement, compared with Miami, which is roughly 30km south of Fort Lauderdale.

Fort Lauderdale is one of JetBlue's fastest growing markets as it works to mine the opportunities South Florida presents in the Caribbean and Latin America. Key to JetBlue's focus on Fort Lauderdale is the conclusion that its routes from the airport quickly grow to profitability. The carrier has a stated goal of growing to 100 flights per day from Fort Lauderdale. During 4Q2013 JetBlue averaged 60 daily flights from the airport.

JetBlue's bullishness about the opportunities in Fort Lauderdale is reflected in its 20% share of seats deployed from the airport. Southwest is the airport's leader in terms of domestic seat deployment while JetBlue and Spirit each hold an approximate 25% seat share in international markets.
Fort Lauderdale-Hollywood International Airport system capacity by carrier (% of seats): 14-Apr-2014 to 20-Apr-2014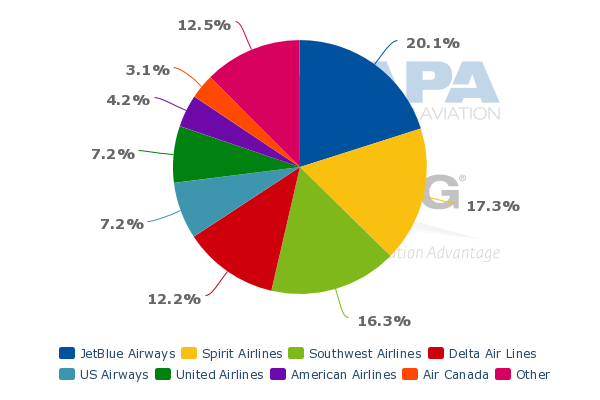 Fort Lauderdale-Hollywood International Airport domestic capacity by carrier (% of seats): 14-Apr-2014 to 20-Apr-2014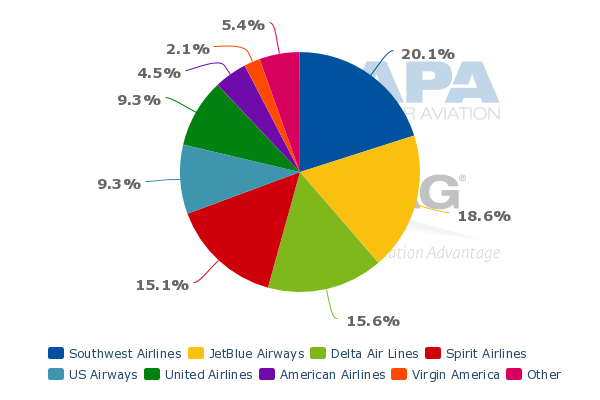 Fort Lauderdale-Hollywood International Airport international capacity by carrier (% of seats): 14-Apr-2014 to 20-Apr-2014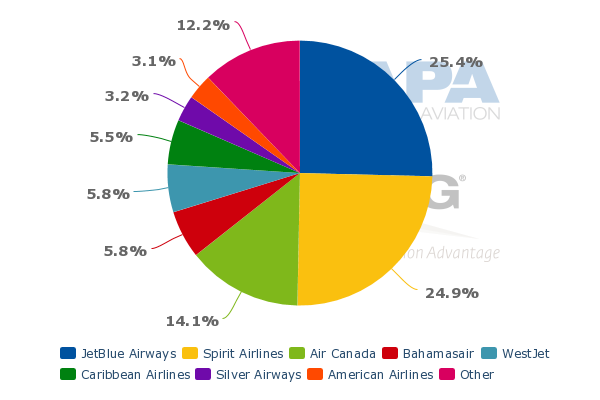 See related reports:
JetBlue may offer a better production proposition than Spirit in some markets
JetBlue's stature as a low-fare carrier with medium frills provides interesting competitive dynamics at Fort Lauderdale. JetBlue offers leather seats, more seat pitch, free snacks, some free satellite television programming and a first checked bag. Spirit charges for nearly everything outside the base fare, baggage (including carry-on), printed boarding passes at the airport and bottled water. The strategy is keeping base fares low and allowing the passengers to craft their own travel experience.

But some leisure passengers and visiting, friends and relatives (VFR) customers may find JetBlue's proposition more attractive. During 2013 Spirit's base fare was USD79, a nearly 6% increase year-on-year. Its non-ticket revenue per flight segment grew almost 5% to USD54. JetBlue's average fare in 2013 increased roughly 4% to USD163.

Combined, Spirit's ticket and non-ticket revenue per segment was about USD133 during 2013, just USD30 shy of JetBlue's all-in fare that includes a few more product attributes than Spirit. For some passenger that is not an enormous gap and likely worth the added comfort. It is not a stretch to assume that the price differential is pressuring Spirit in some of those markets, although Mr Baldanza has publicly stated he believes Spirit's business model aligns well with the price-sensitive nature of much of the travel to and from Fort Lauderdale.
Spirit could see similarities between DFW and Miami: namely high-fares from American
Although close to Fort Lauderdale, Miami's carrier demographics are much different. Unlike Fort Lauderdale where low fare carriers like JetBlue and Spirit and large domestic carrier Southwest are the dominant airlines, American Airlines is Miami's titan, holding nearly 68% of the system-wide seats on offer at the airport. No low-cost carriers feature in the top airlines serving the airport, owing to Miami's higher cost base.
Miami International Airport capacity by carrier (% of seats): 14-Apr-2014 to 20-Apr-2014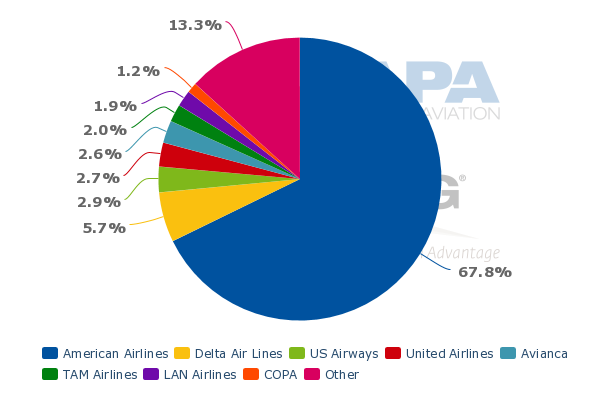 Miami's dominant carrier American is a familiar competitor to Spirit. Prior to American's Chapter 11 reorganisation and during US Airways' pursuit of American, Spirit expanded rapidly from American's hub at Dallas/Fort Worth, seizing on an opportunity to exploit its ultra low-cost model in a market it deemed as high fare.

Domestically, American holds a nearly 75% seat share from Miami, which could make the market a prime target for Spirit. Previously, Spirit has explained its calculus in entering large markets dominated by legacy carriers is a confidence of driving 40% traffic (the equivalent of two-to-three daily flights) stimulation on 25% lower fares. Spirit has commented that legacy carriers largely leave the airline alone since it is stimulating the type of traffic that is not attractive to major carriers.
Miami International Airport domestic capacity by carrier (% of seats): 14-Apr-2014 to 20-Apr-2014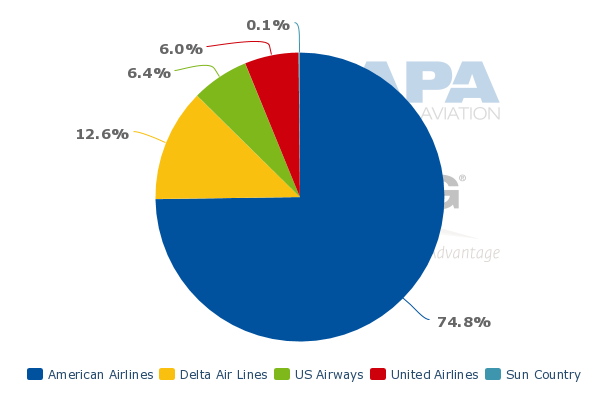 There are some changes in store for American in Miami as the carrier's new management plans a re-banking of the Miami hub in late 2014, which could create some opportunities for Spirit to add service from the airport.

See related report: American Airlines' network tweaks officially begin as early revenue trends look favourable

Obviously the largest factor in replicating that strategy in Miami is the airport's higher enplanement cost. Several outcomes could occur to make Miami more viable for Spirit. The airport could offer some incentive for the carrier, although that would be met with opposition from existing tenants of the airport. Spirit could offset the costs of operating at Miami by spreading the expense over its network, which for the moment still generates lower costs than any other airline.

Spirit also might be able to charge a higher base fare in Miami that covers the cost of operating from the airport that is still well-below the fares charged by other higher-cost airlines at the airport. The key is finding the right price point to both cover cost and generate enough revenue to make Miami viable. That could be a more difficult proposition in 2014 than in previous years as Spirit has previously forecasted a unit cost rise of 1% to 2% in CY2014.

See related reports:

One interesting point highlighted by The Sun Sentinel was that travellers residing further south of Miami airport would not drive to Fort Lauderdale, which could create some stimulation opportunity for Spirit. It is tough to conclude that the 40% traffic stimulation target would be met, but Spirit is no doubt doing the proper analysis to determine Miami's viability.
It is tough to gauge how serious Spirit's intentions are for Miami
Spirit often states it sees opportunities in 500 markets where it could execute its ULCC model. So the idea that the airline is examining possible service from Miami is not enormously farfetched. However, the priority Miami holds in markets under consideration by Spirit remains unknown. Spirit has an in-depth understanding of the South Florida market and could craft a strategy to exploit that knowledge in Miami. But the revenue potential has to be significant for the carrier to absorb both the cost and complexity of introducing service at a second South Florida airport.