Spirit Airlines performing well but not immune from the cost creep virus spreading among US carriers
Ultra low-cost carrier Spirit Airlines is following suit with its full-service and hybrid peers in the US by predicting rising cost and capacity for 2014. But the ULCC assures that its business model remains sound, reflected in estimates of a 16% to 18% operating margin for FY2014.

Spirit has previously warned it could face some cost headwinds in 2014; but the carrier is continuing double-digit capacity expansion of nearly 17% (down from 22% in FY2013) driven by its belief that the cost inflation it is experiencing this year will be short lived, and over a 24-month cycle its cost advantage should remain intact.

At the same time Spirit is finding itself in the unusual position of defending its business model as executives field questions about the airline's ability to balance out the peaks and troughs in demand that are a natural byproduct of its price-sensitive passenger segment. There are more than a few believers though, as a 160% increase in share price over the past 12 months can testify.
Spirit could see up to a 2% uptick in unit costs during FY2014
Spirit estimates its unit cost excluding fuel will increase 1% to 2% for both 1Q2014 and FY2014. During FY2013 Spirit's unit costs were USD6 cents and presently the carrier estimates unit costs excluding fuel of USD5.97 cents to USD6.03 cents for FY2014.
While any rise in unit costs does set off alarm bells, even if Spirit hits the high end of that range, its costs will still be among the lowest in the industry as Alaska, American, Delta, JetBlue, Hawaiian, Southwest and United have all estimated their respective unit costs will increase in FY2014.
Spirit Airlines' projected capacity growth and operating margin: FY2014
But Spirit does not use rising industry costs as a benchmark in its own cost management. Company executives recently explained to analysts that there is cost pressure in the industry; but Spirit is "not okay with letting our cost move because everyone else is moving. We're very focused on maintaining our cost structure."

In the short term Spirit is experiencing similar cost creep to Delta (flat to 2% unit cost growth in FY2014) and United (a roughly 2% increase). The main drivers in Spirit's cost increase in 2014 are depreciation and amortisation of heavy maintenance and an increase in pilot costs due to new flight and duty times that took effect in Jan-2014.

The carrier also states it has some cost advancement in 2014 related to its growth in 2015, when ASMs are expected to increase 29% year-on-year. Spirit's hike in capacity growth for 2015 is fuelled by 11 Airbus narrowbody deliveries planned for 2014, seven of which are occurring in 4Q2014.

Spirit assures that the cost pressure in 2014 should give way to "a nice tailwind to cost in 2015", declared carrier CFO Ted Christie. At the same time Spirit also cites initiatives it has undertaken to lower its cost structure that could produce some benefit in 2014, but is not sharing specifics about those plans.

Mr Christie stressed that Spirit's costs should stabilise during the next two years, and believed the carrier could possibly even expand its cost advantage during that time, implying greater increases ahead for the majors.

See related reports:
Spirit assures it can handle seasonal swings in demand
Spirit's unit revenues grew 2.8% in FY2013, a solid improvement over the 1.5% growth recorded in FY2012. Some of the bump in the unit revenue growth was driven in a 5.8% increase in Spirit's baseline ticket price to USD79.43. The carrier's non-ticket revenue per segment also grew 4.8% to USD53.84.
Spirit Airlines select operating statistics: FY2013 vs FY2012

But Spirit warned in Nov-2013 of demand softness in non-peak travel during 4Q2013. Despite this, the carrier did record a healthy 3% rise in unit revenues during the last quarter of 2013, but the warnings it issued spooked some investors.
Previously, Spirit has explained that its push into the domestic US during the last few years has resulted in more pronounced strength in the spring-summer periods versus the winter timeframe.
Spirit Airlines select operating statistics: 4Q2013 vs 4Q2012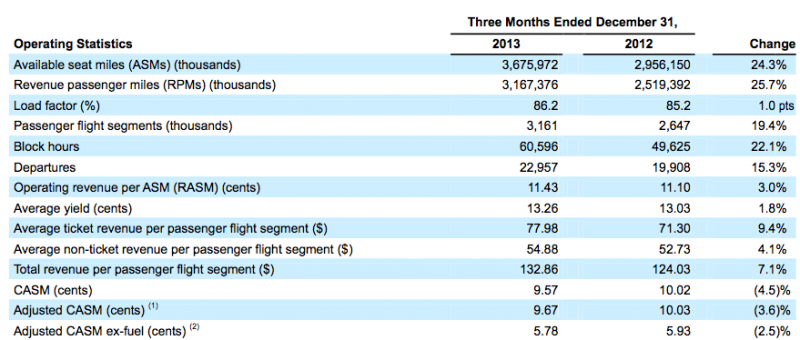 Taking time to explain the nuances of Spirit's demand patterns, CEO Ben Baldanza remarked that the carrier's strong demand periods are particularly robust; but that does not result in the softer periods being dramatically weaker. Mr Baldanza explained that while Spirit's annual aircraft utilisation is fairly high at close to 13 hours per day, that doesn't occur at all periods during a given year. "You can just look at our schedules and see that in a month like September, we don't fly 13 hours a day."

Mr Baldanza also stressed that the differences Spirit sees in strong and weak times do not warrant a different sized fleet, rather it can be managed by utilisation within the week or within the month. Mr Baldanza's reasoning appears sound, albeit yet to be proven – but Spirit did show decent 4Q2013 revenue results and also recorded solid pricing traction as its average ticket revenue per passenger segment grew 9.42% to USD77.98.

But during 4Q2013 and FY2013 Spirit's unit cost excluding fuel fell 2.5% and 1.5%, respectively. Arguably, it is somewhat easier to manage peaks and troughs when costs are falling. And while Spirit feels reasonably confident that demand will remain solid in 2014, it may not have an ability to gain as much pricing traction during peak times to combat the weaker trough periods.
Spirit records admirable financial results even as cost pressure looms
Despite the cost overhang Spirit has warned about for FY2014, the carrier's financial results for 4Q2013 and FY2013 were commendable. During 4Q2013 top-line revenues grew 28% year-on-year to USD420 million, outpacing the 19% rise in top-line expenses to USD352 million, which resulted in a 113% jump in operating income to USD68 million.
Spirit's revenues for FY2013 grew 25% to nearly USD1.7 billion as expenses increased 19% to USD1.4 billion. Operating income bumped 62% to USD 282 million.
Spirit Airlines' financial results: 4Q2013 vs 4Q2012 and FY2013 vs FY2012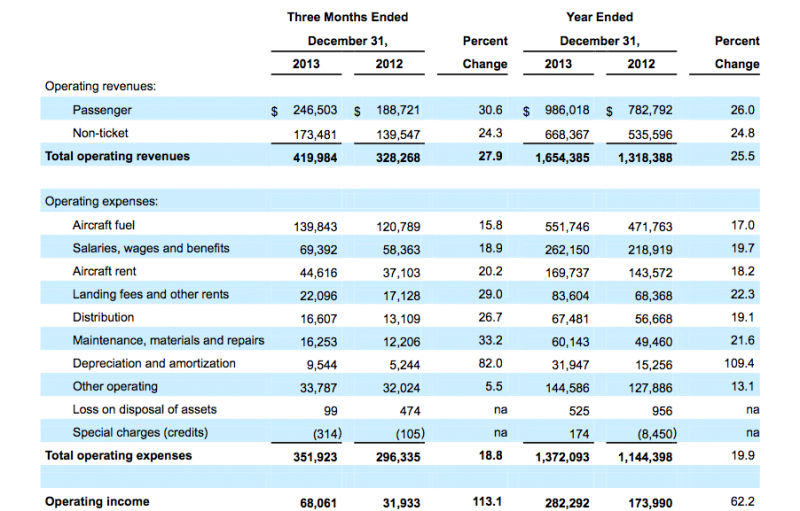 The carrier's net income during 4Q2013 reached USD43 million, a year-on-year increase of 121%.
Spirit still looks well positioned to expand quickly, despite cost slippage
There is no doubt Spirit's management of its ambitious capacity growth during the next couple of years will be watched closely. But with just 65 aircraft at YE2014, Spirit will still likely account for 2% or less of US domestic traffic. There is just a sneaking suspicion that management actually believes the expansion could be much bigger still, as consolidation among its competition has prefaced higher fares, leaving many price conscious crumbs on the table.
Spirit also has low-frequency service in most of its markets targeting low-yielding passengers the US majors have largely abandoned, which in some cases makes its capacity benign – with room for upside.
Spirit Airlines' fleet projections: FY2014 to YE2021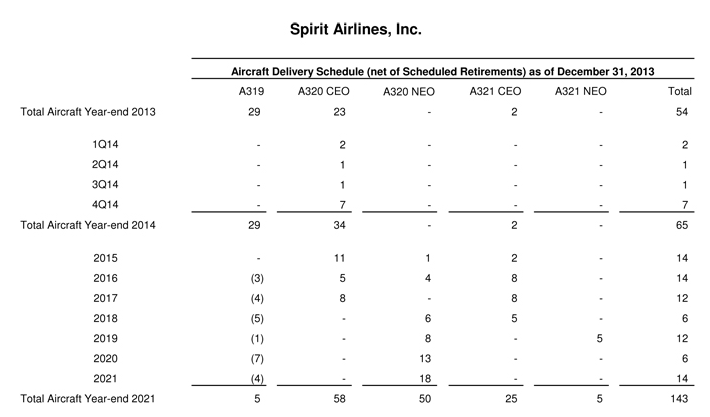 Cost creep accompanied by capacity growth is always a concern, but Spirit clearly understands that its ultra low costs are crucial to maintaining its profitability and operating margins.
Now the carrier just needs to deliver on promises of getting costs back in line and easing concerns that its higher exposure to seasonal waves and troughs will not dent its strong financial results.