US airline majors to add capacity despite unit cost rises. Is "capacity discipline" history already?
Analysis
Nothing remains stable in the airline industry; even dynamic equilbrium is an elusive goal.
Thus, despite having a bullish view of demand and a positive outlook for 2014, the major US airlines are expecting both cost creep and capacity increases – usually not a combination that pleases investors hoping for continued sustainability among the country's airlines.

But the US major network carriers are repeatedly stressing the efficiency ("discipline") of their capacity growth since the bulk of the expansion is attributable to aircraft up-gauge or adding slimmer seats to increase density of existing aircraft, and stressing their actions are by no means a return to the days of introducing irrational supply into the market place. The hybrid carriers JetBlue and Alaska continue to grow in the mid-to-high single digit range in FY2014 while Southwest still aims for flat capacity growth.

Those carriers, along with American, Delta and United are projecting unit cost increases for FY2014, citing various reasons for the creep - including IT investment and wage increases. Perhaps with a gradually improving US economy, the airlines collectively feel that their capacity increases will be easily absorbed and revenue momentum can help offset some of the cost pressure. But then again....
American, Delta and United's ASM growth seems largely benign....
United Airlines plans its first capacity increase in three years during FY2014 when the carrier estimates expanding its supply between 1% to 2% year-on-year. The airline characterises the new capacity as "highly efficient" noting that modest capacity growth is attributable to replacing older aircraft with larger-gauge jets and adding slimmer seats to existing aircraft.

The airline's long-term goal is to sustain a flat mainline fleet around 700 aircraft. During FY2014 United is accepting delivery of 30 Boeing 737-900ERs, four Boeing 787-8s and two of the -9 version. Approximately 37 757s are scheduled to exit United's mainline fleet during 2014 along with a single Boeing 767-300.
United's fleet projections: 2014
United is also undertaking a project to reconfigure some 500 regional and mainline jets with slimmer seats, and expects to complete installations of 400 aircraft by the end of 2014.

Company executives are taking great pains to emphasise that during the next four years United's capacity growth will fall under US GDP, which is estimated at 2.6% for 2014.
See related report: United Airlines end 2013 on a positive note; now the challenge is to sustain the momentum
The new American Airlines plans the largest capacity increase among the three major US carriers during 2014 as its supply is projected to rise by 3.5%. Approximately 2.6ppt of the growth is attributed to the operation of higher density aircraft. The carrier sees upside in operating more densely configured jets as the cost incurred for the extra seats is generally lower, which results in the revenue produced by those additional seats more or less becoming an almost instantaneous contribution to the company's profits.

American is in the midst of a massive fleet renewal, with more than 400 aircraft on order. During 2014 the carrier is taking delivery of 83 mainline aircraft – 10 Airbus A319s, 42 A321s, 20 Boeing 737-800s, three A330-200s, six 777-300ERs and two 787-8s. Among the planned mainline retirements are 25 MD80s, 14 737-400s, 19 757s, four A320s and 12 767s.

The carrier also plans to take delivery of 43 regional aircraft in 2014 – 19 Bombardier CRJ900s and 24 Embraer 175s. Twenty-five smaller 50-seat Embraer 140s and two Dash 8-100 turboprops are slated for retirement.
American Airlines' mainline fleet projections: 2014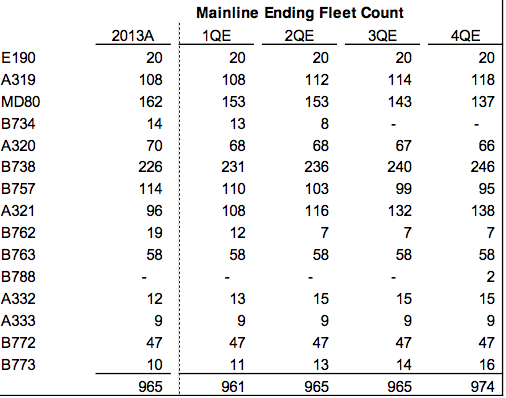 American Airlines' regional fleet projections: 2014
Managing nearly 4% capacity growth along with a complex merger integration may prove challenging for American during 2014. For now the carrier still expects passenger unit revenue growth of 2% to 4% in 1Q2014, which is solid given all the flux occurring at the carrier.

Delta plans flat to 2% capacity growth in 2014, and a 2% to 3% rise in 1Q2014. A lot of its capacity increase entails the removal of 50 seat jets and replacing those aircraft with higher-density aircraft. The carrier estimates at YE2014 it will have 30 more mainline aircraft than the year prior, driven by deliveries of Boeing 717s it is leasing from Southwest and Boeing 737-900ERs. The carrier is taking 88 717s off Southwest's hands and is in the midst of accepting delivery of 100 737s.

Delta and United are justified in describing their capacity growth as modest, and American's is still below 5%. A lot of the increases planned by those carriers are in long-haul international markets, which should keep domestic demand in line with supply. Together, the big three and Southwest account for 61% of US domestic traffic (based on US DoT calculations from Dec-2012 to Nov-2013), so a slight uptick should be absorbed, if demand remains solid.
US major carrier projected unit cost increase and capacity growth: 2014
| | | |
| --- | --- | --- |
| Carrier | Estimated unit cost increase | Projected capacity growth |
| American | 2% to 4% | 3.5% |
| Delta | 2% or under | flat to 2% |
| Southwest | 2% to 3% | flat |
| United | roughly 2% | 1% to 2% |
Airlines outline numerous reasons for cost creep as fuel expenses shrink
All of the major carriers and Southwest also project cost creep during 2014. Southwest's 2%-3% increase is in line with estimates from Delta and United, while American has explained that it needs more time to delve into the respective budgets of US Airways and legacy American before supplying additional guidance of its anticipated 2% to 4% rise.

These cost increases are occurring as fuel costs have been receding. Delta's fuel cost fell 6% year-on-year during FY2013 and United expects an all-in fuel cost per gallon of USD3.04 to USD3.09 during 2014 versus USD3.12 to USD3.27 the year prior.

The bulk of Southwest's unit cost inflation during 2013 is driven by the merger integration with AirTran, and once those headwinds have subsided the carrier believes it can work to widen the shrinking cost cap it has with the US majors. That sentiment is highly ambitious given the carrier is in labour talks with nearly all of its workforce, and has not factored in the expense of any new agreements into its FY2014 cost estimates.

United expects wage expense to lift its unit cost during 2014, but also believes the investments it is making in technology upgrades and fleet refurbishment should pay dividends over the long term. It is a similar case Delta has made during the past few years as it undertook a fleet refurbishment, made significant investments in building up New York and also engaged in some technology spend. Delta was justified in making those arguments as it returned roughly USD350 million to shareholders by YE2013. United still has much to accomplish before it can tout its arguments for current spend were justified. The carrier needs to deliver on promised merger synergies of more than USD1 billion, and then outline shareholder returns.

Delta's estimated unit cost rise for 2014 is in line with previous guidance that it would strive to keep the annual increases in that metric below 2% over the long term. Delta believes that target is sustainable after it launched several cost cutting schemes including a domestic re-fleeting and improved maintenance productivity. Its 2.4% unit cost increase for FY2013 was lower than initial estimates of a rise between 4% and 6%.
See related reports:
Hybrids Alaska and JetBlue also warn of cost headwinds in 2014 as capacity expands
Even the unsung financial hero among US airline businesses Alaska Air Group is projecting a slight unit cost creep of 1% in 2014. Some of the rise appears to be one-off items including an investment of USD27 million in technology and USD30 million for a brand refresh to bolster awareness as Alaska continues to expand its network beyond the US Pacific Northwest.

Alaska's fellow hybrid carrier JetBlue also expects its unit costs to grow 3% to 5% year-on-year in 2014. Unfortunately, JetBlue has been facing cost headwinds during the past couple of years largely from rising maintenance expense as its fleet reached a certain level of maturity and required heavy checks and major engine overhauls. But the cost challenges in 2014 result from a new pilot deal that includes a 20% raise on base pay during the next three years – US30 million in 2014, USD50 million in 2015 and USD65 million in 2015. While JetBlue aims to remain competitive in its pilot compensation, the new deal stands to remain a cost overhang for the next couple of years.
Alaska and JetBlue projected unit cost increase and capacity growth: 2014
Both Alaska and JetBlue are also increasing capacity during 2014 at a faster rate than their larger US peers. Alaska anticipates a 7% increase while JetBlue forecasts 5% to 7% growth, which is flat to down from the 5% to 7% rise the carrier recorded in 2013.

Alaska is making a push from Delta's Salt Lake City hub during 2014, adding six new routes from the airport in Jun-2014. Also, some of the company's ASM growth during 2014 could be the year-on-year effects of introducing 15 new routes in 2013. Until those routes and the 20 new markets launched in 2012 reach a certain level of maturity, Alaska could see some pressure on its yields.

JetBlue's growth is centred in its pocket of strength at Fort Lauderdale, where the carrier expects to grow ASMs during 2014 by 15%. The carrier has previously stated routes from the South Florida airport generally have shorter timeframes for reaching maturity, and the opportunities in the region are rich – particularly to the Caribbean and Latin America. JetBlue anticipates 17% capacity growth in those regions in 2014, with flat growth in the rest of its network. The carrier is deploying its capacity in markets where it has some marked competitive strength, and largely outside the maturing US domestic market.
See related reports:
Airlines will face high scrutiny in managing capacity increases and rising costs
Perhaps the capacity growth planned by some of the largest US carriers shouldn't raise too many eyebrows as IATA recently forecast North American carriers should record the highest operating margins among global carriers – 6.4% in 2014. The capacity increases are modest by the big three US network carriers and in line with recent growth by Alaska and JetBlue.

While the preference is to see unit cost declines at all carriers, Delta seems capable of mastering its increase for the time being, while sustaining profits. United's cost creep is also tempered; but its immediate focus is likely showing the market it can indeed complete its merger with Continental and deliver the same level of profitability as Delta. American for the moment may catch a break as its integration is in the infancy stage, and Alaska has a track record of reining cost creep in.

It seems Southwest and JetBlue could be emerging as the cost wildcards as Southwest's tenuous labour negotiations continue and JetBlue faces at least a third straight year of cost headwinds.

Against this background the big issue for 2104 will be whether demand will be sufficiently robust to deliver sufficient revenue to cover the cost creep. If not, most of the US carriers will need to get more aggressive with the cost reduction initiatives they repeatedly stress to shareholders, whose appetite for rewards continues to grow. Disequilibrium will require dynamic responses.