JetBlue sees an opportunity to mine Fort Lauderdale as Spirit turns its attention elsewhere
Analysis
JetBlue Airways believes more opportunities exist to expand into Latin America from its southern Florida stronghold of Fort Lauderdale so it can capitalise on the short ramp-up to profitability afforded by those routes. Shifting market dynamics make the opportunity more ripe for JetBlue as Fort Lauderdale's other major carrier Spirit Airlines has turned its attention to US domestic expansion from the airport.
At the same time JetBlue is not hesitating to increase competition with Spirit, betting that its higher-end product at an only marginally higher fare will entice some travellers away from Spirit's bare-bones, no-frills service.
Fort Lauderdale was JetBlue's first destination from its JFK base when it launched scheduled flights 13 years ago. Since that time Fort Lauderdale has played a key role in the carrier's build-up of North-South passengers along the US eastern corridor. But during the last few years the airport and its geographical location in South Florida have played a particularly strategic role as the carrier worked to aggressively expand into the Caribbean and Latin America.
In a very fragmented market, JetBlue is presently Fort Lauderdale's second largest carrier based on seats on offer for the current week (28-Jan-2013 to 3-Feb-2013), with 16% share compared with Spirit's 18% share.
Spirit is based in Fort Lauderdale, and until 2011 focussed the majority of its network expansion into Latin America and the Caribbean. JetBlue and Spirit are also the top carriers at Fort Lauderdale in terms of ASK deployment, with Spirit representing an 18% share and JetBlue accounting for 17%.
But Spirit's overall traffic declined 6.7% year-over-year between 2011 and 2012 while JetBlue's traffic jumped 11.4%, reflecting JetBlue's push from Southern Florida into near-international markets and Spirit's expansion from large metropolitan areas outside of Miami/Fort Lauderdale including Dallas/Fort Worth, Chicago, Minneapolis and Los Angeles.
Fort Lauderdale International Airport capacity by carrier (% of seats): 28-Jan-2013 to 3-Feb-2013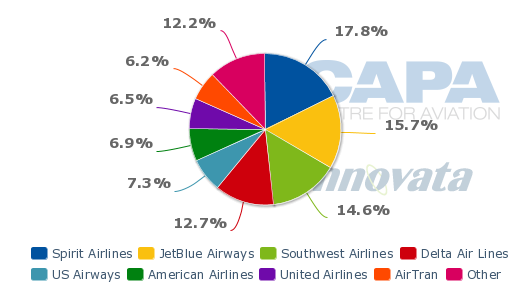 Fort Lauderdale International Airport capacity by carrier (% of ASKs): 28-Jan-2013 to 3-Feb-2013
Traffic comparison for the top 10 airlines serving Fort Lauderdale: Jan-2012 to Dec-2012
JetBlue's current package of international offerings from Fort Lauderdale includes service to Bogota, Colombia; Cancun, Mexico; Santo Domingo, Dominican Republic; Nassau, Bahamas; Kingston, Jamaica; and its focus city of San Juan, Puerto Rico.
During the last year JetBlue has launched service from the airport to Bogota and Kingston and upped its frequencies to San Juan from two to six daily.
Spirit and JetBlue compete on all of JetBlue's international routes operated from Fort Lauderdale, with the exception of Nassau, and have a duopoly on flights to Cancun and Santo Domingo. Spirit's flights to Kingston are also seasonal. JetBlue is the dominant carrier on flights to Santo Domingo, accounting for a 56% share which reflects its status as the leading carrier between the US and Santo Domingo based on available seats on offer. Spirit's seat share on flights to Cancun is approximately 54% while JetBlue accounts for a 46% share.
Avianca also operates service to Bogota while Bahamasair and SkyBahamas operate service between Fort Lauderdale and Nassau. American, Avianca and LAN also operate service from nearby Miami (43km from Fort Lauderdale) to Bogota. Presently, Bahamasair commands a 52% seat share to Nassau while JetBlue accounts for a 42% and SkyBahamas holds the remaining 6% share. Caribbean Airlines offers flights to Kingston, and holds a 55% seat share, with JetBlue holding the remaining 25%.
AirTran competes with Spirit and JetBlue on flights from Fort Lauderdale to San Juan. JetBlue accounts for 55% of the seats on offer to its San Juan focus city, followed by AirTran's 25% and Spirit's 20% share.
JetBlue's planned capacity allocation for 2013 mirrors its continuing strategy of exploiting near-international flying as 30% of its 5.5% to 7.5% available seat mile growth during 2013 will be dedicated to the Caribbean and Latin America. Fort Lauderdale is likely to continue its predominant role in the carrier's network as 30% of the overall capacity growth in 2013 will be dedicated to JetBlue's Florida markets (which also include Jacksonville, Orlando, West Palm Beach, Tampa and Sarasota). The carrier plans to allocate 30% of its supply expansion to transcontinental markets and 5% to short-haul east coast markets.
A continuing push by JetBlue from Fort Lauderdale into Latin America seems likely as carrier Chief Commercial Officer Robin Hayes recently cited rich opportunities in the region "given how quickly these routes ramp up into profitability...it's really rich".
One major benefit of the South Florida catchment area, said Mr Hayes, is Fort Lauderdale's low cost structure compared with nearby Miami, which is a major hub and Latin American gateway for American Airlines.
He concludes Fort Lauderdale's lower cost structure allows JetBlue to offer lower fares and stimulate the markets it serves from the airport. "Just as we talk about Boston [another JetBlue focus city] and San Juan, we see...a profitable ramp up to growth into the Latin America market", Mr Hayes concluded, both from JetBlue's Northeast routes feeding into Fort Lauderdale and the South Florida catchment area with its large Latin American and Caribbean ethnic population.
Colombia is a profitable and promising market
JetBlue during 2013 plans to broaden its offerings into Latin America from Fort Lauderdale when service to Medellin, Colombia and San Jose, Costa Rica debuts in June. Medellin is JetBlue's third market in Colombia. The LCC presently offers service from Fort Lauderdale and Orlando to Bogota and Cartagena from its major base and headquarters New York JFK.
JetBlue has recorded marked success in Colombia since the debut of its Orlando-Bogota pairing in 2009. During the first 10 months of 2012 JetBlue and Colombia's flag carrier Avianca (part of the Avianca-TACA group) posted 87% load factors in the Colombia-North America market. Medellin is natural expansion market for JetBlue as Spirit achieved an 89% load factor on its service from Fort Lauderdale during the 10 months ending Oct-2012. More Colombian connections are likely for JetBlue given its successful launch to the country, and a rising middle class in Colombia that will be prone to discretionary spending on travel to the US.
A new service from Cartagena to Fort Lauderdale could be a strong possibility for JetBlue given the ripeness of the Colombian market, and the larger proportion of residents in South Florida of Colombian descent.
Estimated Colombian population residing in New York and Florida: 2012

See related articles:
Colombia could serve as JetBlue's Latin America growth platform
Colombia-US open skies to usher in new era of growth, led by JetBlue and LAN Colombia
JetBlue banks on travellers with a distaste for Spirit's bare-bones product
Another driver in JetBlue's potential launch of Fort Lauderdale-Cartagena is Spirit's monopoly status on the route. JetBlue has not shied away from ushering competition with Spirit in the Colombian market. Its calculus could rest on the fact that it pursues a different market segment than Spirit, which offers no-frills service and charges for add-ons to attract the most price-sensitive customers.
JetBlue is a hybrid carrier that targets both leisure and business travellers and provides customers with some frills, including seatback television, checked baggage and free snacks. A significant audience for JetBlue in its Latin American and Caribbean markets is visiting friends and relatives (VFR) traffic. Mr Hayes remarked that VFR traffic can often be stimulated during demand troughs if there is a tactical need to stimulate demand. In the Colombian market JetBlue can offer fares that are only slightly higher than Spirit's to stimulate demand among travellers who might want a somewhat more refined customer experience.
See related article: JetBlue continues to see benefits and growth opportunities from is hybrid business model
So far JetBlue and Spirit have largely co-existed in the Latin American and Caribbean markets from Fort Lauderdale where they compete directly. Although it does appear Spirit has made the decision to only operate seasonally to Kingston after JetBlue launched its service from Fort Lauderdale to Jamaica's capital. Spirit in 2012 also exited Dallas/Fort Worth-Boston after operating the route for just a few months. Spirit decided to exit that market shortly after JetBlue debuted flights on the pairing.
See related article: Spirit's latest route changes indicate increasing pressure from JetBlue
During 2012 Spirit estimated its competitive overlap with JetBlue was roughly 15%, and some of Spirit's moves seem to indicate it would prefer to keep competition between the two carriers in that range.
But that could become increasingly difficult as JetBlue works to captialise on the opportunities it sees in Fort Lauderdale. Despite Spirit's efforts, there is a distinct possibility the competitive landscape with JetBlue will broaden in the coming months. So far, JetBlue has generally been the winner in direct contests.