Spirit Airlines sees no constraints to its growth and performance targets: a model of a modern ULCC
Spirit Airlines concludes there is lot of road to cover on its growth trajectory as it still only accounts for roughly 1% to 2% of the US domestic space. While its ambitious growth targets for the next couple of years have raised some eyebrows, for the moment Spirit can be given the benefit of the doubt given its recent strong margin performance while posting double-digit capacity expansion of 22% in 2013.

The carrier's network strategy in 2014 mirrors its blueprint for 2013 – connecting the large US markets it has rapidly added during the past few years with new cities rather than adding an outsized number of brand-new markets.

By anchoring new routes to existing markets, Spirit has a decent chance to spool those routes up quickly, which is key in the carrier achieving its targeted operating margins of 16% to 18% for 2014.
Spirit added 25 new routes in 2013 as it connects the dots in its domestic network
Spirit's growth during the past few years has centred on introducing service from large metropolitan markets including Chicago, Dallas, Detroit, Houston, and Minneapolis, with a particularly large push from Dallas/Fort Worth as that airport's major carrier American was battling tough financial conditions and eventually entered Chapter 11 bankruptcy protection.
Spirit also built up Las Vegas and shifted its Washington DC metro area services from Washington National to Baltimore Washington International airport.
Spirit Airlines' route map as of Feb-2014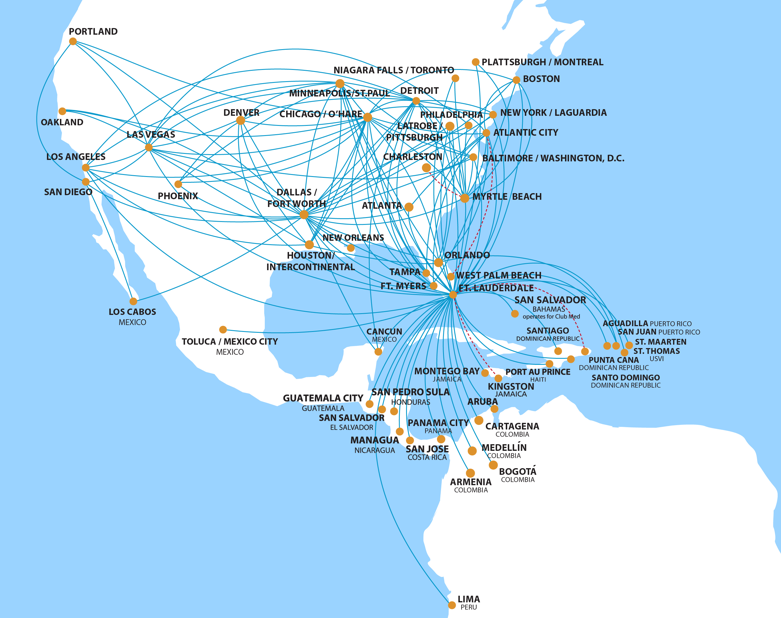 See related report: Spirit continues rapid expansion from American's stronghold of Dallas/Fort Worth

Spirit introduced 25 new routes in 2013, most of which were tied to those larger markets, with the exception of adding Philadelphia and New Orleans to its network.
Spirit Airlines' new route additions: Jan-2013 to May-2014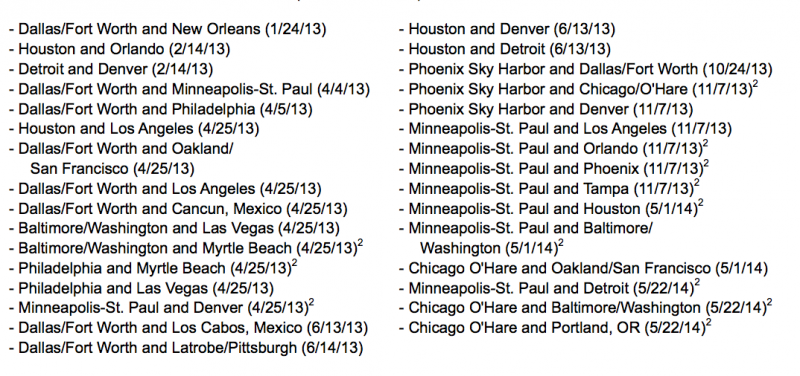 During a recent earnings discussion Spirit CEO Ben Baldanza explained how Spirit categorises its routes. The four categories include:
core (operating during peak hours)
utilisation (flown during off-peak hours or gaps in the normal schedule)
mature (any route operated more than 12 months)
new
Mr Baldanza stated Spirit recorded increased profitability and margin expansion in all four of those categories in 2013 without detailing specifically how much of Spirit's network was dedicated to each of the classifications.

He did note, however, there is not a huge difference between Spirit's promotional fare and its average fare, so new markets tend to reach margin maturity rather quickly, often within a year's time – typically, as shown below, within seven months.
Spirit charges fares well below other carriers and charges for all other aspects of travel, boarding passes at the airport, food, carry-on luggage and of course checked bags. Spirit's average fare in 2013 was USD78, a 9.4% rise year-on-year.
Average time for Spirit's markets to reach break-even or profitability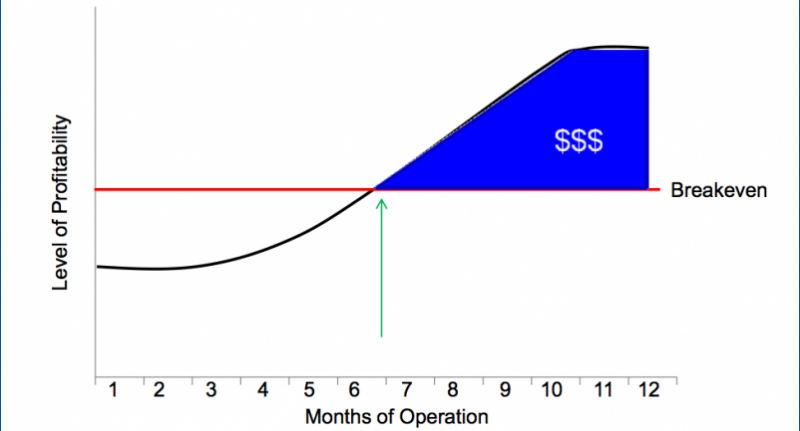 So far Spirit opts for seasonal routes in 2014
One distinctive feature of Spirit's strategy is its extensive flexibility, constantly adjusted to market needs. It is not the only airline to be responsive in this way, but the difference is in the scale of the application – perhaps more palatable because of its specific nature. It is harder for Delta to be as route specific and selective.
All of Spirit's announced new routes for 2014 are connecting to its larger metro markets, and the majority of the new service is seasonal. During May-2014 the carrier is launching seasonal, once-daily flights from Minneapolis to Houston and Baltimore (BWI), from Portland to Chicago and Baltimore and from Chicago to Oakland. Other seasonal service includes Minneapolis to Detroit and Chicago to Baltimore.

Based on data from CAPA and OAG, Spirit will compete with Southwest on service from BWI to Portland, and with Delta on flights from BWI to Minneapolis. On the new flights from BWI to Chicago O'Hare, Spirit is competing with United and American. Southwest also serves nearby Chicago Midway.

United, American and Alaska all operate flights from O'Hare to Portland International. Spirit has no direct competition on service from O'Hare to Oakland, but United, American and Virgin America all operate service from nearby San Francisco to O'Hare. Minneapolis is a hub for Delta, so Spirit is competing with the carrier on service to both Detroit (another hub for Delta) and Houston, which is a United hub. Spirit will become the third entrant on flights between Houston and Minneapolis, facing Delta and United.

None of those competitive dynamics are new or surprising. Spirit's strategy is to offer one-to-two daily flights in its markets at fares largely unviable for major carriers in an effort to stimulate low-yielding traffic that is largely unattractive to network airlines. Previously, Delta has responded with some price matching, but mostly Spirit is left to its own devices.

There have been misfires as Spirit has expanded its US domestic presence. During the last couple of years it has cut flights from DFW to Boston and Houston, Philadelphia to Las Vegas, and Chicago to Los Angeles. Previously, Spirit has declared that if a route fails to reach profitability within a year, it will eliminate the pairing and redeploy its assets elsewhere. One of the old adages in LCC strategy was always "make mistakes quickly".

See related report: Spirit Airlines makes minor network cuts as Dallas-Mexico expansion continues
Fort Lauderdale remains a high-margin performer in Spirit's network
During the time Spirit has been growing within the US domestic market, some of its focus has turned away from its base and headquarters in Fort Lauderdale. During that time JetBlue has opted to make a significant push from Fort Lauderdale into Latin America and the Caribbean, pressuring Spirit in some of those markets including longer-haul routes to Lima, Bogota, Medellin and San Jose, Costa Rica.

See related report: JetBlue sees an opportunity to mine Fort Lauderdale as Spirit turns its attention elsewhere

Based on schedules from CAPA and OAG for the week of 24-Feb-2014 to 2-Mar-2014, Spirit is the third largest carrier from Fort Lauderdale based on seats deployed with a 16% share. JetBlue represents a 19% share and Southwest has an 18% share.
Fort Lauderdale-Hollywood International Airport capacity by carrier (% of seats): 24-Feb-2014 to 2-Mar-2014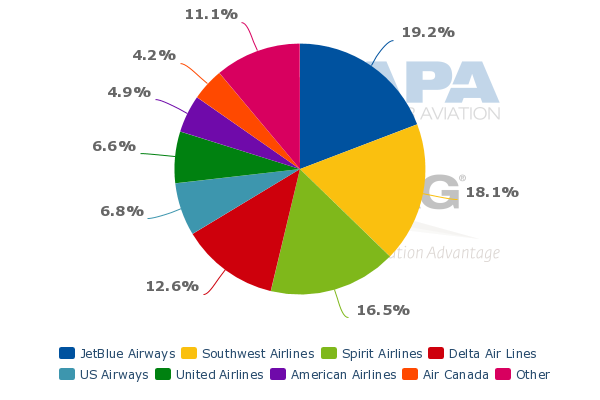 Offering a bit of insight into Fort Lauderdale, Mr Baldanza stated that the airport operates above Spirit's system average "despite the fact that the system has high margins".

Admitting that other carriers have grown in Fort Lauderdale, Mr Baldanza concluded "we have not really seen the big effect of that growth because we think our business model aligns very nicely with the highly discretionary price-sensitive nature of much of the travel to and from Fort Lauderdale".

Mr Baldanza also noted that Fort Lauderdale would "be a little bigger for us this year [2014] than it was last year [2013]". At this point, Spirit has not announced any specific new service from Fort Lauderdale, but it could bolster frequencies on a seasonal basis given the region's high level of leisure traffic. It could also increase frequency from Fort Lauderdale to some of its larger metropolitan markets.
For the week of 24-Feb-2014 to 2-Mar-2014 five of Spirit's top 10 US domestic destinations (based on seat deployment) originate in Fort Lauderdale – LaGuardia, Atlantic City, Atlanta, Baltimore and Orlando.
Spirit Airlines top 10 domestic routes (by seats): 24-Feb-2014 to 2-Mar-2014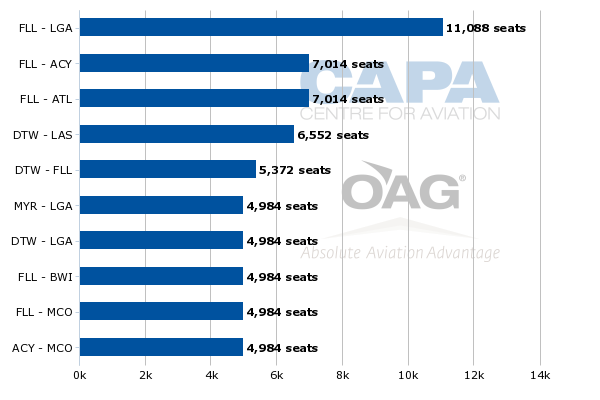 Spirit remains confident it can deliver margin expansion over the near term
Offering a big picture view of Spirit, Mr Baldanza concluded the company is still early in its growth curve, similar to Southwest in the 1980s. That is a big call.
At that time Southwest was able to use its cost advantage to grow through market stimulation, and did so for 20-30 years before encountering its current cost challenges. With roughly 50 aircraft, Spirit's CEO estimates the carrier accounts for 1.5% of the US market, which means there is ample opportunity for Spirit to continue its margin growth.

Given Spirit's 17% pre-tax margin for 2013 and profit growth of 63%, it is for the moment living up to its own expectations. But the carrier does face short-term cost inflation during 2014 of roughly 2%. A whopping 29% planned capacity growth for 2015 will certainly put the model's theory to the sword.

Spirit seems well aware that it needs to get its costs back in line to successfully execute a business plan that it believes has significant potential.
It has the right vision. Now the company needs to stay the course to maintain its favourable financial momentum.
See related report: Spirit Airlines performing well but not immune from the cost creep virus spreading among US carriers