China Airlines to resume Taipei-London, becomes the last major Asian flag airline to fly to London
Analysis
China Airlines plans to resume Taipei-London service with the A350 by the end of 2016. The swift interest and compressed timescale may reflect the airline's new government-appointed chairman wanting to refocus the airline. The number of Taiwanese visitors to the UK has grown since China Airlines exited London in 2012, but volume is still small and one-stop competition has grown in what is mostly a leisure and price-sensitive market. China Airlines is stressing the opportunity to connect London with its growing Australian markets, but its three online Australian cities are served less than daily. Australia-London/Europe competition has also grown, so China Airlines – despite an improved product to London – will likely pick up fringe traffic. There are stronger opportunities for the relatively sleepy airline in the dynamic and booming Northeast Asia.
China Airlines will become the last major Asian flag airline at London Heathrow following the previous entry of Garuda, Philippine Airlines and Vietnam Airlines. Only Mongolia's MIAT is absent. 12 Asian airlines fly long haul but do not serve London. Besides MIAT and Hong Kong Airlines, the only Asian airlines not in London are Mainland Chinese airlines or long haul LCCs.
China Airlines seeking new initiatives under a new government and ownership
China Airlines has been a relatively cautious flag airline during a time and environment while competitors in Taiwan and broader Northeast Asia expanded rapidly to claim market share for the future. Government-owned and under strong political influence, China Airlines has lacked the agility to move quickly. The airline has also rightfully identified that some growth is too ambitious and is not the right market for it.
Aviation in Taiwan has changed dramatically in 2016. The two major airlines – China Airlines and EVA Air – have undergone management changes. In China Airlines' case, Taiwan's new government (elected in Jan-2016) used a strike over northern summer as an opportunity to replace the chairman appointed by the previous ruling party.
Since then most aspects of China Airlines, including its LCC and low-fare strategy, have come under review. The new Taiwanese government is eager to leave a mark on aviation.
It is in this context that the explanation may lie for the sudden plan to resume London and do so in a compressed timeframe.
See related report: Aviation in Taiwan Part 1: Recalibration as events prompt changes at China Airlines & EVA Air
China Airlines will resume Taipei-London service by the end of 2016, chairman Ho Nuan-hsuan told the Taiwanese media in Sep-2016. Dates have not been fixed and the service is not on sale. If China Airlines intends to launch the service by the end of 2016 it will not have adequate time to start sales. Mainland Chinese airlines sometimes launch routes with only a few months of advanced sales, but such routes are often heavily backed by travel agencies and do not rely on individual consumer ticket purchases.
China Airlines has not disclosed the frequency of the service or which airport it will use (it last served London between 2010 and 2012 via Heathrow). The airline might be able to claim historical use of the slots, but given the saturation at Heathrow the slots are unlikely to be available. Acquiring new slots would be expensive, and lengthen the break-even period for the route. Of Asian airlines serving London, only Tianjin Airlines relies on Gatwick. Cathay launched Gatwick to supplement Heathrow in Sep-2016. Vietnam Airlines switched from Gatwick to Heathrow, and other operators have taken less desirable slot times in order to be at Heathrow instead of Gatwick. Air China and Korean Air had short-lived Gatwick services supplementing their Heathrow presence.
China Airlines did say that it intends to resume service with the A350-900, the first of which China Airlines is eagerly waiting after a summer of delays. At the time of its exit from London China Airlines flagged that it could return to London with the A350 in a few years, but the plan had not been raised until recently. China Airlines' initial A350 deployment plans did not include London.
China Airlines last served London in 2010-2012 with A340s
The A350 represents a few advantages over China Airlines' past attempt in London. China Airlines launched Heathrow service in Mar-2010 but cancelled it in Mar-2012. The service was operated by the A340, which was inefficient and flew during a period of high oil prices. The product was also outdated.
The A350 is more efficient and features China Airlines' new product, which includes direct aisle access lie-flat business class seats. China Airlines first debuted this product on the 777-300ER, which has been used to Frankfurt but is probably too large for Europe; it is better suited to North America (where the A350-900 services are limited by operating range).
Although the new aircraft type will help with fuel and product, China Airlines will remain structurally disadvantaged in serving London nonstop. Its competitor EVA Air has been serving London Heathrow daily but via Bangkok, and largely carries local Bangkok-London traffic. EVA Air partners with Bangkok Airways for access to regional points beyond Bangkok. EVA is content with London and other European destinations being served via Bangkok (the exception is Paris, which French authorities will not permit to be served via Bangkok).
China Airlines, however, wants to graduate to nonstop Taiwan-European services. While this may appear to support the Taiwanese aviation hub better, traffic is thin. Competition is significant and growing. Since China Airlines exited London Emirates has launched nonstop Taipei services; Cathay has more services via Hong Kong (a de facto hub for Taiwan); and mainland Chinese airlines carry Taiwan-Europe transfer traffic. British Airways and Virgin Atlantic do not serve Taipei but British Airways has significant offline access via connections over Hong Kong.
Taiwanese visitor numbers to the UK reached 55,000 in 2015 – a record, according to Visit Britain statistics. Between 2010 and 2012, when China Airlines last flew to London, the numbers of Taiwanese visitors to the UK grew from 31,000 to 36,000. Visitor numbers held steady in 2013, and then grew rapidly in 2014 and 2015. The absence of a decline suggests that China Airlines' exit did not have a significant impact on Taiwanese visitors to the UK.
Without a local partner in London China Airlines will be relying on London as the end-point for passengers. This is similar to its peers from Southeast Asia (Garuda, PAL and Vietnam Airlines) that have entered London in recent years. Notably two of them (Garuda and Vietnam Airlines) are also SkyTeam members.
Annual Taiwanese visitors to the UK: 2006-2015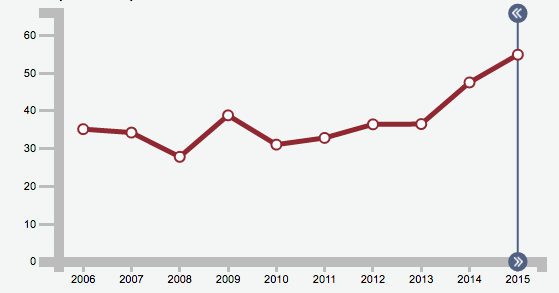 China Airlines identifies Australia as key transfer market. This is risky
The 55,000 annual Taiwanese visitors to the UK in 2015 average to 151 a day. There is small outbound UK demand for Taiwan. The 151 daily visitors are not enough to make a full passenger load at EVA Air or China Airlines (let alone both), assuming a very simplified scenario of all visitors flying Taiwanese airlines.
China Airlines and EVA are not well-positioned for regional connections, except to Japan and Korea. EVA Air flies daily while China Airlines has not specified frequency but last served London with three weekly flights and then decreased to two before cancelling the service entirely.
China Airlines weekly London Heathrow frequency: 2010-2012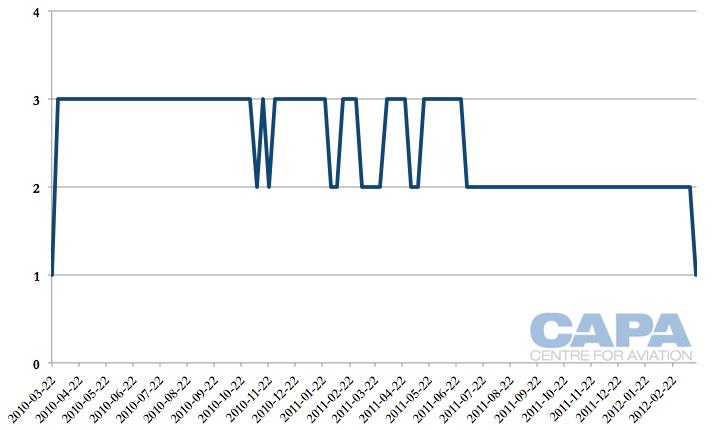 In announcing the resumption to London China Airlines flagged a significant opportunity to carry passengers between Australia/New Zealand and London.
China Airlines has been growing in Australia (and New Zealand, which is served via Australia). There have been frequency increases at Brisbane and Sydney, putting them at their highest service frequency since a short spike in 2012.
A Melbourne service was added in 2015, and during 2016 China Airlines will have its highest capacity to Australia with 12 weekly flights – more service than the 10 weekly flights in 2012. China Airlines does not serve New Zealand nonstop.
China Airlines average daily flights to Australian cities: 2006-2016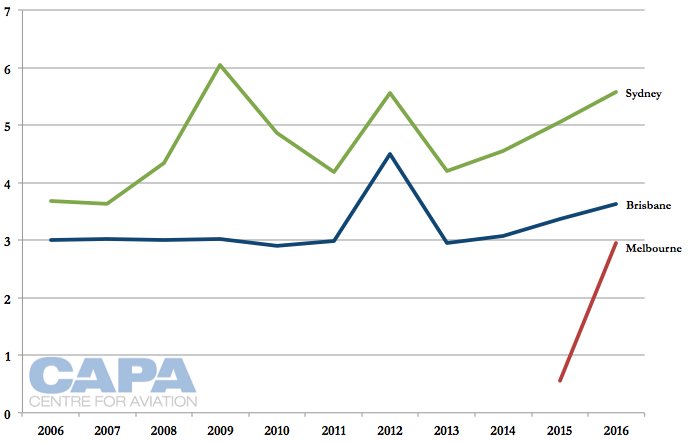 With service to Sydney and Brisbane, China Airlines was in the market of 49% of Australia-London traffic. Melbourne is a further 26%, so China Airlines is now present in approximately 75% of Australia-London traffic.
CAPA reviewed the Australia-London market in an Aug-2016 report about Qantas' financial sustainability and 787 deployment plans.
See related report: Qantas achieves financial sustainability, now takes on Singapore Airlines and Cathay Pacific
Australia-London O&D traffic by Australian city: 2015
However, being present in the market and being able to capture it are very different. China Airlines will be significantly challenged in the London-Australia market. Its Australian services are less than daily to each city, and connections could be complicated if London – as expected – is not served daily. Major airlines in the Australia-London market have multiple daily frequencies. They also have the partners and network reach to support multi-city destinations, which will disadvantage China Airlines.
China Airlines may have a competing (if unknown) product from Taipei to London, but between Taipei and Australia (a flight nine to ten hours long) China Airlines uses A330s with an older product that does not have direct aisle access in business class. China Airlines will likely pick up fringe traffic. This can supplement Taiwan-Australia traffic and even connections beyond Taiwan to Northeast Asia, but it is risky to plan on Australia connections being a significant component of the London route resumption.
As for New Zealand, there are increased one-stop options as the Singapore Airlines/Air New Zealand JV adds services (including from Christchurch to Singapore), while Gulf airlines offer nonstop Gulf-Auckland services.
In terms of logistics, China Airlines' previous Heathrow service typically departed Taipei at 09:25 and arrived in London the same day at 17:05. This would connect within approximately three hours to China Airlines' current flights that leave Australia at night and arrive in Taipei the following early morning. China Airlines' return service typically departed London at 21:15 and arrived in Taipei at 18:15. There would be a long layover, approximately five hours, to Taipei-Australia flights that depart Taipei around 23:00.
China Airlines last major Asian flag airline not in London
China Airlines is Asia's last major flag airline flying long haul that does not serve London. Among flag airlines, only MIAT from Mongolia flies long haul yet does not serve London, but MIAT and Mongolia are very small.
Three Southeast Asian airlines have commenced/recommenced London services in recent years: Garuda in 2014, Philippine Airlines in 2013 and Vietnam Airlines in 2012. Two mainland Chinese airlines have commenced London flying: China Southern in 2012 and Tianjin Airlines in 2016.
Northeast and Southeast Asian long haul airlines serving London: 12-Sep-2016 to 18-Sep-2016
There are 12 airlines in Northeast and Southeast Asia that fly long haul but do not serve London, nor have intention to do so (therefore this list excludes China Airlines). Six of the 12 airlines are long haul LCCs.
Only AirAsia X is likely to enter London, and with an emphasis on strategic/marketing reasons to raise brand awareness of its extensive Asian network. Long haul flying above eight hours represents a different operating model.
Between Europe and Southeast Asia (where most long haul LCCs are based) LCCs will have to compete with Gulf airlines, which have comparable cost bases and far wider networks. It is a compliment to their efficiency that some legacy full service Asian airlines observe that Gulf airlines are effectively long haul LCCs. But the LCCs' competition also includes the higher cost European operators.
There are four mainland Chinese airlines that currently fly long haul but do not serve London. More Chinese airlines will be added to this list; Lucky Air, for example, plans to commence long haul flying by the end of 2016. Tianjin Airlines was unique in being a relatively new long haul Chinese airline and serving London.
London is not a popular market for Chinese tourists – the main passengers for Chinese airlines - mainly for process reasons. The UK requires a separate visa from a Schengen visa (which enables Chinese visitors to visit multiple EU countries with one visa).
Northeast and Southeast Asian long haul airlines not serving London (excluding China Airlines): 12-Sep-2016 to 18-Sep-2016
| | | |
| --- | --- | --- |
| Mainland Chinese | LCC | Other |
| Hainan | | |
There are two airlines – Hong Kong Airlines and MIAT – that do not serve London and are neither mainland Chinese nor long haul LCC. MIAT is unlikely to serve London at all, while Hong Kong Airlines served London in 2012 with a short-lived all-business class product. Hong Kong Airlines has mentioned European flying (with economy class) but has not specified any particular points.
Besides Hong Kong Airlines and AirAsia X, one other airline – Oasis Hong Kong – flew to London and withdrew. Oasis served London between 2006 and 2008, and its exit from London was accompanied by the demise of the airline.
Outlook: Resuming London is not the way for China Airlines to exert influence
If China Airlines is to be a major airline in the future there is a strong argument to accelerate growth. As for other Northeast Asian airlines, China Airlines' strongest opportunity is in the North America market. For Taiwan in particular, Europe is a challenge. China Airlines is right that routing European flights through Bangkok and carrying mostly local traffic does not contribute to Taiwanese aviation – especially if the flights are loss-making. Yet carrying Australian/New Zealand transfer traffic, and likely still struggling to make the flights profitable, does not benefit Taiwan either.
Earlier this decade there was a rush of Southeast Asian airlines entering London Heathrow to establish themselves. The services have been challenging, and ultimately their strategic value is questionable. There is no loss of pride in sitting out a market. There are far stronger opportunities for China Airlines than resuming London.
China Airlines is right to grow and take advantage of opportunities. Shedding the remnants of a government airline culture is also in order, so that the airline can leverage its geographical and cost opportunity.