Aviation open skies: protectionism, conflicts of interest and outdated ideas
Analysis
In many ways, the US and the UK face a "back to the future" scenario as they work to secure an open skies agreement prior to Brexit. Such terms as Bermuda II are being cast about as the governments attempt to ensure sustained service in one of the world's most lucrative aviation markets.

Those negotiations are taking place in the age of President Donald Trump, his wildly fluctuating trade policy, and overall scrutiny of open skies agreements in the light of the years-long campaign by Big 3 US airlines to counteract what they deem to be unfair subsidies to Gulf airlines.

The bilateral between China and the US, which is also a leading market with high value, is busting at the seams. Given all the moving parts of trade policy and the general capriciousness of the US presidential administration, a high degree of uncertainty predominates over two of the most important markets from the US.
CAPA Americas Aviation Summit: Houston, 16/17 April
The topic of "Is there a future for open skies agreements?" is among the many high level issues on the agenda to be discussed at the Summit
Agenda Item:
When the US government first began promoting Open Skies agreements, the concept met considerable opposition from the US' foreign counterparts. Back then, most of the US major domestic airline incumbents also opposed the relaxation, fearing inroads into their dominance of domestic US market access and reducing their one-on-one power. Open skies not only relaxed pricing and capacity controls, but also made it possible to serve many more points behind the previously restricted number of international gateways; in doing so it reduced the proportion of beyond-gateway domestic connections on US airlines. Another by product was to enable much more extensive sixth freedom operations internationally.
The airline and international travel world has been transformed by US leadership in this area. Many other governments, as well as the European Union have since largely embraced the benefits open skies have delivered. FedEx for example has a Middle East distribution hub in Dubai, where regulatory access is virtually unconstrained. And US airlines have available to a wide array of open skies markets with fifth (and sometimes seventh) freedom rights, although, outside North Asia, the rights are rarely exercised. US policy has also permitted the formation of metal neutral JVs where open skies agreements exist, notably across the North Atlantic and in the US-Japan market.But there are signs that we may have passed the zenith of international liberalism in aviation.
Several international hub carriers, and most vocally the Big 3 US airlines, have expressed concerns about the lack of a "level playing field", generally considered code for favouring more restrictive market access regimes; fifth freedom operations are one target of these concerns.In a broad atmosphere of economic nationalism and an uncertain Administration long term attitude to strenuous lobbying efforts from the Big 3, open skies may be challenged. In Europe, the EU has adopted a relatively liberal stance, although there is far from unanimity among the bigger powers. France, Germany and Italy are actively more protective than the UK, which has typically led the liberalisation charge.
As the UK exits the EU and its future role remains unclear, it is quite possible that the EU's position will change. It is suggested for example that the current EU-Gulf states multilateral discussions are intended simply to prevent any further bilateral access rights to the Gulf carriers while the lengthy multilateral talks are in train.
What is a level playing field?
Could US airlines take greater advantage of the market access opportunities they have available under existing agreements?
Is the US Big 3's campaign against the Gulf Carriers likely to encourage other, foreign, airlines to adopt less liberal stances?
What impact is President Trump's move to impose trade tariffs likely to have on aviation, if any?
As China becomes a major market, is an open skies agreement likely - or necessary, to secure JV authority?
Is there a global trend to rolling back open skies?
Moderator: Baker McKenzie, Partner, Kenneth Quinn
Panel includes:
FedEx Express, Managing Director, Regulatory Affairs, Nancy Sparks
U.S. Department of Transportation, Director, Office of International Aviation, Brian Hedberg
Delta, MD Legal & Regulatory, Europe, Middle East & Africa, Julie Oettinger
Summary: Aviation open skies: protectionism, conflicts of interest and outdated ideas
Whimsical behaviour by the Trump Administration is clouding any certainty over breakthroughs in China-US open skies.
US major airlines appear to adopt open skies principles only when they are convenient.
Unknown how open skies agreements will fare as protectionist sentiments gain strength.
Outdated ideas will not work for US-UK air services after Brexit
There's no arguing that the more than 100 open skies agreements the US has reached worldwide have produced huge benefits for all parties involved.
The evolution from the Northwest-KLM alliance to the immunised trans-Atlantic JVs made possible by the EU-US open skies agreement ratified in 2008 has generated significant revenue for members involved in those pacts. In late 2017, Delta estimated the value of its alliances (which includes Virgin Atlantic) would reach USD550 million in 2019 and USD600 million in 2020. Delta has also calculated that its trans-Atlantic business contributes 20% of its revenue.

In 2012 Delta moved to bolster its position in the US-UK market with a 49% stake in Virgin Atlantic and the establishment of a joint venture with the unaligned UK operator. Delta has recently estimated that the UK is its top market from the US measured by revenue, valued at USD8.2 billion.

In 2H2017 Delta, Air France-KLM, Virgin Atlantic and China Eastern announced a series of transactions that will result in Delta and China Eastern taking a stake in Air France, and Air France obtaining a 31% stake in Virgin Atlantic. Additionally, Virgin Atlantic will fold into the SkyTeam trans-Atlantic JV powered by Delta and Air France-KLM, but there are no plans for Virgin Atlantic to join SkyTeam.

However, those tie-ups could face obstacles in a post-Brexit environment. As the UK and US attempt to negotiate a new aviation agreement after Brexit, the US appears to be holding firm on elements of bilateral agreements that require airlines to be owned and majority controlled by countries of origin.

The Financial Times has reported that talks between the two countries were cut short earlier in 2017 after the US only offered a standard bilateral agreement. That rigid stance also applies to British Airways, which is a subsidiary of the European conglomerate IAG group.

Issues arising in those negotiations reflect the evolution of airline ownership (in some instances) and the roadblocks that Brexit creates for both US negotiations and UK-EU negotiation. Several European airlines have taken a stance against cabotage rights for UK airlines, and on limiting fifth freedom rights for those operators.

With Brexit taking affect in broadly a year's time, time is of the essence, since airlines generally plan out their schedules a year in advance and uncertainty will cause ripple effects throughout the travel business chain.

See related report: The great Brexit aviation debate. A transition deal is needed to avoid disaster for UK airlines
Trump's trade policy: China-US open skies could become an even fainter possibility
Markets have fluctuated significantly since Mr Trump announced tariffs on steel and aluminium, followed by up to USD60 billion of tariffs on various Chinese imports. In late Mar-2017, the US stock market was more tempered amid reports that US officials were hopeful of reaching an agreement with China that could ward off the tariffs.

However, that stance could change dramatically in a short period of time, and China is no doubt firming up its retaliatory measures against the latest round of tariffs.

The threat of trade war casts a huge cloud of uncertainty over any movement on China-US open skies, which was fraught with challenges even before Mr Trump took office.

Airlines from both countries have basically reached service thresholds in the current bilateral agreement – between Jan-2012 and early Sep-2018 seats between the US and China will grow from approximately 45,000 to 107,000.
US-China weekly one-way seats from Jan-2012 to early Sep-2018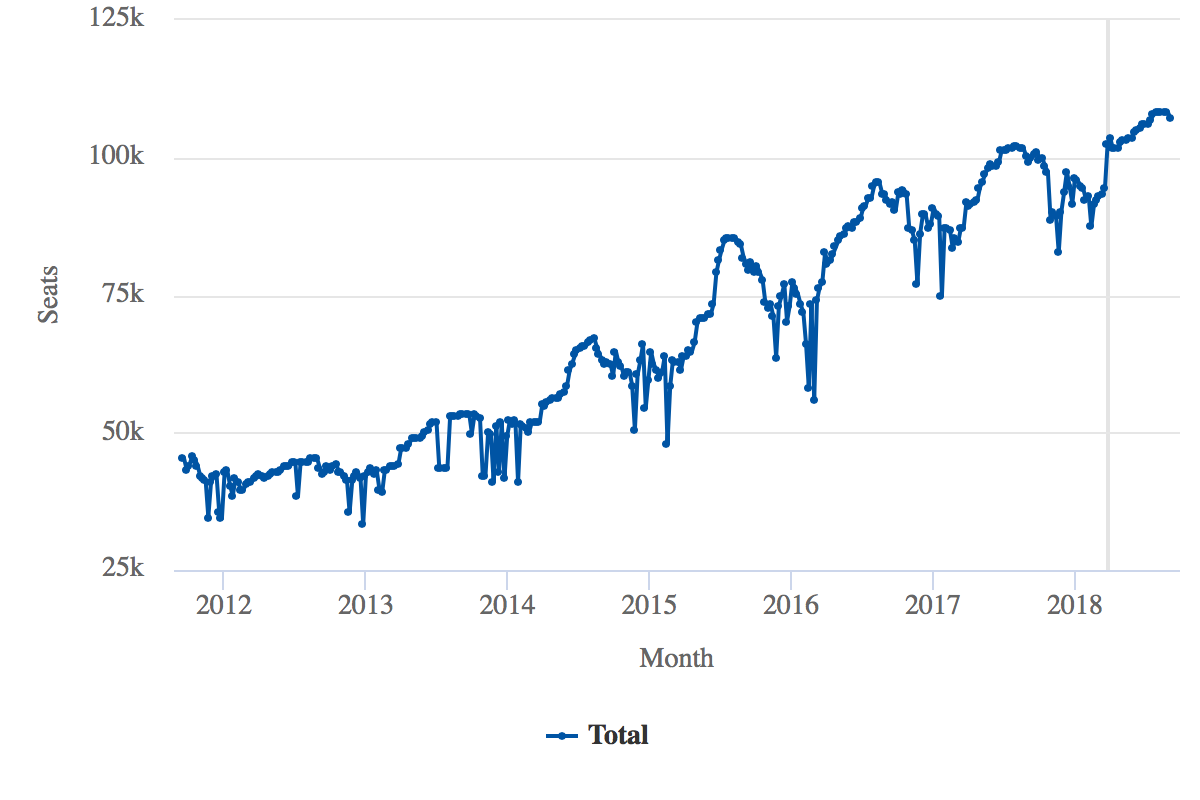 In the past, negotiations have hit roadblocks when US airlines aimed for better slot access to Beijing and Shanghai, and with concern by Chinese airlines that US operators would become dominant in the market. But the playing field has levelled, and Chinese airlines now operate 61% of the seats between China and the US.

See related report: US-China open skies: a window in 2019 – alignment of airport partnerships & airport infrastructure

Obviously, if Mr Trump's Administration follows through on the tariff threat, moving forward on an open skies agreement seems a faint possibility, even as Delta's calculations confirm that China is the second largest market from the US – producing revenue of USD5.4 billion.

Both Delta and American have opted to take stakes in Chinese airlines – Delta in China Eastern and American in China Southern – to create codeshares for securing their inroads in the Chinese market.
However, American and Delta obviously view these investments as a predecessor to JVs, when and if open skies occurs. Mere codeshares do not unlock the revenue value that immunised JVs provide; in fact, if Delta could secure a trans-Pacific joint venture to complement its trans-Atlantic, Latin American and potential Canadian joint ventures with WestJet, the airline and its partners would create a formidable force in global aviation.
Presumably Chinese airlines would also benefit from JVs, but the execution could be more difficult, given that China Southern and China Eastern are state-owned entities.

The US Big 3 airlines: conflicting stances now on opposing fifth freedom flights
Of course Delta is the leader among the US Big 3 airlines in the campaign arguing that Emirates, Etihad and Qatar receive illegal subsidies, and that the remedy to countering those subsidies is revisiting the US' open skies agreements with the UAE and Qatar to level the playing field.

A big sticking point for the Big 3 is Emirates' use of fifth freedom flights to pick up passengers in European destinations (Milan and Athens) and continue on routes to the US (JFK and Newark).

The Big 3 claimed victory earlier this year: the US and Qatar reached an agreement that entails Qatar Airways agreeing to release audited financial statements within a year and to become more transparent with transactions involving other state-owned enterprises. The Qatari government also agreed that Qatar has no plans to use fifth freedom flights to the US.

The agreement does not necessarily level the playing field, since Qatar hasn't really been a large fifth freedom operator to the US. Perhaps the agreement just leaves the playing field status quo unchanged. The more challenging discussions will occur between the US and the UAE.

It appears the Big 3 do not aim to pursue a level playing field for all state-owned entities. JetBlue recently took United to task for its silence on its planned fifth freedom flights by its Star Alliance partner Air China to Panama from Houston (with the flight originating in Beijing).

JetBlue believes United is operating under a double standard. United believes Emirates' fifth freedom flights from Athens to its hub Newark are harmful (even though United does not operate the flight year-round), while JetBlue contends that United operates daily service from its hubs in Houston Intercontinental to Panama City Tocumen.

See related report: Airline traffic rights: JetBlue targets United over Star partner Air China's fifth freedom plan

Quite simply, JetBlue argues that United is keeping silent about Chinese airline fifth freedom growth, and reminds regulators that "...fundamental fairness and due process dictate that the United States government treat similarly situated entities in an identical manner".
It remains unclear if the Big 3 will gain what they want from Mr Trump
JetBlue and its allies – Hawaiian, Atlas Air and Fedex – push numerous benefits from open skies agreements, including the USD2 billion in economic output generated in 2014 by visitors transported by the Gulf Airlines.

The Big 3 take great pains to stress that only the UAE and Qatar violate open skies agreements through their subsidies, and they believe that consequences are necessary. It remains to be seen whether those airlines will succeed in gaining the consequences they are working for.
There's been upheaval in the US State Department with the firing of former Secretary of State Rex Tillerson, and the revolving door of Mr Trump's cabinet makes it difficult to determine whether the Big 3 will gain any traction in their push to revisit open skies with the UAE and Qatar.
Open skies and growing protectionism make strange bedfellows
With so many moving parts on various open skies agreements, the larger question is: are these pacts still relevant? Most companies involved in the global aviation industry would respond with a resounding yes, and indeed, the benefits of open skies pacts are hard to ignore.

But there is a cloud of protectionism emerging in the Brexit negotiations and the continued push for punishment of the three large Gulf airlines. If that protectionist sentiment spreads, the original purpose for open skies pacts faces dangerous erosion.