US-China open skies: a window in 2019 – alignment of airline partnerships & airport infrastructure
Analysis
The year 2019 presents a possible opening for China and the United States to sign an open skies agreement. This would principally lift restrictions on flights between the countries – important, since both nations have saturated primary traffic rights and there have been unsuccessful negotiations to expand the allotment.
Most importantly, open skies is a prerequisite for US approval of US-China airlines' joint ventures with antitrust immunity. These partnerships permit airlines to coordinate networks and pricing jointly – which, they say, increases consumer choice, but which other groups worry reduces competition, after experience in the trans-Atlantic market.
Perhaps paradoxically, the lure of a JV will mean that the airlines lobby their governments for open skies that might eventually reduce competition. US airlines will want greater slot availability at Shanghai and Beijing, which could occur in 2019.
Finally, airlines will need to have confidence in a shared future with their partner. China Eastern is close to Delta, while China Southern has a young partnership with American Airlines. Air China, however, does not feel close to United Airlines, which has the highest presence of its own metal in the market. Air China questions whether United actually wants open skies. There is unlikely to be any government deal without the support of Air China, the flag carrier, and a major airline that enjoys a close relationship with the regulator.
Slot constraints at Beijing and Shanghai hold back US-China growth
The US-China air services agreement sets limits on the number of flights airlines from each side can operate. As these allotments have been constrained for each side, US and China have tried to expand the number of flights (still within the restricted agreement). Negotiations have failed, since the US does not believe its airlines would be able to secure slots for new services in China. Without slots, the additional traffic rights cannot be used. (These same concerns have held back Chinese traffic right expansion from other nations, such as Canada.)
Chinese airlines, however, can reallocate an existing slot to launch a new US service. Alternatively, they receive preference for new slots. There are well cited examples of US airlines unable to secure Chinese slots – most recently American Airlines trying for a new Los Angeles-Beijing route and United Airlines for a second daily San Francisco-Shanghai Pudong service. The problems are not new, and American Airlines had a well publicised incident securing slots for its Chicago-Beijing flight (American had to cancel the launch at the last minute and only received slots much later).
At the same time as these incidents, Chinese airlines and other operators have been able to secure new slots. It is an open secret that slot allocation in China is protectionist, is not transparent, and does not follow IATA slot guidelines.
Traffic rights and the 'mixing of business with policy'
The evolution of the US-China aviation market and the future towards open skies were discussed at CAPA's Americas Aviation Summit in Orlando in Apr-2017.
CAPA Americas Aviation Summit panel discussion "US-China Market: Are There Too Many Impediments To Airline Growth?" Apr-2017
Air China VP & General Manager North America Dr Zhihang Chi recalled the early days of the market, when Chinese citizens had difficulty securing visas for the US, which required an interview in person at one of the few US consulates in the country. This onerous process restricted demand from Chinese nationals, who mostly flew on Chinese airlines. Chinese airlines complained that they could not use their traffic rights because of the visa policy. Dr Chi recalls the US admonishing the Chinese side not to mix business with policy – that is, not to mix the business of flying with the policy of visas.
China has taken a similar argument about US slot complaints: slots are different from traffic rights, and slots are constrained in Chinese airports as they are elsewhere in the world, such as at London Heathrow airport. However, this argument ignores the situation that slot allocation at Chinese airports is unequal, whereas London Heathrow has an independent and transparent allocation process.
(As an aside, the visa situation has been greatly improved, with both sides making 10 year visas available.)
The Chinese side has not taken issue with US airport infrastructure, where there are limitations not on slots, but on gate space. At major airports gates are constrained due to undersupply. China has not identified biased allocation and airports support Chinese airlines, since the airports are eager to have Chinese passengers who typically spend high at duty free. Still, this is an impediment to growth and will likely become a growing issue.
Shanghai and Beijing will gain airport infrastructure improvement in 2019
It is not easy to look past the current issue of slot allocation in China. However, looking toward the future, there should be significant airport infrastructure improvements in Beijing and Shanghai. This will make it hard to persist with current arguments about a lack of infrastructure.
Towards 2019 – as always, subject to project completion – Shanghai and Beijing gain improved ground infrastructure.
Shanghai Pudong, which is currently the only airport in the city to handle long haul flights, will have a new satellite terminal. Despite a secondary role perhaps suggested by "satellite", the new facility will be larger than existing terminals. It will also be optimised for the local airline China Eastern to have a better home hub; there will be an improved connecting passenger process and reduced minimum connection times, and integration for partners.
With a significantly improved operation in its most important hub, it will be difficult for China Eastern to continue to benefit from protectionism – such as denying slots to competitors. Shanghai Pudong will also receive a fifth runway, generating some new slots (dependent on available airspace).
In Jul-2019 there should also be the opening of a project that will be momentous, not just for Chinese aviation but China itself: a second major international airport in Beijing. The opening of Beijing Daxing is expected to be timed with the the 70th anniversary of the founding of the People's Republic of China.
See related report: Beijing's second airport at Daxing: risk of unproductive competition, China Eastern the big winner
The gradual opening will mean that mostly SkyTeam airlines will move from Beijing Capital to Beijing Daxing. New slots will be available at Beijing Daxing, while airlines leaving Beijing Capital for Daxing will create available slots at Capital airport. There is much to be determined with the exact timing of slot availability, and how many slots will be released – versus held – for future years.
However, in 2019 improvements should start to be evident, with full realisation in 2020. If Chinese airlines back open skies, US airlines could be given preference for slot availability so that they support open skies. This could happen before 2019 if there is resolve to do so.
Chinese airspace the underlying problem – for air cargo, too
Underlying slot constraints is the issue of challenges with Chinese airspace. The amount of airspace available for civilian use is limited (estimated at around 20%), and what is available is often not managed efficiently – sometimes because of sensitivities and restrictions, and sometimes because of technology and processes.
The number of slots at airports could be significantly increased if more airspace were made available. Although this is true globally, it is especially relevant in China.
At the Apr-2017 CAPA Summit the FedEx Express Lead Counsel, Legal, Trade & International Affairs Bailey Leopard observed the strong stance about Chinese slots that American Airlines had taken in US DOT regulatory submissions. Mr Leopard remarked: "It's a ubiquitous issue for all US airlines as well as for other airlines, including for Chinese airlines. The central problem is airspace and airport congestion. Those are internal Chinese issues. Finding solutions is complicated by internal policies. From the outset you have a major challenge".
Mr Leopard identified another impact of restricted airspace. US air cargo operators have hubs in China (FedEx's is in Guangzhou). In order to maximise the hub, air cargo operators need co-terminalisation to bring freight from other cities to their hub for onward international travel and vice versa (this is not for cabotage).
The multidirectional and imbalanced nature of air freight requires a more diverse network. As Mr Leopard concisely summarised it: "Boxes don't book round-trip tickets". China provided co-terminalisation rights in 1992, but Mr Leopard said FedEx cannot implement it because of airspace and slot restrictions.
US open skies agreements are for passenger and cargo operators. Open skies cannot be implemented solely with passenger airlines pleased with market access. US freight operators have taken a lead in defending US-UAE/Qatar open skies agreements, since they have extensive networks and fifth freedom rights in the UAE and Qatar.
Reversing positions: US offered China open skies in 2007 - China said no
The aeropolitical positions in the US-China market have changed over the years. In 2007 the US wanted to establish open skies with China but China declined, worried that US airlines – already the majority operators – would overtake Chinese airlines. Now the situation is broadly flipped, with China being more supportive of liberalisation.
Chinese airline seat share of the US-China market (excluding Hawaii and Pacific Islands) reached a decade low in 2011 when Chinese airlines accounted for only 37% of US-China seats and 36% of US-China flights.
2015 marked a turning point, as Chinese airlines overtook their US counterparts. In 2017, Chinese airlines account for 61% of seats and 57% of flights.
US-China (excluding Hawaii and Pacific Islands) annual seat capacity and Chinese airline share of seats and frequencies: 2007-2017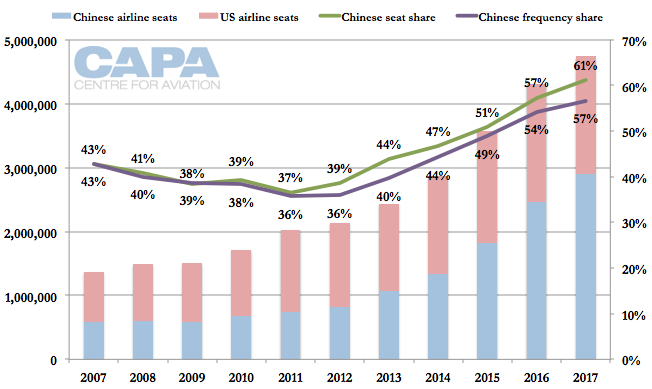 Chinese visitors to the US have grown from approximately 630,000 in 2008 to approximately three million in 2016. China has now overtaken the US as the largest point of sale market.
United States of America annual visitor arrivals from mainland China: 2008-8M2016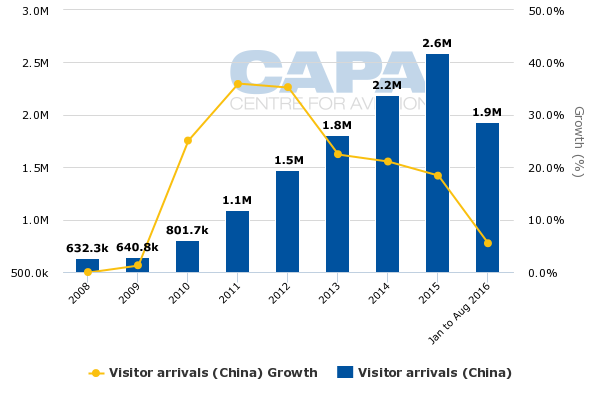 Open skies and ATI joint ventures are now intertwined
In 2007, the prospect of US-China open skies was positioned as standalone market liberalisation, irrespective of partnerships. But now US-China open skies is intertwined with the prospect of establishing joint ventures with antitrust immunity. Airlines, especially from the US side, are unlikely to agree to open skies unless they have a prospective partner.
What has changed is that the airlines understand the workings and power of JVs, strategically and financially. This is especially so for US airlines, but Chinese airlines are increasingly forming JVs and making partnerships more intricate.
Airlines from both sides have recognised how large the China-US market has grown, and have a greater understanding of future growth than they did a decade ago.
It is certain that Delta would like US-China open skies in order to form a JV with China Eastern – a fellow SkyTeam member and one in which Delta has invested. However, China Eastern is sceptical, since it reckons Delta wants to slow down China Eastern's growth; Delta has already encouraged China Eastern to focus on China point of sale instead of US point of sale.
The American-China Southern relationship is young, and the two airlines lack a history with each other. The natural evolution of partnerships – and fundamentally the friendship between each side's executives – makes it difficult to foresee the two forming a JV in the near future. However, if the opportunity came about they would logically do so sooner rather than later.
US airlines will need to reach agreement with their unions, which are expected to be worried that under a JV US airlines will transfer capacity to their lower cost Chinese counterparts. In the Delta-Virgin JV, for example, there is provision safeguarding a certain amount of Delta metal.
China's big three airlines are state owned and their accounts document subsidies they have received. US airlines have not taken a public stance with Chinese airlines about state ownership and subsidies the way they have with Gulf airlines.
The biggest question is actually with the two partners that most assume are comfortable with each other: Air China and United. Dr Chi's view is that his partner United Airlines does not want US-China open skies because United would lose market share. United started flying to China earlier than American and Delta, and has established a formidable position.
Dr Chi remarked: "I don't even detect any desire on the part of our US partners to have open skies discussions. If I read my partner right, they're really in a sweet spot. They are happily, happily operating nonstop flights from their major hubs [in the US] to secondary cities [in China], which are still not being capped. If I were them, I wouldn't have incentive to have any significant, concrete discussions on open skies".
The nonstop 'hub to secondary city' services referenced are United's flights to secondary Chinese cities, which have a different traffic right allocation from American's and Delta's only Chinese points – Beijing and Shanghai.
American and Delta have not shown interest in secondary Chinese cities; Delta partially because it does not have the right equipment. American has better understood secondary markets in terms of the incentives available, as well as the political goodwill it achieves with the CAAC by supporting all of China and not just the markets that American expects will make the highest profit.
United serves three secondary Chinese markets, all from its San Francisco hub: Chengdu (year round), Xi'an (seasonal) and Hangzhou.
Hangzhou came about as a replacement when United could not get a second daily San Francisco-Shanghai service. Hangzhou is part of Shanghai's catchment area to some extent, and has one of the wealthiest incomes in the country. Having launched Hangzhou out of necessity, United is finding that it could work on its own.
Since mid 2015 United and Air China have been dovetailing as the largest airline presences in the US-China market. In Apr-2017 United has a 21% share against Air China's 18%, but in northern summer 2017 Air China will take a marginal lead over United.
China to United States of America (seats per week, one way): 21-Apr-2014 to 9-Oct-2017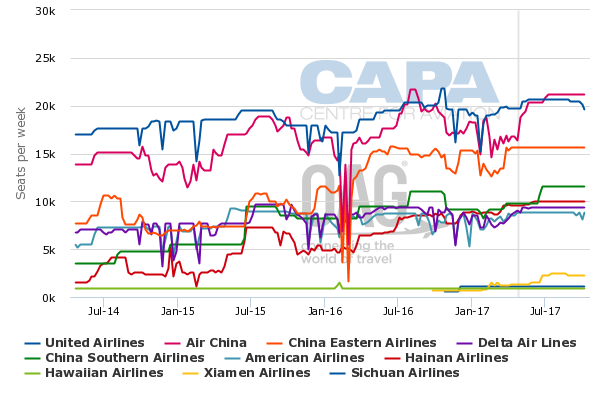 US DOT establishing itself in new government administration
Before open skies or any aeropolitical matter can advance, the US DOT needs to establish itself under the new administration of President Trump. Elaine Chao was confirmed Secretary of Transportation, but Dr Chi noted that she is one of two or three officials who have been confirmed, and the department overall needs a stronger force.
Either because of the lack of staff, or general uncertainty of a Trump administration, Dr Chi does not know how the new administration views a range of matters, such as US-China open skies. He said on the panel: "We're waiting for Washington to sort itself out. We don't know how to read them".
Japan-US open skies offers an example for China-US
All Nippon Airways VP Strategic Planning Tadashi Matsushita highlighted how the China-US open skies discussion is similar to the Japan-US debate that was held in the last decade. Expansion of capacity in Tokyo resolved many US issues about Japanese slots, but it was largely ANA's desire to form a JV with ATI with United Airlines that resulted in an agreement becoming possible.
ANA, seeking to overtake its long-standing rival JAL, regarded partnerships as a significant way to support growth. ANA and United shared a common future and, to the surprise of most, in the space of a year US-Japan open skies went from being nearly impossible to a signed deal.
Even the strongest possible partnership – between Delta and China Eastern – is not cemented. None of the airlines are yet to have a shared future with their foreign counterpart. Hainan Airlines, not state owned, has been left out now that its prospective US partner, American Airlines, is with China Southern. It seems unlikely that Hainan will reverse the status quo, or stop liberalisation.
Although Chinese airlines have a strong relationship with the regulator CAAC, the CAAC also pushes airlines to evolve – sometimes faster than the airlines want to. The CAAC could play a role in telling airlines to work out their disputes and form partnerships for the onset of US-China open skies.
Leading Chinese LCC Spring Airlines Vice President Jonathan Hutt observed that while the three state owned airlines may have individual agendas, they are all family under government ownership, required to support the larger vision of Chinese aviation and its economic benefit to the country.
Mr Hutt remarked: "There's a family structure involved and there's always going to be disputes among family members. But there's a commonality in what they're trying to achieve. The CAAC has a very strong idea about how it wants the market to look – very, very clear".