AirAsia Japan prepares for South Korean services and evaluates under-served cities in China
Analysis
As AirAsia Japan nears its first full month of service, its attention is turning to what international markets to serve. While the carrier had previously filed schedules to offer a daily return from each Seoul and Busan from 01-Oct-2012, CEO Kazuyuki Iwakata tells CAPA those services have been pushed back to the second half of Oct-2012 at the earliest following a delay in the delivery of its third A320.
In addition to Korea in the international market, Mr Iwakata expects AirAsia Japan to focus on mainland China as well as Taiwan. In addition to the two destinations offering high demand, they are Japan's second and fourth largest international markets. Open skies agreements have also recently been signed, with Taiwan in Nov-2011 and China in Aug-2012, a further testament to Japan's breathtaking liberalisation that is ushering a new era in once stagnate North Asia.
In China Mr Iwakata is interested in under-served cities and there are no shortage of possibilities: the less entrepreneurial push of legacy carriers in the market has resulted in over two-thirds of all seats going to or from Beijing and Shanghai, leaving the country ripe for a lean carrier in an airline group known for strong marketing in opening new city-pairs.
AirAsia Japan has previously stated it expects approximately one-fifth of seats, over time, to be deployed in international markets.
See related article: AirAsia Japan plans launch with domestic and Korean flights
Japan top 10 international arrival countries ranked on seats: 20-Aug-2012 to 26-Aug-2012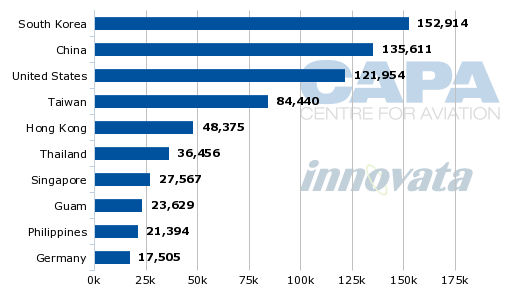 69% of seats from Japan to China reach either Beijing or Shanghai
There are approximately 135,000 seats a week to China from Japan based on schedules from Innovata for the week of 20-Aug-2012 to 26-Aug-2012. Of those seats, 69% are to just two cities: Beijing and Shanghai, including the latter's Hongqiao and Pudong airports.
Chinese airport market share of Japan-China services: 20-Aug-2012 to 26-Aug-2012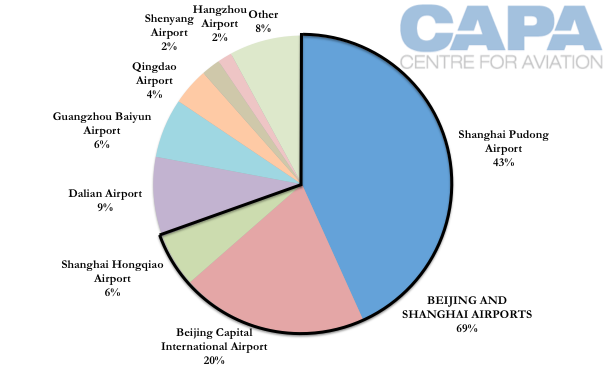 While an emphasis on those two large cities would be expected, the imbalance is great, leaving viable alternative Chinese cities with merely two narrowbody flights a day to Japan at the upper end, and at the lower end less than daily service.
Top 20 routes from Japan to China: 20-Aug-2012 to 26-Aug-2012
This imbalance will be reduced in coming years as Japan's new LCCs – also including Jetstar Japan and Peach – look for new markets and also as Beijing and Shanghai largely remain shut out for growth due to slot limitations.
One global impact of LCCs is the new city-pairs they often open in droves compared to legacy carriers. Although All Nippon Airways (ANA) serves eight mainland Chinese cities outside Beijing and Shanghai and Japan Airlines (JAL) three, these frequencies are often low and stimulation through price is not an option available to legacy carriers the way it is with LCCs.
AirAsia Japan is also entering a sector not prized for its marketing skill. Mainland carriers, especially those government-owned, can largely rely on strong demand to fill capacity without having to pursue marketing. While this approach may lead to profits, it stunts potential on existing routes as well as ability to open new routes, often to/from secondary points. International marketing from mainland carriers can be weak, further limiting potential.
In contrast, the AirAsia Group, like other LCC groups, has a proven track record in successfully introducing new city-pairs, with price stimulation possible through its low – and efficient – cost base. This marketing agility, also seen with Spring Airlines' routes to secondary Japanese cities, is as much a competitive worry to legacy carriers as are their lower cost bases.
Chinese carriers account for approximately 61% of capacity between China and Japan. The largest carriers are ANA and China Eastern (North Asia is a large market for China Eastern) followed by Air China with JAL and China Southern having lesser capacity.
Japan-China market share by airline based on seats: 20-Aug-2012 to 26-Aug-2012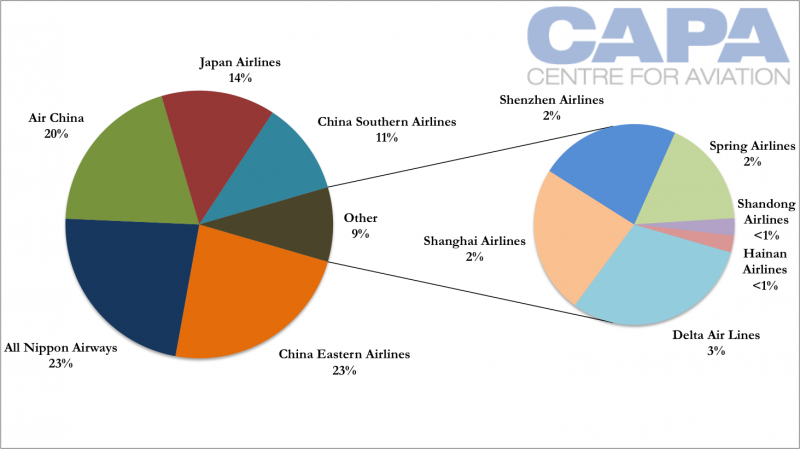 The AirAsia Group, like its closest competitor the Jetstar Group, is increasingly focusing growth on where synergies can be achieved and scale amassed, such as one subsidiary opening a new city-pair but to a destination already served by another subsidiary. This offers marketing advantages as the local market is already familiar with the AirAsia brand and placing an additional flight into an existing destination has an incremental cost rather than opening a new station. This approach will be a key strategy of affiliate AirAsia X as it looks to ramp up growth in 2013 and 2014.
See related article: AirAsia X, accelerating growth in response to Scoot, looks to capture Asian market once and for all
But AirAsia Japan in the medium-term is more likely to open new Chinese cities for the AirAsia Group than to expand to cities already served by other subsidiaries. This is primarily a result of most AirAsia destinations being served on A320s from its Bangkok and Kuala Lumpur bases.
From Kuala Lumpur the preferred four hour operating range has little overlap with a four hour range from AirAsia Japan's Tokyo Narita base, but from Bangkok there is greater overlap, including in the populous coastal region. Thai AirAsia has flagged international growth, including to China. It was the first (and still only) AirAsia brand to serve Chongqing and will be the first AirAsia brand into Wuhan. With A320s, the Kuala Lumpur hub largely cannot reach central and western China, where much growth will be concentrated in coming years as the government looks to expand outside of the coastal areas.
See related article: AirAsia considers serving Kunming, Wuhan or Xi'an, a new group of Chinese cities for Asian LCCs
Four-hour range from Bangkok, Kuala Lumpur and Tokyo Narita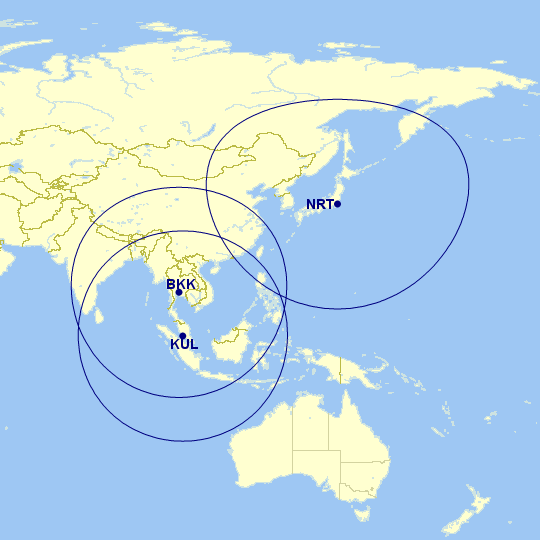 AirAsia Berhard (Malaysia) and Thai AirAsia serve with A320s Chongqing, Guilin, Guangzhou, Shenzhen and from Oct-2012 Wuhan. AirAsia X serves Beijing, Chengdu and Hangzhou. Hangzhou and Wuhan are firmly within four hours from Tokyo, and Hangzhou's combination of a major tourist site in its own right as well as alternative to slot-limited Shanghai makes it an attractive destination, although AirAsia Japan would need to negotiate with part-owner ANA, which has a daily A320 service to Tokyo Narita and a daily Boeing 737-700 service to Osaka Kansai. While ANA has embraced LCCs – partially out of force – it is concerned to limit cannibalisation.
Excluding Beijing, where AirAsia Japan could not get daylight slots, all other AirAsia Group destinations in China – Chengdu, Chongqing, Guangzhou, Guilin and Shenzhen – would exceed, by 30-90 minutes, the group's preferred four hour limit for A320s. That is not to rule out the cities entirely. A330s could be based out of Japan in the medium-term, or AirAsia Japan could launch international services from an inevitable new base. From a city further west in Japan than Tokyo, such as Osaka or Fukuoka, would quickly bring AirAsia's Chinese network into a four hour range for AirAsia Japan, and would allow future service to central and western cities that develop in the medium-term.
Four hour range from Tokyo Narita and Fukuoka overlaid with the AirAsia Group's current and announced future destinations: 22-Aug-2012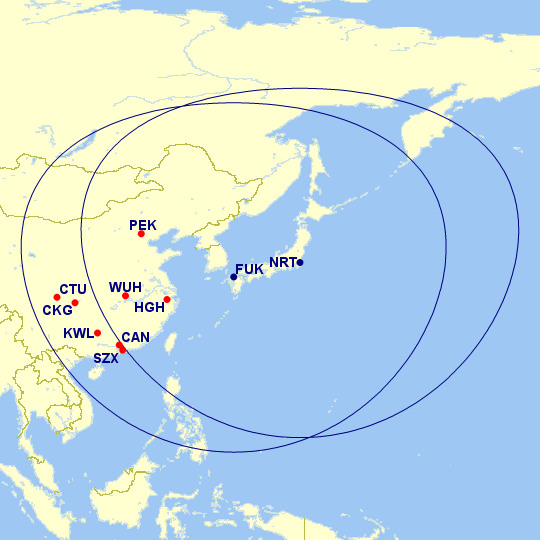 But more appealing in the short-term while its Tokyo Narita base amasses scale – and offers a large catchment area – is to open service to any of the viable northern Chinese or central coastal cities. AirAsia Japan's presence could pave the way for future service from AirAsia X, AirAsia Philippines or a new AirAsia venture in North Asia.
Japan's liberalisation continues to work in favour of LCCs
The presence of the new LCCs in Japan has been partially possible through expanded air service agreements, and typically open skies agreements. Limitations on air services – as found in South Korea and Taiwan – remain structural blocks for LCCs to flourish from those markets. Japan's most recent regional liberalisation was with China, which previously had an open market but not completely open due to lack of slots at the main airports in Beijing, Shanghai and Tokyo Haneda – a disagreement that highlighted the ignoring of untapped potential in secondary or even smaller first-tier cities.
The two sides announced on 08-Aug-2012 an open skies agreement except for Tokyo Haneda, where limitations will remain in place due to slot shortages. Services between China and Tokyo Haneda Airport will increase to 16 per day, including four new Haneda-Shanghai services (two for each side), four Haneda-Beijing services (again two for each side) and the introduction of daily Tokyo Haneda-Guangzhou service, effective from Mar-2013 at the earliest.
The open skies agreement is one of many, including a Nov-2011 agreement with Taiwan. Like other agreements constrained Tokyo was excluded, but services to/from Tokyo Narita will no longer be limited from northern summer 2013. Caps on the number of operating carriers in the market will also be lifted.
Taiwan is the fourth largest market for Japan in terms of seats, and while Taiwan's China Airlines is planning large expansion following the open skies agreement, further growth in Japan's third largest market, the US, should keep Taiwan as the fourth largest market, albeit one that will grow significantly.
City pairings in the market are fewer, as are operating carriers. Taiwanese carriers account for 62% of seats while Japanese carriers account for only 19% of seats, with foreign carriers splitting the rest. Notably Cathay Pacific operates, with fifth freedom rights, more seats between Taiwan and Japan than ANA does. Jetstar Asia also operates between Japan and Taiwan and will be joined later this year by another Singapore-based LCC, Scoot, taking advantage of the fifth freedom rights given to Singaporean carriers in the Japan-Taiwan market.
Japanese carriers are disadvantaged with a higher cost base than their Taiwanese or Southeast Asian counterparts. Unlike with mainland Chinese carriers, Taiwanese carriers are more up to speed on service, a huge factor for the Japanese market that often sees them prefer to fly on Japanese carriers.
Japan-Taiwan carriers ranked on seats: 20-Aug-2012 to 26-Aug-2012
Japanese LCCs can be used by their part full-service airline owners (ANA for AirAsia Japan and Peach, and JAL for Jetstar Japan) to pick up the lower segments of the market full-service Japanese carriers cannot access. Peach will commence daily Taipei services from Osaka Kansai on 16-Oct-2012, increasing to double daily in Dec-2012, while Scoot will commence Singapore-Taipei services on 18-Sep-2012 with the service due to be extended to Tokyo Narita and offered on a daily basis.
There are 21 routes between Taiwan and Japan for the week of 20-Aug-2012 to 26-Aug-2012, according to Innovata. This compares to 71 between China and Japan. New city-pairs are less likely to be introduced given the fewer airports in Taiwan. Routes from Osaka and Tokyo to Taipei account for 62% of all seats, allowing for growth from other Japanese cities, as well as some bolstering of presence in Taiwan's Kaohsiung, but given Taipei Taoyuan remains open to capacity (Songshan is not) further growth will occur in the primary markets.
Top 10 routes from Japan to Taiwan ranked on seats: 20-Aug-2012 to 26-Aug-2012
Opportunities aplenty but restriction will be aircraft delivery slots
There is no shortage of opportunities from Japan to markets that have not only been under-served but will see tremendous growth in coming years. What there will be a shortage of is securing aircraft delivery slots. With AirAsia now having five A320 AOCs, and founder Tony Fernandes always on the look-out for the next opportunity, the eyebrow-raising orders from AirAsia once distributed to the subsidiaires are, in fact, not enough. But when assets are put into AirAsia Japan, they have a prospect of solid returns.