Part II: Spain's Air Europa bets on 787s to widen its footprint in Latin America
Air Europa is spinning an expanding network from Madrid to Latin America, where it now serves eight destinations in seven countries with a new gateway in Bolivia coming online in Nov-2012. The small SkyTeam carrier's niche Latin America strategy is not new and it is a logical one given the geographic location of Spain on the European continent and the historic and linguistic ties of the country with most nations in Latin America.
But the endeavour is getting increasingly difficult with a larger peer in its backyard, Iberia, and very adverse economic circumstances in Spain that suppresses demand. In attempts to offset the weakness in Spain, Air Europa is focusing more on point of sales in Latin America and other European countries as it continues to grow its short-haul international network. Only about 40% of the carrier's sales on its Latin America routes now come from Spain, compared to 60% previously.
New Air Europa routes to Europe are behind a strategy to increase its reliance on feed. Madrid-Geneva was launched in Apr-2012 and a new twice daily Madrid-Brussels service will commence 03-Dec-2012. (Air Europa's short-haul strategy was analysed as part of the first article in this series.)
Opening new routes is expensive and higher operating costs are most unwelcome as the company is trying to reverse losses with a restructuring plan including a sharp reduction of between 30% and 45% of pilot wages, which the pilots' union has described as "barbaric". Cabin crew salaries and benefits will be slashed and this forebodes social unrest.
But there is also a bright side: passenger traffic on the South Atlantic, including to and from Spain, is showing good growth. Member airlines of the Association of European Airlines (AEA), of which Air Europa is not part, reported a buoyant 12% increase in passenger numbers on Latin American routes and a 13% hike in RPKs in the first nine months of 2012 compared to the year-ago period. This is well above the average 9% growth registered by AEA airlines on long-haul routes in terms of passengers carried and RPKs.
In the overall Europe-Latin America market, Air Europa is a small player compared to Iberia, TAP Portugal, and its SkyTeam partner Air France-KLM in terms of destinations served, ASKs and weekly frequencies. Air Europa operates 87 weekly scheduled passenger flights between Spain and Latin America (comprising South America, Central America and the Caribbean), according to schedules in Innovata for the week of 08-Oct-2012 to 14-Oct-2012.
The airline's weekly scheduled passenger capacity to/from the region expressed in seats per week amounts to roughly 26,000. This is a third of the total weekly seat capacity deployed by market leader Iberia on routes to/from Latin America.
Air Europa is currently the seventh largest carrier in the Europe-Latin America market based on weekly seat capacity. But based on Innovata schedule data for Dec-2012, Air Europa will overtake British Airways and Lufthansa by year-end and become the fifth largest carrier in the market, behind Iberia, Air France, TAP and KLM.
Top 10 European carriers in Latin America (including the Caribbean): 08-Oct-2012 to 14-Oct-2012
| | | | |
| --- | --- | --- | --- |
| Carrier | Destinations | Frequencies to/from | Weekly seats |
| | 17 | 244 | 74,490 |
| | 16 | 239 | 63,232 |
| | 11 | 152 | 35,860 |
| | 13 | 102 | 32,870 |
| | 17 | 147 | 28,954 |
| | 6 | 92 | 28,000 |
| | 8 | 87 | 26,312 |
| | 15 | 60 | 14,616 |
| | 4 | 54 | 14,346 |
| | 8 | 36 | 13,716 |
Despite its small size Air Europa does hold its own. It flies to more gateways in Latin America than for instance Lufthansa, and its network is far more diverse than TAP's, which focuses mainly on Brazil. Air Europa has a network spanning eight destinations in seven countries including Argentina, Brazil, Cuba, the Dominican Republic, Mexico, Peru and Venezuela. Bolivia will become the eighth country in the Air Europa network on 29-Nov-2012, when service to Santa Cruz is launched.
Air Europa Latin American network: as of 12-Oct-2012
Air Europa has its official base in Mallorca, one of the Balearic Islands of Spain, but all its long-haul routes are concentrated at Madrid Barajas Airport where it operates a hub-and-spoke model.
Long-haul almost solely centres on Latin America
Air Europa deploys about 37% of its international seat capacity to Latin America and all but one of its long-haul destinations – New York JFK Airport – are to Latin America. Flights to the Caribbean represent an approximate 14% share of total international seats capacity as compared to about 12% for routes to upper South America and just 6% and 4% respectively to lower South America and Central America, based on schedules in Innovata for the week of 08-Oct-2012 to 14-Oct-2012.
But on an ASK basis only 22% of its international capacity is allocated to routes to western Europe. Air Europa also serves two destinations in west Africa, Dakar and Banjul, but these destinations are only served once per week each with narrowbody aircraft.
Air Europa international capacity (seats) by region: 08-Oct-2012 to 14-Oct-2012
Air Europa international capacity (ASKs) by region: 08-Oct-2012 to 14-Oct-2012
The relatively high importance of Caribbean capacity is explained by the airline's past as leisure carrier and the role it plays as air services provider within Globalia, Spain's largest tourism and travel group.
Air Europa now allocates most of its seat capacity, about 52% on domestic routes and the bulk of its international seat capacity (66%), to routes to/from western Europe. The airline is increasing its network in Europe to balance out a persistent decline in demand in the Spanish market and to step up feed from European markets to its long-haul network over its hub at Madrid Airport.
As CAPA reported in the first installment in this two-part series of articles, roughly 40% of Air Europa's total traffic is transit, up from 25% a few years ago. Most of the growth in the airline's transit traffic is coming from short-haul international to long-haul international connections rather than domestic to long-haul. (Although Air Europa is also increasing its focus on the latter by launching two new domestic destinations from Madrid, Bilbao and Valencia.)
See related article: Spain's Air Europa bucks the trend and expands short-haul network at Madrid
Increased focus on Latin America point of sale
Demand for both leisure and business travel from Spain to Latin America has decreased but demand from Latin America to Spain is still strong and overall the Europe-Latin America market is still growing, Air Europa alliances director Imanol Perez told CAPA earlier this year. Consequently the company is having an increased focus on the Latin America point of sale and the non-Spanish European markets for its Latin America flights. This protects Air Europa against the downturn in Spain. Mr Perez said about 60% of its sales on Latin American routes are now generated outside Spain, compared to 40% previously.
Both Iberia and Air Europa have Latin America as the main focus of their long-haul networks and it is thus not surprising that the networks overlap to a great extent. Air Europa faces competition from Iberia on five of its eight routes to Latin America and it competes with Iberia on seven of its 10 largest international routes in terms of ASKs, based on schedules in Innovata for the week of 08-Oct-2012 to 14-Oct-2012. Conversely, Iberia competes with Air Europa on only three of its 10 largest international routes in terms of ASKs: Buenos Aires in Argentina, Lima J Chavez International Airport in Peru and New York JFK.
Air Europa is the sole operator on only three of its nine long-haul routes: Punta Cana in the Dominican Republic, Cancun in Mexico and Salvador Airport Luis E Magalhaes in Brazil. Iberia was initially planning to launch Madrid-Cancun and Madrid-Punta Cana services for summer 2012 but cancelled the routes prior to launch due to poor market conditions.
Air Europa top 10 international routes (based on weekly ASKs): 08-Oct-2012 to 14-Oct-2012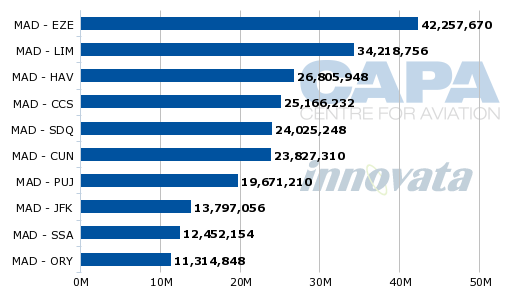 Air Europa's nine long-haul routes (ranked by capacity) and competition: 08-Oct-2012 to 14-Oct-2012
Route

Carriers

Capacity share

(% of seats)

MAD - EZE

Aerolineas Agentinas

22%

54%

24%

MAD - LIM

Lan Airlines

23%

38%

39%

MAD - HAV

Cubana de Aviacion

50%

43.%

7%

MAD -CCS

CONVIASA

39%

52%

9%

MAD - SDQ

54%

46%

MAD - CUN

100%

MAD - PUJ

100%

MAD - JFK

15%

51%

16%

18%

MAD - SSA

100%
New route to Bolivia and more capacity to Brazil
Air Europa plans to open a new route to Santa Cruz Viru Viru International Airport in Bolivia. The twice weekly service is to launch on 29-Nov-2012, however one of two weekly frequencies will operate via Caracas on the return sector from 29-Nov-2012 to 19-Dec-2012.
AeroSur operated from Santa Cruz to Madrid before the Bolivian privately owned airline suspended all its flights in May-2012. As AeroSur was the only carrier operating non-stop flights in the Bolivia-Spain market, Air Europa saw an opportunity and quickly put in place plans to launch service to Santa Cruz.
Air Europa, however, could face Bolivian competition in the market as government-owned carrier Boliviana de Aviacion (BoA) has been looking to add widebody aircraft to support the launch of flights to Spain. Reportedly, BoA is now planning to begin services on the Santa Cruz-Madrid route on 22-Nov-2012, or one week ahead of Air Europa's launch of services to Bolivia. But the carrier has not yet begun ticket sales for its first long-haul service.
See related article: Boliviana de Aviacion set to expand as re-launch of Aerosur is unlikely due to government roadblocks
Santa Cruz to Madrid capacity by carrier (seats per week, one way): 19-Sep-2011 to 31-Mar-2013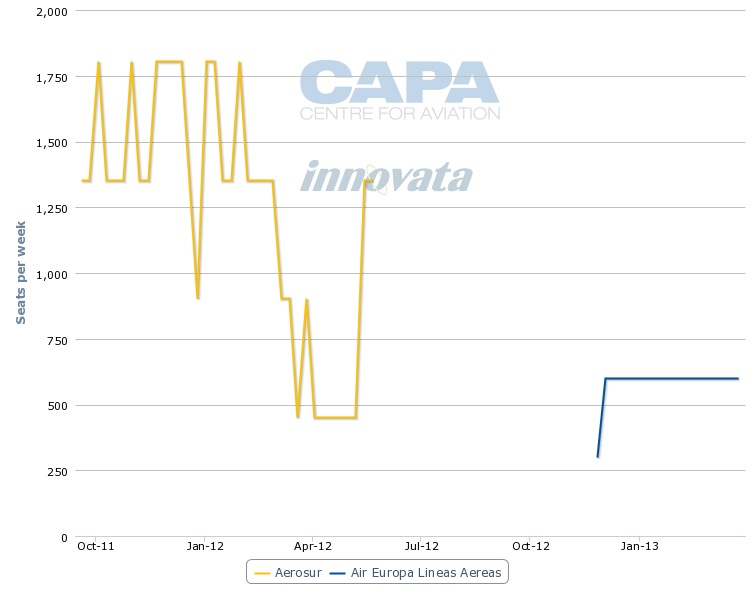 Air Europa is also planning to increase capacity to Brazil as it adds a fourth weekly frequency on its only Brazil route, linking Madrid to Salvador, on 02-Dec-2012. The extra frequency will increase its one-way seat supply on the route from about 900 currently to about 1,200, according Innovata and CAPA data.
Air Europa is the sole operator on the route but three other European carriers serve Salvador Airport Luis E Magalhaes, commonly called Salvador do Bahia Airport, on Brazil's eastern coast. Condor serves Salvador from Frankfurt and TAP Portugal and SATA International Azores operate from Lisbon.
TAP is the largest international airline at Salvador, accounting for about a 41% share of seat capacity. Air Europa currently accounts for a 23% share of intentional seats, based on schedules in Innovata for the week of 08-Oct-2012 to 14-Oct-2012.
Salvador Airport Luis E Magalhaes international capacity (% seats per week) by carrier: 08-Oct-2012 to 14-Oct-2012
Air Europa is a full member of SkyTeam but does not codeshare with any SkyTeam member on its long-haul routes.
Air Europa, however, carries the code of several SkyTeam carriers on its short-haul routes including Aeromexico. Air Europa now places its code on Aeromexico's flights on the Madrid-Mexico City route while it carries Aeromexico's code on connecting flights from Madrid to destinations such as London. (Air Europa also briefly served the Mexico City-Madrid route with its own aircraft from Jun-2011 to Jan-2012.)
Air Europa also has a reciprocal codeshare arrangement with Air France on routes between Madrid and Paris and with KLM on services connecting Madrid and Amsterdam. But Air Europa does not work with Air France or KLM on services to and from Latin America.
Air France and KLM both serve three of Air Europa's Latin American destinations - Buenos Aires, Lima and Havana while Air France serves on its own a further three - Caracas, Punta Cana and Santo Domingo. Instead of cooperating, Air Europa now competes with Air France and KLM on flights linking various destinations in Europe with these destinations in Latin America.
Air Europa, however, is discussing forging a codeshare agreement with new SkyTeam member Aerolineas Argentinas. Both carriers now operate one daily flight between Buenos Aires and Madrid but are keen to work together to optimise their schedules on the route. Air Europa and Aerolineas have a common larger competitor in the Buenos Aires-Madrid market in Iberia, which currently accounts for about 54% of capacity on the route.
See related article: Aerolineas Argentinas tries to overcome troubled past and continued challenges as it enters Skyteam
Madrid to Buenos Aires capacity by carrier (seats per week, one way): 19-Sep-2011 to 31-Mar-2013
Dreamliner will open new route opportunities in South America
Air Europa at present operates a streamlined fleet of 10 Airbus A330-200s configured in a two-class lay out. The company placed an order for Boeing 787-8 Dreamliners valued at $1.3 billion at list prices in 2007 and it also acquired purchase rights for an additional eight 787s. Mr Perez says Air Europa's first 787s are scheduled for delivery in 2015.
The airline will not wait to expand until the 787s arrive, according to Mr Perez. "The idea is to increase long-haul between now and 2015," he says, but acknowledges the carrier currently is not committed to adding any additional A330s as an interim solution.
Mr Perez says the 787s are initially intended for growth rather than replacement (more 787s could be acquired later to replace the A330s). He noted that for certain destinations that Air Europa plans to open in Latin America the airline needs to wait for the 787, in particular Bogota and Mexico City as well as perhaps Quito. Mr Perez explained that in these markets Air Europa would face operating restrictions with its current fleet of A330s due to high altitude. Operating restrictions was one reason that Air Europa decided to axe its Madrid-Mexico City service only seven months after it was launched in mid-2011.
Rival Iberia now serves Mexico City, Bogota and Quito with Airbus A340s, which can operate out of high altitude airports without restrictions but are less economical in terms of per seat operating costs. Iberia is the only carrier in the Madrid-Quito market while it competes against Aeromexico on Madrid-Mexico City and against Avianca on Madrid-Bogota.
Air Europa eyes a careful expansion of its long-haul operation with a continued focus on is most natural market, Latin America. Planned capacity cuts at rival Iberia could provide Air Europa with some nice opportunities, but the carrier faces similar problems to its larger counterpart such as a contracting economy, falling demand in its home market, continuing eurodebt uncertainly and a lack of profitability. Air Europa incurred a EUR23 million loss in the fiscal year ending 31-Oct-2011 and a EUR20 million loss is forecast for the current fiscal year ending 31-Oct-2012.
Air Europa management has told employees, specifically flight crew, that wages will be cut and productivity will have to go up. And in Europe, a threat of wage cuts normally means industrial action. This in turn could provide some great opportunities for the leaner and less legacy encumbered airlines in Latin America, which are also keen to take a larger bite out of the attractive Europe-Latin American market.
(This is the second in a two-part series on Air Europa. The first part analysed the carrier's short-haul expansion and strategy.)