Aerolineas Argentinas tries to overcome troubled past and continued challenges as it enters SkyTeam
Analysis
Aerolineas Argentinas formally joined the SkyTeam Alliance on 29-Aug-2012, completing an important component in the flag carrier's strategy to reverse several years of unprofitability and lacklustre service standards. SkyTeam will allow Aerolineas to virtually expand its relatively small and highly unprofitable international network as the carrier aims to quickly start codesharing with several current and prospective members. But the alliance alone will not fix Aerolineas' deep-rooted problems and the government-owned flag carrier still has to overcome several challenges to achieve sustained profitability.
For SkyTeam, Aerolineas Argentinas fills an important white spot in South America, a fast-growing region where the alliance previously lacked any local members. But SkyTeam still badly lags behind oneworld and Star in the increasingly important Latin American market. The alliance is now striving to woo Brazil's Gol as a new member, which would allow SkyTeam to close the gap with its rivals.
Aerolineas, which has been working over the last year on implementing a codeshare with Gol, could help SkyTeam with its ongoing campaign to recruit Gol. Aerolineas' value to SkyTeam would increase significantly if it could help persuade the Brazilian carrier to join the alliance. Otherwise SkyTeam could prove to be more valuable to Aerolineas, which needs the alliance to improve its weak positioning outside South America, than Aerolineas to SkyTeam.
In the Latin America and Caribbean region, the addition of Aerolineas increases SkyTeam's share of capacity by only 3ppts from about 9% to about 12%. Star now has a leading 30% share of capacity in the region while oneworld has about a 13% share. Aerolineas is SkyTeam's second member in Latin America, joining Aeromexico.
Latin America capacity share (% of seats) by alliance: Before and after Aerolineas joined SkyTeam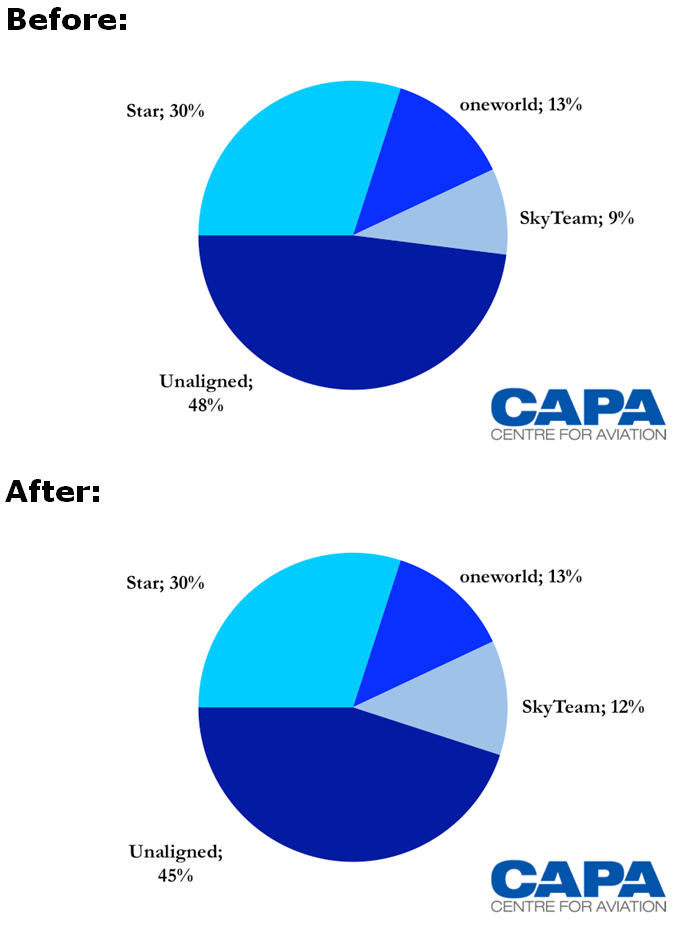 But the expected move of TAM from Star to oneworld would make oneworld the region's largest alliance with about a 28% capacity share, leaving Star with only about a 16% share of capacity. TAM is required to exit Star within two years as part of the conditions Chile's anti-trust court placed on approving TAM's recently completed merger with the Chile-based LAN group. New LAN and TAM parent LATAM Airlines Group is considering the option of an unaligned TAM while keeping LAN in oneworld, but will most likely decide sometime in 2013 to move TAM to oneworld.
See related articles:
SkyTeam would capture about a 27% share of capacity in Latin America if it succeeds in adding Gol and its sister carrier Webjet as members, putting SkyTeam only slightly behind oneworld assuming all of LATAM ends up in oneworld. While Gol has so far declined to accept SkyTeam's offer to join the alliance, saying it wishes to remain non-aligned, the pressure on Gol could build particularly as SkyTeam member Delta Air Lines has gained a seat on Gol's board after buying a minority stake in the Brazilian carrier late last year.
See related article: Delta's investment in Gol has SkyTeam and broader US-LatAm strategic implications
Gol is Latin America's second largest airline group after LATAM, accounting for about 15% of total capacity in the region. Aerolineas Argentinas is the seventh largest airline group in Latin America (behind LATAM, Gol, Avianca-TACA, Azul-TRIP, Aeromexico and Copa), accounting for just under 3% of total capacity to, from and within the region.
Aerolineas and its short-haul unit Austral currently serve a network of 52 destinations, but only five destinations outside Latin America – Barcelona, Madrid, Miami, Rome and Sydney. The group's Latin America network, which it has focused on building up since the carrier was renationalised in late 2008, consists of 12 destinations in nine countries. About 75% of Aerolineas' international capacity on a seat basis is allocated to Latin America while on an ASK basis the region accounts for 36% of the group's international capacity (see Background Information).
The group's domestic operation, which traditionally has performed better financially, accounts for the remaining 35 destinations. Domestic routes currently account for about 69% of Aerolineas' total seats and 39% of its ASKs, according to Innovata.
Aerolineas benefits domestically from a protective regime that ensures the market cannot be touched by any low-cost carrier although Aerolineas does face intense competition on domestic trunk routes against LATAM affiliate Lan Argentina. The government authorised the LAN group to enter the domestic market while Aerolineas was in private hands (Aerolineas was owned by Spanish tour group Marsans from 2001 to 2008). Since the renationalisation, the government has adopted a highly protective stance which makes it virtually impossible for any new carrier to enter the domestic market and makes it very difficult for other Latin American carriers to expand in Argentina.
See related articles:
oneworld retains strong position in Argentina thanks to Lan
In addition to competing domestically, Lan Argentina along with its sister Chilean carrier Lan Airlines compete with Aerolineas on the Buenos Aires to Lima, Miami, Santiago and Sao Paulo routes. Lan's Buenos Aires hub also links Guayaquil in Ecuador and Punta Cana in the Dominican Republic – destinations which are not part of Aerolineas' network.
Lan Argentina is a oneworld affiliate, driving a 32% capacity share for oneworld in the Argentina market. The addition of Aerolineas has boosted SkyTeam's share of the Argentina market by about 38ppts from only 5% to 43%, making SkyTeam the new market leader in Argentina.
Argentina capacity share (% of seats) by alliance: Before and after Aerolineas joined SkyTeam
oneworld, however, is still much bigger than SkyTeam in the broader lower South American market, which includes Argentina, Chile, Paraguay and Uruguay. oneworld now accounts for a 47% share of capacity in lower South America, driven by its dominant position in Chile and strong position in Argentina. (oneworld accounts for nearly 70% of the capacity in Chile, which has an aviation market that is almost as big as Argentina's despite having a population that is less than half of Argentina's.)
SkyTeam now has a 25% share of capacity in the lower South American market, up 21ppts from only 4% before Aerolineas joined, while Star has an 11% share.
Lower South America capacity share (% of seats) by alliance: Before and after Aerolineas joined SkyTeam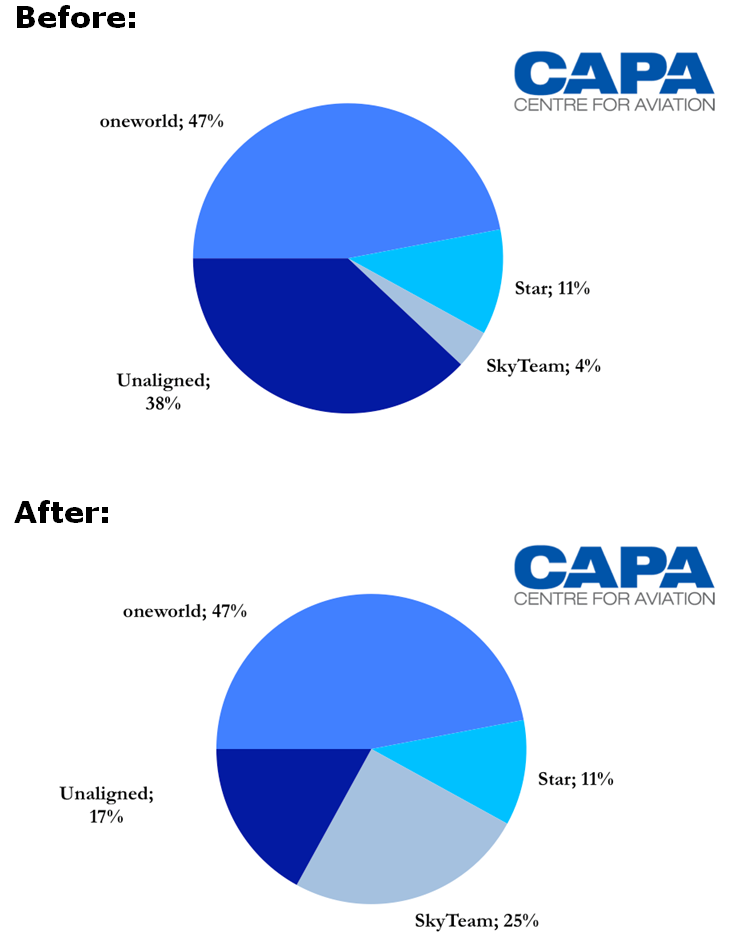 In addition to adding 34 domestic airports in Argentina to the SkyTeam network, Aerolineas gives SkyTeam a new presence in Bolivia, Paraguay and Uruguay. Aerolineas is not only the first SkyTeam carrier in the Uruguayan market, it is also now the largest airline in Uruguay following the demise of Uruguayan flag carrier Pluna in Jul-2012.
Aerolineas has added capacity to Montevideo since Pluna's demise and has been able to absorb point-to-point Argentina-Uruguay passengers that were previously flying Pluna as well as passengers that were flying Pluna via its Montevideo hub from Argentina or Chile to Brazil or Paraguay. SkyTeam and Aerolineas' Brazilian partner Gol will benefit as Aerolineas continues to grow its presence in the Uruguayan market.
See related article: Aerolineas Argentinas, BQB, Gol and LAN-TAM poised to benefit from demise or Uruguay's Pluna
Montevideo is Aerolineas' largest international destination by capacity. Three international markets on which it competes directly with archrival airline group LAN - Miami, Sao Paulo and Santiago - are also among Aerolineas' six largest destinations.
Aerolineas Argentinas top 10 international routes based on capacity (seats per week): 27-Aug-2012 to 02-Sep-2012
Aerolineas has historically served Uruguay from Aeroparque Jorge Newberry and has also served Argentina, Brazil and Paraguay from Aeroparque since early 2010, when the downtown airport was opened to regional international services. Aerolineas in tandem expanded capacity to several of its regional international destinations, cashing in on the convenience of Aeroparque and its ability to operate a higher number of frequencies on Aeroparque international routes than foreign carriers, which have struggled to secure slots at the mostly domestic airport.
SkyTeam membership prompts Aerolineas to rethink Ezeiza short-haul strategy
The expanded regional international operation and use of Aeroparque for regional international routes has been a key component of Aerolineas' post-renationalisation strategy but has made pursuing short-haul to medium- and long-haul connections more difficult. Aerolineas initially in 2010 stopped operating all domestic as well as regional international flights at Ezeiza Airport, where the carrier operates its medium- and long-haul routes. But Aerolineas has since added back several domestic services at Ezeiza as well as some flights from Ezeiza to Montevideo, Rio de Janeiro and Sao Paulo with most of the reinstatements being implemented in recent months in the lead up to its ascension into SkyTeam.
Aerolineas executives told CAPA at the IATA AGM in Jun-2012 that the group aims to build up a domestic and short-haul international bank at Ezeiza to include as many as 10 destinations. The bank consists of one daily flight in each direction that connects with Aerolineas' long-haul flights and some medium-haul flights within South America as well as long-haul flights from other SkyTeam carriers.
Aerolineas has already unveiled plans to also reinstate Ezeiza-Santiago service in Dec-2012 and will likely look to add more short-haul routes at Buenos Aires' main international airport to promote SkyTeam connections. Ezeiza is currently served by six other SkyTeam carriers – Aeromexico, Alitalia, Air France, Spain's Air Europa, Delta Air Lines and KLM.
Aerolineas shortly after being accepted by SkyTeam as a new member-elect in Nov-2010 started to negotiate agreements to codeshare with other SkyTeam carriers. At the time Aerolineas had not been able to codeshare with any carrier for a decade because back in 2001 it was kicked out of the IATA clearing house over unpaid debts. IATA finally let Aerolineas back into the clearing house in Mar-2011, paving the way for the carrier to continue the SkyTeam ascension process and work on implementing codeshares.
A codeshare with Delta Air Lines, which has sponsored Aerolineas' SkyTeam membership, has always been the top priority. Aerolineas and Delta initially planned to start codesharing in 4Q2011, or several months ahead of Aerolineas formally entering SkyTeam. But implementation of the codeshare has been delayed multiple times due to IT related issues.
Aerolineas executives told CAPA in Jun-2012 that the airline was working to secure IT provider slots to support the activation of the Delta codeshare, which will cover both carriers' US-Argentina flights, domestic flights in the US and Argentina as well as some regional international flights within South America. At the time Aerolineas was still hoping to turn on the codeshare during Aug-2012, or just ahead of its formal entrance into SkyTeam. While that deadline has now been missed, the two carriers should be in position to soon finally announce an activation date for their codeshare.
Aerolineas vice president business development and alliances, Guillermo Rudaeff, told CAPA that the carrier also expects to begin a codeshare with Air France-KLM shortly after the Delta codeshare. The aim was to turn on the Air France and KLM codeshares in Sep-2012 although it is unclear if this goal will now be met. While the codeshare work has faced repeated delays, Mr Rudaeff pointed out that Aerolineas was able to activate frequent flier reciprocity with both Delta and Air France-KLM on 01-Mar-2012. Frequent flier reciprocity with SkyTeam's other 14 members automatically kicked in on 29-Aug-2012 as Aerolineas formally joined the alliance.
Mr Rudaeff also told CAPA in Jun-2012 that codeshares are expected to begin during 4Q2012 with the other three SkyTeam members serving Buenos Aires – Aeromexico, Alitalia and Air Europa.
Also speaking to CAPA at the IATA AGM in Jun-2012, Air Europa management confirmed a codeshare is being discussed with Aerolineas and said the two carriers had agreed to optimise their Madrid-Buenos Aires schedules. Air Europa and Aerolineas each operate one daily flight on the Madrid-Buenos Aires route. Combined, the two carriers will be able to more effectively compete against market leader Iberia, which operates two daily frequencies between Madrid and Buenos Aires.
In the Rome-Buenos Aires market, Aerolineas and Alitalia are the only carriers operating non-stop services. Alitalia currently operates the route daily while Aerolineas operates four weekly flights.
After SkyTeam first approved Aerolineas as a new member Aeromexico management originally indicated that it wasn't planning to pursue a codeshare with Aerolineas. But Aeromexico's stance quickly changed after Aerolineas decided early this year to drop its Mexico City service. The two have since reached an understanding which will result in Aerolineas codesharing on Aeromexico's Mexico City-Buenos Aires service and Aeromexico codesharing on Aerolineas' Cancun-Buenos Aires service.
Aeromexico is now the only carrier on the Mexico City-Buenos Aires route with 10 weekly frequencies. Aeromexico has expanded significantly in the market since Mexicana's collapse in Aug-2010. Mexicana previously operated 10 weekly flights while Aeromexico originally had only three weekly flights, but Aeromexico gradually added seven flights using traffic rights previously held by Mexicana.
Aerolineas, which resumed service to Mexico City in Mar-2011 with four weekly flights, originally believed there was also room for an Argentinean carrier to fill some of the void left by Mexicana. But after only one year on the route it decided the market wasn't as big as expected and it would be better off withdrawing from the market in favour of a codeshare with Aeromexico.
Aerolineas continues to operate Cancun, which it serves with two weekly non-stop flights from Buenos Aires. Cancun was previously served via Mexico City. The planned codeshare with Aeromexico will give Aerolineas a daily presence in the Buenos-Aires Cancun market by offering its passengers a Buenos Aires-Mexico City-Cancun connection operated by Aeromexico on days Aerolineas doesn't serve Cancun with its own aircraft.
Once codeshares with all SkyTeam members that serve Argentina are finally implemented, Aerolineas plans to implement codeshares with select SkyTeam members that do not serve Argentina such as China Southern. But the higher priority will be codeshares with other South American carriers that are not part of SkyTeam, particularly Gol and Chile's Sky Airline.
Aerolineas' codeshare with Gol is further delayed
Aerolineas first forged its codeshare with Gol in Sep-2011. At one point the carrier was looking at potentially implementing the codeshare ahead of its planned codeshare with Delta or other SkyTeam members. But the Gol codeshare has been repeatedly delayed due to IT issues on Gol's side.
Gol has codeshares with several carriers outside Latin America but all these agreements currently only cover Gol-operated flights as Gol has not yet upgraded its IT system to support two-way codeshares. Mr Rudaeff says Aerolineas has decided to wait for Gol to complete the IT upgrade to support two-way codeshares rather than pursue an initial one-way codeshare on Gol-operated flights. But he acknowledges the IT upgrade at Gol will not happen in time to start the codeshare in 2012. While Aerolineas is hoping the codeshare can finally begin in 2013 this depends on Gol.
Gol does not have a pressing need to sell on flights operated by its existing partners because all its partners only operate long-haul services into Latin America and Gol is focused on the domestic and regional international markets. The Aerolineas-Gol relationship is a different situation because both carriers need to leverage each other's Argentina-Brazil networks to maximise the relationship. The two carriers combined currently offer over 23,000 one-way weekly seats from Argentina to Brazil, giving the duo a 55% share of the market according to current Innovata data. Gol is the largest carrier in the Argentina-Brazil market while Aerolineas is the third largest behind Gol and TAM.
Mr Rudaeff says Aerolineas is also looking to forge a codeshare with Sky of Chile. Sky is the second largest domestic carrier in Chile after Lan and also has a small international network which includes Buenos Aires Ezeiza. The Sky partnership would significantly bolster Aerolineas' presence in Chile where it currently only has one destination and is at a competitive disadvantage to rival Lan.
Mr Rudaeff and Aerolineas CCO Juan Pablo Lafosse also told CAPA that Aerolineas aims to begin codesharing with Virgin Australia in early 2013. The two carriers have been interlining for three years but a closer relationship is envisioned to help provide Aerolineas with more robust connections beyond Sydney. Transitioning the current interline arrangement to a codeshare will also help Virgin Australia, which is keen to build up its global network through bilateral agreements.
See related article: Virgin Australia in profit; loyalty programme and virtual network to drive growth
Aerolineas in Jul-2012 dropped the Auckland stop on its Buenos Aires-Sydney route. Aerolineas is the only non-stop carrier now operating between the two cities as Qantas dropped the Sydney-Buenos Aires earlier this year in favour of a new Sydney-Santiago service. Aerolineas now serves Sydney with three weekly flights but has unveiled plans to add a fourth weekly frequency on the route in Dec-2012.
Aerolineas works on upgrading several widebody routes to daily
Sydney and Cancun are the only international destinations Aerolineas does not have ambitions to serve daily. Its other widebody markets that are less than daily are expected to be upgraded to daily over the next one to two years. Maintaining daily services to almost all of Aerolineas markets is an important component of the carrier's strategy to improve its product positioning in the corporate sector. An upgrade in its long-haul in-flight product, which is being accomplished by retrofitting Aerolineas' widebody fleet, and membership in SkyTeam are also important components of this strategy.
Three of Aerolineas' widebody routes – Barcelona, Bogota and Caracas – were upgraded from four to five weekly frequencies in Jul-2012 as part of the first phase in its plan to eventually serve all its widebody destinations except Sydney and Cancun daily. Mr Rudaeff says Aerolineas envisions adding one weekly frequency to each of these routes every six months until they become daily.
He says the carrier will have the capacity to meet this goal without having to expand its widebody fleet, which currently consists of 11 A340-200/300s. Mr Rudaeff explains the A340 fleet is now under-utilised as it is in the process of being retrofitted, leaving the airline with one less operational aircraft throughout 2H2012.
Aerolineas now only serves two of its widebody destinations - Madrid and Miami - with daily flights. Aerolineas earlier this year decided to add a second frequency to Miami rather than reopen a second US gateway (several years ago Aerolineas served New York and Los Angeles). Aerolineas prefers to serve the rest of the US through its planned codeshare with Delta, which links Buenos Aires from its Atlanta hub.
The second Miami flight is now slated to be added in Dec-2012. There are no plans to add more capacity in its other main long-haul market, Madrid, as Aerolineas instead will focus on working with Air Europa in the Argentina-Spain market and upgrading its Barcelona service to daily.
Plans to renew widebody fleet are put on hold
Aerolineas plans to eventually look at renewing its widebody fleet, having looked several times since renationalisation at leasing A330s as well as placing orders for A350s or Boeing 787s. But for now the carrier is not looking at any new widebody types and plans to make do with its 11 A340s.
While the fuel inefficient A340 is not the ideal long-haul aircraft, Aerolineas is close to completing a massive fleet simplification effort which reduces the number of aircraft types in its fleet from seven to three. Aerolineas executives tell CAPA that by the end of 2012 the carrier will phase out its remaining Boeing 737 Classics, leaving it with a fleet of 26 Boeing 737-700/800s for mainline domestic and international routes under five hours (Chile, Bolivia, Brazil, Paraguay, Peru and Uruguay). The group's Austral unit, which flies under the same AR code as Aerolineas, already operates a modern all-Embraer E190 fleet consisting of 20 aircraft (both Austral and Aerolineas previously operated Boeing MD-80s). Boeing 747-400s were phased out from the long-haul operation within the last year, leaving Aerolineas with an all-A340 widebody fleet.
The rapid renewal of Aerolineas' entire narrowbody fleet, which has been accomplished in the first four years after renationalisation, is an important accomplishment as the carrier strives to improve its product position. Joining SkyTeam on schedule marks an even more impressive accomplishment given the carrier's position in late Nov-2010, when SkyTeam accepted Aerolineas as a new member-elect even though the carrier was still not part of the IATA clearing house.
Aerolineas was able to complete the ascension process in 22 months, quickly overhauling its entire IT system. Other new SkyTeam members have taken much longer to complete the ascension process and meet SkyTeam requirements. For example, SkyTeam announced the approval of Garuda Indonesia as a new member in Nov-2010, one week before the Aerolineas announcement, but the Garuda ascension process has been repeatedly delayed and is now not expected to be completed until 1Q2014.
But Aerolineas shouldn't celebrate its relatively rapid ascension into SkyTeam too hard. The carrier's management team, which has been in place since 2009, still has a lot more work before the turnaround can be deemed successful. Management has had to push back return to profit projections multiple times as Aerolineas has racked up roughly USD2 billion in losses since renationalisation. Aerolineas' long-haul network in particular continues to be highly unprofitable. SkyTeam membership and a product refresh should help but will likely not be enough to turn around Aerolineas - even in a highly protected market which allows the carrier to operate without the fear of LCC competition.
Background Information
Aerolineas Argentinas international capacity by region (seats per week): 27-Aug-2012 to 02-Sep-2012
Aerolineas Argentinas international capacity by region (ASKs per week): 27-Aug-2012 to 02-Sep-2012