Air China and United Airlines vie for title of largest carrier between China and the United States
Analysis
China's regulator the CAAC decreed that Air China is the largest carrier in the China-US market, ending the "domination" of US carriers. However this was based on Air China operating to six US cities while the largest US carrier, United, links China with only five US cities.
On almost every other metric – seats, frequency, city pairs – United (Air China's Star Alliance partner) is far larger and will grow in 2015 as it expands its Chengdu service and adds a second daily flight from San Francisco to Shanghai, the first example of a US carrier having more than a daily flight on a Chinese routing.
Perhaps more important though is the fact that the CAAC saw fit to announce the comparison, a clear statement that China's international airlines are on the march, particularly in one of their most important strategic markets.
Air China has more destinations; United has more city-pairs, frequencies and seats
CAAC director general Li Jiaxiang on 25-Dec-2014 said, as reported by official outlet Xinhua, that Air China was larger than United in the China-US market. However, this was based on destinations. A more thorough analysis of other metrics shows United remains far larger.
Air China and United Airlines US-mainland China market one-way comparison: 2014-2015F
Airline
US Cities
Chinese Cities
City-Pairs
Frequency 2014
Frequency 2015
Seats 2014
Seats 2015
Air China

6

(Honolulu, Houston, Los Angeles, New York JFK, San Francisco, Washington Dulles)

1

(Beijing)

6

2,300

2,576

706,320

804,862

United Airlines

5

(Chicago, Los Angeles, Newark, San Francisco, Washington Dulles)

2

(Beijing, Shanghai)

9

2,963

3,261

885,686

994,385
China to United States of America (seats per week, one way): 19-Sep-2011 to 14-Jun-2015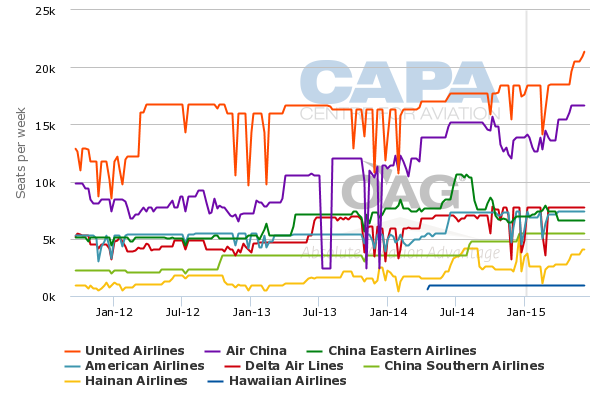 American Airlines, Delta and China Eastern compete as third-largest. American in 2015 will see a full year realisation of its Dallas-Shanghai route launched in Jun-2014, and in 2015 will launch Dallas-Beijing. Delta has been holding relatively easy but will launch Los Angeles-Shanghai service in Jul-2015 while China Eastern will be on a growth streak this decade as it looks to deploy most of its 20 777-300ERs on order to the trans-Pacific market (including Canada).
See related reports:
China Southern has been a quiet grower, first u-gauging Guangzhou-Los Angeles (for many years, its only US route) from 777-200 to A380, launching in Aug-2014 Guangzhou-New York JFK service and then launching in Dec-2014 Guangzhou-Wuhan-San Francisco service. More growth can be expected as those two new routes are brought to a daily service.
Hainan Airlines is the smallest. It has built a compact North American network anchored around the 787 and has further ambitious, however is limited by its Beijing base giving preference to Air China. Hainan's wishlist of long-haul routes for 2015 included a number of North American services, some more likely than others to be launched. Hainan has received Chinese approval for routes – including Shanghai-Boston, Beijing-San Jose – not on the list. Hainan has only two more 787-8s on order (it has eight in service) but has flagged acquiring more.
See related reports:
Market is becoming more balanced as Chinese airlines gain marketshare
Mr Li also said Air China had broken the "domination" of US carriers in the market (an alternative translation might be "monopoly"). There are some facts to support a loose reading of this. In 2009 Chinese carriers had the lowest share of non-stop capacity between China and the US over the last decade. Chinese carriers accounted for 39% of the market. This was down from 47% in 2005 when the overall market was much smaller.
Non-stop China-US (excluding Hawaii) seat capacity share by carrier nationality: 2005-2015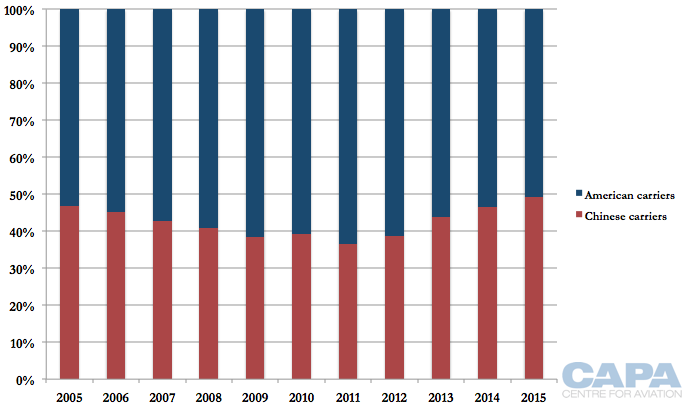 In 2014 Chinese carriers accounted for 47%. This is the same share as in 2005 but the overall market is larger, reflecting large growth from Chinese carriers. It is still early in 2015 but schedules filed in Jan-2015 show Chinese carriers will account for 49% of capacity.
Non-stop China-US (excluding Hawaii) seat capacity by carrier nationality: 2005-2015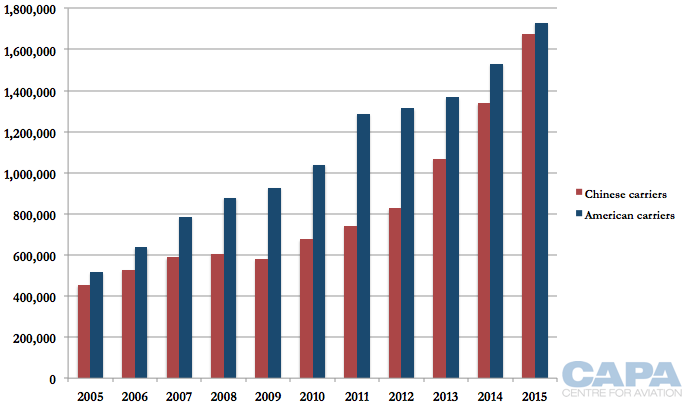 China has long been sensitive to foreign carriers having a higher share of traffic and wanting to find balance (or an advantage in favour of its airlines). Imbalances have precluded air service agreement expansions. The US in recent times as had good aeropolitical relations with China, and Xinhua reported there will be another round of talks between the US and China in the first half of 2015.
The challenge for both sides of the US-China market is third country hubs
China presents its market with the US as being a challenge between the two countries' airlines. But it might be more profitable to assess the competition with third country hub competition. It is difficult to extract meaningful data analysis of passenger bookings. The nature of the Chinese market and its reliance on the dominant TravelSky, which does not publicly release data, means there can be wide variation in estimates of passenger flows in the US-China market.
Delta, in a Mar-2014 interview with the Wall Street Journal, estimated US and Chinese carriers accounted for only 60% of the US-China market, leaving 40% to third-country hubs. Normally in the US market third-country hubs account for 15% of traffic, according to Delta. A few months prior in Dec-2013, IATA figures put the third-country share of US-China traffic at 18%, half that of Delta's analysis. (The IATA figures included a 47% share for US carriers and 35% for Chinese carriers.)
There are already examples of growing cooperation. Delta works closely with China Eastern and there should be further synergies when Delta moves to China Eastern's terminal in Shanghai Pudong, which will allow for shorter connection times. American Airlines and Hainan codeshare while United and Air China have been friendly but also distant.
These moves will need to combat the third-country hubs. It is mostly Hong Kong, Japan and Korea that carry US-China transfer traffic.
It is likely the Korean carriers, Asiana and Korean Air, have lost short term market share in the market. The China-Korea point-to-point market has boomed, allowing Korean carriers to have a higher yield on China-Korea passengers than China-Korea-US passengers. At the same time, Korean carriers have received only token increases in Chinese capacity, effectively prohibiting growth, as China intentionally restricts the potential for sixth freedom intervention.
One North Asian market that is not a large US-mainland China transfer hub is Taiwan. Like Korea, Taiwan generates strong yields on flights to mainland China and does not want to dilute revenue by offering trans-Pacific connections. EVA's strong North American growth, for example, is focusing on Southeast Asia connections. In addition, regulatory restrictions prohibit Taiwanese carriers from carrying outbound Chinese traffic beyond Taiwan. Further growth in the Cross-Strait market, and eventual loosening of restrictions, will one day change Taiwan's status as a hub.
See related report: EVA Air poised for Southeast Asia-North America gains as SIA codeshare and US network expand
Hong Kong is the furthest south transfer hub, but the multiple flights to/from Chinese and American cities, combined with a lower cost base than airlines in Japan, makes Cathay Pacific a strong power to be reckoned with.
All Nippon Airways and Japan Airlines are growing across the Pacific and targeting sixth-freedom connections. Sixth-freedom traffic ("trilateral" on the graph below) has been the fastest type of growth for ANA, albeit from a low base.
See related report: All Nippon Airways 1H2014: profits up despite greater sixth freedom traffic push in Tokyo hub
ANA index of types of overseas sales FY2013=100: 1H2013, 1H2014
United Air the first US carrier to offer double daily service on a Chinese route
United from 06-May-2015 to 24-Oct-2015 is adding a second daily flight from Shanghai to San Francisco. This is the first instance of a US carrier offering double daily service on a US-China route. Multiple daily flights are common on US carriers to other long-haul markets, notably Europe. There has only been a sprinkling elsewhere in Asia, mostly with US carriers offering more than a daily service to Tokyo Narita.
Delta in 2012 and 2013 had more than one frequency on Honolulu-Osaka Kansai while United from 2005-2007 had more than a daily flight from Chicago to Hong Kong, and in 2007 more than a daily flight from San Francisco to Hong Kong (all were less than double daily across the year).
Multiple daily frequencies to China are more common with Europe and Gulf carriers: Air France and Emirates have double daily flights (sometimes only in the peak season) to both Beijing and Shanghai.
As CAPA previously wrote of United's China developments, discussed during United's 3Q2014 earnings:
United's Pacific markets improved sequentially in 3Q2014 as unit revenues were flat on a 1.8% rise in capacity. Its supply in the Pacific grew 2.7% year-on-year which reflects new service launches from San Francisco to Chengdu and Taipei. During 2Q2014 United's Pacific unit revenues fell 2.6% on flat yield growth as capacity increased 2.4%.

Mr Compton remarked that strong demand in China for the summer peak travel season helped lift United's fortunes in the Pacific during 3Q2014, and that the new routes to Chengdu and Shanghai were performing better than expected.

But heading into 4Q2014 United faces 20% competitive capacity growth in the Pacific, particularly in Shanghai and Beijing, said Mr Compton, which will pressure United's unit revenue performance as peak period demand tapers off. He estimated that the competitive supply growth and continuing currency pressure from fluctuations of the Japanese yen would create a 1.5% headwind in United's consolidated passenger unit revenues during 4Q2014.
See related report: United Airlines continues its efforts to close the gap with peers after posting solid 3Q2014 results
Air China is not the largest, but Chinese airlines have made gains
It is too early to proclaim Air China the largest carrier between China and the US on a reasonable metric. But one day Air China may very well be the carrier, and could also be a joint venture partner of its current competitor and Star partner, United.
Chinese carriers previously had limited JVs with foreign airlines, but in late 2014 the number quickly grew as Air China announced JVs with Air Canada, Air New Zealand and Lufthansa while China Eastern and Qantas announced their own JV.
For the US market the US requires open skies in a JV market, and this condition restricts the possibility of JVs like Air China-United and Delta with its various Chinese SkyTeam partners.
See related reports:
For now, there will be more gains from Chinese carriers as they reach parity with US competitors in passenger size (and perhaps later, exceed them). This will need to be followed by revenue parity. Chinese carriers are receiving an advantage from Chinese citizens being eligible for longer duration US visas. This will continue to impact short term pricing but the long-term potential of the China-US market remains bright.