Hainan Airlines builds compact North American 787 network. Now for Beijing to allow momentous growth
Analysis
Boeing's 787 "Dreamliner" was criticised for its entry-into-service delays, but the aircraft has allowed Hainan Airlines to construct an ideal – even dream – network to North America. The region is experiencing rapid growth from Asia in part due to growing interest and visa liberalisation from the United States.
Hainan's quietly expanding North American network received its fourth destination, Boston, in Jun-2014. Hainan hopes to reach 10 destinations in the long term and will order additional 787s ito allow it to do so. Hainan's existing Chicago and Toronto destinations are served with the 787 while Seattle remains with A330 service, shortly switching to the 787. Although Hainan has only a 5% capacity share of the North America-China market, its network is efficient, and laudable given the restraints it operates under.
A larger network and more important role is surely only a matter of time.
Hainan Airlines on 20-Jun-2014 inaugurated Beijing Capital-Boston service, making the New England city Hainan's fourth destination in North America. Hainan is the sole Chinese carrier in Boston and only the second Asian airline to serve the city. Japan Airlines has a daily Tokyo Narita-Boston service also on the 787-8. Hainan joins a growing number of long-haul carriers serving Boston, also including Turkish Airlines and Emirates.
Hainan identified Boston as the largest un-served market between China and the US. Hainan is bullish on the traffic potential to China from Boston's renowned academic environment; families will visit students while some students from wealthy backgrounds will fly in premium cabins. Boston was predicated on the 787 as the aircraft offered medium capacity with long range whereas other types with necessary range would have brought too much capacity, a common refrain for 787 routes.
Boston Logan International Airport to North East Asia (seats per week, one way): 16-Apr-2012 to 21-Dec-2014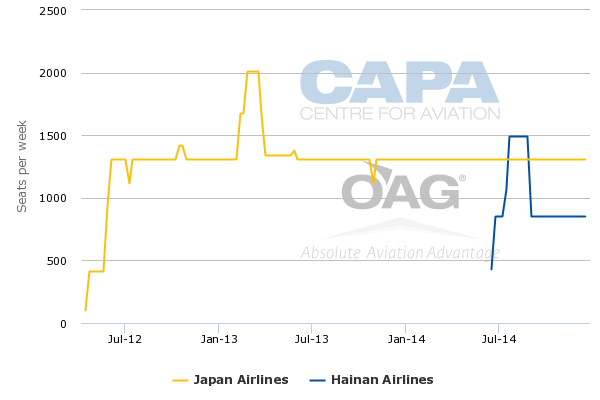 Hainan has entered North America with great strengths and low risk
Boston is largely the end point for Hainan, which can feed into the city via its Chinese network. Although the carrier is named for its home in Hainan province, Beijing is its largest hub and main long-haul hub (Hangzhou-Xi'an-Paris services will launch later in 2014).
Hainan Airlines top 10 hubs/bases/stations by system seat capacity: 23-Jun-2014 to 29-Jun-2014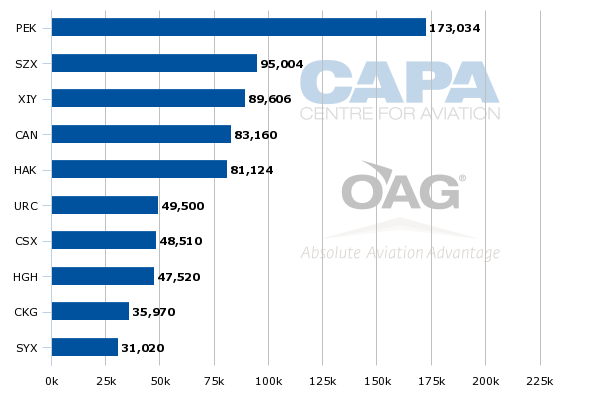 North America is Hainan's largest international market, comprising 27% of international seats. Eastern Europe is 21% and Western Europe 14%. This is in contrast to Air China, China Eastern and China Southern, where short-haul regional traffic dominates international seat capacity.
Hainan Airlines international seat capacity by region: 23-Jun-2014 to 29-Jun-2014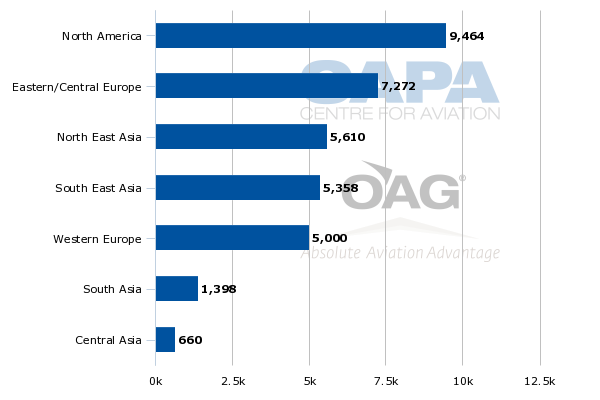 Hainan Airlines' operations from Beijing has the advantage of geography as Beijing allows for efficient routings elsewhere in China. China Eastern's Shanghai hub is moderately disadvantaged on this matter while China Southern's hub in Guangzhou, almost the southernmost part of China, is very disadvantaged. From Beijing Capital, Hainan serves 36 Chinese cities. There are also some sixth freedom opportunities as Hainan interlines with sister carrier Hong Kong Airlines for Beijing-Hong Kong services.
These factors all present great strengths from a network perspective. Financially and operationally, Hainan is understood to have a lean cost base although full accounts are not available. The carrier is also considered the most internationally minded of China's airlines, allowing it to gain traction in North American point of sale markets.

Embarking on long-haul expansion will always carry large risks, but relatively speaking Hainan's North American network has and continues to be low risk. The 787-8 brings considerable efficiency on a per seat basis while its size – Hainan configures it with 213 seats across 36 in business and 177 in economy – means it needs to sell only a moderate number of tickets. Air China's 777-300ERs for example seat 311.
Hainan's North America network is young, dating back to 2008 when Hainan launched service to Seattle with the A330. Hainan was the sole carrier between Seattle and Beijing, but 2010 saw the introduction of Delta Air Lines as part of the latter's ambitions to construct a new Asian gateway in Seattle. There are no other carriers besides the two on the Beijing-Seattle route, where Hainan has a 35-50% capacity share in 2014 depending on seasonality, according to OAG data.
Seattle/Tacoma International Airport to North East Asia (seats per week, one way): 19-Sep-2011 to 21-Dec-2014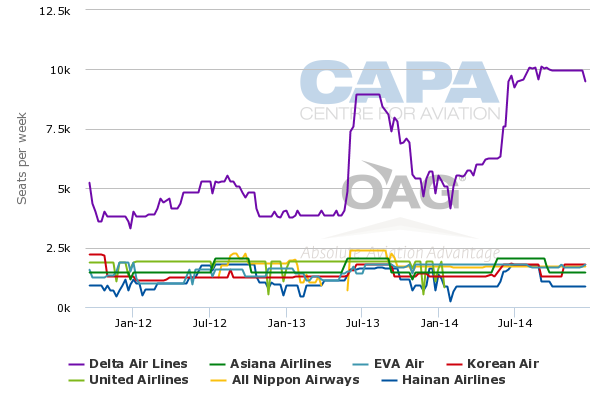 Hainan's second North American destination was introduced in 2010 with A340-600 service to Toronto from Beijing Capital. Air Canada also serves the route. China Eastern on 25-Jun-2014 launched Shanghai Pudong-Toronto services. In Canada, Vancouver has been the favoured destination for Asian carriers. Vancouver is closer to Asia, allowing A330s and even 767s to be used, and has large Asian communities.
Hainan's network took another pause for a few years, although moderate frequency growth occurred as Hainan grew from four to five weekly frequencies to Seattle.

Toronto Pearson International Airport to North East Asia (seats per week, one way: 19-Sep-2011 to 21-Dec-2014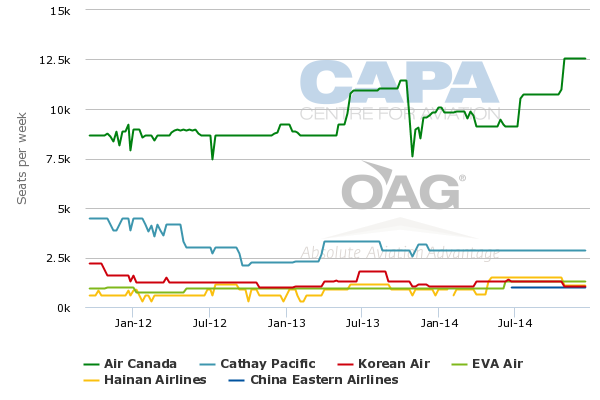 2013 was an important year for Hainan. It launched service to Chicago, the carrier's first blue chip destination. Hainan's network has been shaped by Beijing's one route, one airline policy that generally limits one Chinese carrier to each long-haul route. Air China, also based in Beijing, has had the most long-haul growth of Chinese carriers, thereby limiting the available destinations for Hainan.
Air China does not serve Chicago, thereby allowing Hainan's entry. In May-2014, reports indicated Air China was considering launching services to Chicago.

See related report: Hainan Airlines to enter under-served Beijing-Chicago market with 787 service
In Chicago, Hainan faces direct competition for the first time as both American Airlines and United Airlines operate Chicago-Beijing service, although American and Hainan codeshare. There is also more competition in the Chicago-Asia market than there is from Seattle or Boston.

Chicago O'Hare International Airport to Beijing Capital International Airport (seats per week, one way): 19-Sep-2011 to 21-Dec-2014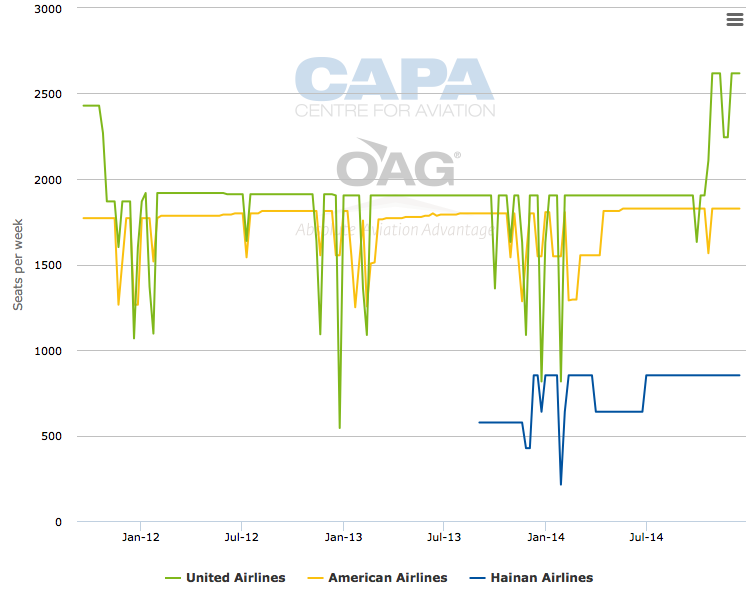 Hainan has a 5% market share in the China-North America market
Hainan's developments in recent times are important for it, but in the larger picture of the China-North America (and Asia-North America) market, its footprint remains small. Hainan's growth has occurred as Air China has increased capacity rapidly during 2013 while China Eastern looks to do so in 2014 and 2015. China Southern will undertake further North American growth with its launch of Guangzhou-New York JFK services in Aug-2014.

Hainan is effectively the smallest major carrier between China and North America. Sichuan Airlines and Hawaiian Airlines have less capacity than Hainan between China and North America, but they are minor players (and Hawaiian does not compete in the China-mainland US market).
Hainan Airlines in the peak of northern summer 2014 will offer approximately 5,600 weekly one-way seats, decreasing to approximately 3,600 in Nov-2014. With a number of peers offering between 6,000-8,000 seats a week, a mere two additional daily flights from Hainan would propel it above many competitors.
Hainan could potentially become the fourth largest carrier in the market in the medium term. Even overtaking China Eastern, the third largest, is not farfetched, depending how they both grow; China Eastern has large North American ambitions with its forthcoming 777 fleet. The largest and second largest carriers in the market, Air China and United Airlines, are in the lead by a long shot.

China to North America (seats per week, one way): 19-Sep-2011 to 21-Dec-2014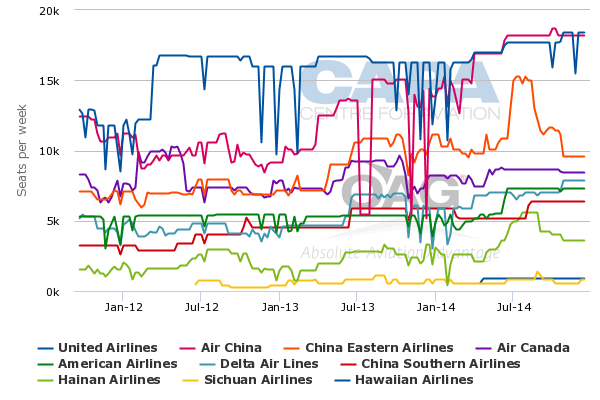 China to North America capacity share (based on seats per week, one way): 19-Sep-2011 to 21-Dec-2014
Hainan in Jun-2014 has a 5% market share of the China-North America market, which has increased only a fraction from 4% in Jun-2013 and Jun-2012; Hainan's increases have occurred as competitors have also added capacity.
Hainan Airlines is not a member of a global alliance, and indeed is the largest full-service carrier not part of a global alliance, after Emirates. (Hainan is larger than Etihad and Qatar Airways.) While oneworld membership was logical a while ago (if complicated), it seems Hainan is becoming increasingly confident of an independent strategy.
In North America Hainan Airlines has a tactical partnership with American Airlines. The two have codeshared on each other's domestic flights and trans-Pacific flights since 2012. American does not have its code on Hainan's Chicago-Beijing service, but American placing its code could be reasonably expected.

Hainan is to order additional 787s to support further North American growth
Hainan Airlines has received eight of the 10 787s (all -8 variants) it has on order. The outstanding two frames are due for delivery in 2015. HNA Aviation executive chairman and executive president Wang Yingming told China Daily in Jun-2014 that Hainan's 10 787s could support five to six destinations. This indicates one or two more destinations could be opened in North America with the 787s, provided Hainan does not change the network of its A330s, its only other long-haul aircraft (it has retired its small A340-600 fleet).
Hainan has mooted Dallas/Fort Worth service to tap into the region and likely onward connections from American Airlines. Air China in 2013 launched service from Beijing to Houston, the first route from a Chinese carrier to a southern US destination. Korean Air already has passenger flights to Dallas, and American Airlines in Jun-2014 launched services from Dallas to Shanghai Pudong and Hong Kong. Beijing is on American's list of service from Dallas once suitable Beijing slots become available.
See related report: Dallas/Fort Worth airport secures Shanghai and Hong Kong services, seeks Beijing and maybe Istanbul

For two years Hainan has been trying to secure rights to New York City, where Air China operates. Headway has been gained although a service has not yet been formally announced. Hainan in Dec-2013 was reported to have applied to serve the route twice weekly from Jun-2014, which will not now occur. Hainan was able to secure New York rights by agreeing to also launch a Beijing-Mumbai-Nairobi service, which has strategic importance for China whereas New York has commercial importance for Hainan. Should – or when – Hainan launch New York services, it will be the only North American city to see service from China's four main international carriers (Air China, China Eastern, China Southern and Hainan).
Mr Wang said Hainan hopes to have eight North American destinations in the long term. This would entail a small top-up order for 787s, which Mr Wang indicated Hainan would make, although he did not specify exactly how many it would order. However, to increase capacity on existing long-haul routes to at least a daily service, a more sizeable – and double-digit – order comes into focus. Growing beyond daily in North America, and even using 787s to Europe and other destinations, means Hainan's future 787 fleet would need to be considerably bigger. But growth will likely be done in increments, and in the long term Hainan could consider the 777X.
Growth will continue to be predicated on Beijing's approval as well as increasing visa liberalisation from North American – and in particular US – authorities. The US-China air service agreement will also need to be expanded.

Outlook: Time for Hainan Airlines to take the brakes off. Hopefully Beijing will allow it to

Hainan's North American growth outlook is surely understated. But decisions are not entirely internal. Route access has been a challenge, and although there is liberalisation, this is occurring gradually. Hainan operates in an environment where it is challenging three state-owned carriers, and in particular Air China, which is seen as the flag carrier and curries considerable degrees of influence.
Growth too large or ambitious could attract enough attention to invite restriction. Hainan could be faulted for not having a larger network, but it can also be complimented for punching above its weight in an uncertain regulatory environment.
The long-term question is if Hainan, while showing restraint (or being forced to it), can construct a solid base – network, cost, foreign marketing and partners – to more rapidly grow when allowed. The desire certainly appears to be there.