North American aviation grows closer to China: Air Canada-Air China JV, US liberalises China visas
Analysis
| | |
| --- | --- |
| | CAPA's first America Aviation Summit will he held at the Hilton Lake Las Vegas Resort & Spa on 27/28 April 2015. To experience CAPA's unique aviation conference format and to meet the movers and shakers in the Americas and worldwide with 20+ airline CEOs, click here: CAPA Americas Aviation Summit |
If the Air China JV materialises, it will be the first in Asia for Air Canada after a few false starts. Air Canada intended to partner with All Nippon Airways and United Airlines for a JV to Japan, and Air Canada also intended to have a JV with Asiana. Both of those partnerships failed to materialise. (ANA and United launched their partnership but without Air Canada.) The Asian JV will follow Air Canada's participation in the JV across the Atlantic.
This partnership will leave Delta as the only major North American carrier without a Pacific JV.
The Air China JV is a large step for Air China and Air Canada considering the two have not been terribly close. The most recent notable development in their relationship was an expanded commercial agreement in 2013 that covered bookings to six new destinations in China and six new ones in Canada.
Air Canada has about a 50% share of the China-Canada market while Air China has about 13%. Air China and China Eastern dovetail on being the second-largest carrier between China and Canada.
Canada to China (seats per week, one way): 19-Sep-2011 to 26-Apr-2015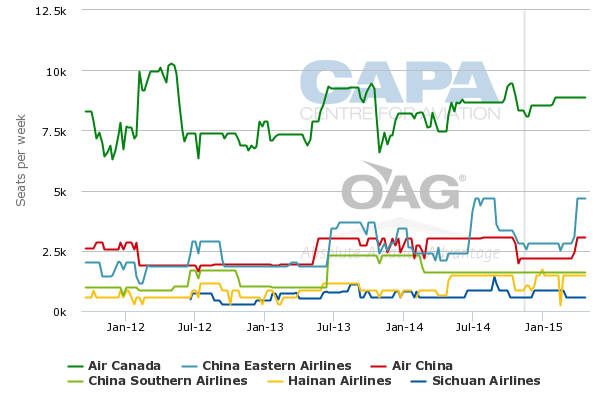 Air Canada has had problems securing slots in Beijing. Air China should be able to help
The JV should help Air Canada realise growth it was unable to secure before. In Nov-2012 Air Canada announced it would add three weekly Toronto-Beijing flights, boosting weekly frequencies to 10, and also add an additional four weekly flights between Beijing and Vancouver. However, Air Canada was given un-ideal slots at constrained Beijing airport and cancelled plans to increase frequency. The slot process at Chinese airports is opaque, but Chinese airlines can help if and when there is a partnership.
For example, China Southern and China Eastern helped SkyTeam partner Delta secure better slots in China. Air Canada has also mooted Beijing and Beirut being the largest un-served long-haul destinations from Montreal, although Air Canada has not applied to launch service to either.
See related report: Delta Air Lines improves China position with better slots from partners China Eastern & Southern
Already China is Air Canada's largest international market by ASKs after the US.
Air Canada international ASKs by country: 10-Nov-2014 to 16-Nov-2014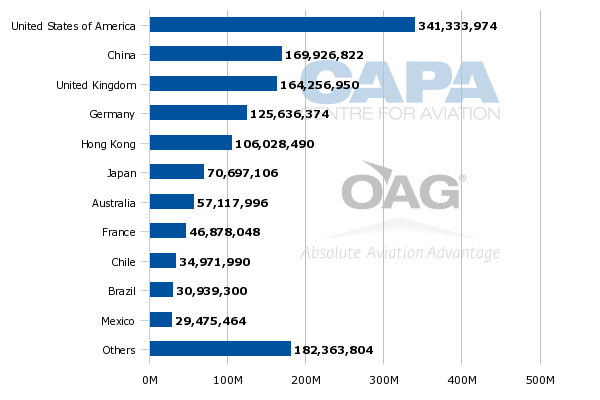 Beyond these immediate gains, the Air China JV should help Air Canada realise other strategic initiatives. Air Canada President and CEO Calin Rovinescu in Feb-2014 remarked that Air Canada has only a 0.3% share of traffic between the US and Asia/Europe that flies on non-US carriers. Mr Rovinescu said if Air Canada could increase that to a 1.5% share, Air Canada would gain 1.1 million additional passengers and CAD400 million in revenue. Air Canada is also bullish on the prospects of its position in Vancouver, the closest (and just slightly ahead of Seattle) hub between Asia and North America.
Most recently Air Canada has seen growth in its Asian network. in 3Q2014, Pacific PRASM improved 7% on a 4.9% higher yield and a 1.7 percentage point increase in load factor. Gains were observed in all markets except Hong Kong. China is Air Canada's largest Asian market.
See related report: Air Canada's declining yields could continue as it prepares for a capacity push in CY2015
Like its US peers, Air Canada will remain focused for the medium-term on service to main Chinese cities, as seen by Air Canada's previous interest in growing service to Beijing. Air Canada's only Chinese points are Beijing and Shanghai. Interest in serving secondary Chinese markets (as United is doing between San Francisco and Chengdu) will be smaller, but not necessarily non-existent. For now, there are larger targets for Air Canada to follow.
Air Canada has looked to improve its cost base, such as by offering higher-density 777-300ERs with an approximately 20% lower unit cost than its previous configuration. Air Canada has also mooted deploying low-cost arm rouge to Asia, which it intends to do to between Vancouver and Osaka Kansai (the first rouge deployment to Asia).
Air Canada will continue to face cost concerns as its Asian competitors have lower cost bases, and Air Canada's Vancouver hub is a prime destination for low-yielding VFR traffic and not so much corporate activity.
Air China may like to see greater growth in Canada. Indeed, it has been linked to a possible new Beijing-Montreal service. Hainan Airlines has reportedly been interested in this route for a 2015 launch, but it is likely Air China will win over Hainan if there is overlap.
See related report: Hainan Airlines eyes ambitious 2015 with wishlist for nine new long-haul routes
But even with growth, Canada will be a small play for Air China. Canada is Air China's 11th largest country based on ASKs. Air China has just over one-tenth the ASKs to Canada as it has to the US, Air China's largest country. Air China's sole Canadian service is between Vancouver and Beijing; Air China does not serve the eastern part of China.
Air China should gain some help in terms of connecting traffic and possibly more favourable allocations (such as codeshare points) in air service negotiations. Arguably Air China's biggest gain will be working with a North American carrier and having a stronger negotiating basis in advance of a possibly expanded partnership with United Airlines in the future.
Air China international ASKs by country: 10-Nov-2014 to 16-Nov-2014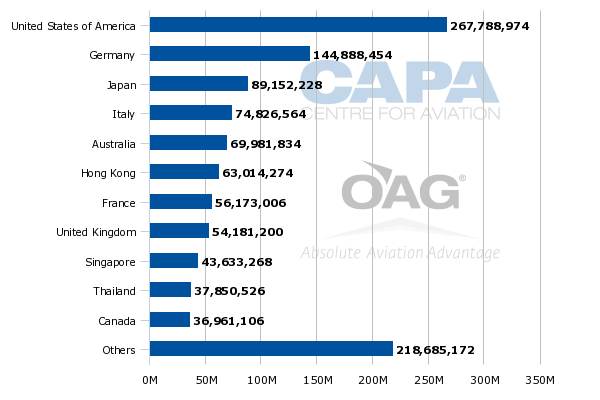 More important to Air China will be its proposed JV with the Lufthansa Group, announced in Jul-2014, only a few months before the Air Canada one.
See related report: Air China-Lufthansa Group JV will control 35% of Europe-China market while easing growth tensions
In comparison to US peers, Air Canada is far larger in China than Japan
In comparison to its peers over the border, Air Canada is far larger exposed in China than Japan. China comprises 12.5% of Air Canada's international ASKs while Japan comprises only 5.2%.
In the US, Delta is at one extreme of the scale, with its non-stop US-Asia capacity far larger in Japan than China. Japan accounts for 12.5% of Delta's international ASKs (this is somewhat skewed by Delta's onward flights to other Asian ports as well as some beach markets like Hawaii) but China is unmistakably smaller at under 5%. United is slightly larger in Japan (11.8% of international ASKs) than China (11.3%), but has a few fifth freedom routes from Japan, although not nearly as many as Delta.
At American Airlines, China accounts for 6.8% of international ASKs compared to Japan's 5.6% share. American has no onward flights from Japan. China's share at American will further increase in 2015 with the launch of a new Dallas-Beijing service.
See related report: American Airlines' triple play in greater China is part of long-haul rejuvenation, with more to come
American Airlines international ASKs by country: 10-Nov-2014 to 16-Nov-2014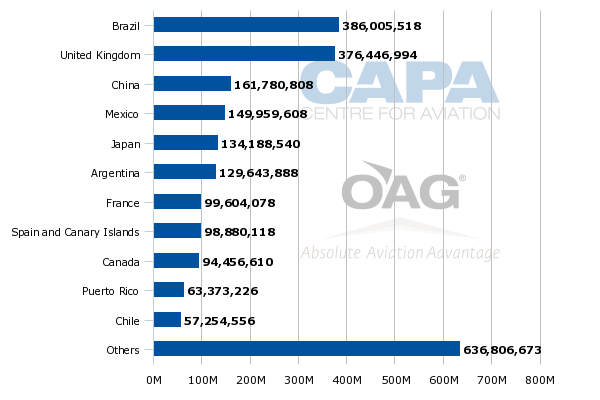 Delta Air Lines international ASKs by country: 10-Nov-2014 to 16-Nov-2014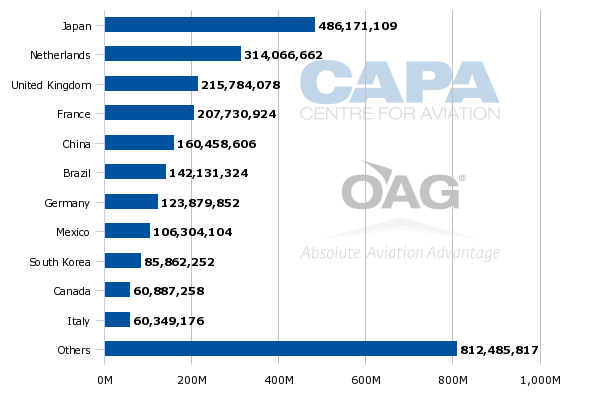 United Airlines international ASKs by country: 10-Nov-2014 to 16-Nov-2014
Delta has spoken of having closer cooperation, and eventually a JV, with its Chinese partners, but the US requires an open sky agreement before considering a JV. The US and China do not have an open sky agreement.
US-China visa agreement gives oxygen to growth
The Air China-Air Canada JV was announced by political leaders during the APEC summit in Beijing. The US also used the platform to announce a reciprocal expanded visa programme with China that will see tourists and business visas be valid for up to 10 years while student visas can be valid for up to five years. This will facilitate growth between China and the US (a market Air Canada will try to carry as sixth-freedom traffic) and is a victory for US airlines' quest to make the China market more accessible to them.
Longer duration visas will avoid the time and cost of additional visas, providing oxygen in an already fast-growing market, but the US must still speed up its processing of Chinese visas in addition to increasing the volume it handles.
The US expects Chinese tourists to the US to increase from 1.8 million in 2013 to 7.3 million in 2020.
Developments are largely beneficial with limited downside
The two concurrent developments – the JV and visa access – illuminate the stiil-heavily politicised aviation sector in China. These developments are necessary steps along the way but not entirely game-changers that bring a changed outlook to competitors. Although Air Canada is targeting more sixth-freedom traffic, its overall share expectation is modest and small in the bigger picture.
For Air China, the JV is an important initial one in North America, but larger strategic moves await.